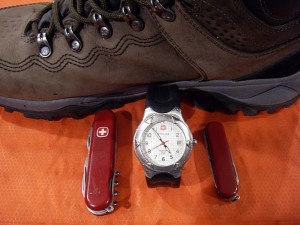 About 30 years ago, I headed off to Spain to study, carrying with me one important accessory…a Swiss Army knife.  With a corkscrew.  Vital to a proper education, of course.  Since then, I've had a string of Swiss Army knives of various types, and virtually never spend a day without one (no, not ALL of them have corkscrews).
How does that relate to a boot review?  Simple…a significant number of those knives have been made by Wenger (Victorinox, of course, being the other manufacturer; in a bizarre corporate world twist, they actually own Wenger at this point, having acquired them in 2005).  And, my "wet day" outdoors watch for a decade or so has been a Wenger with a rubber wristband; I've abused it in many ways, and all it ever asks in return is a battery every year or two.  Quality has always been an automatic with Wenger products.
 But, there's a big difference between hardgoods and softgoods.  Knives have pivots; easy enough to make those work.  Harder to make a seam that holds up and flexes well with the foot, or to design a heel pocket that works for my skinny one and someone else's thick one.  Would Wenger's Canyoneer boots ($120) show the same quality as the other items of theirs that we've used?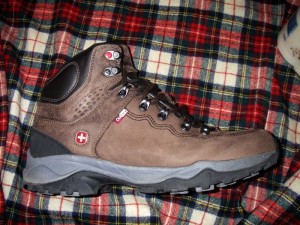 The answer, it turns out, is an unqualified yes.  The boots were a "wow" from the moment I took them out of the box.  Physically, they're a beautiful boot to look at; very stylish, with a soft leather in a sort of cocoa brown color that looks more like it was designed for the runway in Milan than for beating around in the woods.  I remember buying a pair of boots 25 years ago from a manufacturer not to be named that looked serious and rugged and were definitely designed to make men LOOK like rugged outdoorsmen as they wandered around New York City; in the woods, they had rotten soles and no support for a backpack.  The Canyoneers had a bit of that look to them, which was reinforced by the fact that for a full-leather boot, they're almost ridiculously light.  At 2 lbs, 8 oz. for the pair, they're nearly as light as my ultralight nylon hikers; that's an accomplishment.   But, make a boot too light, and it won't work right.  Beyond the leather, the rest of the boot has nice details;  impeccable stitching, very chic lacing eyelets with the Swiss cross on them, a couple of red Swiss Army logos to catch the eye.  Stylish and light…very nice.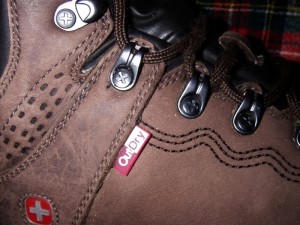 However, looks and weight are wonderful, but they don't mean a thing if the boots don't perform in other ways; comfort, support, waterproofness, and traction all trump the other characteristics.  On to the real testing!
The easiest of those to determine was, of course, comfort; put 'em on!  And, it was like putting slippers on.  We had several people with different foot shapes try them on, and all were amazed at how good they felt.   Wenger's done a brilliant job of creating a last that fits different foot types.  Sizing of the boots is on the large size; I'm a 10 1/2, and their 10 was plenty big for me, so they'd be a good match for a medium to large volume foot.  But, even with some extra room in there, the shaft held my heel and ankle firmly in place, and I felt totally confident on sidehills.  Adding in a thin midsole made them fit like a glove with a midweight wool sock.  I wore them day after day, often for 9 hours or more, and was only aware of them when I bothered to think about them; the fit was such that I just didn't notice anything, an ideal situation.  The only other boot I've ever used that "disappears" as well on my foot is the LL Bean Gore-Tex Cresta, and that's in a different price category.
Support…yes, this concerned me.  A leather boot that's this light has to give SOMETHING up, and support is the most likely thing.  Wrong.  No, they're not the Crestas; while I haven't tried carrying 75 pounds with them, I'm relatively sure I wouldn't want to, either.  However, multiple long days with 30+ pounds left me not footsore in the slightest, and I wouldn't hesitate to try them with heavier loads.  For a lightweight boot, that's a real accomplishment. 
Waterproofing is another big issue; an awful lot of the so-called "waterproof/breathable" boots we've tried are neither.  The Canyoneers use an unusual material called OutDry, which is a membrane that is directly laminated to the backside of the leather.  Conceptually, there are several advantages to that over the more typical "bootie" construction (where a bootie with the laminate is inserted into the boot).  First, it'll be lighter; no wasted material, and the boot itself can be smaller because no room has to be left for the bootie.  Second, by having no space between the leather and the laminate, less water can pool in that area and add weight.  And,  finally, fit should be better; no possibility of the bootie shifting, bunching, any of that.  But, concept and reality don't always match up.  So, time to find good abuse, which came in the form of three long days hiking in wet snow; the leather was soaked immediately (more on that later).  However, at no point did any water enter the boots, period.  I even spent some time walking in several inches of water in a lake (don't ask), with the same results.  Beyond that, though, the breathability was outstanding.  Indoors, outdoors, it didn't matter; my feet never felt clammy.  Compared to my reference Crestas, they were definitely of the same caliber.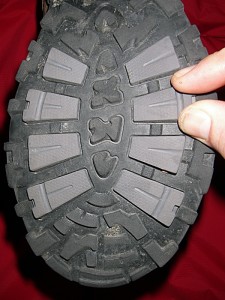 And that left traction as the remaining concern.  The Canyoneers use a highly unusual outsole called HYPERGrip, which starts with a proprietary compound that, according to them, combines high abrasion resistance with great traction.  In addition, according to Wenger, the lugs move independently from the sole, increasing grip.  Hmm.  Sounds like gobbledygook for "soft rubber compound", until you turn the boots over and wiggle the lugs…and the center lugs DO move independently of the sole, while the lugs to the edges are firmly attached.  In use, it's a great combination.  As you walk on uneven terrain, the lugs move and conform, allowing the footbed to remain level and comfortable underfoot.  However, the fixed lugs around the edge of the sole stay firm and stable when I'm trying to get grip on a sidehill; a too-soft sole wouldn't allow me to dig in the way I need to.  The same thing happens when going straight down steep sections; the heel digs in and grabs, and as I roll forward, the lugs conform to whatever is underfoot, creating grip instead of sliding over it.  It's a very different feeling from any other boot I've tried, and it's a good one; they feel confident and safe in conditions that would stress any boot.
The only significant concern that I had was that the leather itself soaks through immediately on contact with any water.  Now, it's nice that the OutDry works in those conditions, but still…generally, leather lasts longer if it's not constantly getting soaked and drying.   Unfortunately, the Canyoneers don't come with any instructions for care of the leather, and Wenger's site isn't any more helpful.  That left me on my own to find a solution that would protect the leather but not compromise the breathability.  I've had great experience with Granger's products, so decided to try their G-Max Universal Footwear Waterproofer (that's a mouthful!).  They claim that it maintains breathability on any material…okay, worth a try.  Wash the boot off, spray it on, let it dry; boot looks the same, no stains or darkening.  Good…and water beads up and rolls off.  Good #2.  But, breathability?  A full day running around in the boots left me with  no clamminess, no sense that there was any loss of breathability.  At this point, I can't think of any reason NOT to treat the Canyoneers with it.
After several weeks of beating the Canyoneers around in the backcountry, the leather shows some small nicks and scrapes.  That's not a great surprise; the leather is soft and pliable.  Clearly, these are a boot designed more for trails than for backcountry or mountaineering.  Used  under those conditions, I don't see any issues with the softer leather, or with the lack of a significant toe cap/rand; durability should be excellent, given the quality of construction, although we obviously won't know that for a while.  Plus, Wenger provides a 3 year warranty…they're used to their customers expecting a long-lived, high quality product.
Bottom line:  the Canyoneers are an impeccably manufactured, well thought-out lightweight hiker that performs way above expectations.  Quality and features, for the price, are hard or impossible to beat; we've never seen a boot for the price that we felt was better than this one.   After trying them, one of our testers went out and ordered a pair for herself; that's how strong an impression they've made on us!