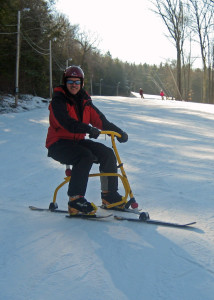 With a few notable exceptions (slippery walkways, vehicles on highways, a slip on a steep, crusted slope when you are climbing a mountain), sliding on snow is fun. The more ways you have to do it, the more fun you can have.
Basic sleds, snowtubes, and toboggans are most people's first introduction to sliding on snow. That's because they are fun, inexpensive, fun, require no learning curve . . . oh, and, they are FUN!
On the other end of the scale come alpine skiing, snowboarding and Telemark skiing. They are WAY fun, but the gear is pricey and there's a long learning curve to get good at them. Fortunately, even the learning can be fun, so lots of people get hooked.
In between these two extremes, there's been, in descending order of learning difficulty, skate skiing and "classic" cross-country skiing which are fast, fun and incredibly good exercise but do require dedication to learn. Then came steerable sleds such as the Airboard and the Mad River Rocket (sadly, now apparently out of business). The Airboard, particularly, requires some skill to maneuver, while the Hammerhead Performance Sleds are pretty much self-explanatory, no lesson needed.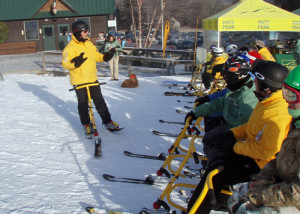 Now there's a whole new way to slide on snow that's easy to learn, but also gives you the same steering and stopping control you have on alpine and Telemark skis and snowboards. It's called a Brenter Snowbike, made in Austria, and you can rent one and learn how to ride it at Pats Peak in Henniker, N.H., which is where I took part in the very first on-snow Snowbike demo in New England. By the way, Pats Peak also has a most excellent snowtubing hill with its own lift . . .
Though it's new to the northeast, the Snowbike isn't really new. It was patented in 1949 by Englebert Brenter. His sons and grandsons still own the company. Son Erich still holds the world speed record on a snowbike—103 miles per hour, set in 1964. That record is definitely safe as far as I'm concerned . . .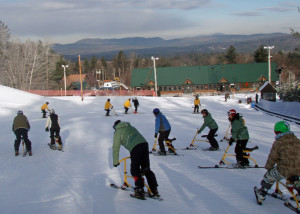 Just as it sounds, a Snowbike is a full-suspension bike frame and handlebars with skis where the wheels would normally be. K2 used to market a snow bike, but it never really caught on, perhaps because it had pegs to rest your feet on, and learning to balance it was tricky.
The Brenter Snowbike has "training wheels" in the form of two very short skis ("Footskis") that fit onto ski or snowboard boots, so balance is not an issue. It's also built with a full suspension system and a big, cushy, comfortable "banana-style" saddle. The image of sliding on snow while straddling a bike frame was, frankly, a little scary. I wondered if I should wear a cast-iron jockstrap . . . . But, you'd have to work really hard to get hurt on a Snowbike.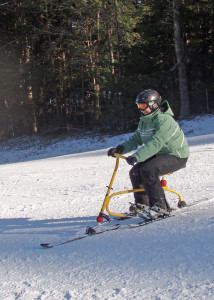 While Snowbikes have been used awhile in some western resorts, and there are going to be other places to ride them in the east someday, for now, Pats Peak is the only game east of the Mississippi if you want to try a Snowbike. You can read about their rental program at their snowbike page.
To ride a Snowbike on a ski slope, you have to have a "Snowbike License" which you get after an hour of instruction and passing a basic skills test. I'm now a licensed rider!
When you show up for a Snowbike lesson, they fit you with Footskis and a bike (they have different size frames and interchangeable seats). Our instructor, Dr Bernd Brenter of Snowbike, who was there to "train the trainers" had us line up (in typical Austrian fashion), and tried to get us to follow precisely in his tracks. Being Americans, we immediately started making our own tracks and having fun, instead.
You start on a Snowbike by leaning on the handlebars, angling your feet out and pushing yourself around flat terrain with the edges of the Footskis. It's easy and natural. Next, still standing and leaning on the handlebars for balance, you learn how to turn the bike on a gentle slope. They call it "Reflex-Based Riding" but all you really do is tilt your head to one side to turn in that direction. When you want to slow down or stop, you tilt your head, then look uphill, the bike follows and you slow and eventually stop. It's that simple.
We then tackled the "carpet lift" on one of the beginner slopes at Pats, at first still standing, then actually sitting on the bike. No problem. We already knew how to turn, control speed and stop.
By the end of our two-hour session, we were riding the chairlift and carving turns all the way down the groomed slopes. I deliberately went looking for hard snow and crud and the Snowbike handled it easily. There were, I think, 20 of us in the group. One person fell once getting on the carpet lift and one tipped over while standing on a sidehill. No injuries, no close calls. Just fun.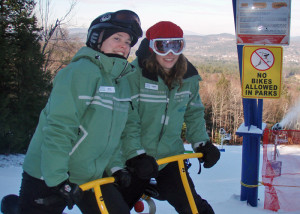 Riding a Snowbike gives you almost the same feeling you get if you know what you are doing on skis—a controlled adrenaline rush that lasts top to bottom. But the learning curves is minutes, not days. Leg strength isn't an issue, creaky knees and tricky backs won't keep you from riding. It's perfect for older folks who are "slowing down" a little but still want to have fun.
Snowbikes are, sadly, pretty pricey, so you definitely want to rent, try it out and get your snowbike license before you even think about whether or not to buy one. Pats Peak offers a $26, two-hour snowbike rental which includes a lesson and your license, but not your lift ticket. A full day rental is $46.
If ski lifts aren't your thing, Snowbike makes a folding model for backcountry use . . . hmmmmm . . . Whatever equipment you choose, get out and go sliding on snow this winter! Life isn't a spectator sport, get out and enjoy!
THE SNOWBIKE CONTEST!!!
Find the answers to the following questions in the story above, in another story on EasternSlopes.com, and on the Snowbike and Pats Peak websites. Submit your answers in an email to timjones@easternslopes.com before midnight (EST) on January 9, 2011. We'll draw a winner from among all the correct answers. That winner will receive a 2-hour Introductory Snowbike Package plus 1/2 Day Lift Tickets for Two People to Pats Peak.
1) How long does it take most people to learn to ride a Snowbike well enough to pass the Snowbike License test?
2) How old do you have to be to take a snowbike up a chairlift at Pats Peak?
3) Erich Brenter set up the official world speed record on a wooden Brenter Snowbike in 1964 with 166km/h (103 mph). Where did he set this record?
4) True or False: To turn a Snowbike you simply turn the handlebars in the direction you want to go.
5) You ride a Snowbike sitting down. Name two steerable sleds (Airboard, Hammerhead, or Mad River Rocket) usually ridden lying flat on your belly (hint: you can see pictures of all these sleds in action in another story on EasternSlopes.com).