(Publisher's note: We're pleased and proud to welcome Marti Mayne as the newest writer on EasternSlopes.com. Marti's been in the outdoors business in New England for years, working with resorts and for the Mt. Washington Chamber of Commerce. She is, among other things, an established expert on the finer points of bed & breakfasts. We hope you enjoy her account of her family adventure on Sunday River's zipline system as much as we did!)
"Aren't you worried it's going to be cold?" asked more than one person when I told them I was heading to Sunday River Ski Resort for a weekend of ziplining. For this acrophobe, cold temps were the least of my worries. One of the items on my "bucket list" has always been to conquer my fear of heights, and I was bound and determined to do it on this trip.
I packed my two daughters (Calli, 11, and Kim Han, 9) into the car and off we went with my husband Lincoln for a weekend adventure at Sunday River. We're an avid skiing family, and a weekend of skiing fun combined with the novel adventure of ziplining sounded like the perfect getaway. The drive included rousing group renditions of "Zippity Do Dah" and Christmas carols on the radio; clearly, everybody was ready!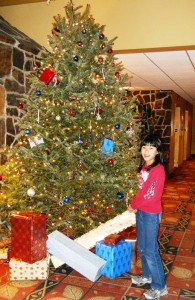 We started our Sunday River adventure at the Grand Summit Hotel. My kids love staying in hotels and B&Bs, especially my youngest, Kim Han.  From the moment she spied the bucket of Hershey kisses® to the time she jumped into the pool, the whole family followed Kim Han from adventure to adventure as we toured the Grand Summit. You've got to love a nine-year-old's idea of entertainment when putting the key card in the door is her favorite part of the day!
We awoke early on Saturday morning and treated  ourselves to a lavish breakfast buffet at the Grand Summit. From hot oatmeal, egg casserole, pancakes, bacon and hash to omelets and crepes made to order, this was a skier's breakfast. On the snow by 8:15 am, we marveled at the ease of picking up our skis from the heated ski room and walking right out onto the slopes. No schlepping through the parking lot. Priceless!
It was a bluebird day, and for the first time in a long time, we all skied together rather than going off in pairs. Not surprisingly, the snow was great. We'd heard the snowguns through our window all night, and were quite sure that Sunday River's reputation for top notch snowmaking would prove true again.
We took our standard 10 am break at the North Peak Lodge to enjoy one of their signature hot, gooey cinnamon buns. I'm pretty sure they pipe the warm cinnamon bun smell out the vents to lure skiers in. Once you smell those treats, it's tough to pass them by. We didn't linger for long though; bluebird days are rare, and we wanted to get plenty of slopes time. While we didn't quite make our 10 by 10 goal (ten runs by 10 am), but we certainly surpassed the senior's version of 2 by 4!
When our skiing was over for the day, it was time to refuel, and we were in the right place at the right time. Sunday River celebrates its annual Winterfest Festival the weekend before Christmas. One highlight is the "Taste of Bethel" event where area restaurants offer tastings of signature dishes. We sampled everything from spicy BBQ to smoked scallops and chicken pot pie. What a treat!
Sunday morning we were up early for another lavish breakfast, and at least three or four trips to the room to enjoy opening the door with the key card. Adventure comes in all shapes and sizes for the younger set! Soon enough, we were off to South Ridge to begin our zipline adventure. Lincoln, Calli and Kim Han were there with bells on. I was there with knots and butterflies in my stomach. The anticipation of stepping off the platform and zipping over a 90-foot ravine was exhilarating on the one hand, but just short of panic-making on the other.
I spent a long time talking with our guides while we awaited the rest of the group's arrival. Steve Lutterman, the zip "pilot", assured me that there's never been a zipline accident anywhere in the United States, and there wouldn't be one at Sunday River today. Justin Leavitt, who served as the "wing man", told me to trust the equipment. I learned that the harnesses are capable of holding 5,000 pounds, and the 3/8" steel zipline is the same line used to tow airplanes, so I didn't have to worry that it would hold me (along with the rest of my friends and family!). Kim Han suggested that I not look down, but Justin advised me that looking down simply adds to the excitement.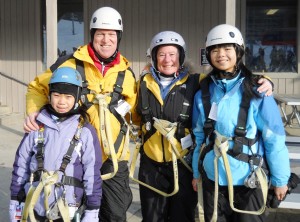 Soon we were suited up and high-fives were passed around the circle to each person on the trip. The group was ready to head out and I was ready to turn and run. It wasn't too late! My daughters rode up with me along with Cassandra, another guide, who shared that she was also acrophobic; but, she zipped every day, and it was her trust in the equipment that assuaged her fear.
We got to the first zip and Kim Han stepped to the front of the line, a position she maintained throughout the tour. It was (sort of) reassuring to watch the guides complete an 8-step safety check for each "flyer" on every one of the six platforms. Kim Han took off, smiling the whole way. Lincoln pretended he was riding a bike and Calli was her usual, confident self, with a big smile. I, however, hugged the tree as I inched onto the platform I'd soon have to step off. It was a little tough to pry me loose from the tree and out to the edge where the guides took special care to strap me in carefully and perform the 8-point check. With heart pounding and stomach fluttering, I stepped off the platform and was surprised to find how smooth the ride was. Fearful that I'd slam into the platform on the other side, I was relieved when the co-pilot pulled on the brake block and I found myself slowing. I made it onto the landing platform, but didn't quite master getting my feet up onto it, as I'd been listening to my heart pound rather than hearing the guides tell us to lift our feet upon landing. Minor difficulties aside, I was thrilled that I made it through my first zip!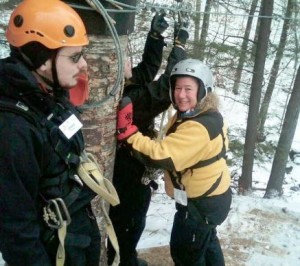 Zip #2 was longer and took us over frozen waterfalls and a much deeper ravine, 90 feet below.  Again, I felt that sense of panic, but watching Kim Han, Lincoln, and Calli have a ball made me decide that I simply MUST relax and enjoy the ride. Easy to say, harder to do. But I survived. It went by quickly, perhaps because I had my eyes closed for half of it. Again, I was amazed at the smooth ride, and that I made it over the highest ravine alive.
By Zip #3, everyone in the group was becoming experts, and my anxiety and fear gave way to excitement as we walked along what looked more like goat paths than trails from one zip platform to the next. Zip #3 was a blast, and by now I was feeling a sense of elation: I could actually zip and enjoy it! My fear that I'd fall or wouldn't be able to stop was mitigated by extremely capable and reassuring guides.
Zip #4 was the longest zip (at 325 feet), accessed by a narrow trail that became icy on the short hill to the platform. I went last this time, and wished I'd chosen some warmer socks as I waited my turn. I was enjoying these rides by now, and this time I even allowed myself to turn around by bicycling my feet.  Yet, as with each ride, I did feel that slight sense of relief when the brakeman did his thing, and I slowed to a nice stop before slamming into the platform.  While someone clocked this ride at 30mph with a cell phone ap, I don't think I went quite that fast.
We got a real thrill on zip #5. The platform was suspended about 20 feet over a roaring snowmelt brook. As water rushed below us, we stepped to the side of the platform (an act that'll never come easily no matter how much confidence I get with ziplining) and fell backwards. This zipline is one of the shortest, but the act of falling backward and trusting the equipment made it one of the most thrilling.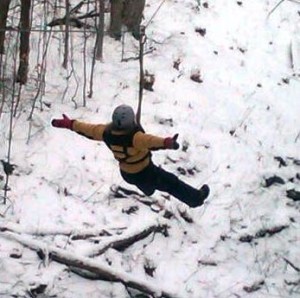 We ended the tour with zip #6, which wasn't the longest (295 feet) but it certainly appeared to be. By now, I could really enjoy the absolute sense of flying, and was truly jubilant when I finished, knowing that I'd conquered my fear of heights, and lived to tell about it! I went from hugging a tree, fearful to even step onto the platform to the pure elation of zipping over frozen waterfalls.
The entire group trekked about 15 minutes down the mountain past the Who-Ville terrain park then to Broadway and finished at the South Ridge Base Lodge. With High Fives all around, we de-geared and cheered the great zip guide team.  As we left with our zip glow, it occurred to me that ziplining has great "water cooler story" value. For this Mom, though, that translates to good bus stop value.
Words of Advice for successful zip trips:
1) Wear good boots and warm socks.  There's some standing around, and you'll be trekking from one platform to the next, then down the mountain at the end on narrow, sometimes icy paths.
2) When they say "feet up" it means go into a cannonball position so your feet don't hit the landing platform.
3) Don't forget the camera! This is something you'll definitely want to capture in photos and video.
4) Bring granola bars or other snacks for ever-hungry kids. It's a three hour trip with plenty of waiting time between zips.
5) Do as my favorite license plate suggests – PB4U-GO. There are no restroom facilities along the way.
Details:
The Grand Summit Hotel:  Sunday River Resort. Rates start at $229 per standard room. Free wi-fi, outdoor heated pool and hot tub, two restaurants/cafes, complimentary ski check and more. As always, ask if there are any specials when you're making your reservations!
Zipline tours: Offered twice daily on weekends and holiday periods. $49 per person with a season pass or day lift ticket; $59 per person with no ticket. A new side-by-side racing zip opens over Christmas week; anticipated cost: $15 for one ride, $20 for two rides. Ziplining is open to all ages, but minimum height is 3 feet, minimum weight is 70 lbs. and max weight is 270 lbs.  All riders are required to wear helmets (provided) and those with serious medical conditions should think twice about this activity. You must be capable of hiking on narrow paths and down the slopes.  But, if you are capable of that, don't miss this fun!
Check out the video: