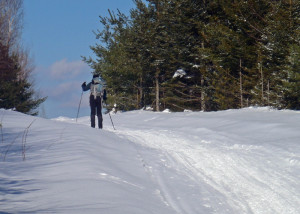 Imagine this for a winter getaway: You drive to Greenville, Maine, which is, by most people's standards, pretty darned remote. No, make that very remote. From the center of Greenville, you take Pleasant Street and drive out past the airport, past the last house and drive 11 miles more. Where the road ends, you park your car, stow your luggage in a little shed, then put on your  cross-country skis or snowshoes, and trek 6 to 10 miles (depending on the trail you choose to your destination). Remember when Greenville seemed remote? Yeah, THIS is remote . . .
But wait a minute, don't start thinking about snowcaves and winter survival. At the end of this trail, many, many miles into the winter wilds, you'll find your luggage waiting for you. Even better, you'll find a cozy cabin with a comfy bed and the woodstove already going. Better still, you'll find  hot showers, a sauna, and a beautiful lodge building where they serve a scrumptious dinner that evening, breakfast the next morning and put out the makings for a hearty lunch to eat on the trail as you spend the day exploring around the "camp" or  trek another 6 to 10 miles to another equally remote and comfortable outpost.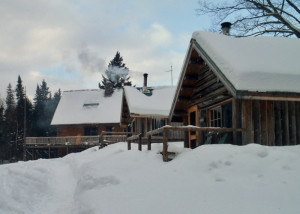 That's precisely the experience available at the three AMC Maine Wilderness Lodges and their partner operation West Branch Pond Camps. You can stay at any one of these wilderness refuges, or ski from camp to camp to camp to camp. I heartily recommend the experience for anyone who wants a real taste of true winter wilderness and (most of) the comforts of a fine hotel.
My sweetheart Marilyn and I just got back from a three-night, four-day adventure skiing camp-to-camp with the AMC Maine Wilderness Lodges. We started with a six-mile ski into Little Lyford Pond Camp. I've visited Little Lyford three times before, once in the spring for their excellent brook trout fishing, twice before in the winter. Once, I got to be part of the very first camp-to-camp ski experience and once to watch the annual 100-Mile Wilderness Sled Dog Race.
Marilyn's been nursing a knee injury all winter and we did the trek into Little Lyford very slowly. Once you are away from the parking lot (which sits high on a hill), the trail is mostly flat, always well groomed, and pretty easy, especially since you aren't carrying a heavy pack. In other words, you don't have to be a hero to do these treks. And, if you get an early start, there's no need to hurry.
The weather was perfect for cross country skiing with cloud-dotted blue skies and temps in the mid 20s. When we arrived, our cabin was warm and cozy and we pulled a few icicles from the roof for Marilyn to ice her knee.
Dinner that night was baked haddock. We are eating gluten-free these days and the cook bent over backwards to accommodate our preferences serving ours perfectly done with lemon butter. Just let them know your needs and preferences (meals are planned well in advance) and they'll take care of you.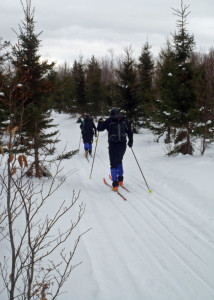 The next morning, we faced a longer, somewhat more challenging trail to the brand-new Gorman Chairback Camp, which was slated to open that very day. We were talking about the trail with Chuck, the manager at Lyford. Chuck heard Marilyn voicing her concerns about her knee on the hillier, longer trail and offered to shuttle her by snowmobile when he took luggage over. She gratefully accepted the ride. Incidentally, snowmobile taxi service is available by prior arrangement for anyone who needs it (which makes the camps accessible to almost anyone), but private snowmachines are banned from the camp and the surrounding trail system.
Another option is to travel by dogsled. Mahoosuc Guide Service schedules several camp-to-camp dogsled adventures each winter. These are real hands-on adventures where the clients help care for the dogs, hook up and drive the dog teams.
While Marilyn rode on the snowmobile, I joyfully skied from Lyford to Gorman with new friends Jim and Alison. This pair are former marathoners, had already skied from Medawisla to West Branch Pond Camps, to Little Lyford on the preceding days, so this was old hat to them. They didn't exactly set a leisurely pace, but they kindly didn't try to kill me, either. The trail (just short of seven miles) wanders through lovely woodlands and snow conditions were a perfect 10. From the tracks, it seemed we just missed seeing a moose.
Our destination, the new Gorman Chairback Camp is simply stunning. There are eight lovely log cabins arrayed along the lakeshore, each with comfortable beds and a woodstove. There's also a beautiful new energy-efficient lodge with indoor plumbing, showers and a sauna. This building was literally getting its finishing touches as we skied up.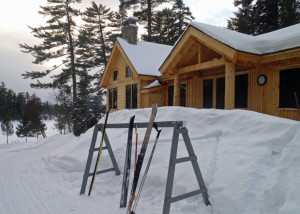 Despite the fact that we were the very first guests at the is new AMCMaine Wilderness Lodge, everything ran smoothly. The food was wonderful at every meal and the camp staff couldn't have been nicer or more helpful. The first night, they even arranged a magnificent sunset followed by clear skies with billions of stars. Unless you've traveled in the high deserts of the west or in the remote arctic, you've probably never seen brighter stars than in the wilds of Maine in winter. Nice touch. Oh, and dinner (pot roast) was pretty darned fabulous, too.
We spent a day exploring the trails around Gorman Chairback on snowshoes and skis and only saw a tiny fraction of what's there. Miles and miles of trails to explore with no one else around. That night we enjoyed another great dinner with new friends (one of the best parts of the AMC camp experience), another comfortable night, and another hearty breakfast brought us to the point where we had to pack up and hit the 8-mile trail back to the car.  The trail was great fun. Leaving wasn't.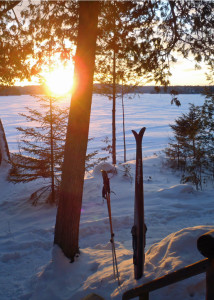 We enjoyed a lovely ski out with light snow falling. Our luggage was waiting for us in the shed at the parking lot and the car started on the first try. Perfect!
In fact, my only complaint with the whole adventure is that I wish we'd had twice as long. This is my fourth visit to the AMC Maine Wilderness Lodges, and each time I come home with the same complaint: more time needed. I guess that means we'll have to go back again. Maybe we'll see you there.
Going Prepared
Even on maintained trails with a warm camp on either end, you are still miles from shelter at times. Carry the gear you need to keep yourself safe and comfortable.
Any good "touring" skis will do. Marilyn and I used our Alpina "Discovery" waxless backcountry skis and they were perfect. In backpacks, we both carried extra clothing, including lightweight, warm "puffy" jackets, mittens, hats, hand and toe warmers, a water bottle in an insulated sleeve, and plenty of lunch. I also had a foam pad, a light sleeping bag and a thermos of hot tea along with my ever-present emergency kit and first aid kit. Maybe this was overkill, but if Marilyn's knee gave out and she couldn't continue, I wanted to be able to make her warm and comfortable while I went for help.
The AMC supplies maps which are very good (if you know how to read maps). But you should definitely carry a compass, too, and know how to use it.
If you don't think you'd be comfortable venturing on backcountry trails on your own, the AMC can arrange guided camp-to-camp ski adventures.
If you have any questions about the AMC Maine Lodge experience or would like a more complete list of what to take on backcountry ski adventures just write to me in the comments section below, I'll see that your questions get answered.