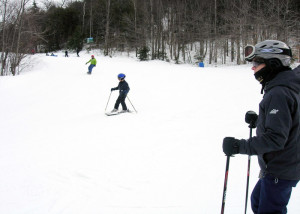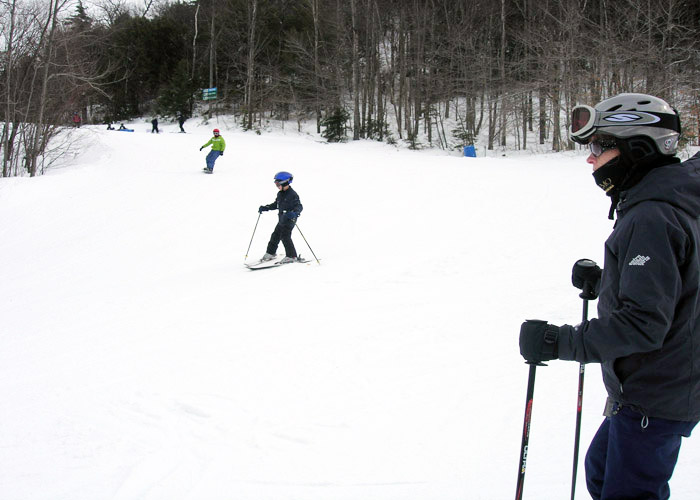 On a recent Saturday I was crossing over from the top of Meteor, an intermediate slope with a nice sustained pitch straight down the fall line at Crotched Mountain Ski and Ride (Bennington, NH) to Pluto's Plunge, the resort's longest black diamond trail, when I noticed a handful of entry points into the woods. It surprised me and I stopped for a moment to take a look. Someone had done a nice job thinning just enough of the small stuff to create what appeared to be a long sustained gladed playground spreading out far enough for two skiers or riders to negotiate side by side.
I dropped in, and followed a line linking a number of consistent but tight turns far enough to need a breather and stopped. I looked around and smiled at my luck. How cool to have found this little hideaway that seemed to stretch all the way to the lower extremity of a stand of trees. I continued down and followed some old tracks out to skiers left. I exited the woods onto Pluto's Plunge just beneath the summit chair, out of breath and about three-quarters of the way down the slope.
It's little improvements and pleasant surprises like this that have kept me a loyal season pass holder at Crotched now going on five years. (It also doesn't hurt that it's just 20 minutes from my house.) These little details combined with the fact that it is a perfect place for a family to have fun together while improving their skills at moderate prices keeps families of skiers and riders from southern New Hampshire and northern Massachusetts coming back for more.
Crotched is somewhat centrally located within a triangle formed by the cities of Nashua, Concord and Keene, roughly 30 miles from each and just 60 miles from Boston. Purchased and reopened in 2003 by Peak Resorts after a dozen or so years in dormancy, the little big mountain attracts skiers and riders with consistently good snow on its 23 trails and 875 vertical feet that ski like a bigger mountain. It also has a big modern main lodge with a light-filled airy second story with a cafeteria, fireplace, and bar. A shop, day lockers, ticket sales, plenty of cubbies, and wide benches for booting up are on the first floor. Also, a generous rental space (with telemark gear) opens up right onto the snow.
Aside from the modern amenities at the base area, Crotched impresses most with its snowmaking capabilities. This year (though Mother Nature helped significantly), like the previous six seasons, Crotched Mountain snowmakers got the mountain off to a fast and successful start. Typically that means an opening in late November and for the 2010-2011 season, the jump on skiing has been paying off with each successive snowfall. It has also meant that a couple of January rain events and one in early February have essentially had no effect on the conditions.
This was evident the week after I had first discovered the new glades off the Eclipse crossover, when we hit the slopes with my brother-in-law, Chris, and his two young sons. (Chris' wife, Beth, took to snowshoes, instead, and was rewarded with a rare sighting of a barred owl on her journey up through the woods just beyond the beginner slope Super Nova.)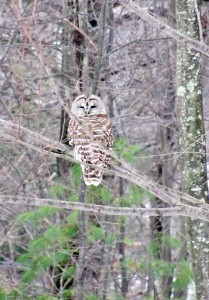 Expecting a seven-year-old and even a nine-year-old to ski all day is unrealistic, and after a three-hour drive up to our house in Peterborough, NH, from Connecticut the night before, it made more sense for our visitors and us to take it easy getting out of the house in the morning and opt for the half-day ticket that starts at 1 p.m. (Adults: $48; kids 6-12: $39; juniors 13-17: $41). An adult's full-day ticket is $54. Night skiing from 3 to 9 p.m. is $39 for all ages. It was easy for my crew (two adults and two boys ages 11 and 13) to ski at any time because we have an unlimited family season pass (a little more than $1200).
As is our regular weekend practice, we piled into the car with a bagged lunch and headed to the mountain. The place was busy, with the big parking lot three-quarters full, and inside the roomy lodge the lunchtime crowd was just getting started a little after noon.
After filling our bellies and booting up, we headed to the fixed-grip double at the west end of the mountain and warmed up for a couple runs on Super Nova as Chris took Justin, his youngest, to the Launch Pad learning slope that is serviced by a "wonder carpet" surface lift. When Justin was sufficiently warmed up (two runs), we split up from the top of the double and I dove into the intermediate Comet Drop and across into the thinly gladed Final Frontier as the others took the beginner slope Super Nova down to the base. We met at the double for another ride up and to cross over to more variety at the east end of the area.
The conditions, despite a bit of rain the previous week, were a mix of packed powder on top of a firm, but carvable secondary surface. While we could hear some scratching going on from time to time, the grooming crew had done another phenomenal job the night before, turning a crunchy crust into plenty of easy-turning corduroy. This is another reason Crotched has earned a loyal patron base; the groomers work magic day in and day out. The trees, however, alternated between soft crud and firm crust. Another few inches of snow, and the glades would be perfect.
Half of us took the intermediate Velocity that parallels Comet Drop while the others took another turn down the top part of Super Nova before crossing Final Frontier. We met at the middle of the mountain where the expert slope, Pluto's Plunge, empties into the wide-open section beneath the summit quad for an easy crossing to the terrain-park quad.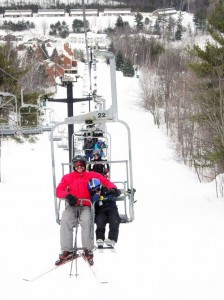 And this is what the modest mountain does so well. The 75 acres ski much larger than the numbers suggest. We still like what it has to offer (besides the best French fries in the Universe) and we regularly bring visitors from away here for an enjoyable ski experience. The layout makes it easy, say, for me to charge hard down Pluto's Plunge, or take a detour on the natural-snow-covered and bumped-up UFO, and then meet my family at the base of the summit lift or the east-side quad after they've taken easier slopes down.
From the summit, skiers and riders have three options. A left off the chair takes you to the black-diamond Satellite Summit or an immediate plunge down the aforementioned Pluto's Plunge. Turn right, and you can take the intermediate-rated Moon Walk and loop around to green trails, blues or back down Pluto's. A final option provides almost 200 more vertical feet of backcountry skiing via a 10-minute climb up a boot-packed trail to the true summit. From up there, you can push off east for a couple of unmarked trails and find knee-deep powder, cut up crud or even thigh-high fluff if you time your visit just right. A small cliff band off to the west even provides a thrilling but brief plunge to a tight glade that empties out onto the intermediate Milky Way.
Less adventurous skiers will continue toward the east after looping off the summit lift and hook up just beyond the top of the terrain park with either NCC-1701 or Galaxy, a pair of beginner trails that offer wide enough space for carving practice. They intersect at the apex of Galaxy's turn toward the west and offer three choices back down to either the park quad or the summit quad. One of those choices, a blue called Big Dipper, offers aspiring speedsters a bit more pitch on a slope that always seems to hold the snow well.
That slope empties out at the base of the terrain park quad, which probably offers the best seats in the house for entertainment. Crotched Mountain Park begins at the top of the quad and stretches the entire way to the bottom, featuring a variety of rails and hits at the top before progressing to bigger and bigger features that expert boarders and twin-tippers regularly use to show off an impressive variety of flips, jumps and tricks that draw shouts of approval and gasps of surprise from those watching from the lift. Make no mistake, this is a massive terrain park and occupies a serious amount of acreage on this modest mountain.
The park also allows those of us longer in the tooth to relive a little of the past when going airborne meant a loss of your ticket. The in-runs and walls expertly carved and updated weekly by Crotched's grooming crew provide ample opportunity to get just enough modest air for the occasional middle-aged thrill.
And to make sure the grommets get adequate preparation before launching a barrel roll on the big park, Crotched has built the progressively demanding Zero-G Terrain Park accessed by a triple just outside the east entrance of the lodge. It begins with rails and tables just a few inches off the snow before moving to jumps that demand more experience.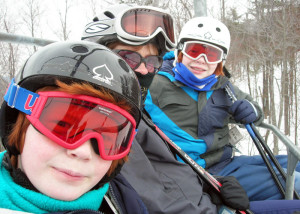 So skiers and riders get the training they need, the mountain offers camps in its Freestyle Program for boarders and the entire gamut of lesson plans for the rest of us snowboarders and skiers as well as those interested in learning about telemark. There's also adult-league night racing, a junior racing team, special clinics and NASTAR every weekend. Then, of course, there's Midnight Madness, the mountain's popular Friday and Saturday night celebration with lighted sliding until 3 a.m., live music indoors and a bonfire outside.
And did I mention service is sparkling here? That's just another reason so many families, couples and singles congregate at this easy day getaway in southern New Hampshire. After a couple of hours exploring its offerings, it's easy to see why.