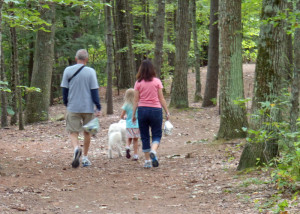 Whenever possible, I like to meet new people and share outdoor activities with them. As a result I've gone hiking, biking, cross-country skiing, kayaking, snowshoeing, whitewater rafting, ziplining, etc. with young families and single parents with babies in slings and backpacks, parents with toddlers, 'tweens and teens, 20- and 30-something athletes, people with "disabilities," and lots of "mature" folks including a number of octogenarians. I occasionally go with people who are taking their first (sometimes hesitant and fearful) steps into outdoor adventures, most often with people of about my ability level, and sometimes with others who have WAY more experience and ability than I will ever have.
And one thing I've learned is that no two people recreate at the same speed or to the same degree of intensity. In any group, even a group of two, there's going to be some disparity. Someone has to be the slowest, the least driven, the least experienced.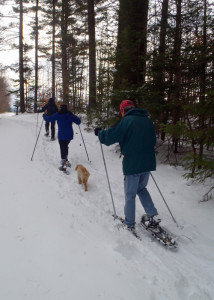 This, of course creates a conundrum for people just starting out. Very few folks have the gumption it takes to start enjoying new Active Outdoors pastimes completely on their own. Most of us begin and progress in company with other people.
But many people never start or never push themselves into new experiences because they are afraid that they'll hold someone back or be judged for not being "good enough."
How ridiculous! We all need to start somewhere and progress from wherever we are.
Group Dynamics In The Great Outdoors
Any group, no matter whether it's a group of experienced winter mountaineers heading up Katahdin, or Mom, Dad and a little one taking a walk in the park, has to move at a speed appropriate to the slowest or least experienced member. If the group doesn't adjust to and welcome the differences, it's not a group, but a collection of individuals who might as well be out on their own.
I know about this first hand. When my buddy, EasternSlopes.com's Senior Editor David Shedd and I go out on some of our adventures, he has to slow his pace for me. The simple fact is, I'm 11 years older than he is, and don't train nearly as hard as he does. The fact that he is willing to make adjustments makes us a good team. Does going with David make me a better, stronger hiker? Absolutely. But he also has to adjust for what I'm capable of doing, even when he's carrying more weight.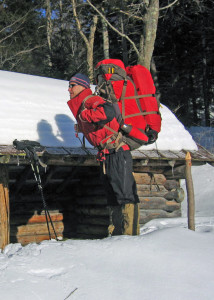 That, by the way, is one of the secrets of good group dynamics. Everyone does their "fair share" but "fair" isn't necessarily "equal." Let the strongest person take the lead, carry more of the weight. This works especially well on snowshoe and cross-country ski treks when breaking trail in new snow, but it's true at any time of the year on any group outing.
My sweetheart Marilyn and I do a lot of tandem biking together and this is a perfect example of "fair" not being "equal." I'm a stronger, faster rider than she is . But on a tandem bike, we are working together. I can seamlessly take on more of the effort when necessary and we both end up doing our "fair share" and having a wonderful time together.
If you are a total newcomer to some outdoor sport, and you are afraid of slowing down your family or friends, start, instead by taking a lesson or with a guide. Unlike your friends, family, or significant other, instructors and guides are paid to be patient and understanding. If you have something you want to try and don't know where to find opportunities, contact me—I keep lists . . .
And if you are on the other side of the coin and are an experienced person leading less experienced folks, leave your ego and competitive nature at home when you pack for an outdoor adventure. Make it your absolute goal to see that the people you are with learn to love the outdoor experience as much as you do.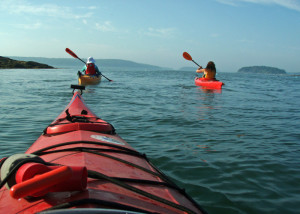 Outdoor activities are good for your body and soul. The worst thing you can do is not try.
Group Dynamics In The Great Outdoors: Tips For Being A Good "Groupie"
1) Be honest with everyone (including yourself) about your experience and ability. That means don't overestimate your abilities. But it also means don't underestimate yourself so badly you cheat yourself out of what could be a great experience. The more honestly you can assess yourself and your abilities, the more fun everyone can have.
2) Choose your outings wisely. If you've never been on snowshoes before, sign up for the 3k beginner stroll, not the 10-mile trek up a mountain (you'll get there eventually, if that's where you want to go.) Likewise if you simply MUST get to the top of that mountain, don't volunteer to help lead a group of beginners.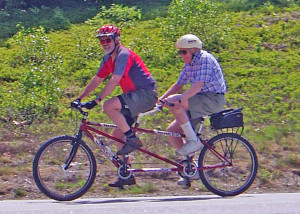 3) Don't judge others by your standards. Someone who is slower than you may not be shirking. They are probably just slower than you. On the other hand if someone is honestly trying to help you learn or do better, do it if you can. Don't get mad at them for encouraging you to do better.
4) Do as much as you can, no more. If you can carry more of the weight, break more of the trail, do it; if you can't, don't.
5) Pay attention to the group dynamic and to the conditions. In winter on fresh snow, the strongest person should be out front breaking trail and the slowest person should be back in the group so they get the advantage of many people packing the trail in front of them. At any time of year, someone strong and experienced should bring up the rear as "sweeper," making sure the group stays together, which is critical for safety.
6) Whether you are in a group of two or 20, whether are a total newbie or a leader with decades of experience, remember that everyone is out to have fun and learn.