Most people think of Stowe Mountain Resort as an upscale place to snowboard and downhill ski. Here you can ride a brand new High-Speed Quad on Mt.Mansfield, use RFID technology for tickets and gates, take an inter-mountain transfer gondola which soars over Route 108 connecting Mt. Mansfield and Spruce Peak,  stay at Stowe Mountain Lodge, a spectacular 312 room hotel and spa that has already been recognized as one of the greenest and most luxurious mountainside lodgings in the world and after all that, attend a performance at the new state-of-the-art Performing Art Center.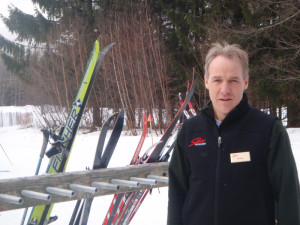 What you may not know is that Stowe Mountain Resort also has a first-rate Nordic Ski Center. Stowe Mountain Nordic offers 45 km of groomed trails and 30 km of backcountry terrain. The Stowe Mountain Nordic Center is located about a mile down the road and a world away from the bustling main resort. As you drive in you see a small building that looks like it belongs at a much smaller ski area. Here you buy  tickets and rent skis or have your lunch on rustic picnic tables. The rental shop offers a full menu of Nordic gear that includes snowshoes, touring gear, performance skate ski and classic ski packages, as well as backcountry and telemark  equipment. You can also sign up for both skate and classic lessons here. Scott Dorwart  is the Nordic director and he and his staff have years of experience in skiing and racing themselves and experience teaching all ages the joys of Nordic skiing. Kids can be fitted with skis or snowshoes down to as young as age 3, and, if they would rather go sliding, sleds are available, too, for the sliding on the hill behind the ticket building.
You can get small snacks (crackers and cheese, granola bars) and hot and cold drinks at the warming hunt, but if you want something more substantial you need to bring it with you. I'd suggest picking up a gourmet picnic at the Edelweiss Mountain Deli down on Route 108 nearer Stowe Village.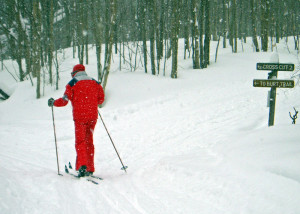 Next to the main building stands a simple yurt with a wood stove for the overflow crowd on busy days or as a quieter place  to warm up after a ski. The yurt has a couch and a few "stuffed chairs" to relax on. And relaxed it is. All in all, there's everything here a dedicated Nordic skier really needs.
Stowe Mountain Nordic trails traverse an otherwise undisturbed forested basin along Ranch Brook. Most of the terrain is geared for the intermediate and above skier, with only one 6 kilometer loop categorized as a"beginner" trail. But this one loop is a beauty. The Burt ski trail, part of the beginners loop, follows the Ranch Brook for a few kilometers. The sound of the water and the beauty of the  natural ice sculptures that form along the water make for a gorgeous ski experience. At about the halfway mark, you can stop at the Bear Hut to warm up and get free hot chocolate and cookies—a great stop for kids(and those of us that ACT like kids).
For intermediate and expert skiers, Stowe Nordic's groomed and tracked  trails form loops of 9k and 12k. If you like to explore, you can even ride to the top Toll House lift at the Alpine area  and then ski  back to the Nordic center. Your daily trail pass includes use of this lift.
Back country skiers can use the 30k of ungroomed trails at Stowe Mountain Nordic which connect to another, better known network of cross-country trails at  Trapp Family Lodge.  If you do this, be sure you stop at Slayton Pasture Cabin for a hearty soup-and-sandwich lunch before skiing back to Stowe Nordic. If the round trip is too much, leave a car at each end and ski both areas.
Although much of the terrain at Stowe Nordic is challenging, there is truly something here for everyone.  On a recent day, for example, I saw parents with small children out together enjoying the snow, a local Nordic Club practicing and some recreational skiers just toodling along enjoying life at their own pace. At other times, I've shared trails with a high school team practicing for a race or a group of women meeting for their weekly ski training with a former Olympic skier. Other times, I've skied all day without seeing anyone.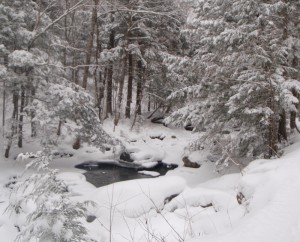 Once a year, usually in late February, one of the great Nordic races in North America passes right through the Stowe Nordic center. The Stowe Derby started in 1945 and  the challenge then was the same as it is today – a race from the top of Mt. Mansfield, Vermont's highest peak to the historic village of Stowe. The  original course has been tweaked through the years. Participants now ski  20km of challenging terrain with a vertical drop of over 2600 feet, racing down Mt. Mansfield's Toll Road and along the entire length of the Stowe Recreation Path before reaching the finish in the village. Today, the race attracts almost 1000 participants, and  includes competitive skiers as well as recreational skiers who keep doing it just because they have been doing it for years! A short, 6k course  has recently been added for children ages 5 years and up and their families. Basically flat, it  follows the final leg of the Long Course along the Stowe Recreation path. This friendly race is also perfect for those who prefer to avoid the rigors of the long descent and have the fun without the physical challenge.
The Derby is the only time you are likely to see a real crowd on the Nordic trails at Stowe. Most of the time, a big part of the enjoyment is in the quiet and solitude of beautiful woodlands. For me, Stowe Nordic is a very personal love affair. I have been skiing here for years and have sampled most of the trails including the back country skiing. I can't say I have a favorite trail; it all depends on the day. If I have an hour I do the easy inside loop (Burt and Timberlane). If I have all day I'll ski the outer perimeter trails. I keep coming back because I love the low key atmosphere and the variety of terrain.
Still to come for me is skiing the connector trails that take you to two other Stowe cross country centers: Top Notch Resort with its 30km of groomed and ungroomed nordic and light backcountry ski trails and Edson Hill Manor which has 25 kilometers of ski trails. The possibilities are almost endless, and I'm hoping this is the year I check some of those yet-unskied  trails off my personal "to do" list. Hope I see you there!
If You Go
For the 2011/12 season an adult trail pass is $18 midweek ($15-half-day) and $24 weekend/holiday ($20 half day); children and seniors pay $10 ($7) midweek, $14 ($) on weekends and holidays.
For information on the endless options for lodging, restaurants and other activities in the Stowe area, visit Go Stowe