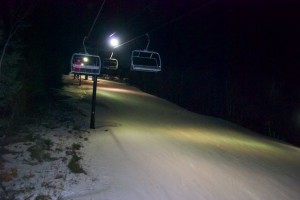 Weekends are supposed to be about having fun and kicking back after five days of hard work. Most of us want to mix up the banality that settles in around Thursday. The best cure for boredom is to do something crazy, like go skiing until 3 in the morning.
"You're going skiing until 3 in the morning?!" our friend Stacie asked on the phone before we lost service on the winding New Hampshire roads. Yes, we were. Around 5 pm that Friday evening, Casey had helped me put new bindings on my board, and we got our gear together. Our friends Andy and Dan couldn't pass up the spontaneous opportunity and decided to come too. We left Boston and set off to the slopes hours after the sun had set.
Skiing and riding doesn't have to be some grandiose affair that takes weeks to plan. You can pick up and go at the last minute. Spontaneity is a spice we all need, and ski hills are there, ready to help. Our destination this night was Crotched Mountain in Bennington, New Hampshire .
Crotched, it appears is even crazier about having fun on Friday (and Saturday) night than we are. They are seriously committed to night skiing. Every Friday and Saturday night from Christmas through Presidents' Week, Crotched hosts Midnight Madness— a marathon of night skiing. From 5pm until 3am, adults can ski or ride for $41, and juniors (ages 13 to 17) for  $39. If you want time to digest dinner before you head out, a 9pm to 3am option is available for $39 for adults and $35 for juniors. College kids are the population that can really benefit from Midnight Madness At Crotched Mountain, though. Friday nights are "Freedom Fridays," and college students can ski from 5pm until 3am for $35 with a student ID. If quick math eludes you (I needed a calculator), that's only $3.50 per hour of skiing or riding. You can't even go bowling for that price!
Skiing all night for $35 really is some pretty cheap fun, especially when I compare this to what all of our friends back in Boston did that Friday night– went to a club, paid a hefty cover, bought expensive drinks, and incurred massive hangovers. If this sounds like the sort of weekend you're being dragged into, try rounding up a couple of friends for Midnight Madness. They even have a bar inside with live music to quench your need for a little social action on Friday night.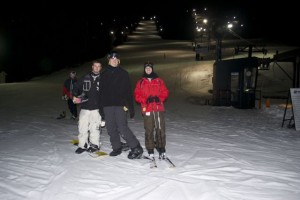 Can't get there, you say? You live in a city and don't have a car? Me neither! Not since Daddy Took The T-Bird Away (well, it wasn't a T-Bird but it was a car and it did go places.)
Zipcar To The Rescue!
Perhaps you've heard of this company or seen their cars around. They're located in cities all over New England. You can see where all the Zipcars are by zooming out on this cool map. Many universities and companies team up with Zipcar to offer discounted rates to students and employees. Be sure to check if you're eligible to receive a discounted rate!
I'd never used Zipcar before. Midnight Madness was my first experience and the results were stellar. Zipcar was as easy to use as their advertisements make it seem. I registered to become a member on Monday, and was ready to drive a couple days later. When you apply, your driving history is checked, and, assuming you don't have some history of illegal car racing or something else to hide, your membership card can be picked up or mailed within a couple days. I reserved our car, a Honda Civic, for about ten dollars per hour. My magic ride to the ski hill awaited in a lot only a five minute walk from my apartment. I waved the membership card over the waiting chariot, and voilà!, the doors unlocked.
Contrary to how it seemed, it's not really magic, just a smart alternative to owning a car, and you can use it as easily as we did. We were very impressed that the Honda held all of our gear:  three snowboards, skis, poles, and boots for all, plus four people. It even came with goodies like a cord to connect our iPods to the speakers and a GPS that came in handy when our phones lost signal in the mountains. Having a Zipcar membership is much like owning your own car, except that you don't have to deal with the hassles that come with owning a car in a city (says the girl whose last car was stolen and recovered in less-than-pristine condition. . .). You don't even have to pay for gas!
The only downside to Zipcar is the hourly fee charged for taking the car out, and the limitation of 180 miles per day. Fortunately for us, Crotched is only about 80 miles from Boston. It's a quick trip up, especially if you're blasting electronica with three of your friends who can't wait to shred. Casey was more than enthusiastic, so I'll let him tell you about the Madness that ensued:
Midnight Madness At Crotched Mountain Rocks
"The first thing I noticed as the Zipcar rounded the last corner hiding the mountain from view was that the lodge appeared to be on fire. No worries, it was actually just the massive bonfire Crotched keeps burning through the evening for Midnight Madness, perfect for when you just want to sit down for a minute without having to go inside to warm up.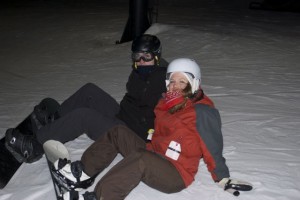 We grabbed our tickets—no lines—suited up, strapped in the front foot of our snowboards and slid past the fire, all to the soundtrack of  the indie rock I want to hear. Throughout the night, Crotched blares favorites from a few years back including Vampire Weekend, MGMT, Foster the People, and as far back as the Postal Service! Details like the bonfire and good music made  Midnight Madness a true experience.
As we approached the first of Crotched's four open chairlifts, I was reminded of why I love night skiing so much. Even though the mountain only has a top elevation of 2066 feet, it still managed to fade ominously into the darkness. Maybe it's just the remnants of a childhood love of adventure and mystery, but something about skiing in the dark is entirely cool. Moments of limited visibility mixed with bright floodlights manage to create an exciting ambiance not available during the average ski trip.
Considering Midnight Madness is one of Crotched Mountain's biggest selling points, it came as no surprise that they had the right stuff to provide an awesome time. Aside from the incredible number of bright lights used to illuminate the entire mountain, I was shocked by the amount of snow coverage… that is, 100%! It's no secret that this unseasonably warm winter has been depressing for skiers and snowboarders. Thankfully, Crotched has over 100 guns, which is more than enough to cover their 75 acres of open trails. In addition, Crotched is the only mountain in New England to boast 100% fan-only guns, meaning they can produce up to 12 inches of snow in a 24-hour period as long as the temperature's below 32º F.
We surveyed all this from the summit quad as we made our way up on the lift. Sitting there . . . and sitting . . .and sitting . . . I could suddenly understand why Crotched was excited about their recent purchase of a high-speed quad for next season: the current quad is super slow! One of the older models of chair lift, the chairs are fixed to the wire instead of detachable, something you usually only see on smaller, less used lifts on bigger mountains. With Crotched being as small as it is, it wasn't too pressing (or depressing) of a concern, though it is good to know that a new lift is on its way.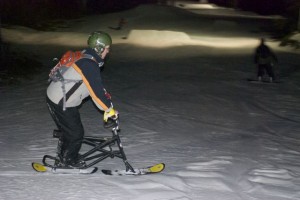 As we strapped in at the summit, I considered the fan gun snow my rear was currently resting on. I've been on man-made snow many times in my snowboarding career, and Crotched Mountain definitely had some of the best I've ridden.
Making our maiden voyage straight down Pluto's Plunge, I noticed one of the best features of Midnight Madness: the mountain was practically empty! Fifty people or so were out on the slopes at any given point. Spread over 75 acres, enough people were out for you to feel comfortable companionship without ever having to be cut off or cramped. Perfect!
After a few runs, we'd covered the whole mountain. Despite how they may be marked, don't expect any true diamonds to pop up at you at Crotched. I would rate every trail as either a green or an easy blue. However, with wide open trails and no one around to see you mess up, Crotched is perfect for experimentation. I focused on riding fakie, a skill that had been eluding me, while Andy set out to improve his racing speed. By the end of the day, I'd shocked myself by managing to make it down a whole run riding fakie. Thanks, Crotched. Take advantage of empty slopes when you've got them to mess around and try stuff you normally wouldn't try on a more crowded day.
A great place to test yourself when the mountain's empty is the terrain park. With the trails themselves being relatively easy rides, we found challenges awaiting at Crotched's multiple parks. While only two are labeled on the trail map, we discovered a third in our exploration of the mountain.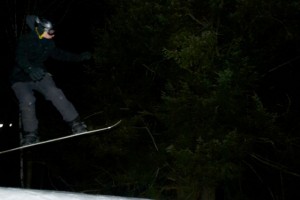 The Zero-G Terrain Park (which is on the map) serves up a medium-level challenge. With its own chairlift and a series of rather intimidating kickers, rails, and boxes, it's easy to retry each obstacle until you get the hang of it. Conditions were good, though some of the landings were a little icy. Because it's a quick run and a little beyond our skill sets, we didn't spend too much time there.
The Crotched Mountain Park, also on the map, consisted of three huge jumps, with a few menacing looking rails at the end of the run. Even Dan, our resident daredevil-on-skis, decided not to attempt those monsters.
The park we all enjoyed the most was the one that wasn't even on the map! NCC-1701 (Trekkies will recognize the reference) was hidden one of the trails on the edge of the mountain (Where no man had gone before?). It had the perfect set up for our needs: one spine, a wide kicker with a rail in the center, three decent sized jumps, a kicker with a rising box, and a beginner fun box. These managed to provide enough air for a grab here and there, and were definitely my favorite part of the mountain. Plus, with so few people, there were no lines for any of the features, a rarity in most terrain parks.
We spent most of the long evening doing the same run from the summit: Moonwalk to NCC-1701 to Galaxy to Meteor. This mixed some fun natural features with the small park and a few areas to bomb, and we happily hit that over and over again until it was time to leave."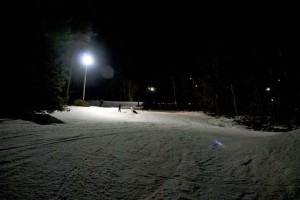 All in all, both Casey and I recommend Midnight Madness At Crotched Mountain, especially if you're in college in Boston or  southern New Hampshire. You'll be up until 3am on a Friday night anyway, right? For a good price, you get the whole of the mountain for 10 hours with no waiting or crowding. What could be better than a warm(-ish) night and a nearly empty mountain? Just give in to the temptation, be spontaneous, and go.