On a sun-drenched late-March day last year, I was on my third trip up the Sun Mountain Express quad at Bromley Mountain Resort, pondering just how difficult it is to convince snow lovers south of the Massachusetts-Vermont line that there was plenty of fun to be had yet at Bromley. It's a fact that when there's no snow in the backyard, skiers and riders in flatter environs often don't think the ski conditions justify making the trip. They couldn't be more wrong. Bromley in Spring really shines!
On this particular day, there was enough snow on the mountain to go well into April. But without enough visitors from New York and Connecticut to make it worthwhile to keep the lifts running, a whole lot of fine snow was condemned to melt unused under still lifts. As daffodils poke up through the dirt on the edges of lawns of Fairfield County, Westchester, and Long Island (Bromley's main markets), skiers assume the season is over. Too bad for them, given the fun we were having.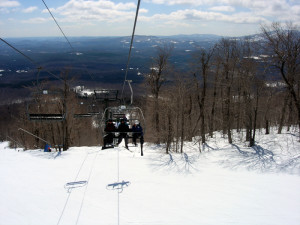 Though this is the only major Vermont ski area which faces south (Stowe Mountain Resort's Spruce Peak also faces south, and New Hampshire has Black Mountain in Jackson and Cranmore Mountain Resort in North Conway), the experienced snowmakers and groomers at Bromley know how to buff the trails and slopes so that everyone can enjoy the skiing and riding all season long.
Bromley In Spring: Host Program Shines
Mike Neal, a Bromley Host, was showing a group of eight of us – my wife and I and our two boys and our friends, the Wachters, from Connecticut — around the mountain. Bromley Hosts, dressed in blue jackets with a big yellow sun on their backs, are there to answer questions and offer free tours of the mountain, mornings and right after lunch. It's an excellent way for someone who doesn't know the trails to become familiar with the ski resort. And on this day, that sun on Mike's back was apropos because "Vermont's Sun Mountain" was living up to its name. We wore sunblock, plenty of sunblock.
The day was cold, which was perfect for keeping conditions consistent: a granular surface on top of a firm base. Some slopes, especially those geared more toward beginners and lower intermediates, held three inches of sugar snow for easy turning.
We started our tour on Bromley's west side and savored expansive views looking south. Stratton Mountain was to our right and Magic Mountain to the left. This region is a skier and snowboarder playground with the other mountains so near and the quintessential Vermont town of Manchester Center only 8 miles away.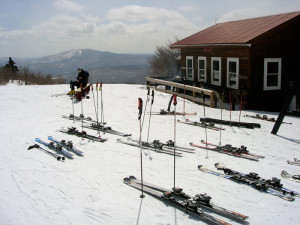 We first sampled Run-Around, a winding, easily navigated beginner trail that crisscrosses and shares snow with a couple of intermediate slopes on its way to Lower Boulevard to bring you back to the base area for a continuous 1,334 vertical feet. Once at the bottom, skiers and riders can choose between the quad for the return trip to the summit, the Plaza Double for a novice slope that shares real estate with a skier-and boarder-cross course (more on that later), a T-bar that accesses a couple of practice slopes and the Sun double chair, which extends to a point just below the summit. A learning zone with two surface lifts provides plenty of space for newbies to find their legs to the east of the base lodge.
We headed back to the Express Quad for the six-minute ride back to the summit, this time taking Pushover, a classic New England trail and Bromley's longest at 2.5 miles. It empties out at the bottom of the fixed-grip Blue Ribbon Quad. On that trip back to the 3,284-foot summit, we got a good look at a handful of trails that keep the experts happy. Off to the right, one of the steepest slopes on the mountain, Stargazer, offers a sustained stretch of shifting fall lines and one look told us the experts in our party would have to try it and another black diamond, Corkscrew. Havoc, another black diamond, combines rolling whales and steep pitches back to the bottom of the quad. Bump skiers can have fun here for the grooming crew leaves half of the slope from top to bottom untouched. They also leave all of Sunder and Pabst Panic, two more expert slopes, ungroomed as well, and the bumps that day were sizeable. Pabst Peril, a narrow steep to our left that paralleled its similarly named cousin, indicating the provenance of the resort.
Bromley In Spring: A Blue Ribbon Legacy
Fred Pabst, scion of the Milwaukee brewing family, left his grandfather's business behind after trying it for a decade and started building J-bars and ropetows at Bromley around 1936. He loved skiing and ended up being one of the pioneers of the industry, among the first to provide trail grooming, on-mountain childcare , and slopeside accommodations. In the late 1960s, he started one of the industry's first large-scale snowmaking operations.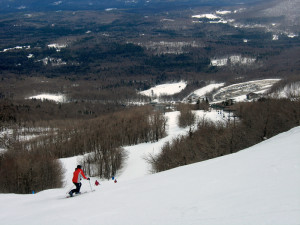 Our next run was Shincracker, a classic narrow, twisting New England trail. Navigable by all in our group, it had the novice among us on our toes. Shincracker eventually hooked up with a wider groomer called Thruway that placed us at the top of the skier cross course built on a wide beginner area called Plaza. I looked over at my friend, Larry, with what must have been a bemused grin and asked, "what do you think?" His reciprocal grin was the only answer necessary, so we slid up to the starting gate. If ever there was a way for ski resorts to keep things interesting and offer guests, especially those with a little gray in their hair, new ways to become teenagers again for a brief spell, it's a skier cross course. Bromley's was just long enough, with a few banked turns and air-inducing rounded tabletops, to get the adrenaline going before it flattened out back the base area.
Larry, his wife, Leslie, and I went off  with our Bromley Host Mike in search of more challenge and found it on Havoc and its continually shifting fall lines. Havoc required some precise edging. Two more trips on the Blue Ribbon Quad and fast plunges on Stargazer and the black-diamond Corkscrew and we found ourselves at the top of a slalom course set out on Upper East Meadow, a wide intermediate.
"Can I run the gates?" I asked Mike. There was no one on the course and his matter-of-fact affirmative told me Bromley was also unique in allowing guests to try their hand on a racing course. My experience has typically been the opposite; most racing programs are quite possessive of their setups.
Fun In All Seasons
As I finished my awkward, slow and yet satisfying run through the gates, all I could think was Fun! Fun is what Bromley in Spring promotes most.
Just above the start of Upper East Meadow, a five story steel tower at the crest of a knoll about halfway up the mountain marks the beginning of Bromley's latest attraction: The Sun Mountain Flyer. Four, half-mile long ziplines fly guests down to the bottom side-by-side suspended in bo'sun chairs that descends 700 vertical feet at speeds reaching 50 mph. At $20 a ride, spring, summer, and fall, the freefall is a guaranteed adrenaline pumper for those seeking to engage their inner Batman. There is also a triple-tracked Alpine slide that snakes down the mountain for two-thirds of a mile. It's one of a number of attractions for summer-season visitors.
But this was still winter and it was time to eat some lunch to keep us fueled for the sunny afternoon, so when we met the rest of our group at the base area, we headed inside. The three-story classic Vermont timber building has large areas and plenty of seating for lunch crowds. We found an open table for our group in the large cafeteria on the second floor. The third floor has a deli, more cafeteria seating and a large welcoming, light-filled pub called the Wild Boar Tavern. The bottom level is home to the large Bromley ski shop and a locker room.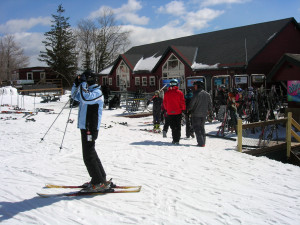 After lunch, we headed back out and took the Sun Mountain Express to the top again. We skied an intermediate trail called Upper Twister that ran alongside the quad and turned off at Upper Thruway and somehow managed to end up at the skier-cross course once again. Fate. Larry and I had another go and when we met up at the bottom, the four kids chose to stick with the T-bar, giving us adults an opportunity to find more challenging slopes.
We toured Exhibition, an intermediate-to advanced terrain park with an assortment of rails and boxes, and got a look at Bonanza, a terrain park with smaller-scale features. Then there's Halo Freestyle Park, which features numerous rails and a number of features. We skied our legs rubbery, sticking to the blacks that snaked off the Blue Ribbon quad, and Larry and I finished the day with a venture into Avalanche Glade, pleased to find that the hard crust that supported us was covered with three inches of sugary snow. We finished our afternoon with one more run on the skier-cross and then a final wooded run through The Everglade.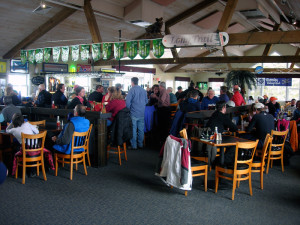 We met the ladies and celebrated our good luck with a  beer at The Wild Boar Tavern. The big windows that looked out across the valley where the snow was melting reminded us that spring was here. But all that snow on the mountain, and all that sunshine made us all agree to meet back at Bromley for more fun every spring.