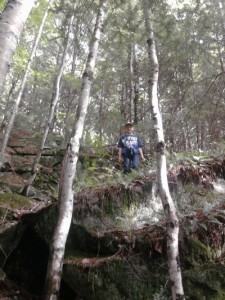 (Editor note: Here at EasternSlopes.com, we honestly believe that getting outdoors, being active and having fun is important for everyone's well being. That's true for people of all ages and all abilities—including those with physical and mental challenges. Susan Marean Shedd, the author of this story, is a social worker in Maine who often takes her clients to the outdoors to help them heal and grow. We'd like to offer our thanks to Jane and Walter, the adoptive parents, for sharing their story about their amazing son, and to Shawnee Peak Resort for helping make this possible. To protect his privacy and confidentiality, his name has been changed. Here's "Eric's" story:)
My friend Eric is a smart, athletic nine year old boy, who also happens to be a survivor of horrific family violence. Though he has now been adopted into a stable, loving home, Eric was brutally shaken as an infant by his biological father. This violence left him with broken legs and broken ribs, which healed quickly, and a traumatic brain injury (TBI) which still impacts his life today. TBI impairs Eric's personality, emotions, judgment, self-monitoring abilities, and organization skills. He has difficulties with his awareness of his own abilities and limitations, with planning and anticipation, problem solving, and with self-control. Still, Eric loves to get outdoors and have fun. And sometimes, "fun" is just what's needed to spur mental and social development.
Last November, Eric and I were out riding bikes together. Destination: the playground. Not only was he learning road safety, WE were  getting great exercise! We arrived at  the playground with lots of energy, so we played cops and robbers (I, of course, was the bad guy!).
Skiing For TBI Healing: How One Brain Injury Survivor Reached A New Pinnacle
After we returned home that day, we started discussing what we could do together during the winter months. He wanted to play ice hockey on the pond in his backyard. While I love to be outdoors and being active, I'll pass (no pun intended) on a hockey puck flying in my direction. So, we started thinking of other things we could do together. Ski? Well, we live in Maine, and with Shawnee Peak nearby, we had the start of a plan. But there was one hurdle: Eric decided  that if he didn't have his own skis, he wasn't going. Eric's Mom and Dad turned a little pale; buying even used ski equipment would be tough on their budget. But, they graciously offered to do their part. We all decided that the real work was going to have to come from Eric; in order to meet his goal, he would have meet his responsibilities.
Sometimes, it's easy for a child with a mental illness to expect that life is a "gimme." As Eric's mother says so wisely,  "It is hard not to just take care of the illness/disability; it takes real work to parent the child." We all decided that Eric would work collaboratively with his parents to earn money to purchase his own ski equipment. He made a checklist with his mom:
Each day, he would:
Get himself dressed without being told
Pick up toys and hockey equipment
Keep his bedroom neat
Use nice manners
Eat dinner at the table with his parents
Brush his teeth without being told
In addition, he would volunteer at the local animal shelter three times a week.
Some of these may seem trivial, but they are monumental steps in Eric's world, goals that Eric and his family had struggled with.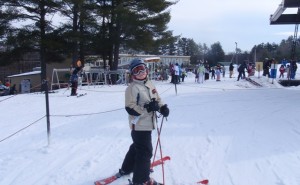 Fast forward to February school vacation – Eric had achieved his goal and his parents took him out shopping to buy him used skis! He not only earned the money for skis but was motivated to set new goals for the future.
He was so excited! I picked him up at 7:00 a.m. in freezing rain. Truth be told, if it wasn't for Eric, I would have gladly stayed in. But this wasn't about me, it was about him – we were celebrating his  accomplishments! We sang in the car on the way to Shawnee Peak, and he excitedly told me about the trails he wanted to show me. Despite the weather, there were no clouds over our morning. We arrived at the slopes eager to gear up!
Eric stated that he wanted to start on the Pine Quad Chairlift, so that's where we headed first. Unfortunately, before we could start our first run down Happiness Trail, we had to wait. In his excitement, Eric had inadvertently dropped his pole from the chairlift. He'd been waiting for this day for several months now, and here were; ready to go, but we couldn't because he only had one pole! While we were waiting, Eric got to display his patience. We talked about how hard he had worked to here. Soon enough,patience was rewarded, the staff at Shawnee Peak delivered  the errant pole, and we were off.
At first, he was wobbly and nervous. He wanted so badly to show me what he was capable of (and, if I were in his shoes, I would have felt the same way, wouldn't you?). Falls brought aggravation, not giggles. Not a great start. So, we talked about it and decided together that our next run would be on the easier Rabbit Run Double. GREAT decision!
Eric immediately felt comfortable here. He was able to practice his turns without fear. Suddenly, we were skiing together! He was cautious and meticulous with his turns, and we were having a blast! We did this run a few more times, and then Eric asked if we could try the Pine Quad Lift again. At this point, we were both feeling comfortable with his abilities, and I didn't hesitate.  "Yes." We tried Happiness Trail again, but this time, we were flying down the mountain, both smiling like crazy. Even the sun seemed to celebrate Eric's success by making a welcome appearance!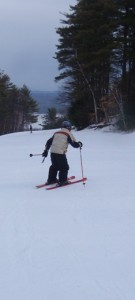 After several trips down Happiness, our time was drawing near an end, and we wanted to finish with the smiles that we just couldn't seem to wipe off our faces. Eric asked if we could go to the top . . . this meant riding up the Summit Triple. Based on our day at this point, the answer was yes, but with a condition. Together we discussed his limitations, and together we decided that we should play it safe. We decided to get off at the mid-station and ski down Riley's Run. This was our best run of the day! Eric was comfortable making turns and stopping when he wanted. Once in awhile, he would stop, look at me and smile big, and then take off again. The sun was out, we were surrounded by other happy skiers. We skied to the bottom like there was no tomorrow  . . . WHAT a day!
Not only was this a special day for us, but Shawnee had a "Family Day " event going on and and skiers and riders of all ages were dressed in costume on the slopes. As we approached the lodge, families were making snow sculptures…there was music and laughter everywhere, and Eric was just another kid having fun on the slopes!
For  Eric, his parents, and me, this day outdoors and all that led up to it was a gift. We were Skiing For TBI Healing and Eric made amazing progress, took more steps toward a better life.
Sort of makes you wonder about what you could be doing, doesn't it? Eric's challenges are clear, but what challenges do you face that keep you from getting outdoors, having fun and making your world better? And what do you do that you could share with someone who faces challenges in life? For another view of this, see Cassie Willner's story on volunteering for Vermont Adaptive Ski & Sports.
This whole experience only reinforced my belief that everyone has the capacity to LIVE an enriched life no matter what challenges they are facing. Eric 's world has forever changed, his horizons have expanded, and now he's talking about other outdoor activities that he'd like to try: hiking, fishing, backpacking, camping, sliding, and cross country skiing. He's an incredibly special young man and he's not going to let anything stop him.
Resources: 
If you or someone you know has suffered from a brain injury or simply suffers from mental illness please reach out – there is help and there is hope!
For help with brain injury, visit the Brain Injury Association of America for more information and resources.
For non-injury related mental illness. Contact your primary care physician's (PCP) office for referrals, your local Emergency Crisis Center, or Department of Health and Human Services for resources.