As a lifelong Vermonter and current Burlington resident, I'm a little embarrassed to admit that, despite the fact I can see them from my second floor window, I've never spent much time in the Adirondack mountains. I've never been to Lake Placid, never skied Whiteface or hiked Mount Marcy, and so on . . . Well, what better way to explore the Adirondacks, which rise spectacularly out of the western shoreline of Lake Champlain, than by bicycle?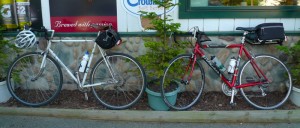 I convinced my husband Charlie to join me on a late summer bicycle tour In the Adirondacks, by describing the wonders of pedaling the High Peaks region and staying in Lake Placid, promising a "sky's-the-limit budget" for our meals, and the real winner: soft, comfy beds at night instead of our usual cheapo camping digs. Since we wouldn't need to bring camping gear, we decided to carry minimal weight on the bikes. This meant some sacrifices for me: no special travel pillow or multiple outfit options. But shaving the weight meant lighter, faster and easier pedaling up the hills!
I mapped out possible routes and decided to start with the hardest and longest ride on Day 1. A shorter, recovery ride on Day 2 gave us time to explore Lake Placid. Finally, a downhill coast got us back home on Day 3.
A Late Summer Bicycle Tour In the Adirondacks Day 1: Burlington to Lake Placid (63 miles)
We woke up to sunshine and low humidity; a perfect day to head out on our bicycles. Okay, almost perfect until we figured out which direction the wind was blowing. Unlike EasternSlopes.com's Executive Editor, Tim Jones, who seems to be a rain magnet for his bicycle tours, I always attract headwinds.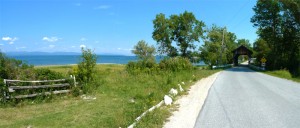 The brisk headwind made for slow pedaling as we rode from downtown Burlington out Spear Street, which leads south out of town along a well-heeled suburban ridgeline. [Note: the wind is often out of the south along Lake Champlain in the summer and fall.] From there, we headed down to Lake Champlain along Lake Road in Charlotte. This is part of the Lake Champlain Bikeway and one of the prettiest rides you could possibly imagine. The route passes a Hanoverian horse breeding facility where mares and foals graze outside all summer long, Shelburne Orchards, the Charlotte Beach, the Lake Shore covered bridge (built in 1898), and numerous farms and open hayfields overlooking the Adirondacks to the west.
After 17 miles we cruised up to the Charlotte-Essex ferry dock and waited for our ferry to arrive. The Lake Champlain Ferries offers three different crossings; from Charlotte, Vermont to Essex, New York is the southernmost and the shortest at only 30 minutes. It's a basic ferry, with no snack bar or fancy air-conditioned interior, but it does have bathrooms and unparalleled views from the second-floor deck seating. What a deal too—only $4.75 for each cyclist, one-way.
One of our favorite day trips is taking the Charlotte ferry over and riding to the fabulous Dogwood Bread Company in Wadhams, New York, having lunch there, and then heading back. From the ferry dock, it's a fun and easy 20 mile out-and-back option. On this trip, we refueled at the Essex Ice Cream Café, right off the ferry dock on Main Street in Essex. I put back a mint chocolate chip cone and Charlie gulped down an espresso before we hit the road for the beautiful ride to Elizabethtown.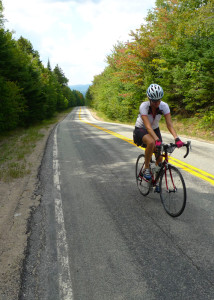 After a delightful sit-down lunch at the Deer's Head Inn (which claims to be the Adirondacks' oldest inn) in Elizabethtown, we geared up for the hills ahead. I won't sugarcoat that 7-mile climb (it's not too steep, the average grade was around 3%), but we did just fine. I found a gear I could spin easily and sustained an even pace to the summit by the Hurricane Mountain trailhead. Then the fun part: downhill to Keene!
From Keene, we followed the route of the Lake Placid Ironman bike course up Route 73 into Lake Placid. This race is held every July and draws a huge crowd to the region. Normally, however, the Ironman athletes ride their bicycles down Route 73 in the opposite direction! This climb was the most challenging part of our ride with grades up to 6%; asking me for what felt like Ironwoman endurance at the end of the day. Since Route 73 is the only roadway into Lake Placid there was a fair bit of traffic. Thankfully, though, we felt very safe on the wide shoulder and most cars took extra care to pass us considerately.
Once in Lake Placid, we pedaled through the busy town, past the Olympic Center and speed skating oval, to our destination for the night at the Golden Arrow Resort. (By the way, the town of Lake Placid is on Mirror Lake and not Lake Placid, as one might expect.) The Golden Arrow Resort sits right on the shore of Mirror Lake, and we were spoiled with a room overlooking their private sandy beach. Our bicycles got their own secure storage room as well. We were extremely impressed with the Resort's commitment to various environmental initiatives.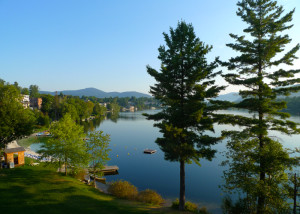 Best moment of the day: diving into the cool, clear water after a long day in the hot sun on a bike.
You know what else feels pretty good for a sore butt after 63 miles of riding? A jetted whirlpool tub! Well worth the upgrade! A good refueling (plus lots of water, stretching, plenty of rest, and a few Advil, too) is key to having happy muscles next morning. We stuffed ourselves with the generous servings on the outdoor patio at Generations, the Golden Arrow's attached restaurant, and hit the comfy pillowtop by 9 pm.
We decided to explore Lake Placid in the morning. After walking up and down Main Street, we checked out the Olympic Center and ice rink inside. Charlie reminded me, "You know this is where "The Miracle" happened, right?" No, I'm not a hockey nut like Charlie, but yes I knew exactly what had happened here even though I was only one at the time of the 1980 Olympics! Outside the Center we caught a free shuttle bus to the Olympic Jumping Complex, located a couple miles outside of town.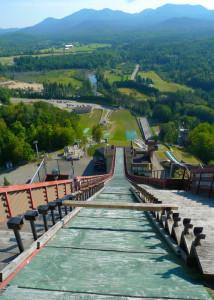 Ok, I'll admit I grumbled a little over the $11 ticket fee. But Charlie was right when he told me it would be awesome. In fact, the scale of the ski jumping tower is difficult to convey in words or even photos. After taking a ski lift and then an elevator up to the top of the 120-meter tower, I felt sheer terror looking down the jump. To the west, we got a bird's eye view of the home and grave of famed abolitionist John Brown. We also got to see Olympic hopefuls of many ages practicing freestyle aerials into a large aerated pool. We're talking HUGE airtime here! Just go see it; trust me, you won't be disappointed.
Back to bicycling: Route 86 out of Lake Placid to Saranac Lake is a busy road but, it has a wide shoulder, new pavement, and a lot of downhill. If you're not comfortable with fast-moving traffic and the occasional big truck rumbling by, this is probably not the road for you. As an alternative, you could bike Route 86 directly to Wilmington which is about 12 miles; and the traffic is not as constant.
Once out of Saranac Lake, we enjoyed smooth sailing beside rivers and smalls lakes with Franklin Falls as a highlight. Since we were in the McKenzie Mountain Wilderness we saw little development and a lot of spectacular views. Eventually, we climbed up and around the backside of Whiteface Mountain, and were rewarded with three miles of downhill into Wilmington along the Whiteface Memorial Highway. I definitely recommend riding this route clockwise, as we did: riding UP the Whiteface Memorial Highway would be a very steep and sustained climb. We flew by Santa's Workshop, a historic theme park (located in North Pole, NY—for real!) that is open in the summer and fall and perfect for families visiting with little kids. Someday!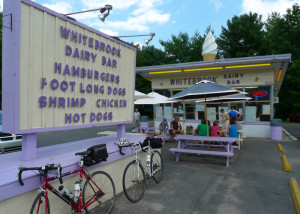 Turning into Wilmington, we came upon what is, quite possibly, the best thing imaginable at the end of a long ride: an old-fashioned ice cream stand. The Whitebrook Dairy Bar not only serves up outstanding shakes, but also a wide variety of sundaes, snacks, and deep-fried goodies until Labor Day. Charlie happily devoured his "Michigan" and "Chicago" hotdogs without any trouble. From there, we had just a couple more miles to the Ledgerock at Whiteface, our home for the night. The Ledgerock is a friendly, family-owned hotel that is a great option for staying near Whiteface. Along with spacious rooms, it also has a large recreation room with a fireplace and a pool table along with a sweet little outdoor pool.
David, the innkeeper, suggested the Hungry Trout/JP McDougall's Pub just a half-mile down the road for dinner, and provided us with a 10% discount card. Both restaurants share the same building and chef; we went for the low-key ambiance of the pub. (If you are looking for a really low-key and family-friendly option, try the A&W just a couple miles down the road toward Wilmington.)
Judging by the wall-to-wall fish décor, and the numerous variations of local trout on the menu, there was no wonder JP McDougall's Pub was deemed one of "America's Top 10 Fishing Bars" by Outdoor Life Magazine. We had no complaints with our food, and were even happier to find they had Switchback, our favorite beer (brewed in Burlington) on tap. Good thing it was close to the Ledgerock and we didn't have to drive!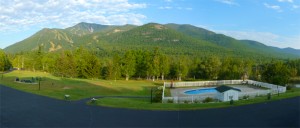 A Late Summer Bicycle Tour In the Adirondacks Day 3: Wilmington to Burlington (30 miles)
Packing up and heading home is never easy. Wilmington is a small town and we were worried about finding somewhere to eat in the morning as we headed out. Thankfully, we discovered the Country Bear Diner, which is worth a visit for its heaping helpings of breakfast offerings.
Fully carbed up (and probably packing an extra 5 pounds from breakfast alone), we started our day cycling along Route 86 into Jay, where we noticed a sign for a covered bridge and took a detour to check it out down by the Ausable River. The bridge, built in 1857, is totally renovated as a pedestrian/bicycle only bridge. We got a panoramic wide-angle view of the Ausable River and discovered a popular swimming hole nearby complete with open sunning rocks and fun natural water slides.
Almost a year ago to date, the Ausable River looked drastically different. Tropical Storm Irene swept through the region, blasting New York and Vermont with intense rain, wind, and severe flooding. Many of the towns we traveled through, including Keene, Jay, and Ausable Forks, were devastated when the Ausable River flooded. Compare the photo below, of the swimming hole at the Jay covered bridge, to this Youtube video of the exact same place during Irene to get a sense of how much the water rose. Scary.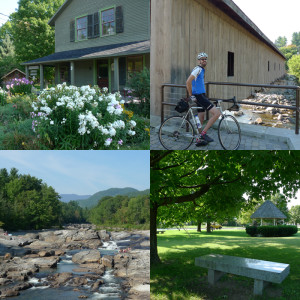 We saw a few other reminders of Irene as we pedaled our way along the Ausable River, including  re-laid pavement where road sections were totally washed out. Amazingly, a year later the rivers and lakes in the region are at record lows. A great vantage point to see the power of the Ausable River is at the bridge over Ausable Chasm—a natural feature that is privately owned and a bit of a tourist attraction these days. It includes a campground, welcome center, gift shop, rafting, and a network of trails that descend down into the sandstone gorge. We opted out of the $16/per person admission fee (necessary to access any trails) and enjoyed the free view from the bridge.
A net descent of 1,000 ft over the course of 30 miles made this an easy day of biking; we cruised into Port Kent and boarded the ferry bound for Burlington.This ferry ride is almost 2 hours, crossing the widest section of Lake Champlain. As we relaxed on the deck in the sunshine we discussed how this time of year is so special. This area is a year-round destination, offering skiing and snowshoeing in the winter, bicycling, hiking and paddling in the summer, as well as great fishing in the spring and fall. But you can't go wrong with a late summer bicycle tour in the Adirondacks. This sweet "shoulder season," sandwiched between the prime summer vacation time and the busy fall foliage season (when the leaf peepers descend en masse and hotel rooms book up) is the perfect time for a bike exploration around Lake Champlain and the Adirondacks. Just be sure to pack that bathing suit, book a room with a whirlpool tub, and don't forget to train on some hills before you start to ride!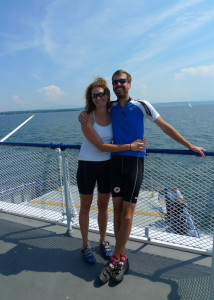 If You Go
Ride for the River: September 16, 2012
Looking for a fun, downhill ride in the Adirondacks? Check out this fundraiser for the Ausable River Association which starts at the source of the Ausable River near the Ausable Club in Keene Valley, then travels 37 miles to finish with a picnic at the Ausable Chasm.
Biking the Scenic Byways of the Adirondack North Country
This website has a lot of information on bicycling routes in the Adirondacks, including 50+ road rides along or near the Scenic Byways. Also includes mountain biking routes, bike path options, events, bike shop listings, and maps for the touring cyclist.
Lake Champlain Bikeways
An advocacy organization that includes routes, lodging, and partnerships in New York, Vermont, and Quebec. Includes bicycling routes around the shores of Lake Champlain.
Lake Placid Tourism
This excellent website includes bike trails and cycling routes (scroll down to see the routes listed below); many different ride lengths are offered including the challenging Ironman loop and shorter day rides in the Lake Placid and Wilmington area (perfect if you bring your bicycle on your car). I pulled our second day route off here, called "Around the Mountain."
Wilmington Bicycling
Information on mountain biking at Whiteface (serious downhill action!) and the annual Wilmington Whiteface Bikefest held in the middle of June.
Whiteface
Information on Whiteface skiing, Olympic facilities, events, and area activities, mountain biking, and don't forget to check out Oktoberfest at Whiteface on September 29th and 30th!
Rentals
Placid Planet Bicycles
2242 Saranac Avenue, Lake Placid
518-523-4128
High Peaks Cyclery
2733 Main St., Lake Placid
518-523-3764
Where to stay
The Ledgerock at Whiteface
5078 Route 86 Wilmington, NY
1-800-336-4754
ledge_rock@yahoo.com
Golden Arrow Lakeside Resort
2559 Main St. Lake Placid, NY
1-800-582-5540
info@golden-arrow.com