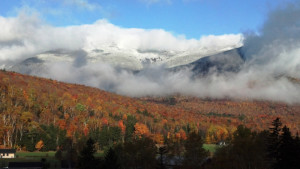 A  typical autumn in the northeast: While most of us are just dreaming of snow, the highest peaks of Maine, New Hampshire, Vermont and New York have already seen their first significant snowfalls. People who love snow head for the high peaks at this time of year, perhaps yearning for the white wonderland missing elsewhere.
This "edge of winter" happens every year. Usually, it starts sometime in late October, then continues though November or even December until the deep snows of real winter settle in. The infamous "Winter That Wasn't" of 2011/12  looked like it was going to segue straight into winter on Halloween, when some places got over 2 feet of heavy, wet snow. But, in actuality, the "edge of winter" conditions lasted straight through early April. In a typical year, however, winter is in complete control of the high peaks by about Christmas. Then, the most dangerous conditions return in April, when spring comes to the valleys but not to the peaks.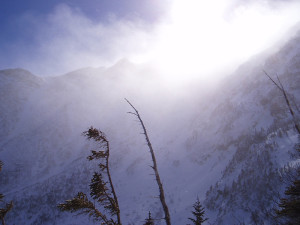 The trouble with these "almost winter" conditions, whether in the late fall or spring, is that the lack of deep snow and/or deep cold can lull you into a false sense of security. With New England weather as extreme and unpredictable it is, the whole environment around you can change in a fraction of a second, sometimes from one step to the next. That can often create a situation where your next step, or the next five minutes, can get you into serious trouble if you aren't properly prepared and constantly aware .
Two "Edge Of Winter" Victims
In 2012, there were two more deaths on Mount Washington: two climbers died from sliding falls in Tuckerman Ravine, both on the edge of winter. One died in early January, one in early April. There are lessons to be learned from both of these "accidents."
On Monday, January 9, 46-year old Patrick Scott Powers of Mansfield, Massachusetts died after sliding and falling 800-feet down the steep, snow-and-ice covered Tuckerman Headwall. The accident happened well after dark, around 7:45 p.m. According to the initial news report in the Conway Daily Sun, the shelter caretaker at Hermit Lake saw a hiker's headlamp falling down the headwall and launched the rescue effort. Apparently, Powers was still alive when rescuers first reached him, but died of his injuries before he could be evacuated to the nearest road. If not for the caretaker looking up at the headwall at the precisely right moment in clear enough conditions to allow him to see the falling light, Powers likely would not have been missed for some time.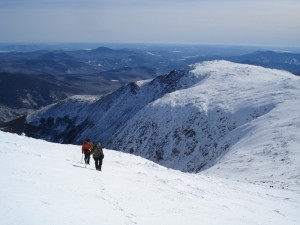 According to news reports, Powers was on a solo ascent to the summit of Mount Washington. He'd left Pinkham Notch in the morning, had reached the summit around noon and was heading down. The highest temperature recorded on the summit that day was 10 degrees, the lowest -4F. Visibility was poor with dense fog at times and light snow being blown around by west winds that averaged 41 mph but gusted to 57 mph. In other words, it was typical cold and windy edge-of-winter conditions on the big mountain.
Sadly, we'll never know precisely why Powers slipped and fell. Blowing snow and poor visibility were possibly contributing factors—but that's just a guess. Hypothermia may also have been a factor–it's easy to stumble when you are cold and/or dehydrated, and easy to get cold and dehydrated in those conditions. Or he could have just stepped in the wrong place and slipped. There's no margin for error in the dark on the side of a mountain when visibility is limited and temperatures are dangerously cold.
Questions Unanswered
An "accident" like this always leaves more questions than answers: Was Powers experienced enough for an ambitious solo winter ascent like this? We do know that he had made it to the summit safely and felt confident enough to start down. That's where things start to get murky.
Several questions really jump out: What did he do in the six or more hours between the time he left the summit and the time he fell into Tuckerman Ravine? In that time, it got dark, which always makes things more dangerous. Was he lost? Hunkered down? Peak bagging some of the nearby summits (Mounts Jefferson, Monroe and Clay would be within reach). Or was he simply savoring the experience of being alone on a mountain in winter?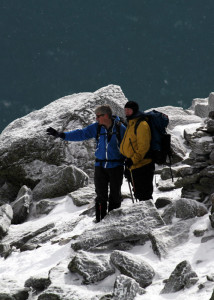 The other obvious question: Why did he choose the Tuckerman Route rather than the generally-safer Lion's Head? Or the safest: the Mount Washington Auto Road? Hiking down a mountain is frequently more dangerous than climbing up–especially after dark. And it gets dark early on the leading edge of winter.
Unfortunately, we'll never know the answers.
Properly Prepared?
According to Chris Joosen, the USFS Snow ranger who led the rescue effort, Powers had a working headlamp and crampons, both essentials for winter mountain travel. He did not have an ice axe, though he borrowed a single ski pole to use. In this case, an ice axe and the ability to self-arrest on a slope (something you have to practice BEFORE you start up the mountain) might well have made a difference, but, again, we'll never know.
He also apparently borrowed some eye protection (ski goggles), essential when the wind blows.
We don't know whether or not Powers had an emergency bivvy, a sleeping bag and a means to melt snow and heat water to stay hydrated. If he did have emergency gear with him, it didn't help this time, but it might well have in other circumstances.
There are some people who would say that no one should ever attempt a climb like that solo in those conditions. But we don't really know what his capabilities were, do we? Chances are, he was thoroughly enjoying every moment of his adventure, right up to the instant he fell. We've all experienced times when the challenge of harsh conditions enhanced the enjoyment of an outdoor experience. But that only happens if you are confident, experienced, and well prepared.
At least Powers didn't die of a heart attack in front of the TV like too many 40-somethings. He took a chance on a great adventure. Most of the time, he'd have come down safely with wonderful memories. This time, he didn't.
Crevasse Casualty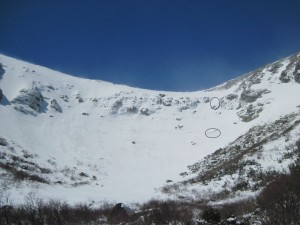 The story of 67-year old Norman Priebatsch's death in Tuckerman tells yet another tale of  the risks found on the edge of winter. In mid-March, a 15-day stretch of abnormally warm temperatures (two days were 30 degrees above normal!) started an unusually heavy and early snowmelt which created roaring brooks which undermined the snow in Tuckerman and set the stage for disaster.  The end of the month saw an apparent return to winter with below normal temperatures and the snow surface freezing hard . . .but after warmth like that, "hard" equates to "thick ice", much worse than typically comes in the middle of winter.
April 1 was an "average" day weatherwise with a high temp of 23, a low of 12 and four inches of fresh snow. The avalanche advisory from that morning stated, "With the frozen surfaces comes the potential for very dangerous sliding falls. Every year we see numerous people climbing very steep and icy slopes (e.g. the Lip) without an ice axe and crampons… even very experienced mountaineers with all the right equipment would still have a very difficult time self-arresting under the current conditions on some slopes in Tuckerman, so play it safe. Climb up what you plan to descend. This gives you an opportunity to check for hazards such as crevasses at a leisurely pace."
Priebatsch, his son and two other companions were hiking near "The Lip" in Tuckerman mentioned above. Priebatsch, who was, according to reports, an experienced Tuckerman skier, had deemed the conditions too dangerous for skiing, so they were hiking instead. Ironic, isn't it?
At around 3:45 in the afternoon, Priebatsch fell, and slid downhill over a rock band. His companions did not see him make any attempt to self-arrest his slide (it's possible he was already unconscious). He eventually slid into a crevasse that had opened up in the "Open Book" area, which often sees undermined snow and deep crevasses. Ironically, the Snow Rangers who patrol Tuckerman had actually peered into that same crevasse early in the day and had posted the warning about it.
Rescuers, including USFS Snow Rangers,  Mountain Rescue Service of North Conway and Androscoggin Valley Search and Rescue of Gorham tried to reach the lower portions of the crevasse to find Priebatsch, but couldn't, for safety reasons, get deep enough into the crevasse to find him. His body was finally recovered on May 21, some 125 feet below the original crevasse opening.
This is another of those cases where having the right skills and equipment might have helped–or it might not. The incident report states: "The fact that three of the four group members were able to safely descend The Lip on this day is remarkable. None in the group were wearing winter mountaineering boots, no one besides the victim was wearing crampons, and though they did have ski poles, they were not carrying ice axes. In this very unfortunate accident, it would be an over-simplification to blame the lack of an ice axe as the primary cause of the accident, but this could be considered one contributing factor."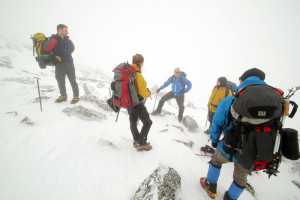 The question will always remain: IF Priebatsch had had an ice axe and known how to use it to self-arrest, could he have stopped his slide before the crevasse? Certainly he'd have at least had a chance. Moreover, if he and his companions had all had crampons and ice axes and winter mountaineering experience, and had been traveling roped together (as the Snow Rangers were earlier), there's an even greater likelihood that Priebatsch would have survived a slip.
The Takeaway
Mount Washington is, of course, the biggest and most dangerous of New England's mountains, and deaths on Mount Washington are far too common. The "Edge of Winter" starts sooner and ends later there than anywhere else. But even if you never go anywhere near "The Rockpile" in winter, the fact remains that even the tiniest hill eventually faces that uncertain transition to or from winter, when trouble can come find you faster than you thought possible.
So here are some rules to live by:
1)  Knowledge is Essential! Your most critical survival asset is your own knowledge, judgment and common sense. Before you take the first step, assess the possible dangers and what skills and equipment you have to cope with them.
2) Prepare for winter conditions. It may not seem like winter when you start up a hill, but conditions can change for the worse at any time, sometimes without warning. And, not only will having the correct gear make you safer, the mental preparation for what might happen may be even more important than the gear itself.
3) Don't travel alone. Especially on the edge of winter, having companions provides a safety margin that just might keep all of you out of trouble. Preferably, you and your companions will all know what they are doing. When they don't, it can get dangerous in a hurry. If you don't have the skills to keep yourself safe, or knowledgeable companions to travel with, consider going with a guide from the EMS Climbing School, IME, Synnott Mountain Guides, Mooney Mountain Guides, Adventure Spirit Guides, or Acadia Mountain Guides.
The "edge of winter" can provide some of the most beautiful and enjoyable hiking; the contrast of snow/bare ground views, the (sometimes) warmer conditions, and the sheer joy of extending a season to allow more of what you love all add to the pleasure. But, those same conditions bring extra risks. With every snow/bare ground transition comes the likelihood of ice. Recognize that these may be the most dangerous conditions that you face all year, prepare and pack well, stay well within your limits, and you can have a great time…and NOT become a yet another line in the long list of people who have died in the highest  hills of the northeast!
More Info
The Mount Washington Avalanche Center posts daily alerts on conditions in Tuckerman and Huntington Ravines. Elsewhere on the site you'll find incident reports on search and rescue operations, including incident reports for the latest deaths on Mount Washington.
These should be required reading before heading into to any mountains in winter.
Thanks Due
As usual, it was the Snow Rangers from the U.S. Forest Service, New Hampshire Fish and Game Wardens, and a cadre of trained and highly skilled volunteers from the Mountain Rescue Service, AMC, and several other organizations who responded when Powers and Priebatsch fell and died on the edge of winter.
Everyone who hikes in the White Mountains at any time of year owes these folks a big "Thank You" for being there to help if we get ourselves into trouble.  They are true heroes. Unfortunately, as competent and well-trained and dedicated as they are, and as hard as they try, they can't save everyone. It's also a simple fact that every hiker or mountaineer who is less than prepared less than cautious, puts more lives at risk than just their own. Keep that in mind as you head into high country when winter's near.