The last time I had the good fortune to ski Sugarbush Resort in Warren, Vermont, my skis were straight, and a good 10 cm taller than me. That was awhile ago. . . . Sugarbush is still, in many ways, exactly as I remembered: exciting, expansive, gorgeous, with a variety of terrain for all abilities. In other ways, it has changed by building on a good thing, especially for those looking for a destination resort with a "ski village" atmosphere.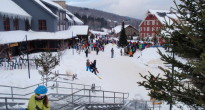 Sugarbush rises above the Mad River Valley and its broad shoulders spread across 5 peaks. Like many Vermont resorts this season, Sugarbush has been enjoying excellent early season conditions thanks to nearly 4 feet of snow leading up to the New Year. It never ceases to amaze me how much the snow pack can change when driving into the Green Mountains, especially along the Route 100 corridor. The Greens seem to catch weather systems of all sizes, and hold them tight as they squeeze all the white they can from the sky. There was plentiful snow, even at low elevations, where locations to the south and east had far less.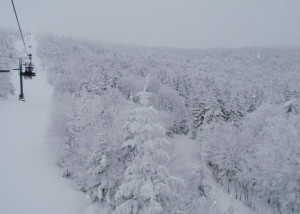 On this trip, we woke early on New Year's Eve morning and drove to the mountain through a little new snow. As we pulled up at the drop-off near the main base at Lincoln Peak Village the first thing that impressed me, and truly stayed consistent throughout the day was the incredibly friendly staff we encountered. Everyone wore smiles and was extremely helpful. I hate to admit it, but that attitude seems rare today, and it stood out here.
After asking a few questions  and viewing a trail map, we opted to drive to the "other" base lodge at Mount Ellen. This allowed us to park a bit closer, and start on some easier terrain for my wife Raelyn's 4-year-old daughter. I am a proud step-dad, as "The Bug" has really taken to skiing, in this, her second season. Temperatures were chilly, and it was slightly cloudy, but the ample snow had everyone grinning as if it was a bluebird day. We zipped up to the Green Mountain Express lift line, and were quickly delivered to mid-mountain aboard the fast moving Quad. From here the Summit Quad takes skiers to the top of Mount Ellen, at 4100 feet, the highest summit at Sugarbush.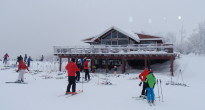 Mount Ellen feels much more rustic than the Lincoln Peak base area, and harkens back to an earlier time at Sugarbush. The lift system from this base accesses some excellent beginner-through-expert terrain and can be a good escape on a crowded weekend. We skied together on some nice relaxing terrain to get our legs underneath us. But, even here, I was able to occasionally venture off piste to explore some narrow lines and chutes between the trees off "Rim Run" and "Elbow".
Later in the morning we met our friends at "Glen House," the mid mountain lunch spot where we warmed our toes and sipped hot chocolate. Then, it was time to explore the  upper portion of Mount Ellen, which was still wrapped in a cloud. That made the skiing a little more challenging, but the snow was consistent and soft, and the trees on the edge of the trails provided a visual reference point. The lower mountain had better visibility , and we spent a lot of time there letting our little skier get used to longer runs, even tackling some "blue squares." The trails provided plenty of width for little legs to make turns, push pizza's, and gain confidence.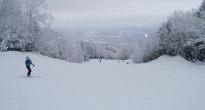 Lincoln Peak  and Mount Ellen are joined by a cross mountain lift called the Slide Brook Express. This high speed Quad whisks skiers across the Slide Brook Basin and some beautiful "side-country" terrain in about 15 minutes. It is only open on weekends and holidays and even then closes earlier than other lifts, so it is important to keep an eye on your watch, If you miss that last chair and you are parked on the other side of the resort, you'll have to take a shuttle back.
When my wife and stepdaughter's legs tired, I took the opportunity to head to the Lincoln Peak side of Sugarbush, and visit some of the terrain I remembered: steep mogul runs like Ripcord and Organ grinder and some fantastic cruisers like Downspout. As I crossed  Slide Brook I saw tracks from Sugarbush's Luxury Snow Cat, but the link doesn't mention it going into Slide Brook . . . . The ski potential certainly looked good from the air. Sugarbush provides guided trips into Slide Brook and other backcountry skiing opportunities, including clinics with skiing legend John Egan. The snow looked deep in those woods.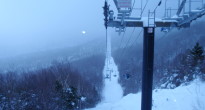 Because it was around 2pm on New Year's Eve the trails were already clearing out on the Lincoln Peak side. Folks were heading into the village and the Castlerock Pub for an early apres-ski. This side of the resort, which all converges to the Lincoln Peak Village is made up of four peaks, Gadd, Lincoln, North Lynx, and Castlerock. The snow was a bit more battered here from skier traffic, but the bumps were still soft, and my tired legs got in a few fatiguing runs before I had to quit myself.
I took a few minutes to explore the Village, and get a sense of the scene.  The main lodge was bustling, a clown was making balloon animals for kids, the pub and eateries were very busy. Outside in the "courtyard" area people were moving about, and preparing to have an early dinner before attending the night's fireworks display. It is no wonder that this was voted "Favorite Ski Resort in New England" by Boston.com. It definitely had the resort feel.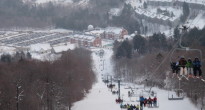 I am looking forward to returning to Sugarbush later in the season and exploring a bit more, and perhaps even checking out the Slide Brook area. While Sugarbush is not as well known for tree skiing as its neighbor Mad River Glen, it certainly has its share of glades, and I'll be spending my next trip ducking in and out of the trees.