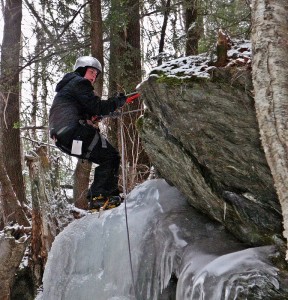 As parents of older teens, you may be used to suggesting useful, rational, "fun" ideas, and having the reaction be "that's so lame/stupid/ridiculous", or "Mom/Dad, you just don't get it." Frustrating, to say the least; you've known them for years, you know and care about what they like, and you KNOW that if their friends suggested the exact same thing, they'd be out there having a ball.
But here's something you don't typically hear when your 16 year old comes back from a day on the slopes: "So, what was it that the Donner Party did?" Hmm…no, not a typical day, at least for most resorts…but at Smuggs, home of contradictions, pretty much anything can happen, including teens actually having FUN, and admitting it!
Obviously, we all know that teens are a special breed, and that's far from bad. Watching them grow and change is endlessly fascinating, but sometimes…well, they certainly can raise your blood pressure. Case in point…how many parents (us included) have taken a teen to a ski resort for vacation week, paid a ton of money for lessons for them ("don't they WANT to ski/board better?"), and then had them sit in the condo eating Cheetos, drinking Mountain Dew, and watching SpongeBob? Up goes the systolic…
The fact is that most teens, when they get out of school for a week, really don't want anyone teaching them MORE stuff…it's called "break" for a reason. And even when they have more time away from school, in summer vacation, they're…well, teens. They're at a time of life when they're spreading their wings, feeling their own power and independence for the first time, and they want to show what THEY know, not hear someone else tell them that they DON'T know. It's particularly noticeable in older teens…you know, the ones who have driven all of 100 miles (with an instructor watching, no less . . .) and yet they  can point out all the things you do wrong after you've completed your first million miles behind the wheel.
Smugglers Notch, perhaps more than any other ski resort, focuses on meeting the needs of ALL age groups. It's what keeps winning them awards, and keeps families coming back year after year. Part of that kind of success is a regular, ruthless examination of what they're doing right, and what could be better. That, of course, makes them well aware of and well prepared for the teen conundrum; how do you get a teen out of the room, onto the slopes, with peers and an instructor, without them pulling the eye-rolling, shoulder-slumping, "dude, I'm so much cooler than this" attitude?
Enter the Winter Adventure Program. Step one is to NOT make it a lesson. Instead, send the pack out with an instructor who's acting as a mountain guide…someone who can show them the best trails, the "secret stashes", can work with them on reading the mountain terrain, but not try to teach them how to ride (well, maybe offer a hint or two, but only if it's wanted). That takes up the morning, which starts at 10 (they're teens, they're on vacation, don't try to get them up early). Step two…feed them. Yup, lunch is included, and there's plenty for the teen appetite. Step three, take them out for something entirely different in the afternoon; introduce them to ice climbing, show them how to put together an emergency kit so that they can handle a sidecountry disaster, fun stuff like that.
Sounds great, but teens are notoriously fickle beasts; what sounds good might not actually work. When we'd last been to Smuggs, Dan was a young 12; he's now 2 months short of his 16th birthday, and showing all the signs of advanced teenitis. Try to tell him something, and one ear might be open; the other will either have an earbud that's attached to his iPod, or will simply open to create a channel for your suggestion to go straight through without contacting any brain cells on the way. Great kid, but if we put him into a couple of days of lessons, he'll be bored, irritate the instructor, and be cranky in the evening. In other words, he's a perfect teen to use as a guinea pig to see if YOUR teen might enjoy something. Is the Winter Adventure Program really  worth a try…Smuggs, here we come!
Saturday morning, off went Dan with Dougie…a typical low-key, friendly, relaxed Smuggs instructor. Smuggs was also running their Women's Weekly Clinic; Susan had learned so much the last time that she was eager to jump into that (besides, lunch was included AND the group was going to hang out at the Hearth & Candle after they were done for a drink and appetizers) and see if she could up her game a notch. That left me free to explore for a while; it was time to renew my love affair with Madonna (Mountain, that is). Darn.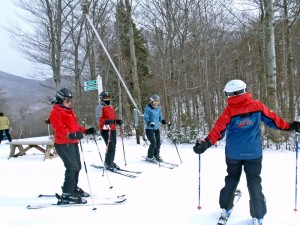 Burning legs later, I checked in on Susan's group, and found them practicing turn initiation on the bumps in the Log Jam terrain park. Great idea; Susan's always been afraid of moguls, and here was a chance for her to learn the move one bump at a time, without any fear of getting in too deep. Julie Silverman, the group's instructor, was teaching them to think of turns as dance moves, and they were definitely getting into it. The atmosphere was light and fun, a great learning environment. Clearly, they'd all bonded, and from the questions they were asking nobody was too embarrassed to admit it when they weren't quite getting a concept. They headed in for lunch at the Morse Mountain Grille, and in the interest of quality research I snuck a few bites of Susan's pulled pork sandwich and french fries. Yeah, they were definitely suffering in their seminar!
One of the advantages of writing is that I have an excuse to stick my nose into things I normally wouldn't be allowed into. I'll admit, Dan's afternoon session intrigued me; ice climbing on a "via ferrata." Literally translating from Italian as "iron road", it involves using a fixed cable or rope that allows inexperienced climbers to try something new with a sense of security. Even the thought of ice climbing scares the daylights out of me (you, too?); how do you tell if the ice is safe, how far will I drop if something breaks or slips. All those fun thoughts  crowd into my head. I knew that Dan had some of the same fears, so I wanted to see how the instructors would handle it.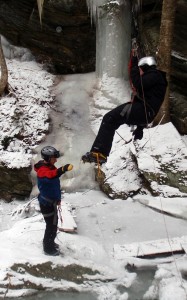 One thing there's plenty of at Smuggs is ice…canyons, crevasses, drops. In this particular case, it turns out there's a wonderful gorge literally next to the lifts up Madonna. Hundreds of people daily cross the bridge that allows you to ski back and forth between Madonna and Morse; but few (including myself) ever really notice what they're crossing. Crawl down into the bottom, and it's a rock-walled cliff on one side with curtains of ice sheeting down it. Peak Expeditions had set up a series of lines up, down, and across it, and to add to the fun had set up a mini-zipline to get the participants to the bottom. I saw Dan gulp, then let loose and slide down into the canyon…challenge one, no problems! Once in the bottom, Chris from Peak started explaining the rope systems they used; how to climb with them, traverse with them, rappel back down to the bottom of the gorge, and how to use crampons to get a secure grip in the ice. He was so matter-of-fact and calm that I could actually see Dan relaxing. In fact, when Dan slipped on the way back down and was dangling from the ropes, there was no sign of worry in him; he got his crampon toe picks back into the ice, regained his balance, and continued on down. A slip like that in conventional ice climbing would be a lot more abrupt, with a greater distance dropped; with the via ferrata, it was pretty much a non-event.
After the ice climbing lesson ended, Dan and I headed back to the lodge to get out stuff and go join Susan, who was out of her class and enjoying a libation with the group. I asked him how he'd liked the via ferrata, and his immediate response, no prompting, was "I want to learn more ice climbing." Huh? Kid, who are you, and what did you do with Dan, the one who was apprehensive about trying it? Hmm…well, maybe it's just bravado…we'll see how he feels about  going back out again tomorrow to learn survival skills.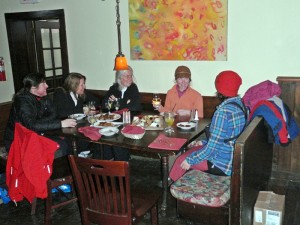 When we got back to the village, Dan decided to head back to the condo; I went in to catch up with Susan and her class. And, they were clearly suffering their way through a plate of utterly spectacular appetizers at the Hearth & Candle, along with some Vermont-themed drinks. I tucked in at a table to the side, pretended to read my newspaper, and surreptitiously listened in. And…while the conversation ranged all over the place, there were lots of questions about what they had learned, what they should try next, and a number of comments about how much more confident they felt on the mountain. Chalk one up for women-specific clinics; clearly, this one was working for all the participants!
Day 2 brought a shift in duties; I'd found that Telemark lessons were available, so I jumped into that; Susan took over the journalist job and chased me and Dan around (although she ran into Julie, who didn't have a lesson at that point, so the two of them disappeared to just have fun skiing together for a while). While Dan headed out to learn more about the mountain, I met up with Charlie Van Winkle, my instructor, and barely managed to avoid asking him if he "Rips" the slopes. Good thing, too…he caused me enough pain without the stupid pun. Tele, for anyone who skis downhill and hasn't tried it, is an exercise in Alzheimer's prevention. They say that training your brain to do things the opposite way creates new pathways that help stave off dementia; and there's nothing more opposite to downhill than Tele (particularly if you have skins on and are climbing UP). With downhill, you put your weight on the, of course, downhill ski; the uphill ski moves up and forward to get out of the way of the turn. With Tele, you put at least half or more of your weight on the UPHILL ski, sit back onto it, and let your DOWNHILL ski come forward. Aside from the quad-burning up-and-down motion, it's brutally difficult to change your ways (well, for me, anyway). Charlie was remarkably patient, trying technique after technique to try to get it through my thick skull that I wasn't exactly "getting it."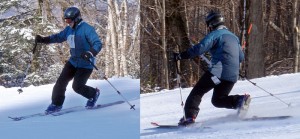 Two hours later, though, two things had happened. One, my legs had utterly stopped working; a run from the top of Sterling Mountain meant half a dozen stops to get them to stop quivering. And, I'd finally started to understand how to get on that uphill edge and carry more of my weight on the uphill ski than the downhill. Success! I'm far from accomplished, but the main objective was to get me to feel the correct technique; from there, I can practice on my own and get better. A question you might ask is "okay, so…if you don't plan on skiing Tele regularly, why bother to learn it?" There's a few answers to that one. First, you never know when you might be in a situation where you're somewhere and unexpectedly get a chance to ski, but all that they have is Tele gear; that might be unlikely, but I actually know one person it's happened to. But more importantly, it's a type of cross-training; developing your muscles differently will not only make you stronger, but it'll make you more injury resistant. Catch an edge and have your ski go the wrong way, and you just might find that the muscles you strengthened in Tele keep you from a muscle tear. And, it'll improve your downhill technique. Tele is all about the uphill edges, and we tend not to work those much; practice using them, and you'll be a stronger, more confident downhiller. And, of course, there's always the final reason…it's simply fun to try and get good at something new!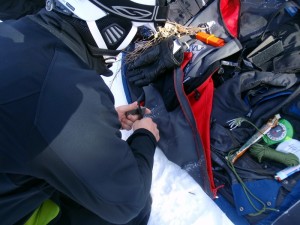 However, the fun stops when you can't walk, and by lunchtime, I was there. I'd had the dumb idea of skiing Tele all day; fat chance. Time to grab a Smuggs shuttle and back to the condo to grab my "real" downhill gear for the afternoon. Ah…the joy of skiing on fresh muscles! A handful of runs later, I decided to track Dan down; his afternoon was learning winter survival skills. I caught him and his instructor trooping back out of the woods, where they'd been living out "what if"s; you're out sidecountry skiing, you get lost, or you or one of your partners gets injured…how do you cope? They'd gone over the contents of a "go bag", made fire with a magnesium starter, discussed first aid…but most important, had focused on what to do FIRST when disaster strikes. How to react, to take time to assess, take an inventory, think about what solutions CAN be used, or SHOULD be used, and what order they should be used in.  In other words…how not to panic. Since panic is the true cause of more backcountry deaths than anything else, teaching teens routines that give them the time to calm down is the single most important survival skill. Dan's instructor, Sam Pratt, is a National Guard reservist, and does backcountry rescue; clearly, he not only knows how to survive himself, but knows how to impart that knowledge. He even explained some basic wilderness first aid techniques, opening Dan's eyes to things like putting brightly colored skis out where rescuers can easily see them and find you (Note to manufacturers: Don't make white skis!).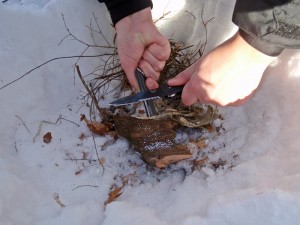 And that's where the "Donner Party" question came in. Dan was clearly intrigued; I told him to Google it. As he read, his expression was priceless…we'd always thought he'd eat anything, but apparently we were wrong. I asked him if he thought learning survival skills to avoid getting in a situation like that was worthwhile, and he seemed to think it was a pretty good trade. Wow…knowledge AND wisdom, in one afternoon of hands-on training!
End result…a teen actually had FUN in lessons, learned useful things, and came away wanting to try more. Mom & Dad got to take time learning what THEY wanted to…and even had time to kick back for a couple of hours after their lessons before teen came back, thanks to Smuggs' thoughtful staggering of lesson times. Throw in some great food, skiing on great terrain, relaxing in an impeccably cared for condo, and being shuttled around rather than having to drive, and it's another typical Smuggs experience. Now, we just have to get back there again when there's a powder dump so we can play in those fabulous glades…see you there!