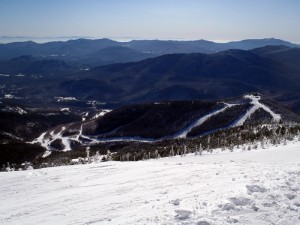 Any skier can tell you this: when you hit it just right, it feels like you live an absolutely charmed life. You absolutely wouldn't want to be anywhere else, doing anything else. You wouldn't change a thing.
Today was corn snow at Whiteface in Wilmington, New York.
Now Whiteface is pretty special in its own right whenever you visit. It offers more lift-serviced vertical (3,166 feet) than any other ski hill in eastern North America and a truly wonderful layout of trails and glades with everything from gentle beginner terrain to the "The Slides," a series of double-black diamond natural avalanche chutes where only the best of the best should venture (we'd say that less than half of the people who do ski The Slides, actually should ski The Slides. . . .most of them "slide" them rather than "ski" them)
Corn snow is pretty special, too. Like fluffy, fresh powder, perfect corn snow is rare and ephemeral and all the more precious and cherished for it. Corn snow (named for the loose crystals about the size of corn kernels that are created when snow goes through a number of freeze-thaw cycles), usually forms when the night has been below freezing and the temperature climbs during the day. You'll see it first on slopes that face east where the sun goes to work first.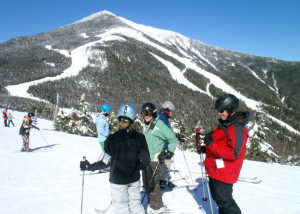 Our EasternSlopes.com crew hit Whiteface on a busy Saturday, but still found empty trails and lifts with no liftlines. Saturday was the only day we could all ski Whiteface together, so it was perfect that we were able to get up and down the mountain quickly.
We were actually in Lake Placid so EasternSlopes.com's editors Tim Jones and David Shedd could attempt to ski up AND down Mount Marcy on AT ski gear with Dan Sandberg, a guide from EMS who provided some of the gear needed and the expertise to keep us out of trouble in the high backcountry. More on this experience in another story. While Tim and David attempted Marcy, correspondents Marilyn Donnelly and Susan Shedd revisited Whiteface for a "Ladies Day," then spent the afternoon relaxing in the spa and sauna. Stay tuned for a story on why women should get away from the guys on occasion.
Lake Placid is one of the great ski/outdoor towns of the east, with pretty much everything you could want in a compact downtown area; you can walk from end to end of the main drag in less than a half hour. We stayed at The Golden Arrow Lakeside Resort, right in the middle of downtown. The rooms are super comfortable, and the views are gorgeous. There's also a choice of fine restaurants within easy walking distance (even on tired legs), including Generations, the restaurant right in the hotel (which is good enough that we often eat here when we are staying somewhere else). Breakfast at Generations is a treat, (try the corned beef hash and eggs to fuel a big day of skiing), and a real bargain for a resort town.
The other advantage to Lake Placid is that it's very close to Whiteface. Often, when you're skiing a big mountain, you're limited to either the village at the bottom (think Smuggs, Waterville Valley, or Sugarloaf), or hightailing it a half hour or more to an area that's not related to the resort. Not the case here; roll out of bed, get dressed, and you can be parking your car in 15 minutes. First tracks don't mean crossing your fingers and hoping you can get lodging on the hill (there isn't any at Whiteface) or that you can get both eyes open when your alarm goes off at 5…a real bonus!
We, of course, wanted our big breakfast; that's half of the reason we exercise. We met up at Generations at 7, had a leisurely breakfast (yes, with the hash), headed to the mountain, and still were able to park in the closest lot to the lodge.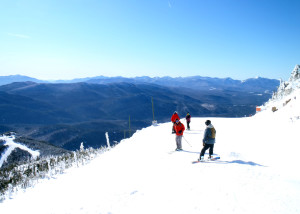 We were among the first folks up the Summit Quad and made our first run down Cloudspin and Niagara, which was soft, smooth snow from top to bottom, nicely groomed corduroy. Our next run was on Paron's and that's when the magic started. On the far left side of the trail, we noticed those first magic kernels of corn snow. By the time we were halfway down the run, it was pure corn. That's when we started getting that feeling described above, where you know deep in your soul that you are in the right place at the right time.
For the next couple of hours, we skied non-stop in lovely, soft corn snow. We've heard it described as "skiing on butter," and that's as close to accurate as we can come up with. It's smooth, and soft, and slick and, if you do it right, almost effortless. You just swoop through it, almost like skiing on untracked powder. It's an amazing feeling. It's also a skill unlike any other in downhill; if you flow with it, it's dreamy, and if you don't, it's one of the most thigh-busting workouts you'll ever get. You'll know if you're an efficient skier after one run in corn snow. Make smooth transitions and rounded turns and it'll work with you. Make abrupt "Z" turns and you'll be crosseyed tired in minutes. Skiing on spring corn snow is a great opportunity to work on your technique when you get it!
Of course all good things come to an end, and the sun that creates corn snow eventually turns it into slush—still fun to ski on but a lot more work, regardless of how good you are. Occasionally, if clouds build at just the right time and the temperature holds steady, you can ski corn snow all day, but that's even rarer than untracked powder. And, there's still an advantage to the transition to slush; you get a great few hours of skiing on corn, then exhaust your legs in the heavier stuff, and end up with more time in the afternoon to kick back and relax and, perhaps, actually enjoy that classic après-ski cocktail.
Anyway, today was a perfect corn snow morning on a fabulous mountain and that's about as good as life gets. There's a lot of snow on most hills and the skiing is going to last at least through the end of March, probably into early April . . . Plenty of time for you to get in your own perfect corn snow day. Watch the forecasts; if you see snow hitting Whiteface and a warm day predicted in the next couple following it, make your reservations!