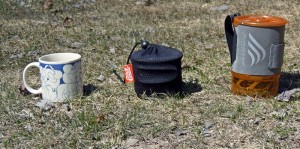 If you started backpacking in the last 20 years, you may never have heard of Esbit; but if you started 40 years ago, it's likely that at some point you owned one of their funky little folding stoves, if only because they were so small, light, and odd. You also probably got irritated with it barely getting your water warm, being a pain in the neck to block the wind around, and the first time you saw a Svea 123 (finicky as it is), you said to yourself "this is a better mousetrap!"
Times have changed, the Esbit stove has changed, but is it cosmetic or a real improvement? One look at the Esbit CS585HA Solid Fuel Cookset
($30 retail) says that they've learned from other advances; it's a compact system that has the firebox storing inside the drinking cup. That's right, no more carrying your own cup and hoping it fits on the stove! Fit and finish are excellent, as good as anything else we've used. The whole thing comes in its own little fabric bag so you don't even have to worry about it coming apart inside your pack and having parts wander into terra incognita.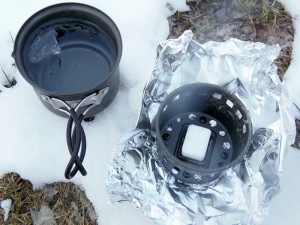 So…how does it work? Well, it still uses Esbit fuel tablets, and that's both a blessing and a curse. Curse, because they can only get just so hot, they only last just so long, and there's no temperature control whatsoever. You light them (have a couple of matches ready; they're sometimes a pain to get lit, particularly if there's a breeze), and…that's it. Blessing, because they work whether it's 40 above or 40 below, are totally no-nonsense, there's nothing that can possibly break at all, let alone at the worst possible time. They are what they are, and they're still probably the single best fuel source in a real emergency as there's simply nothing you can do to make them NOT work (in fact, an Esbit fuel tablet makes a heck of an emergency firestarter, as they last a LOT longer than the usual suspects in that lineup). They're also a lot lighter than carrying around butane canisters, and less bulky.
That said…if you're looking to boil water, forget it, at least in cold weather. On a 25 degree morning with very little breeze, starting with water with ice around the edges, we found that a single tablet would get 16 ounces of  water to about 150 degrees F in about 10 minutes. That's hot enough to make some hot chocolate, or a nice cup of Java Juice, or even soak your Ramen noodles to their usual quasi-edible state. Trying to make your Starbucks VIA work? Nope, that really requires water that's almost boiling to taste right. But looking for a nice, warm, cozy cup of chocolate? Now we're talking…and at a weight and size that makes it hard to justify NOT carrying it. Now, in summer, it'll likely be a different matter entirely, and we'll certainly give it a try then and let you know how it works for us!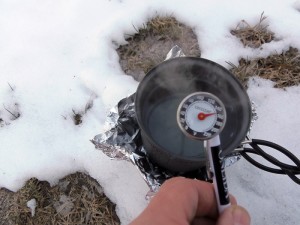 We did find that wind pretty much made the system useless; no matter what direction we turned it, too much of the heat went out through the vents in the base. If you're in a windy spot, look for a depression, dig a hole in the snow, or at the very least have some aluminum foil with you and make a windscreen; we found that worked very well unless the wind was pretty strong.
Overall, the Esbit CS585HA Solid Fuel Cookset
isn't perfect…but what is? If you're looking for a soldily built, pretty much bulletproof and foolproof way to get some warmth in the worst case scenario, it's a dramatically-improved option over the original Esbit stove. For the money, it's…well, we can't think of anything that competes with it. If you've got a gear junkie or a Boy Scout in your household, it's a great gift; cute, inexpensive, and actually useful. It's not equal to a micro canister stove, let alone a Jetboil in heat output (although Esbit's CS985H-EX alcohol stove with heat exchanger looks like it might make for a fun comparison!). But it's light, works as long as you have fuel for it, and we wouldn't mind having it in our pack when an emergency actually DOES happen. And some hot summer day when we're ultralighting and eating Ramen noodles, well…it just may turn out to be the perfect tool!