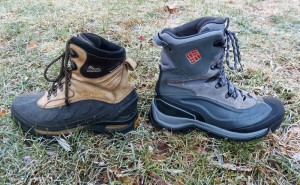 The Columbia Bugaboot, in various forms, has been one of the staples of our winter wear for years. Most of us have owned one or more pairs, and some still have them. Moderately priced (under $100), solidly built, warm and comfortable, they've carried hundreds of winter backpacks and probably spent a thousand hours on the feet of our testers over the years.
But, at the same time they've been far from perfect for our uses. The toe box, in particular, has been too large for many snowshoe bindings, causing the shoes to twist under heavy load. And we've always wanted a higher shaft to add more support and keep snow out without needing to put gaiters on for short trips. Yes, we want it all, and we want it for free; is there anything wrong with that? Other than it not being possible?
Well, perhaps CLOSE to possible. With the Columbia Men's Bugaboot Plus II Omni-Heat Snow Boot ($120), Columbia has updated the Bugaboot with their proprietary breathable reflective liner, which we've found to be great for active uses; not so good, perhaps, for ice fishermen but great for hikers, snowshoers, winter backpackers. And, it's got a higher shaft. And, while it's not QUITE as inexpensive as the old ones, allowing for inflation it's not a big increase. And, we immediately ordered a pair to test.
One winter, many trips, sidehill snowshoe climbs, and heavy packs later, we're able to say that we don't miss our old Bugaboots at all. For active users, these are a flat-out improvement. Why?  Let's start with the fit. The Columbia Bugaboot Plus II is still a fairly large volume boot; testers with narrow feet needed to add a midsole to fill up the space. But, they all found it easier to get the boot to snug down smoothly around the heel and instep. Credit a better heel cup and a wider, more flexible tongue area for that; the old tongue, in particular, limited how much you could tighten the boot down.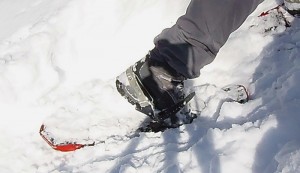 Then, the taller shaft  provides more support AND more comfort. How? Again, the use of a more flexible fabric material like the tongue in the area along the Achilles tendon allows us to snug the top more around our calves, increasing the support, without any of the irritation caused by the old leather design. Couple that with a gusset of the same material in the front ankle area, and you've got better forward flex with more side support. Sidehill on wide snowshoes with these, and it's easy to feel the edge pressure transferring up your leg, rather than being handled almost entirely by your ankle. Safer, more comfortable, and less tiring.
While we're talking about less tiring, weight. Even with the taller shaft, the new Bugaboot is lighter than the old. Ours weighed in at 3 lbs, 4 oz for the pair; the originals came in at 3 lbs, 9 oz. Not a huge difference, but after a long day…yeah, you'll feel it.
Next, the sole. This is where the Bugaboot stands out from many other insulated winter boots which have plenty of warmth but little support under the foot. The old one had excellent side/edge stiffness (great for heavy loads on snowshoes), but with that came fore-aft stiffness; as you walked, it was a bit like trying to bend a board. The Plus II has similarly stiff side edges, but bends much more easily at the ball of the foot for ease of walking. Try climbing up a steep slope with these, and you get more traction and less stress on the calf and Achilles tendon.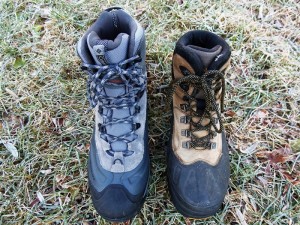 There are some significant ergonomic improvements in the Columbia Bugaboot Plus II , as well. The pull loop on the back of the boot is bigger and easier to grab with gloves on, and there IS a pull loop on the tongue where there wasn't before. And they've added a D-ring at the toe for gaiters. Put that all together and you've got a boot that's all around easier to use, particularly when it's cold enough that you don't want to take your gloves off. The heel, as well, is improved; the old one had a ridge for snowshoe bindings that simply was too high up and hard to use, while the new has ridges down low to hold the binding securely and easily. And, of course, the narrower toe box fits snowshoe bindings much better, as well, making it both easier to put them on and more stable once you're locked into them.
But remember, these ARE winter boots, and the single most important question is…do they keep your feet warm? It doesn't matter how well they do everything else if your toes get frostbite. Now, neither of these boots are designed for standing around for hours in sub-zero cold (ice fishing, for example, or watching a dogsled race); they're designed for moving. That said, the new boot is flat-out warmer than the old, in two ways. First,  "just standing around" performance; one tester did exactly that, putting an original Bugaboot on one foot, the Plus II on the other and spending a long stint on ice on a really cold day. The results? A clear advantage for the Plus II; not huge, but there. More impressive, though, is that when we spent long, active days in them it became clear that they breathe a lot better than the original, keeping our feet much drier without changing socks. Not only did that make us more comfortable while moving, it REALLY made a difference when we started making camp as the sun set and the temperature started dropping; an hour or two of getting everything set up can chill feet in the best conditions. Clammy just makes it that much worse, and these clearly cut that problem significantly.
Bottom line: If you've been a Bugaboot fan in the past, we can't think of any reason not to buy these. And if you're in the market for a moderately priced, multi-purpose winter boot, you owe it to yourself to give these a test; in our opinion, you're not likely to find a significantly better value. As for us, we're happy to have them back on our feet, especially when we carry heavy packs on snowshoes!