Back at the dawn of time, backpacking lights were heavy, bulky, and dim. And then came LED technology, and it's now possible to get a full-featured headlamp that's bright, small, light, and reliable. It's a huge change, and has made every part of overnights easier; setting up camp, cooking, reading, finding the "facilities" in the middle of the night.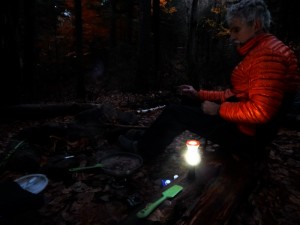 But one area has lagged, and that's lanterns. While headlamps have come a long way and are available with a huge range of options, finding a light that will cover an area is much tougher. Back "in the day," we often carried a 2 pound Coleman Peak 1 mantle lantern that would light a good 30′ radius, which was great for long evenings around the campfire. Still, it was not only heavy, but noisy, smelly, and actually TOO bright…step outside of the circle, and you were night blind.
Since then, we've looked…and not found much to excite us. The Snow Peak Hozuki is in some ways brilliant (pun intended), particularly for a large tent, but is fairly expensive, heavy, and must be hung up to be useful (there's an option with the silicone globe for putting it on a table, but we've found it to only be moderately effective). Other than that, we hadn't found anything we wanted to carry with us for a number of years.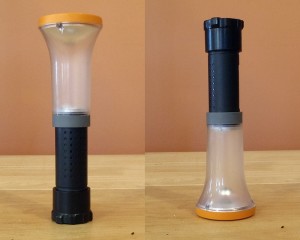 That's all changed, though, with the UCO Clarus LED Lantern ($19.95 retail). This little wonder operates as a flashlight in collapsed mode, then pulls open to become a lantern. At 4 ounces (including the 3 AAA batteries to power it), it's light enough for solo trips, and barely noticeable on group jaunts. As a flashlight, it's very functional; 150 lumens means a bright beam, and it's almost shockingly well focused for something with a dual-purpose reflector. While we love our headlamps, there are times that a good old fashioned flashlight works better, and this is a good one. When you consider that the main purpose of the Clarus is to be a lantern, this is pretty much like having a free, weightless flashlight delivered directly to your campsite. Now, THAT'S customer service!
As a lantern, though…that's where the Clarus really shines (yes, yet again, pun intended; we have to have SOME fun!). We've tried a number of collapsible lanterns (including the MightyLight XL, a previous UCO effort and the first dual-purpose lantern we'd tried…and still use) and found them to be better than nothing but seriously compromised in brightness and the sweep and consistency of the pool of light. The Clarus, on the other hand, produces a reasonably even pool of light, covering a large area with a gentle glow. Up close, it's bright enough to play cards by; at more than a few feet, it turns the night into twilight. A typical use would be to have the UCO light the campfire area for cooking, with our headlamps acting as task lights for detail work; once everything is cooked, the headlamps go out and the Clarus provides enough light for an evening of sitting around, eating, chatting. There's three ways to use it; on a stable surface, set it on the small end and get task-light brightness up close, or turn it over onto the large end for more stability and a larger pool of light. Finally, flip open the bail on the large end and hang it for an overhead light and the broadest possible spread of light.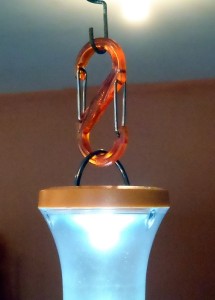 Weaknessses? Well, it's not waterproof; you actually do have to pay attention if you're wandering through the woods in a downpour. And, the bail doesn't have any sort of hook; first trip, we found ourselves staring at the loop on the roof of the tent, the loop on the flashlight, and realizing that they don't match up. Duh. But, our ubiquitous rubber bands solved the problem; loop around bail, slide through the loop on the tent, then back around the flashlight. Wrap a couple of bands around the body of the light, and you'll be all set for any contingency. Better, still, use a Nite Ize Mini Double-Gated Carabiner, which will allow you to clip to pretty much anything, and easily move the lantern from place to place. The beam pattern isn't perfect, either; no matter whether it's upside down or downside up, the body of the flashlight and/or the center reflector blocks some angles. That's a relatively minor price to pay, though; until someone comes up with "perfect," this is a whole lot better than anything we've ever seen. One tester commented that it turned a winter solstice trip from the usual miserably long night in the sleeping bag into a wonderful long evening of conversation; it provided enough light for tentmates to see each other and stave off the feeling that "oh, it's dark, we might as well go to sleep…for 15 hours."
Bottom line, for this price it's worth having the UCO Clarus LED Lantern as part of your kit. Get several; have each person carry one, and you can spread light all over your campsite. Or just use one, and enjoy the feeling of not relying on your headlamp for EVERYTHING. And, of course, when you hear that weird noise in the middle of the night, it's nice to have that strong, focused flashlight beam just to check it out…