Every skier and rider has favorite mountains, and there are as many different reasons for choosing one resort over another as there are people headed back home at 4:30 on a Sunday afternoon. That's why, after being tasked with comparing my home mountain — Crotched Mountain Ski and Ride in Bennington, NH — with Pats Peak in Henniker, I came up with a fool-proof plan.
Because I've had a season pass at Crotched Mountain for six years, a single visit to Pats Peak wouldn't do. So, after an introductory visit in December of last year, before 100 percent of the mountain was open, I returned in March — after plenty of natural snow had fallen —and skied with Gary Ciocci, Elizabeth Marble, and their daughter Madeline, friends who have been skiing Pats for years. Gary and Madeline are also instructors in the ski school, and Gary showed me the entire mountain, and why he loves it there.
Pats Peak vs Crotched Mountain: The Similarities
Before parsing the differences — and highlights — of each mountain, let's get the similarities out of the way:
By the Numbers:             Pats Peak                                Crotched Mountain
Vertical drop:                        710 feet                                       1,016 feet
Acres of sliding:                   115                                               100
Snowmaking Coverage:     100%                                          100%
Adult season's pass:           $459                                              $419
Saturday adult ticket:        $64                                                $62
Night skiing:                        100 percent                                    100 percent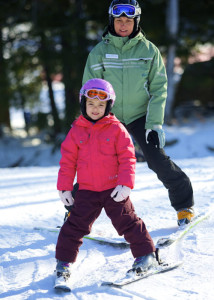 Snowmaking quality: Both ski areas have snowmaking down cold and make the white stuff with systems that are among the highest-capacity and most efficient in the Northeast. What that means is that they can each get the slopes covered earlier in the year and bounce back from mid-season thaws faster than ever before. Trying to extol the virtues of one of of these powerful, efficient systems over the other is pointless. Bottom line, both benefit from some very cool advanced technology and enough expertise on staff to know how to keep snow lovers happy.
Night skiing: Both areas offer night skiing on, essentially, the entire mountain. Crotched gets a slight edge here because, while Pats Peak ends skiing at 10 p.m. on weekend nights, it's possible to slide until 3 a.m. at Crotched's Midnight Madness (Sounds great! Just give me a pillow and a very slow lift so I can catch some zzzzs on the ride up.).
Family-Friendly: Both establishments appeal to parents with kids of (almost) all ages. If your kids are capable enough to hop on a chair and slide on their own, it's impossible to really lose them at either mountain. These are modestly-sized areas by most New England standards, and both have compact and easily-navigable base areas. For families with littler ones, however, Pats Peak has the clear advantage because it has a full day care program (they will  take the grommets at four months old) with a dedicated new space. There's no daycare at Crotched. However, the ski schools at both areas start taking kids as young as three. Each area also has a host of different lesson plans lasting different spans of time.
Pricing: Season passes and day lift tickets are virtually the same, but Pats gets kudos for offering a half-day ticket for either morning or night, customer's choice. Pats also offers POP (Pay-One-Price) nights on Saturdays and MLK Day. A $49 ticket gets you rental gear, access to the entire mountain from 3 p.m. to 10 p.m., plus snow tubing (from 5 p.m. on), entertainment in the base lodge and free "lesson tips" from 4 to 6 p.m.
Location: The two areas are within a dozen miles of each other as the crow flies. Pats is closer to a major highway (10 minutes off Interstate 89 via US 202/9.), so it boasts easier access.
Pats Peak vs Crotched Mountain: The Terrain Differences
By The Numbers              Pats Peak                                 Crotched Mountain
Beginner terrain:                 50 percent                                   28 percent
Intermediate terrain:          21 percent                                    50 percent
Expert terrain:                      19 percent                                   22 percent
Terrain Parks                       3                                                    4
Glades                                    9                                                    9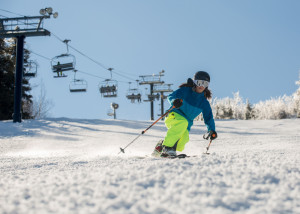 One quick difference: Pats Peak offers more terrain variety for novice skiers, and does a better job of segregating learners from others on the hill with three teaching areas, each with its own lifts. Choices at Crotched Mountain expand really only once you've progressed to intermediate. Pats also offers some "beginner" glades that are perfect for anyone wanting to learn to ski in trees. Depending on how you look at them, the long gentle run outs on many of the trails at Pats Peak can either leave you bored or relaxed and happy on the return to the base.
Crotched takes the prize for intermediate skiers, offering more trails designated by blue signs than its neighbor to the north. But Pats Peak wins in the realm of more classic New England trails, which I define as narrow, twisting routes that offer double fall lines and off-camber transitions.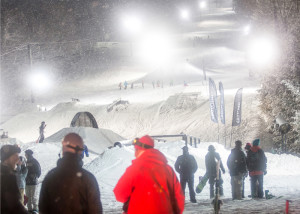 For experts, Pats has steeper sections on parts of Tornado and F.I.S. Race Trail than anything at Crotched — but those steeps are shorter than the sustained pitches on Crotched's Jupiter's Storm and especially Pluto's Plunge, which will test your stamina on successive runs. Crotched also gets the prize for offering significantly more demanding gladed terrain. Most of Crotched's tree routes offer real challenge, while some of Pats don't.
Pats Peak, at least in my book, wins in the grooming column simply because they don't always groom everywhere they can. They (thankfully!!) leave some trails natural, understanding that some skiers like them that way. When the moguls on Hurricane loom large, they typically stick around for a while. At Crotched, moguls seem to be frowned upon and bumps are routinely obliterated or sequestered to the narrowest fringes of a trail or two. Corduroy reigns supreme everywhere at Crotched.
For snowboarders and park skiers who like to get big air and watch the world spin upside down as they perfect their tricks, Crotched Mountain Parks gets top billing. Pats Peak Park Terrain is somewhat less challenging, though they do offer a "Big Air Bag" that lets park rats try bigger tricks more safely (something the park rat's parents will no doubt appreciate).
Pats Peak vs Crotched Mountain: Lifts, Lodges and Other Amenities
By The Numbers         Pats Peak                 Crotched Mountain  
Total Lifts                          11                                  5
Detachable Quad             0                                   1
Fixed grip Quad               0                                   1
Triple                                  3                                   1
Double                                3                                   1
J-Bar                                  1                                    0
Handle Tows                   2                                   0
Carpet lifts                        2                                    1
Total Capacity/Hr         12,125                          9,086
Fastest Summit Ride     7 min                           3.5
Base Lodges                    2                                    1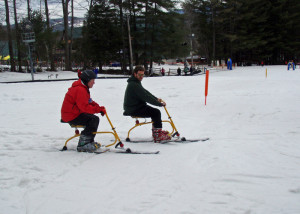 If you like getting to the summit fast, Crotched is the clear winner. Their detachable quad takes about half the time to climb 300 more vertical feet than Pat's fastest lift. If you ski hard, however, this can be a disadvantage because you'll be at the top before you fully catch your breath. The lifts at Pats give you some time to relax and recover.
Both Crotched and Pats have plenty of space and an apres-ski bar in their lodges, but that's where the similarity ends. Crotched's lodge is a roomy, modern and throughly antiseptic industrial-feeling space with lots of light in the upstairs seating area. Pats has two "classic New England" base lodges with all the charm, plus some, that Crotched's is missing.
Pats Peak offers non skiers and snowboarders something to do other than watch from the sidelines. They've set aside some prime real estate in the base area for a tubing park and offer rentals (and lessons) on snowbikes. The Brenter Snowbike has a ski in the front, a ski in the back, and a cushy seat in between. The rider wears short ski blades on his or her ski boots as outriggers. To turn, you just look where you want to go. Don't knock it until you've tried it.
Pats Peak vs Crotched Mountain: Lessons
By The Numbers                                 Pats Peak                                 Crotched Mountain
Number of Instructors                           300+                                             120
Students taught per season                 10,000                                          8,000
(In private and group lessons, not counting after-school programs)
Kids in afterschool programs            +-8,000                                         +-3000
Crotched's rental department is large and easy to navigate with direct access to a beginner's area. The Pats Peak rental area feels a bit more cramped and access to the beginner slopes is a bit removed.
Pats Peak vs Crotched Mountain: Race Programs
By The Numbers             Pats Peak                                          Crotched Mountain
Kids in Race Program        110                                                         120
Adult Race  Leagues           Monday-Thursday  (70 teams)     Wednesday and Thursday nights
NASTAR courses                 on weekends/holidays                    on weekends/holidays
Pats Peak vs Crotched Mountain: New For 2014/15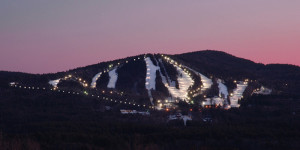 I asked both areas what they wanted to brag about for the 2014/15 ski season.
Pats Peak: Marketing Director Lori Rowell told us "We have some exciting improvements  for the 2014/2015 season including two new trails and one new glade as part of the Cascade Basin expansion. Cascade Basin is a new area on the "backside" of the main mountain which was opened for skiing/riding on December 19, 2013 with four trails, one glade and a triple chair lift. In addition to the new terrain, capital improvements include 7 additional SMI Fan Snow Guns; 20 additional energy-efficient HKD Snow Guns; new rental equipment;  new uniforms; and new carpeting in the Rental Shop."
Crotched Mountain: GM Pat Terry told us "This season we have mainly focused on operational and guest service enhancements after the major capital expansion of the Rocket, and an all new rental fleet for the 2013/14 season."
Pats Peak vs Crotched Mountain: And The Winner Is . . .
Up to this point, in my opinion, the two neighboring ski areas are in a dead heat. So it comes down to the cookies or the French fries.
Crotched's fries win hands down.
Pats wins going away in the dessert department with its outrageously large and tasty chocolate-chip cookies.
So, which is the better ski area for your next visit? Are you a sweets lover or a fries aficionado? You decide.