Mother Nature has been awfully stingy with natural snow this season over much of New England's ski country. But the snowmakers at Gunstock have been more than able to make up the deficit.
My car thermometer registered 7 degrees under bluebird skies when I pulled into the Gunstock Mountain parking lot well before the lifts started turning, and had climbed to a balmy 10 degrees when I left 4 hours later. Perfect day for snowmaking, and  you could see long lines of mini-blizzards on some of the trails Gunstock was rushing to open for the upcoming MLK holiday. Because they were preparing for the onslaught of skiers on the weekend, many of those trails were closed, but there still were plenty available to burn my legs out on. And, since they're looking to have the snow where they want it, they were all groomed to nice, firm corduroy, so perfect for fast top-to-bottom runs. Gunstock's 1400 feet of vertical is just about perfect for going full tilt with thigh burn at the bottom, without being so long that you lose the ability to ski well partway down .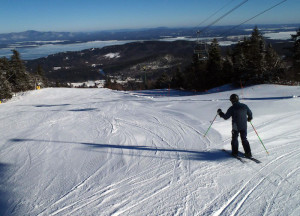 The miracle of modern snowmaking is not that they can MAKE snow, but that they can control the quality of it. A few years ago, we'd have expected the Gunstock slopes to be pretty much like cement; the manmade would have come out wet, they'd have groomed it, and then when the temps dropped, it would have turned into something that you could barely get an edge into. Not true in the slightest now, though; the corduroy took an edge easily, just begging for big, swoopy GS-style turns. Better still, as more skiers broke it up, it left us with a firm base and a couple of inches of granular; ridiculously easy to ski, tons of fun. With typical midweek lift lines (in other words, nonexistent), it was fly to the bottom, catch our breath on the lift, fly back down again. We had to force ourselves to stop and enjoy the views; Gunstock Mountain, overlooking the big lake and mountains to the north, has stunning views from the top, and on a day as perfect as this, they deserved to be appreciated.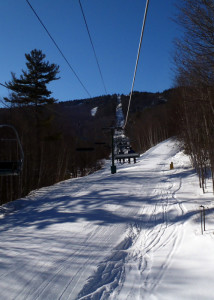 The takeaway, of course, is that we no longer can tell anything about mountain conditions from what's been going on in our backyards, or even what's been going on in THEIR backyards! Eastern ski areas saw a ton of rain and warm conditions in December, but the conditions are outstanding; the millions they've put into new high-efficiency snowmaking mean that all they need is a couple of cold nights, and they're back in business. So, if you're waiting for some fresh snow, STOP WAITING! As we've seen, a lot of skiers are holding back, and they're missing out on great conditions and short lift lines. Get out there before they figure it out!