When most of us hear the phrase "bicycle commuting," one of two images pops into our minds: One is of a hipster in skinny jeans, riding a fixie with flat bars, a basket hanging off them, stopping at a favorite coffee shop to have the barista make them a latte. The other is of driving through a howling snowstorm, seeing flashing lights, and passing something that vaguely resembles a bear with a helmet on, doggedly slogging along to a job that's probably closed due to the storm.
The fact is, the majority of bicycle commuters don't fit either of those stereotypes. A 2013 reader survey by Bicycling Magazine found that only 3% of bike commuters commute less than a mile; a whopping 66% commute more than 5 miles! And, only 30% ride to work every day. (Bizarrely enough, the story following this survey was about a woman who commutes a short distance 365 days a year and what gear she uses; she probably represents about 1% of all commuters.) Clearly, neither of the above stereotypes addresses the mass of us who try to ride whenever we can make it work with our schedules, the weather, what have you.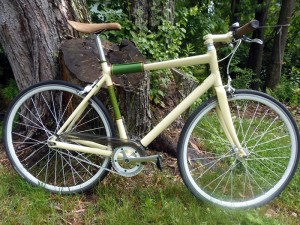 For most of us in the Northeast (other than denizens of the larger cities), commutes are relatively long and over a broad range of roads, complicating the commuting calculation. How do you balance 1 mile on a dirt road, 7 miles on a paved highway, and a half mile of city pavement/traffic/trash? Long uphills, windy flats? It's not an easy area to ride in when riding is your only goal; the weather changes constantly due to the mountain patterns, so whatever you THINK is going to happen is likely to NOT happen. And, of course, we don't have as many coffee shops as the major urban areas, so fewer excuses to take a break. What's a rider to do?
We looked at each part of that hypothetical ride, and then looked at the equipment that would make it make the most sense, finding some surprises along the way. The first step was to try to define…what IS intelligent commuting? An urban area where you've got a mile or so (and a few minutes) to ride, is very different from a rural area where you might have an hour-long bike commute. After some thought and discussion, we decided to define intelligent commuting as the following:
1. Ride on days when there's no rain (or snow) expected on the way to work and little expected on the way home, and
2. Ride on days when you expect to be able to come and go in daylight.
Why those two? First, weather. The amount, and cost, of equipment to ride comfortably in the rain takes you into an entirely different league. Top grade cycling rainwear can easily set you back an extra $500 or more. Beyond that, arriving at work soaked, muddy, and greasy doesn't often lead to good performance reviews. In a pinch, you can use whatever raingear you have (and we DO recommend carrying some with you), but it won't work well for steady, heavy rain. Obviously, on the way home it isn't as important; your dog isn't going to care if you come home smelling like…well, like a wet dog. Second, daylight. This is a safety issue, pure and simple. No matter what you do as a cyclist, no matter how many lights you put on, or reflectors or whatever, you're at more risk at night (particularly if it's also raining!). Drivers are more likely to get blinded by oncoming headlights, you can't see and avoid potholes as well, and drivers are tired and cranky after a day at work. (Ever noticed how more people drive like jerks in the afternoon than in the morning?) So, if you have to deal with that, do it when people can at least see you.
With those restrictions in place, we started testing, both equipment and ourselves. Here's what we found about how to commute by bicycle, laid out by category.
Bicycles
Nothing, obviously, is as important as the bicycle; you can have all the best gear on the planet, and it won't matter if you're on a creaky, cranky clunker. The goal is to get to work and back and make  your trip as easy as possible, and to actually have FUN at it. But, what makes a good commuter bike?
Flawed Fixie
We started with what has become a symbol of the urban bike commuter: a flat-bar, fixed-gear bike. That lasted about two trips before it became clear that it's a totally flawed concept, and perhaps the WORST idea in bikes. So, why are they so popular? Well, it's the urban thing. It started with bicycle messengers who needed a bike that was cheap, bulletproof, and would let them do trackstands in traffic. Then, hipsters picked up on it and started crashing bikes without brakes, but still thought they were cool. Now fixies come with brakes, but they're still best for flat urban environments; they stink on rolling hills, and REALLY stink on anything steep which defines most of the area we cover. Since the pedals always turn with the wheels, you have to be able to spin REALLY fast to go down a steep hill. A singlespeed (same as a fixie, except with a freewheel so you can coast) is better downhill, but you're still stuck with one gear to try to climb with. That'll tire you out, and also make you sweat like a pig just when you don't want to. …Next!
How About A Hybrid?
A traditional hybrid commuter bike seemed the next logical step: Upright position, nice fat tires for comfort and to avoid flats, lots of gears so that you could spin up a brick wall if you had to. It worked better (much better!), but then the complaints from our test crew started to surface: On a long commute when things were running a little behind schedule, it was hard to push the bike at all to make up time. Worse, on windy days the upright position made the riding ridiculously hard; some riders complained that, at times, it felt like they were going backwards. The fun quotient was missing, too; it was okay for a spin on a recreation trail with the family, sure, but there was never any of that lovely sense of the bike flying with you that we love. Based on that experience, we decided to not even try mountain bikes; while a top-grade one would be lighter and somewhat faster, the same basic problems would still be there. Onward and upward…
On the Road (bike) Again…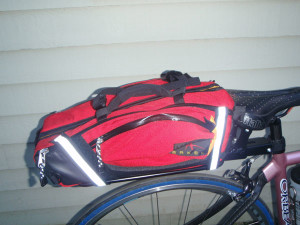 Given how much fun was missing, the next step was a traditional road bike. Back came the fun, and riders stopped complaining about not making it to work on time. In windy conditions, the road bike drop handlebars allowed for a more streamlined position, limiting that problem. But, there were still . . .  issues. The first was cargo capacity: there wasn't much. The Arkel Randonneur TailRider helped, but riders simply couldn't carry raingear, lunch, tools, DayTimer (yes, some people still use them), etc. Backpacks (to be discussed later) helped some, but weren't comfortable with heavier loads, and increased wind resistance substantially. The other significant problem was tires; there's a limit to the size of the tire you can fit through a road brake, and in a lot of conditions the tires you can use were just too narrow. Remember, a road bike and the typical 700×23 or 25 tires on it are designed around having a rider on the bike, not a rider and an indeterminate amount of random stuff. Riders complained that the ride was harsh with extra weight, and they found it nerveracking to have to constantly worry about flats while dealing with busy commuter traffic intown.
Cyclocross Sweet Spot!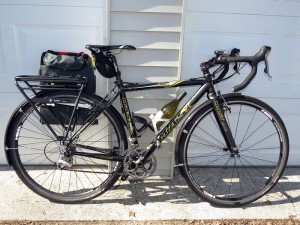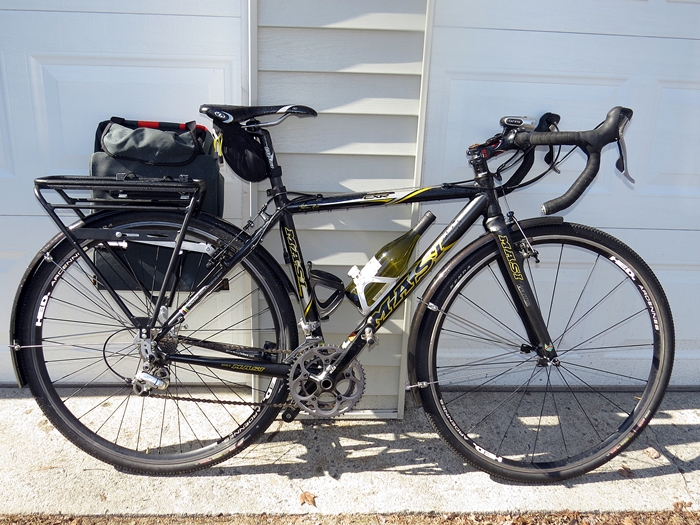 Only one choice left…a cyclocross bike. And there we found our sweet spot. 'Cross bikes have the same basic setup and geometry as road bikes, but can take MUCH larger tires; 700×28, 700×32, even 700×35. The fatter tires allow for lower tire pressures (more comfort and less chance of flats), but also there's a much broader range of tires available that work for commuting (see the Tires/Wheels section for more detail). Also, with the larger tires came better results with carrying gear…more on that later. But, without a question, our testers agreed that a cyclocross bike is the best overall choice for this type of use. Bonus: A good 'cross bike can double as a road bike, and is often as fast as many of them. You can even, with the right tires, use it on a suprising number of woodland trails. You just might find yourself heading off the road and into the town forest on your way home some day!
Adding Add-Ons
One other consideration we found in our testing: If you are buying a bike for commuting, look for one that has eyelets for fenders and pannier racks. There are solutions for bikes that don't have them, but they're compromises; better to get the right thing up front. If you already HAVE a 'cross bike without eyelets, no worries; we'll deal with that later. Also, make sure that the frame has bosses for two water bottles (or something else; more on THAT later, as well!). You want the flexibility to have water to drink, but also sometimes to rinse down with so that you don't, um, stink when you meet up with someone or walk into the office.
Tires/Wheels
Now that we've solved the bike issue, the next is tires. Cyclocross bikes allow you an amazing range, from road racing tires to some of the fat tires that come on hybrids. The choice, to a large extent, comes down to your own personal habits and where you ride.
Riding a long distance on  good roads, with minimal loads? A 700×25 might be the ideal choice.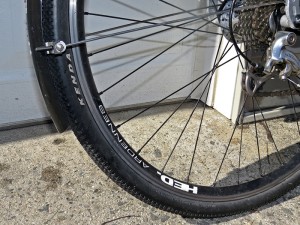 Most of your trip on broken pavement? Think hybrid tires.
Have a few dirt/gravel roads along the way? A classic 'cross tire that looks a bit like a small mountain bike tire might be your sweet spot.
Flat Protection Facts
But, regardless of the type of tire you choose, two words…flat protection. Ultralight racing tires don't have it, for obvious reasons; it adds weight, making accelerations slower and climbs a little tougher. But, you're not racing, you're commuting, and another 50 grams isn't going to make any significant difference. Hit a piece of metal and get a flat, and that could cost you precious minutes when you're on the way to an important meeting. For the last couple of years, we've been testing Kenda tires with flat protection, and finding that they really don't create much of a speed or comfort penalty.
Even as we write this, we're trying out their new Kwick Tendril Endurance in 700x28c; if it lives up to our hopes, it MIGHT just be the best all-around commuter tire we've found. It won't meet the needs of the person who has a lot of dirt roads, but seems able to handle anything other than that.
There are plenty of other brands that have tires with flat protection; choose your favorite, but to paraphrase the old American Express ads, don't leave home without them!
Think Fatter
Regardless of brand of tire you choose, match the tread to your own commute, and lean toward a fatter tire over a narrower one. It's easy to let a few pounds out of a fat tire and make it comfy, but if you carry extra loads on a narrow tire, the ride will be harsh, the handling squirrely, and you're likely to get pinch flats if you hit potholes. One hint, though; if you're carrying significant loads, add more pressure than you usually would, and if you're carrying less than usual, let some air out. That will keep the handling of the tires relatively consistent. Play around with pressures…you'll find out what works for you.
Wheels are important, too. Many road bike wheels are designed for light riders and light bikes; hit a really bad pothole with a full load, and you'll quickly learn the working definition of the term "taco'd wheel." Make sure you have a heavier duty wheel with a high spoke count; avoid radial spokes, as when they fail, the wheel REALLY fails. Look for a wider rim, if you can; several of us use 25mm HED Ardennes wheelsets . They're still light, but incredibly strong, and give much better handling with the wider tires. They've also got excellent aerodynamics, so you can fool yourself into thinking you're wicked fast with them.
Fenders
Get 'em, use 'em. Yes, you can think they're geeky looking, you can complain about weight, or how they make it harder to change wheels/tires, whatever…and the first time you're riding to work on a perfect, dry day, and hit a spot where someone has been bleeding a fire hydrant, you'll thank us. The more full-coverage, the better. We didn't find any one brand that we wanted to recommend; many have advantages, often depending on what your bike is, how much room there is in the wheel wells, etc. This is yet another reason to NOT use a true road bike; they virtually never have enough room between wheel and frame to allow good fenders.
Rear Rack/Panniers
Here's how to make those fenders you were worrying about look cool…add a rear rack and panniers. Now you've gone from geek to chic; just don't let it go to your head and buy skinny jeans. Heck, if you need "street cred," buy a baguette, dry it out, and then soak it in polyurethane and have it sticking out of your pannier when you pull into your favorite coffee shop for that lowfat skinny caramel macchiato Americano espresso tall latte. Or whatever.
Seriously, if you're going to commute, you might as well have the advantage of being able to not only carry the gear you need, but also groceries, wine (more on that later), lunch, whatever works for you. We tested two systems, one from Topeak, one from Arkel. The Topeak Explorer Bike Rack
, combined with the Topeak MTX Trunk Bag, was inexpensive, relatively light, and easy to use. Testers who needed to carry minimal gear, particularly for shorter trips, loved it; they could keep their gear in the trunk bag, and then add groceries into the stow-away panniers as needed. Topeak rates the Explorer rack as carrying up to 55 pounds; we question that. The welds are relatively small and the tubing isn't all that heavy duty; we wouldn't want to trust that much weight twisting around on it day to day. But then, we wouldn't want to carry that much unless we were on a MAJOR trip.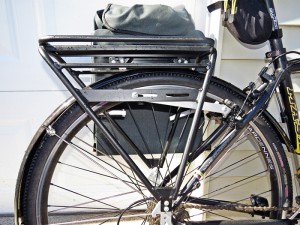 If a major trip is something you contemplate, though, or if weekend family cruises with lunch for the entire crew are on your list, consider the Arkel gear. Their Old Man Mountain racks are TOUGH, and will carry more than you want to. Being the masochists we are, we tried out the OMM Pioneer rack, for two reasons. First, it attaches using the rear wheel skewer, which means it'll work on bikes without fender eyelets, dramatically increasing the number of bike options you have. Second, it claims a 70 pound load limit, and we have no doubt that it'll handle it. This is a serious beast, and ridiculous overkill unless you're also planning a cross-country tour.
We'd be more likely to recommend the Black Rock rack; it's built the same way, but is only designed for 40 pounds. None of us EVER carried that much during this testing, so we can't imagine needing anything heavier duty. Their bags are beasts, too. After long discussion, we decided on a combination of the Dolphin 32 bag with The Shopper. Our thinking went something like this; the Dolphin's big and waterproof, so we carried all of our "stuff" in it daily; the Shopper is smaller and folds out of the way, and comes off the rack easily for when we need it. We mounted the Dolphin on the left side, trusting its bulk, color, and reflective accents to make us more obvious to traffic…also, it meant that we didn't have to worry about that close-passing car clipping off the end of our baguette that's sticking out of the Shopper. Longer-distance riders and those who did weekend trips absolutely loved this system (although they sometimes wanted to swap out the Shopper for a second Dolphin on weekends).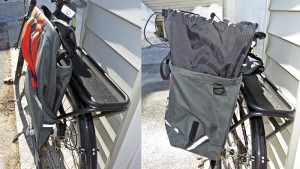 Regardless of which type of system you choose, there's one accessory you're going to want, and you won't find it at your local bike shop; it's made for motorcycles. A Bungee Cargo Net
 tucks into your pannier or trunk bag, takes up very little space, and allows you nearly infinite options for securing items or bags to your racks. In an ideal world, you'll use a true pannier system like the Arkel with no trunk bag, which gives you a big, flat rack space to put items on; you then start pulling the bungee net around them until you have the net tight so that things won't shift around, and balanced where you want them. Suddenly, when you pull into the grocery store and find asparagus for $.88/pound, you'll start thinking about how many things you can make with it, rather can "how do I get this home?"
Backpacks/Messenger Bags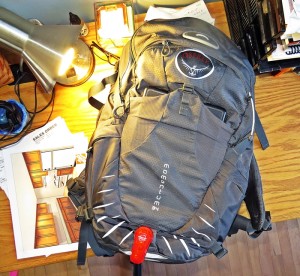 Here's our takeaway on this one: Messenger bags are for messengers. Think about it; they go from place to place, sometimes only a block or two, constantly pulling things out and putting them back in. A side-slung bag makes a lot of sense. But, if you're carrying some weight long distance, having it yanking on your neck from one side is going to be bloody uncomfortable. We had our resident cubicle rat use an Osprey Momentum 34 (now replaced by the Momentum 30), and after a couple of months, he simply got rid of his briefcase and used it for everything. For organizing files, pens, calculators, business cards, and the what-have-you of the business world, a good bike-specific backpack beats a pannier easily. Look around for one that has the features you need; just make sure that the hipbelt is comfortable while you're riding (and yes, a hipbelt is mandatory, both to take the weight off your shoulders and to help keep it from shifting around as you ride).
Accessories
So far, you've put together a comfortable, fast, heavy-duty bike that'll get you where you want to go in any conditions, carrying everything you want to (or can) handle. But are you ready for the road? Well…yes. But can you take it farther, make yourself safer or have more fun? We think so, and here's what we found out there.
A Lock On Locks
The first thing was locks. Even if you aren't leaving your bike out for hours and hours, you need to be able to run into a grocery store for a few minutes, or chat up that barista for a free extra shot. Serious urban "cut the frameset before the lock" types are simply too heavy, too bulky, and are overkill for the kind of commuting we're talking about (Note: if you ARE leaving your bike in an "unsafe" area for significant times, you really want to talk to a local shop about what they've found that works against the local ne'er do wells). After trying different options, we came to the conclusion that a flexible, rubber covered cable lock was the best. It protected our bike's frame, it was flexible enough to work around frames, wheels, and whatever we wanted to connect to. The Knog Party Coil Cable Key Lock is a good example; it packs small, works easily, and won't be a quick, easy "steal." Key or combination? You choose…we all agreed to disagree on this one.
Mirrors Aren't Just For Primping
Next, a mirror. You're going to be travelling in traffic a lot, and a good mirror can really make it easy to know what's coming up. With drop handlebars, this one is a no-brainer for us; we tested the Italian Road Bike Mirror and loved it. Whether it's this one or another, make sure that you can see it whether you're in the drops or on the hoods (in traffic, we ALWAYS recommend riding on the hoods, as your hands are on the brakes and you're sitting higher, and more visible).
Helmet Hair Is Chic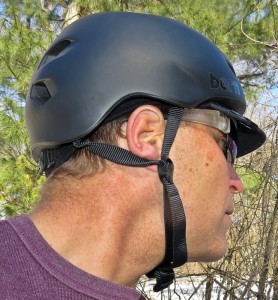 Now, helmets. WEAR ONE. They aren't perfect, and they give you helmet hair, and they save your life. Our intrepid (or incompetent) publisher has, in his riding life broken three of them in crashes (which probably explains some of his behaviors); no major concussions, no broken skull, no ongoing headaches. Testers liked the "urban chic" of the Bern Unlimited Brentwood , and found the visor nice in some light conditions; however, those with the longest commutes wanted more ventilation.
Another helmet that became a quick favorite was the Lazer Helium, for four reasons. First, everyone found the fit and adjustments excellent. Second, the silicone strip along the forehead area kept basic sweat out of their eyes (full-on race conditions showed the limits of that, but everyone was still impressed with it). Third, ventilation on hot days was excellent. But, the real kicker was the LED light integrated into the suspension adjustment. For commuters who were expecting to get home before dark, but got going a little late, it was the perfect "oops, I forgot about a light" light. A quick reach back, and suddenly there was a blinking light right about at eye height on an SUV. Brilliant design (sorry about the pun). One other cool detail about the Helium is that it works with Lazer's ultralight, ultracomfortable integrated Magneto sunglasses; however, commuters generally felt that, since they spent more time off the bike than on it, they'd stick with regular shades on workdays.
Spotlight On Lights
Speaking of lights…yes, you should have them. It's just way too easy to stop in at the grocery store on the way home, run into your cousin's uncle's nephew's sister, get caught up hearing about Aunt Bessie's surgery for a half hour, and come out to…dusk. You need to assess what works for your commute; for instance, if you have a long haul on a little-used road, you need a powerful (say, 600 lumen) steady-state white beam on the front to ride by. But, if you live in a more urban environment, you may be able to see well enough to ride; the bigger concern is making sure traffic sees YOU. for that, you need a moderately bright flashing white LED on the front. Either way, you need a flashing red LED on the back, and you want THAT one to be bright;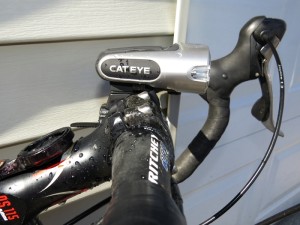 if traffic comes at you from the front, you've got a chance to evade it, but from the rear, you're helpless. They REALLY need to be able to see you, so make sure they do! Favorites? Riders were all over the place on this one, but the general consensus was to have the front light rechargeable, preferably by USB (that way, you can charge it at home, at work, off your computer, etc.), while taillights could use regular batteries, as they don't use anywhere near as much juice.
Last, But Not Least…
Finally, bottle cages. Don't overthink (or overspend) this one; we tried a TON of them, and found that some of the most expensive worked the worst. Carbon…eh. Expensive, not that much lighter, often stiff and doesn't hold bottles well, leave it to the racers. One of our favorite cages was the Profile Design Kage . Inexpensive, simple, light, held the bottle firmly, but made it easy to get out…what's not to like? And then there's the Arundel Looney Bin. We've never seen so many smiles, from our own people or the people they were around, when they arrived at a picnic with a bottle of good wine in this thing. Seriously, it allows you to grab pretty much anything at the local store and stick it in your bottle cage, which can be really handy for commuting…or for that impromptu date after work. Sorry, corkscrew not included; buy something with a screwtop (which also means you don't have to drink the whole bottle, saving you from a cycling while intoxicated ticket).
Babying Yourself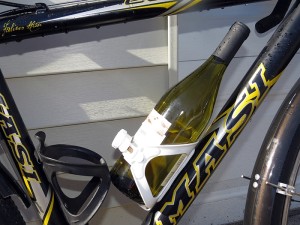 Okay, maybe there's ONE more accessory that we'd recommend. They're called personal wipes, or sometimes moist towlettes; you know, those things designed for wiping hands after lunch, babies' butts after…whatever. Things like that. And they're great for sweaty foreheads, armpits, other pits, anyplace that you want to be clean and fresh for the workday. There's a million brands out there, so pick your favorite; just look carefully at the size when you buy them. Some are REALLY small, and not a whole lot of help. We found some oversized personal wipes
 available on the market; these are the ones you want for a wipedown at the office. You just might want to keep a box there, and one in your pannier…you just never know when you might want to freshen up!
Finally…
After a lot of miles logged and a lot of different things tried, here's what we learned:
When we made it easy and didn't give ourselves guilt trips, we actually enjoyed bike commuting. We made sure to give ourselves enough time to get there without worrying or hurrying, and if we woke up and the forecast didn't look good enough or we didn't feel like it, we drove in. We've had plenty of people try guilt trips on us (you're into the environment; why DON'T you bike commute???), and we found that ignoring them was the best way to actually come up with reasons TO be on the bike, rather than explaining why we weren't on it. Several of us ended up logging a lot more miles than we usually do, so the point was made; positive reinforcement works!
We also found that the whole concept of a "commuting bike" worked perfectly for someone who works in a home office and wants to use a bike instead of a car for running those errands that seem to take you out so often. When the world is driving you crazy, a quick spin to get veggies for dinner just might save you…or somebody else.
So, be positive…give it a try for the fun of it! You may hate it, but if you choose your bike and gear well, you just might find out that it's a lot better, some days, than listening to that same song they always play on the radio at the same time. And, that impromptu ride to the nearest park with some a picnic just isn't the same in a car!