Get your thinking cap on. Ready? In 2011, we tested REI's Quarterdome T1 tent (hereafter, we'll refer to it as Gen 1) for our first big roundup on solo tents; there was a lot to like, but many of us found it too cramped, at 14.6 square feet of floor space. Shortly after that, they replaced it with the…Quarter Dome T1 (Gen 2). This was an ENTIRELY different tent; when our sample arrived, it was obvious that it was much larger, much better overall. But, before we had a chance to finish reviewing it, they replaced it with the REI Quarter Dome 1 tent (Gen 3). Got that? Good…now, on to the actual review!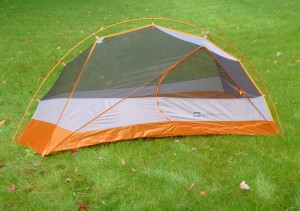 The first thing we noticed when it arrived was how SMALL it was. As in, packaged size. Tiny. The ultralighters who think a 50L pack is large started drooling. Of course, that meant that REI had shrunk it back down to more like Gen 1, right? Wrong. It's actually LARGER than Gen 2…21.4 square feet vs. 20. And weight? Where Gen 1 came in at 3 lbs, 3 oz; the much larger Gen 2 came in at 3 lbs, 7 oz. Nice tradeoff for the extra size. But Gen 3? 2 lbs, 10 oz.! No, that's not a typo…that's the real, on-our-scale weight, including fly and stakes. Bigger and lighter, so it's obviously much more expensive, right? Nope. Gen 1 was a bargain at $199; Gen 3, smaller and light, is $219. There has to be something wrong here…
So, in typical EasternSlopes.com fashion, we used it…and used it…and used it. We beat on it. And the comments came in. "Feels like I'm in a palace." "Good entry/exit" (this from an 80-year-old tester). "Are you sure you have that price right?" Everyone was amazed at the large, functional floor space, but it didn't end there. There was plenty of length for our 6'4″ tester; he found the only negative, with the overhead room being a couple of inches lower than the original. That was the ONLY negative he came up with, though…otherwise, he had plenty of leg, arm, wingspan room.
Setup is A Cinch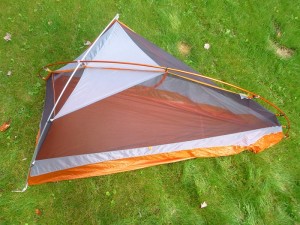 Details…let's start with setup. REI tents are generally easy to set up IF you practice at home a few times first. They're not typical X-pole designs or anything like that; they're…well, they're REI. We found that the simplest way to set this one up was to connect the two hubs to the tent body first, swivel hub to the front; once you've done that, you can connect poles and body clips in any order you want, with the same result. Very simple…but DO try this at home!
Next, stake it out. The Quarter Dome 1 is technically freestanding, but as you can see from the photo below, it benefits strongly from having the foot area staked out; otherwise the tent collapses around your feet. There's no pressure on the stake points, though; if you're stuck on rocks, just put one on top of each stake loop and you'll be fine. The same goes for the fly stakes; the one on the non-door side needs to be set, with the little clip attached to the loop on the tent body, to make the tent as roomy as it can be, but in the absence of extreme winds, there's no need for a rock-solid anchor point. The stake for the door/vestibule needs more support, but we didn't find anywhere that we couldn't adequately set the tent up with the fly fully spread, regardless of what was underneath.
Good Access and Plenty Of Space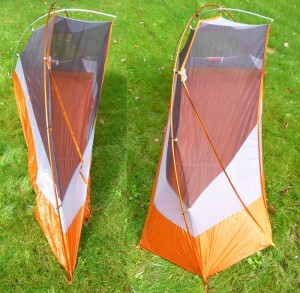 Once set up, crawling inside is easy. The door isn't large, but it's top to bottom, and the fly doesn't get in the way. Also,  it secures to the side so that it's not in your way. And once you're inside, prepare for a pleasant experience. As mentioned before, there's SPACE in this tent; if you're a rectangular sleeping bag user, you've found your new home. There's also a huge mesh pocket going side-to-side on the head end of the tent, exactly where it should be. We were able to stuff everything we wanted in there…headlamp, book, glasses, toilet kit, anything we'd want at night. There's also a zipper up high to allow you to access the roof vent; open it in good weather, close it when the wind starts blowing rain or snow in. Few tents that we can think of in this price range even HAVE a vent of the sort, much less with that nice detail.
The new door design gives another bonus, and it's one of our favorites…a huge, functional vestibule. Most solo tents have a vestibule that's large when the fly is zipped; when unzipped, you have to crawl over your gear, and it gets wet if it's raining. The REI Quarter Dome 1 has a short-side opening to match the tent door, leaving the long side of the fly as a vestibule that's out of your way and stays covered. We can't remember seeing a vestibule in a solo tent that was more useful.
Downsides? What Downsides?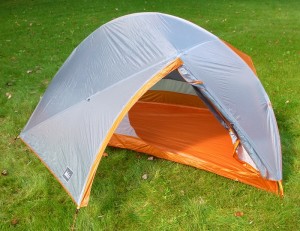 Negatives? One, perhaps. In order to make the Quarter Dome 1 as light as it is, REI had to use very thin materials; in other words, this isn't an "abusable" tent. Self-select on this one; if you're someone who beats your equipment like a rented mule, you might want to steer clear. At the very least, get the footprint for when you're camping in rocky areas; it'll protect the integrity and waterproofness of the tent (they're generally a good idea for ANY tent).
But, other than that, it's hard to find significant flaws in this tent. Every product has to be designed with a number of tradeoffs…make it bulletproof and it's heavy, make it bigger and it's heavy, make it TOO big and poles can snap from snow load, etc. The trick is to "rightsize" it, and, to coin a term, "rightfeature" it; and, for most of us, to do all of that while still making it budget friendly.
Mission accomplished! The REI Quarter Dome 1 tent is one of the sweetest sets of compromises we've run across yet, and would be on our short list of solo tents at ANY price. That's one hell of an accomplishment for a tent that comes in at the lower end of the price scale! You owe it to yourself to give the REI Quarter Dome 1 tent a long, hard look before you make a buying decision…and if you DO choose it, don't be surprised if we try to borrow it…