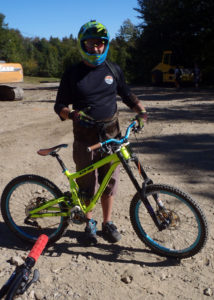 My Sweetheart Marilyn and I were at Sunday River near Bethel, Maine on a late-September weekend, for what has become an Autumn ritual for us. Bethel is one of the great outdoor towns in New England. The foliage viewing is as good around Bethel as anywhere in New England and a slopeside condo with a small kitchen at Sunday River is a deal at off-season rates.
We keep going back to Bethel simply because there's so much to do. Last year, for example, when the foliage was near peak and the weather was perfect, we rode the shuttle service offered by Bethel Outdoor Adventure (betheloutdooradventure.com) and paddled 10 river miles of the Androscoggin River from Gilead back to Bethel. The year before that, we did some hiking in Grafton Notch. Both years, we did some biking on the road tours outlined on Tour 24 in the book Explore Maine by Bike (exploremaine.org/bike).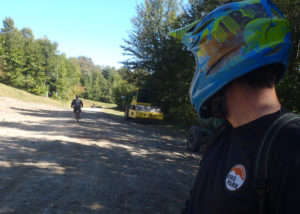 This year, we decided to travel with minimum gear (unusual for us) and focus on activities at the resort, plus some easy hiking to round out our days. Sunday River offers lift-serviced downhill mountain biking and a "Mountain Park" on Thursdays- Mondays in the summer and Fridays, Saturdays and Sundays in the fall.  On Saturday morning I enrolled in a novice downhill mountain biking lesson at their Mountain Bike Park. Try as I might, I couldn't convince Marilyn to join me.
Downhill Mountain Biking For The Timid
Mountain biking is something of a lunatic fringe sport—at least the way it's portrayed in the media. But I don't ride my 29er bike off cliffs and I bet you don't, either. You don't have to be wild, crazy and young to enjoy pedaling on easy trails through quiet woods!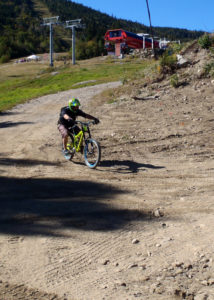 Downhill mountain biking (DMTB), however, is the real lunatic fringe of the lunatic fringe. Downhill mountain biking enthusiasts  gird themselves with armor and full-face helmets, load their highly-specialized steeds onto chairlifts, and then plunge headlong down the mountains on twisting trails and rough roads. Some of the trails would scare me on snow. It's a pure adrenaline sport, kinda like extreme skiing, but it hurts more when you fall. Since I'm not big on doing bodily injury to myself, I decided to take a lesson and safely see what it was all about. I warned them when I signed up that I was old and timid. My instructor, Will, had no problems staying within my comfort zone, and I started to relax when I discovered that we weren't going to wear armor, just a full-face helmet, which was comfortable—even if it felt like it weighed more than the bike I use for road riding.
The bikes used for downhill mountain biking are also much heavier than standard bikes (even mountain bikes), and have heavy-duty, long-travel suspensions and hydraulic disc brakes. These things are beasts, and you wouldn't want to pedal one up a mountain. The seats are so low, you practically hit your chin with your knee when you pedal. Fortunately, you don't pedal much; gravity does the work for you. Just being on a bike like this was a strange new experience
Before we even got on the chairlift, we spent time familiarizing ourselves with good braking technique, learning a gentle touch that would slow the bike without locking the wheels. Time well spent. Stopping safely is a good skill to master. The ride up the "Chondola" to the summit of North Peak was lovely and the views were inspiring with the foliage just starting. I'd probably have enjoyed the ride up more if I hadn't been scared spitless about riding down.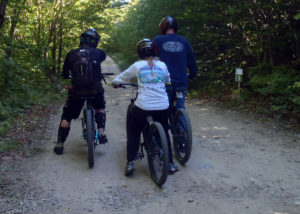 From there, it was all downhill, literally. DMTB trails, like ski trails, are rated green-circle (beginner-easiest), blue square (intermediate-more difficult), black diamond (expert-most difficult) and double-black diamond (Oh S**t!). We stuck to the greenest of the green circles which was, essentially, a rutted gravel service road that wound down the gentlest grades possible. Even with that relatively low pitch, loose rock, gravel and sand, plus ruts on lots of twists and turns made it plenty challenging for me. At the base of the mountain we rode a short section of single track across a narrow bridge back to the lift. By then, I was able to relax and enjoy the ride.
Will I ever become a downhill mountain bike rider? Not a chance! I'm too afraid of breaking myself. But the lesson was a fun, safe, challenging and exciting couple of hours. It also turned out to be a great refresher on basic mountain bike skills, with a few downhill mountain biking-specific moves thrown in. Given what I learned, I'll enjoy the "normal" downhills I encounter in cross-country mountain bike riding even more.
If you want a safe way to dip your toes into the flow of Downhill Mountain Biking, this is a great way to spend a beautiful summer or fall  day. You may see me out there, too–I've decided that a "blue square trail" might be in my future.