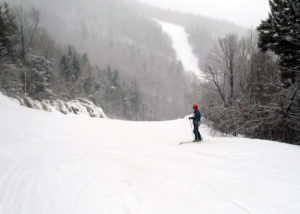 In this day of Super-Sized snowmaking systems, one or two cold nights will allow a ski area to cover a trail and get open. In recent years, I've discovered that, even in the earliest of early seasons, the snow is almost always better than you expected it to be—even if your expectations are pretty high. Especially at someplace like Sunday River .
Like most ski areas this year, Sunday River Resort in Newry, Maine got a little-later-than-usual start, but they are sure catching up in a hurry. Easternslopes.com Publisher David Shedd and I drove up there this morning to start our 2016-17 ski season. We quickly discovered there were advantages to waiting until some of the pent-up demand had been satisfied. The first turns of the new season are always magical, and if you've got the mountain almost to yourself, it's even better.
Our first experience was a little different this year. Normally, Sunday River opens on Barker Peak, but this year they the had two of their eight mountain peaks open: Barker and Aurora. As we drove up, it was clear that Barker was seeing the most action with some trails closed off for race training. So we headed for Aurora, which was accessed by riding the "Chondola" up to North Peak. You can choose whether to ride in an open chair or an enclosed Gondola cabin—with the snowmaking guns hammering the slopes, we chose a Gondola and arrived dry and warm.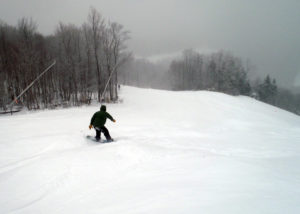 From there, it was a nice drop down the blue-square Paradigm to the Aurora chair. Essentially, Paradigm was functioning as a "taxi" trail to get you from one lift to another, which meant it was getting very little traffic. The snow was creamy, smooth and wonderful for first turns. The best run of the day for a hesitant skier would have been Borealis to Audra to Lights Out which brought you back to the top of Paradigm.
Once up to the Aurora summit, we took a few runs on the blue-square Northern Lights and a couple on the black-diamond Airglow. Again the snow was creamy and smooth, no ice anywhere. One edge of the trail was mostly ungroomed, those who wanted more challenge could find it there. I was perfectly content with smooth . . .
We saw maybe 20 or 25 other people on the slopes. Only on the very steepest sections did the snow show any sign of wear and tear. Conditions were still very, very good when we had to quit at noon. Generally the snow held up much better than my legs did.
To get back down to South Ridge, we skied the Borealis to Audra to Lights Out back to the top of the Chondola, where we had to ride down. The lower slopes were a maze of hoses and blasting snowguns. This was probably the last day you'll have to do that. With all the snowmaking going on, and colder weather settling in, you'll certainly have top-to-bottom skiing and some easier terrain available by the time you read this.
Unless you are a super-star athlete, you don't need a lot of trails to make a first day on snow. What you do need is some great snow and some space to play. Sunday River delivered.