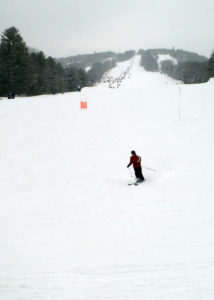 Are you looking to get back into skiing or riding after a hiatus? Are you looking for a friendly ski area with great snow that will offer you whatever level of challenge you need to get your groove back? Consider Cranmore Mountain Resort in North Conway, NH. It's just what the doctor ordered.
I broke my back in a ski accident in January 2015. On a powder morning at a small ski area (my accident wasn't the ski area's fault so I'm not going to name it), I had been jumping off the same small knoll near the bottom of a steep mogul trail, trying to go farther each time. The last time, I missed my line and landed in snow-covered moguls. I could probably have just fallen and been ok, but I tried to pull it out, couldn't manage it, and ended up ragdolling through the bumps. I hit my head directly against the steep front face of an icy mogul, which compressed four vertebrae in my thoracic (upper) spine. My helmet likely saved me from a severe concussion, but it couldn't protect my back. The impact was brutally painful and I spent the next several days immobilized in the hospital. However, there was no permanent damage,  and my back healed itself without surgery in about six months. Perhaps the scariest thing was that it happened while I was doing something I'd done a thousand times (going too fast through small bumps); 999 times I'd been OK, this one time I wasn't.
The broken back obviously ended my 2014-15 ski season. We all remember what the so-called winter of 2015-16 was like. Even if I had wanted to ski, conditions always seemed less than optimal.  So I hadn't skied for two years. My father and I discussed where we wanted to go and what I wanted to accomplish on this first foray back on snow. We decided that Cranmore, which had received four inches of fresh snowfall the night before, was the perfect option. Cranmore is a great area, often overshadowed by some of the bigger areas nearby. But it's very handy from my home base in Portland, Maine, so it was a perfect place for me to ease back into skiing, and to remind myself of how much fun it is to just make some turns without doing anything risky.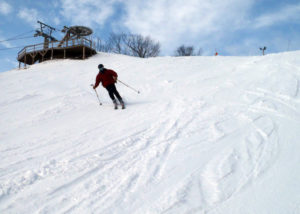 While Cranmore is a hopping place on weekends, it was very quiet on a Wednesday morning, even with fresh snow. We were able to park close to the base lodge, had plenty of space to suit and boot up. I'd forgotten how uncomfortable ski boots (even Tele boots) can be when you first put them on and how quickly your feet adapt.
Anyone who has been hurt skiing knows that recovery is as much mental as it is physical. It can really injure your confidence more than your body. On this morning I expected to more or less jump back on the skis and shoot off down the hill without a care in the world, as I had always done on the first day of the ski season. Not this time.
I had been injured skiing on Alpine gear, but I also love Telemarking, especially on smoother terrain. Plus, I go slower on Telemark gear and slower seemed safer. So  Tele gear it was. What I hadn't counted on was how rusty technique becomes with a two-year layoff, and how much weaker legs can get. We headed for the summit on the high-speed quad, then took East Slope off the back side of the mountain. Conditions were ideal for ripping (fresh snow on top of perfect groomed corduroy), but we started off slow. East Slope has a nice, even pitch at the start, but I found myself barely surviving and ended making awkward alpine-style turns down most of it. I had to force every turn, and nothing felt easy or natural. I even took a little spill when I was just trying to stop! The long run back around the mountain to the quad helped me to get back into the feel of just being on skis.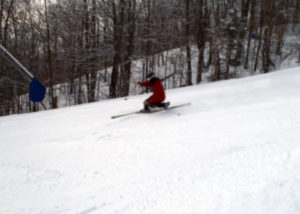 The next run, we went to skier's right on Skimeister, one of many fun blue squares with rolling pitches on Cranmore. My dad and I took turns passing each other, not rushing, just enjoying the fresh snow. I had to stop quite often: the gym never really works those ski muscles, and even when you aren't making Tele turns, the first day is always a leg burner. I  couldn't do all of Cranmore's 1,200 vertical feet without stopping.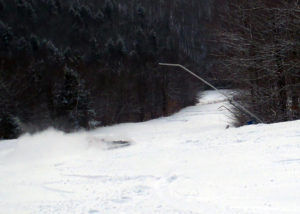 Each subsequent run felt better, and my turns were starting to flow as we explored Artist's Falls, Schneider, Arlberg–sticking mainly to trails that had been recently refreshed with man-made snow beneath the new powder. Cranmore has no shortage of black-diamond terrain, but we were pretty content to leave that for another day. The memory of my injury was definitely giving me pause. No swooping towards the side of the trail or making fast turns over rollers for me on this day. I think it's going to take a lot of ski time before I am willing to take any risks! That's probably for the best.
With no crowds and the very fast lift, you can get in a lot of really quick laps at Cranmore, and by lunch time I felt like I'd had a full day of skiing. We noticed many of the local morning crew quitting then, just as school kids started arriving.
A big injury will definitely change the way you ski. That's doubly true if you are no longer an incautious youth. For me, Cranmore was the perfect place to remind myself that skiing isn't all about thrills and spills. The best part is simply being outside on great snow with skis strapped to your feet, making turns and loving life.