When a press release hits our desks about new Vasque boots, we tend to pay attention. While most companies have their ups and downs, going from being product driven to profit driven and back again, in our experience Vasque has never lost their focus on producing top quality gear, which gives new products from them a level of credibility that we don't give to many.
A High-End Name, A Bargain Basement Price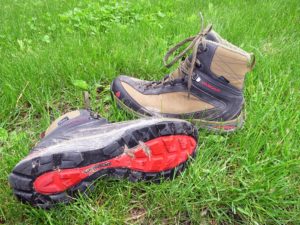 And when the press release is for a new lightweight winter hiking boot with a retail price tag of $140, we're definitely all ears! That's bargain basement pricing from a top manufacturer. Normally, at that price we'd start wondering what the quality was going to be like; getting everything right to make a boot work in the toughest conditions tends to be expensive. But, it says Vasque on it, so it's gotta be worth a test, right?
So, in came the Vasque Coldspark UltraDry. They're an ultralight winter hiker, at  2 1/2 pounds/pair for our size 10.5 tester. That's in the range of many lightweight SUMMER boots, and lighter than any other winter boots in our stable. That's great, as everything involved with winter is heavy, but…it's usually heavy for a reason. Winter places greater demands on gear, so to make things work right and be safe, weight tends to go up. And lightweight things tend to break. Let the abuse begin!
Size Matters!
Out of the box, we found the one significant problem we encountered with the Coldspark; sizing. Even our low-volume foot testers, who tend to add a midsole to most boots to take up extra space, found that it ran small. And, everyone commented that they felt cold, colder than we would expect with a Thinsulate 200 gram boot. After discussion, we theorized that the tight sizing was compressing the insulation and our socks to the point that it created cold spots. We ordered in a size 11, and everyone immediately relaxed. These felt right. And the immediate cold issue vanished. Our take: unless you're always the one finding boots in your size to be loose, order up (or, ideally, get to a store to try them on before buying).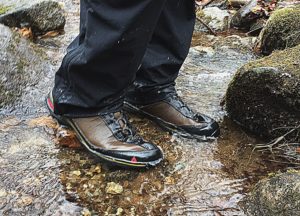 Once we got past that issue, the raves started coming in. Testers took them out for long fall hikes in varying conditions, with temperatures ranging up into the 60s and down into the 20s, in wet and dry. The boots breathed beautifully; we didn't have a single person come back with soggy feet at the end of a day. And, we actively wandered around through puddles and rivulets without issues. The Coldsparks passed our 10 minute "torture test" (standing in a basin of water) with flying colors, as well. Both pairs were flawless in the waterproof/breathable arena, and were as good as anything we've tested. One of the ways that Vasque was able to keep the price down was by using proprietary UltraDry rather than the better known Gore-Tex. In this particular iteration, we couldn't see any disadvantage, as the UltraDry was simply flawless.
The temperature range as the mercury dropped turned out to be reasonable, but not wildly warm. Hey, it's a fabric boot with 200 gram insulation…there have to be some limits! Hiking in snow down to about 20 degrees was fine, but if we stopped for long, we quickly became aware that there wasn't a lot separating our tootsies from the lurking cold. As we usually do, we carried Arctic Shield boot insulators, and put them on anytime we were going to stop for an extended period, and that solved the problem; in fact, they were easier than usual to put on due to the Vasque's svelte profile.
Not Just Warm And Dry…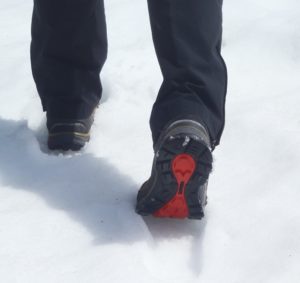 Traction, as well, was flat-out superb. Vasque calls its sole "ColdHold," with a dual-density layout; firm around the perimeter, softer in the center. Early season snowfalls are our bane; a few inches of wet snow on top of leaves is the closest thing to Teflon that nature ever invented. On a sidehill, it can spell disaster very quickly. The firm outsole lugs on the Coldsparks were able to dig into anything we stomped without releasing and sending us careening (we'd like to call it "glissading," but we aren't that coordinated) downslope. And while we can't specifically comment on the effect of the softer center lugs, the traction on general firm snow and not-glare ice was also about as good as anything we can remember. No, they didn't make using traction aids obsolete, but we felt as secure on them as anything until the conditions approached atrocious.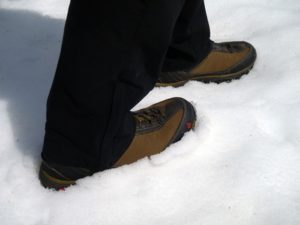 For good or ill, these aren't great backcountry snowshoe boots. The tradeoff that makes them ultralight and flexible and comfortable also makes them not stiff enough in the toe box to not pinch your feet with some bindings, and the sole isn't stiff enough to support a wide snowshoe and a heavy load. This isn't a complaint, just a comment on design choices; these would be a better choice for "fast and light" with smaller snowshoes on established trails than for winter backpacking.
One minor quirk. The "D" ring for attaching gaiters is up one eyelet rather than down below the laces, making it a little more difficult to access. We haven't quite figured out WHY Vasque did that; perhaps to make it less likely to get caught on branches when you don't have gaiters on? Either way, it wasn't a big deal for us.
And, one small and almost silly bonus. Winter boots aren't exactly known for being attractive; they're bulky and heavy and almost always make you feel like Frankenstein's monster clumping around. The Vassque Coldsparks break that mold with their slim profile and attractive details. One tester commented that they'd be perfect for First Night ceremonies, wandering around a city in the cold, and then put them to that test. End result, nobody commented on his boots, but several friends commented about how cold THEIR feet were. We got the boots back from him along with a very smug grin.
End result, we didn't see anything about the Coldsparks that led us to believe that Vasque relaxed their standards. They were tough enough to put up with everything we did to them, and they still look virtually new. Add that to the performance we got out of them, and we all agreed–this is an outstanding bargain. If you want to cover territory in the winter and shoulder seasons quickly and without feeling like you're dragging the proverbial ball and chain around, we'd encourage you to give these a try.