Should we take the canoe and bikes or not? That's a question as old as the family vacation, and I wrestled with it as Erin and I loaded the Grand Cherokee. You know the drill: On the one hand, there would be many opportunities to pedal and paddle in Acadia National Park, and having your own gear makes outings more convenient. On the other hand, bikes, a canoe, a bike hitch, helmets, paddles, and life jackets for four people eat up space – a precious commodity on any family outing, but especially on a 1,700-mile roundtrip journey with two young kids.
What would you do?
In our case, other factors made it easier. The kids (Bryn, 6 and Wes, 11) had never been to Maine, so we wanted to soak in as many different adventures as possible, not just biking and paddling. The cottage we were staying at on Bass Harbor had its own kayaks, so we wouldn't need the canoe there. The carriage roads we wanted to ride were located about 30 minutes away, so we'd probably only need the bikes for one day. But what really tipped the scales was the availability of rentals on the tourist-friendly island.
Biking the Carriage Roads
We arrived Saturday to a thick blanket of fog covering the western half of Mount Desert Island. The fog stayed for three days straight. We used that time to take the kids to some of the bucket list items on the island: exploring tide pools on the Wonder Land Trail and the Sea Wall, checking out Thunder Hole, Cadillac Mountain, and the Bass Harbor lighthouse, hiking up St. Sauveur Mountain, shopping in Bar Harbor, and eating their first lobsters at Thurston's Lobster Pound.
The weather cleared up Wednesday and was gorgeous by Thursday morning. We decided to make that the day of pedaling and paddling.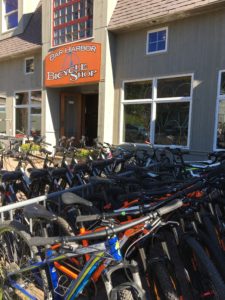 We started by going to Bar Harbor Bicycle Shop on Cottage Street as soon as it opened. I talked to one of the owners, Joe, about the best setup and destination for our family. We were looking for something easy that would give the kids plenty to look at and have us back in town for lunch so that we could head to Long Pond for canoeing in the afternoon.
Joe and I discussed the carriage roads. Erin and I had been to MDI before, in the early 2000s, but at that time we skipped the bikes and stuck to the car. Big mistake. Joe showed me a map of the carriage roads, illustrating how they snake their way throughout the interior of the park. These are spots that you can't access by car, and he assured me the pristine freshwater ponds and mountain views wouldn't disappoint.
As he was talking about the roads I pictured something akin to the fire roads in Shenandoah National Park back home – hilly, rutty, and better suited for mountain bikers. I explained that, with a 6-year-old and 11-year-old, we were looking for something extremely easy. Comfort for the kids was important. The last thing I wanted was "are we almost done" every five minutes.
Joe assured me that the carriage roads are perfect for kids. These historic landmarks were built by millionaire John D. Rockefeller Jr. in the early 20th century for the horse-and-buggy elite, and they are regularly groomed today by the National Park Service. Joe suggested two loops in particular for our first trip: the Eagle Lake and Witch Hole Pond loops. They are relatively flat, have enough scenery to keep the kids engaged, would allow us to check out two of the famous Rockefeller stone bridges in the park, and, maybe best of all, were located about five minutes outside of town.
The roads are so easy, he said, that he recommended hybrid Trek road bikes with comfort seats for me and Erin instead of mountain bikes. Wes got a Specialized XS-frame adult mountain bike. For Bryn, Joe recommended a Trek tag-along that would attach to my bike. I was tempted to get her a kid's bike, but Joe said the tag-along would allow the adults to dictate the pace and cover more ground.
I thanked Joe for the advice. One of young staffers retrieved the equipment. The shop had everything we needed, including a Thule 2" hitch carrier. We loaded the bikes and drove to the parking area for the Eagle Lake Loop. By 9:00 a.m. we were ready to roll.
Eagle Lake Loop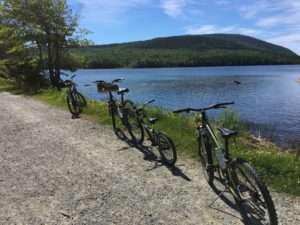 We started the ride in the parking area next to Eagle Lake – a 436-acre crystal clear body of water that also serves as a municipal drinking water source (as the no-swimming signs informed us). We could hear bullfrogs all around us, so we moseyed over to a small pond covered with lily pads and cattails to see if we could see the source of the croaking.
"Over here," I called to the family, pointing down to a beautifully mottled green bullfrog nearly as big as my hand. We don't get to see a lot of big wild bullfrogs at home, so we watched them for a bit and took some pictures. Then, we started around the 6.1-mile Eagle Lake Loop.
Joe was right that the carriage roads are beautifully maintained, and he was also right that the hills are mild. The elevation gain on Eagle Lake Loop is about 400 feet, mostly on the southern end, where you climb a slight hill for about half a mile.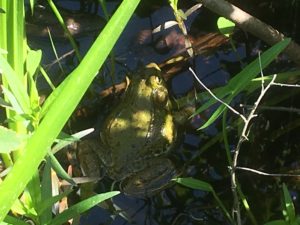 Eagle Lake is one of the more popular loops, probably because it connects to Jordan Pond and the park's famous popover restaurant, Jordan Pond House. I tried to get a reservation at Jordan Pond House a few days earlier so that we could stop there for tea and popovers on the ride, but the reservations were already booked solid. It worked out well, though, because the Park Service was doing maintenance on the carriage road along Jordan Pond and had closed it down for the day – something Bar Harbor Bikes warned us about through their regularly updated maps.
One thing we weren't prepared for was the voracious mosquitos on the southern side of the lake. Since we were pedaling at a slow pace up a hill, the mosquitos had no trouble landing on us. They seemed to especially like Wes, who developed a nice rhythm of pedal, pedal, pedal, swat, pedal, pedal, pedal, swat.
The scenery around Eagle Like was nice enough, but nothing spectacular. We try to pull off and hang out along the shore for a bit, but the mosquitoes were relentless, so we decided to keep moving around the lake and back to the parking area so we could start the longer loop to Witch Hole Pond. Next time, we'll remember repellent.
Witch Hole Pond
I wasn't sure what to expect on our second loop, but with a name like Witch Hole Pond, and with the mosquitos we encountered at Eagle Lake, I pictured something like a mucky swamp with snakes, fungus, and even more mosquitos.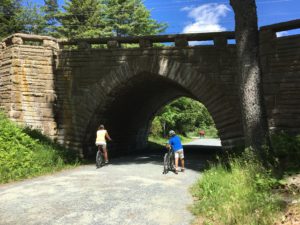 The entrance to the loop from Eagle Lake goes under one of the Rockefeller stone bridges Joe told me about, and it was indeed a postcard perfect piece of engineering. Just beyond it we discovered another feat of engineering – an abandoned beaver pond. The massive lodge sat in the middle of the mostly drained field. Bryn swears she saw a "so cute" baby beaver with a black stripe on its back. I didn't have the heart to tell her it was just a chipmunk.
The carriage road to Witch Hole Pond was much more scenic than Eagle Lake. We passed one small pond after another, and each had its own character. Some were inhabited by forests of dead trees and fields of cattails. Others were blanketed with lily pads, many of them in bloom. Bullfrogs were croaking everywhere, and we occasionally stopped to listen to them and try our best impersonations. I'm pretty sure I struck up a conversation with one frog in particular. Either that or he was making fun of me.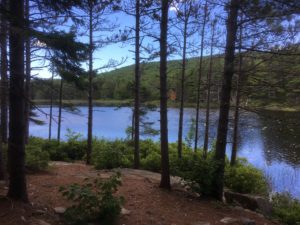 We saw some turtles and ducks, and admired the lupines and daisies that were blooming all around us, but the real star of the show, at least for Wes, was the mushrooms. As we slowly ascended the hill leading to Witch Hole Pond, he spotted several different mushroom varieties growing in the moss-and-fern-covered forest floor. He discovered on an earlier hike up St. Sauveur that he is really interested in mushrooms. Coastal Maine seems full of them; we saw at least a dozen different species, some quite colorful.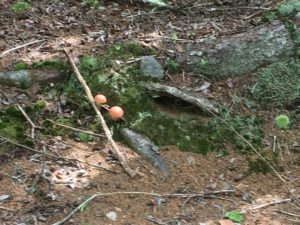 Despite the wetness of the environment, with its ponds, vernal pools, seepages, moss, and fungi, we didn't encounter any mosquitoes on Witch Hole Loop. That alone made the ride much more enjoyable, and also gave us more opportunities to pull off and explore.
About 2 miles north of where we began we came to Witch Hole Pond itself. It's not mucky and fetid like the name might suggest. The water, like the other ponds on MDI, is pristine and teeming with life. We pulled off at one spot and spent about 20 minutes watching bass and bream (sunfish) swimming with water beetles and huge pollywogs. One pollywog that was hiding under some brush swam over to where we were standing and kissed the surface of the water. My kids had never seen tadpoles that large before, and they thought he was terribly cute. Bryn, who has been pleading for a puppy for years, instantly decided she wanted a pollywog as a pet and begged me to catch him. Cleverly, I explained that he wanted to stay with his family. More cleverly, she suggested I catch the whole family, and maybe even a few of the fish. Arguing with a 6-year-old girl is pointless, so I instead distracted her by pointing out the small army of black ants that was foraging along the water's edge. Like any curious kid she couldn't resist.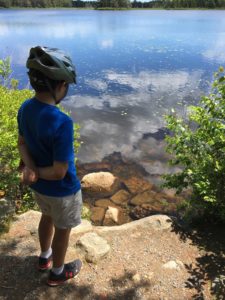 We decided not to go all the way around Witch Hole Pond. I thought about riding to Acadia's Hull Entrance Visitor Center, which is a short distance from the pond, but we had been there the previous day and I didn't want to reignite Bryn's pleas for yet another stuffed animal souvenir. Besides, it was close to noon and I wanted to grab lunch before heading out to Long Pond. Fortunately, the mention of lunch caught everyone's attention, and we pedaled back to the car with a little extra oomph.
After returning the bikes to the shop in Bar Harbor and grabbing a bite to eat at Adelmann's Deli & Grill, we hopped in the Jeep and made our way to the western part of the island for some paddling.
Long Pond, as the name suggests, is the longest lake on the island, covering 897 acres and stretching nearly 4 miles north to south. Most of the western shoreline is owned by the National Park Service, while the eastern shoreline is mostly private. It's a big enough lake that you could easily spend a day there paddling, fishing, picnicking and exploring trails. The lake's bed is covered in large granite boulders and slabs, which makes for some cool scenery. The water is so clear that you can easily see the bottom in depths of several feet.
On our first visit to Maine in 2002, Erin and I spent a few hours hanging out with our beagle on a small island in the lake called Rum Island. But we didn't have as much time on this trip, and we also had a couple of young kids who were not experienced paddlers, so we weren't sure we'd make it that far.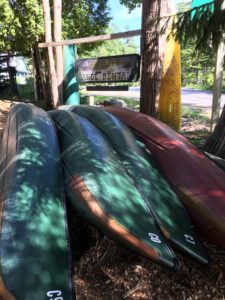 We arrived at the rental facility around 2:30 p.m. It is run by the National Park Service and offers both canoes and kayaks. I was planning to get two canoes – one for Erin and Wes, who both can paddle – and another for me and Bryn. But with a breeze picking up, I knew it would be tough for Erin and Wes to navigate the flat, open water in a canoe, so I opted instead for a kayak for Wes and a canoe for the rest of us.
One of the guys working the rentals told us that a pair of nesting loons had been spotted in one of the coves, which he pointed out on a map. If disturbed too much loons may abandon their nest, so he told us to stay on the opposite shore if we wanted to look for them. Luckily, I had a good pair of binoculars with me. I decided that finding the loons would be our objective, since none of us had seen loons in the wild before.
After carting our boats to the lake, I let Wes launch his kayak first, followed by the rest of us in the canoe. The breeze had begun to pick up. Fortunately, it was blowing straight at us, so as long as we kept the bows straight we could cut through it. However, Wes, who isn't a big guy and had only been kayaking a couple of times before (and under much calmer conditions), was struggling to keep the bow straight and found himself being blown off course. Before we got too far out, we headed back to the launch and Wes switched places with Erin.
Erin cut through the breeze easily in the kayak. The canoe, with the kids and me acting as sails, made slower progress. I found myself doing most of the paddling from the stern, and asked Wes to focus on keeping the bow straight into the breeze. Bryn sat in the middle, draped her leg over the edge, and felt the cool water wash over her toes as we made our way to the cove about .75 miles away.
Like the other freshwater ponds on Mount Desert Island, Long Pond is a pristine body of water that was carved from the landscape thousands of years ago. Despite being on the Atlantic Coast, the freshwater ponds are probably the biggest reason I love Acadia. In Virginia, the ponds and lakes are almost always man-made and filled with silt, invasive weeds, and algae from heavy nutrient loads. The water is usually murky and too warm for my liking. As a kid who grew up among freestone streams and spring-fed ponds in central Pennsylvania, I have always preferred the crisper, clearer waters of the north. The granite-lined waters of Acadia are as close to perfection as this Aquarius has seen on the East Coast.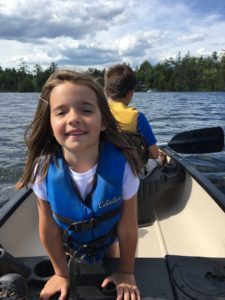 It took us about 45 minutes to reach the targeted cove (Erin a bit sooner in her slick kayak). The park employee said the loons were spotted on the northern shoreline, so we entered the cove on the southern side. I pulled out the binoculars and began scanning the opposite grasses.
It didn't take long to find the nest. The mama loon, in all her elegance, was sitting on her eggs just at the edge of the tall grass on a mounded nest right at the water's edge. I had seen plenty of pictures of loons before, but I never really grasped their size. Because of their aerodynamic shape, I always imagined them to be the size of mallards. This girl was as big as a goose. Her sleek black head was unmistakable, and her finely detailed black-and-white speckled body was something to behold even through binoculars a couple of hundred feet away.
We stopped paddling and took turns looking at her through the binoculars. I searched for the male loon, which I knew had to be close by, but didn't see him. After 10 minutes or so, and a few long-distance photos, I suggested we head back. The rental facility was closing at 5:00 p.m., and I didn't want to have to rush the return paddle.
As we started back out the mouth of the cove, I saw a shape in the water just ahead. The telltale pointy head of a loon. It was the male, right between us and the open water. We paddled slowly so we wouldn't spook him. I wanted to see how close he would let us get. Surprisingly, he didn't seem to mind our presence. He stayed a good 20-30 feet away from the boats, but we were able to get close enough that the binoculars brought him right to our fingertips. The kids got some great closeup views of this beautiful animal, and I snapped a few more pictures. As we left the cove, he made his way back to his mate at the nest, diving and resurfacing over and over like a whack-a-mole.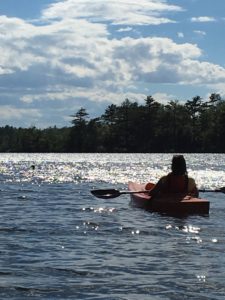 Seeing our first wild loons was a great way to finish the day. The best part of the paddle back was that the wind was at our backs. We didn't have to paddle as often or as hard, instead allowing the breeze to help push us gently back to shore.
After returning the boats and thanking the park employees for the loon tip, we headed back to the Jeep. The weather had been gorgeous, and I reflected on how much there was still to see by boat and bike on this amazing little island. I felt a little sorry I didn't bring my own gear.
As I reached into Erin's bag to get the keys to the Jeep, I discovered they had gotten a little wet sitting on the bottom of the canoe. Not soaked, but just enough to cause the electronic fob to stop working. Unable to remotely unlock the car, I did it the old-fashioned way, putting the key in the door. As soon as I pulled the handle, the alarm went off, and kept blaring until we could dig the spare keys out of a backpack buried in the trunk.
Cursing all electronic technology, I briefly imagined next time bringing the bikes and canoe and leaving the Jeep at home.
One can dream.