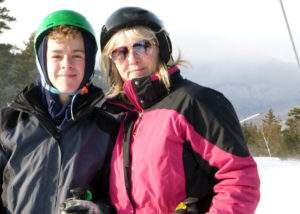 I knew it would happen. Someday I would return to skiing. If you've been a skier in a past lifetime, it's going to happen to you, too. If you are lucky . . .
I learned to ski when I was 9 years old. From then on, I spent every spare minute of the season on various mountains in the Northeast. Growing up in Maine, skiing was what winter was all about. A few weeks ago my teenage son Keenan decided to try skiing for the first time. Off he went with his girlfriend Emily and her dad to give it a try, and there I was, home alone feeling jealous. I wondered all day how it was going while at the same time I just knew (Moms know these things) that he would love it.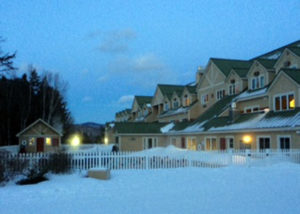 When Keenan arrived home smiling and full of stories about the day I knew it was time for me to return to skiing. Then, of course, the worries started. Moms worry, it comes with the job description. Would my knees still work? What about that old foot injury? But, mostly, I worried about driving two hours, spending money to rent equipment and buy lift tickets only to find out I was too old to start over again.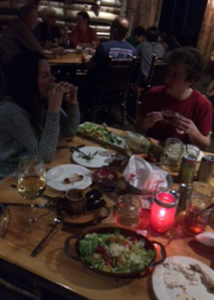 But one of the lessons I've tried to teach my kids is NOT to worry your life away. So we planned a weekend family return to skiing at Sunday River, and signed up for one of their famous learn-to ski weekends with the Sunday River SnowSports School, and our journey began. The package price only stretched our budget a little, Sunday River had lots of snow, so off we went.
Our family return to skiing was going to be an adventure! We needed a place to comfortably fit four of us (including Emily and my 18-year-old daughter Mack who was home from college that weekend). A one bedroom suite at the Grand Summit Hotel gave us more than enough space to spread out. The Grand Summit has the necessities required by all teenagers: fast, free wifi, huge flat screen televisions, heated outdoor pool with hot tub, game room and a fantastic restaurant named "Camp". Okay, Mom needs some of those things, too. We checked in on Friday evening and the kids hit the pool while I relaxed with a glass of wine. Dinner our first night was amazing and included the signature smoked cornbread "Camp" is famous for. Very happy teenagers.
The next morning we fueled up at the spectacular breakfast buffet (don't miss the omelet station!), picked up our lift tickets at the front desk and caught the convenient shuttle to the mountain. First stop was the Sunday River SnowSports School at the South Ridge Base Lodge. After signing the necessary papers and renting gear (a surpassingly easy process!), we met our instructor, Lorraine. She started off by introducing all of us to each other, explaining some of the gear, then we headed out the door and onto the snow for our return to skiing.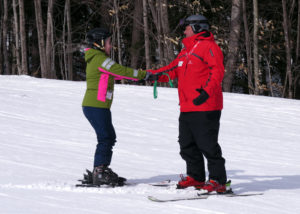 Lorraine had the perfect personality to teach a group of beginners ranging from 14 up to 55+. She made it fun and easy for all of us. The learning area at Sunday River is a gentle, wide open slope with a 'magic carpet' lift to bring us up the hill when we were ready.
We started with how to side step up the slope (a very, very gentle slope), then graduated to slowly skiing from one side of the learning area to the other, first with just one ski, (think "scooter" ) and then two. Emily, Keenan and I, all with more experience, made quick progress.Almost before we knew it, we were ready for the magic carpet ride. Mack, however, a total beginner, was not grasping the concepts easily. Lorraine saw the problem and had another instructor, Steve, work with her individually (this was supposed to be a group lesson!). With amazing patience, he gave her the attention and encouragement she needed. From then on, she progressed quickly to the point where she was able to join the rest of us on the Magic Carpet lift. We were skiing together as a family!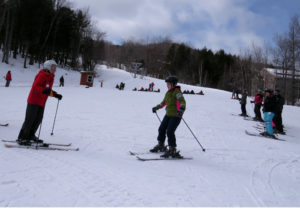 When our lesson was done, we were all much more confident and ready to take the chairlifts up and explore. We had the option of having an instructor go with us to teach us how to get on and off the lifts and back down the mountain. But, after a family vote, we decided we had already learned so much, we were ready to take off on our own! With no major mishaps, we skied at our own pace for the rest of the afternoon on the many beginner trails Sunday River has to offer.
I was skiing again! My kids were skiing with me! And we were all loving it!
After returning to the hotel the kids took off to the outdoor pool and hot tub before another great dinner. While we ate, we looked over the trail maps to plan our skiing for the next day. Yes, we were that excited.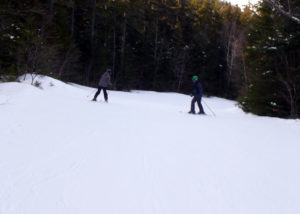 Everyone was asleep by 10:30. Don't try this at home. . . .
Day 2, we were all up early (no grumbling, this obviously wasn't a school morning) and could not wait to ski again. This time, we took turns choosing our routes and absolutely loved the variety of the trails, and the wonderfully groomed snow. We were so relaxed that we had time to enjoy the gorgeous views from the top and along the way down. We stopped quite a few times to take photos. In fact, now that I think of it, the only time the kids were on their cellphones all weekend was to take pictures. Imagine that!
As the day drew to a close, we were all sad to see the sun setting. Nobody wanted to stop. Well, maybe my legs did, just a little.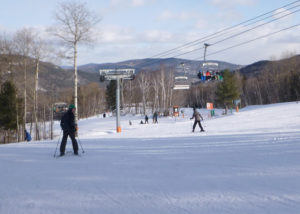 In retrospect, all my worries about knees and feet and age were needless. Skiing truly is fun for all ages. The choice to make a family return to skiing (or to START skiing) with a lesson at the Sunday River SnowSports school was the right one. Under Lorraine's patient and practiced guidance, I was able to refresh and refine my technique on the new equipment (so much better than what I used to ski on!). At the same time, my kids soared, which is every parent's dream.
I think the very best moment for me came just before lunch on Day 1. I was back in the swing of things and feeling that skiing truly was 'just like riding a bike'. Keenan said to me……"Wow Mom, you really DO know how to ski" I realized we were at the beginning of many more family skiing adventures together.
What took ME so long?
What are YOU waiting for?