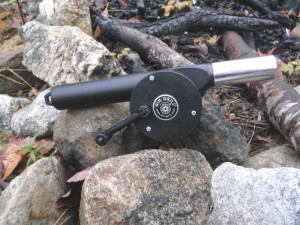 Nobody ever accused me of  being a minimalist backpacker. I've been called "strong like ox, dumb like ox" and I believe it…so, why not carry a few extra pounds? On most trips I carry the Air Grill Blower
(yes, "Blower" is the highly imaginative product name). My least favorite camp chore is getting down on my knees in wet duff and trying to blow life into a fitful  fire. In the fall, when things tend to get wet, it's a miserable chore… smoke always blows back in your face, you get lightheaded from hyperventilating, and it's inefficient. So, when I saw the Air Grill Blower in the Campmor catalog for 10 bucks, I had to give it a try.
The unit is lightweight plastic, with a crank handle and a metal end so that you don't melt it the first time you get it near the fire. Gently turning the handle produces a good volume of air that you can direct wherever you want (not that irritating my dog with it EVER crossed my mind!). WARNING: Do NOT crank hard!  The lightweight construction makes it easy to strip the gears. I ruined one, contacted the company, and they sent me a replacement for shipping cost. They told me that cranking hard doesn't increase the air volume, and they're right. With the new one, I've been more gentle, had zero problems, and fires start just as well.
Okay, since I'm going to get some abuse for carrying the extra weight, let's quantify it. On my scale…4.1 ounces.  Sorry, but that's NOT a lot of weight, particularly when I can leave some firestarters at home because of it.
Lightweight, easy to use, makes camping more pleasant, and adds a safety measure (particularly to winter camping, where a fire can be critical to comfort), I rate the Air Grill "Blower" 10 out of 10. In anything other than hot, dry summer weather when campfires are a no-no, it's always in my backpack!  Even if you're an expert firebuilder (if you aren't, you can learn how to be one here), this takes a lot of time, aggravation, and in wet weather, stress out of the project. If you'd like proof that I actually use it, check out the photo in the "Warm/Cold Winter Camping" article!
Air Grill also makes a product called The Inflator. It's basically a Blower on steroids…bigger mechanism, bigger handle, you name it.  From a backpacking perspective, it's a non-starter…it weighs twice as much as the Blower, takes  up a lot more space in the pack…just doesn't make sense.  However, if you're a car camping person, or like having a fire at the beach, this thing really works. It's not just a firestarter, but has attachments so that you can blow up beach balls, air mattresses, etc. They of course say "don't blow up big things like air beds"…so, of course I tried that. Amazingly enough, you CAN blow something like that up. It's nowhere near as fast as a big foot pump, but in a pinch, it'll do. And for beach balls, or for the pillows for the air bed, it works like a charm. Party friendly, it has a bottle opener built into the handle so you don't have to go thirsty while you're doing that hard work of blowing up a water toy. For only $5 more than the Blower, it's a good value for that kind of use.