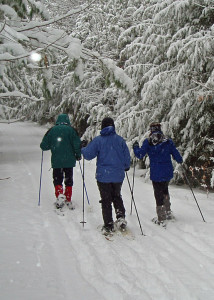 Snowshoes: The All Terrain Vehicles of Winter
Gliding on traditional cross-country skis is elegant (and exhausting). Carving turns through the woods on Telemark and AT skis is exhilarating. Sledding is simple joy. But if I had to choose one piece of equipment to enjoy snow with, it would probably be a good pair of modern snowshoes.
Slow-but-steady snowshoes are the All Terrain Vehicles of winter. Pick the right pair for you and you can go almost anywhere from the highest summits to the gentlest valley, through deep snow or over slippery ice.
If you don't already own snowshoes, we strongly recommend renting and/or borrowing (ask your friends!) as many different pairs as you possibly can to try out before you buy. Most cross-country ski areas rent snowshoes; so do outdoor shops and many snow-country lodges.Each brand and each model has slightly different characteristics, different bindings, different price tags. The more you've tried, the more likely you are to find the right pair for you.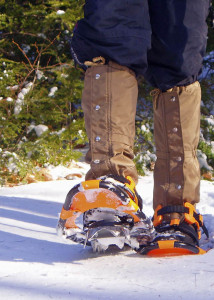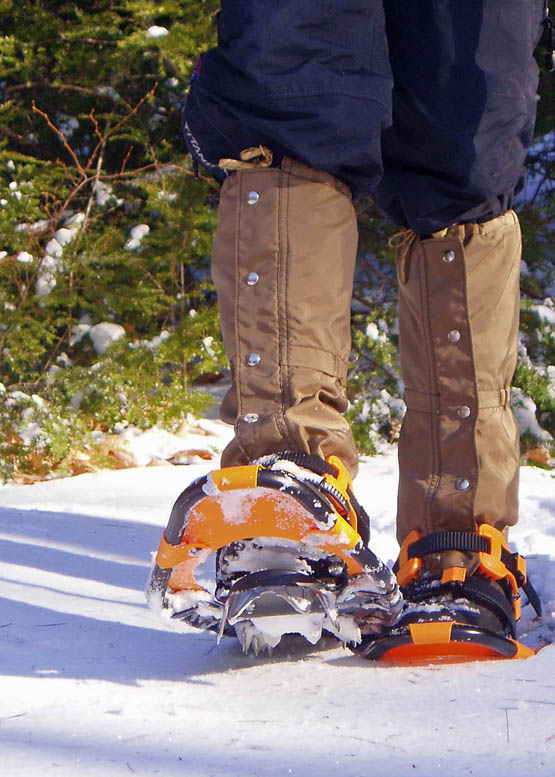 A snowshoe, has four main components: the frame, the decking which fills the frame (in the case of plastic snowshoes, frame and decking are one), bindings, and traction cleats. Each of these components has its impact on how the snowshoes will perform for you.
Most modern snowshoes have a lightweight aluminum frame which (except among traditionalists) has replaced the bent ash of yesteryear. The decking of modern shoes is plastic instead of rawhide. This combination is strong, lightweight and essentially maintenance free. The other modern standard is a stiff plastic deck that does away with the need for a frame. They look like they'd break easily. They don't .
Bindings are especially important. They should be easy for you to put on and take off, preferably with mittens on.  More than one pair of snowshoes sits unused in an attic or garage because the bindings are hard to use.
One thing to look for in the binding: does it allow the snowshoe to pivot freely when you lift your foot so the tail of the snowshoe stays on the snow with each step? Some snowshoes have a tight connection (called a toe cord) that forces you to pick up the entire weight of the shoe  and any snow that's on it. Snowshoes with a tight toe cord can flip snow up your back (and down your neck) with each step. Yes, that's as unpleasant as it sounds. . . They are great for running on packed trails because they don't flop around, not so good for exploring the untracked.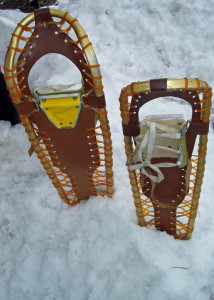 The final component of modern shoes is traction cleats. These were pioneered more than three decades ago by a defunct company called Sherpa. Among the many snowshoes still owned and used by our testers, we still have  a pair of the original Sherpa's  and the "teeth" under the foot are tiny compared to today's crampon-like designs.  In fact, many of today's snowshoe claws are so aggressive, they'll take you some places you used to need full crampons.
In addition to the claws directly under your foot, most modern snowshoes also have additional cleats or spikes  back under your heel area. These cleats are made of aluminum (lighter and cheaper) or steel (tougher). These allow extra traction on steep downhill terrain if you put a bit of weight on your heel. Trust us, the last thing you want to do is go glissading down a steep slope covered in crust on your snowshoes—especially if you are wearing a pack.
Any snowshoes are better than no snowshoes, but good ones that you like and find easy to use are the best of all. Snowshoes give you infinite opportunities to enjoy winter at a safe and friendly pace, uphill and down,  across the snowcovered landscape. Try some out this winter.
Snowshoes: Size Matters
The sizing charts companies provide to help you choose snowshoes only tell part of the story. Most only tell you to choose by your weight. But is that weight with or without winter boots, clothes, and the pack you need to carry your winter safety gear? See the problem?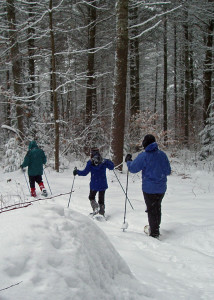 There's also the matter of flotation. Bigger snowshoes generally float you higher on softer, untracked snow than small shoes do. Some of the tiniest snowshoes today are made for running on packed and groomed trails—but they're about useless anywhere else. They look tempting, but be careful. The plus side of smaller shoes is that they are lighter and, perhaps a bit more maneuverable
Because we encourage off-trail travel, our recommendation is to pick snowshoes a size larger than the sizing chart recommends—go too big rather than too small, have a little more flotation and more versatility for carrying a pack than too little flotation.
Snowshoes: What They Are Made of
The "standard" snowshoe these days features a tubular aluminum frame with a solid decking made of a tough plastic or synthetic fabric. They all work.
MSR
 takes a slightly different approach, making the frame frame of some of their shoes with flat bar stock and filling. The entire frame becomes a traction aid.
Becoming ever more common these days are molded plastic snowshoes. Again MSR
is a leader here. I have less experience with the composite plastic shoes. Many decades ago, Executive Editor Tim Jones was in on the testing of early versions of the MSR shoes when Bill Forrest of Forrest Mountaineering and Patrick Smith of Mountainsmith were making them out of blue plastic barrels.
You can occasionally find surplus Canadian military snowshoes
with magnesium frames and coated wire fillings. They are bombproof but weight a ton and have less traction than more modern designs.
And then of course there are still wood framed snowshoes filled with either traditional rawhide or neoprene. Beautiful to look at and perfectly wonderful on soft snow, they require more care to use and maintain than the knockabout modern models and don't have nearly the traction and versatility.
Snowshoes: Testing Notes
Alas, in all the years we've tramped the trails on snowshoes, we've never found the perfect pair for all terrain and conditions. But some are awfully close . . .In recent years, we've extensively tested models from MSR snowshoes
, TSL snowshoes
, 20snowshoes&linkCode=ur2&tag=easter090-20&linkId=ZFC6MEHLCICHLP7R">Tubbs snowshoes
, Yukon Charlies snowshoes, 
and L.L. Bean . Each has had its pros and cons .