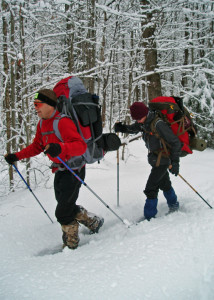 Editor Note: Since this story was last updated , a lot of snowshoe companies have made some pretty impressive changes to their lineups. Stay tuned for an update. In the meantime, these reviews should help you sort out what's out there.
After Tim's recent story on choosing snowshoes, so many of you wrote asking for the results of the EasternSlopes.com snowshoe tests that we're sharing them with everyone before the test is complete.
We aren't writing about every snowshoe on the market. Not even close! That's because we haven't actually tried all the snowshoes on the market, and we won't write about anything we haven't actually used.
We have put in a lot of miles on some of these snowshoes. These are real miles, on packed trails, icy crust, and untracked powder on flats, steeps and sidehills, with packs on and without.
We deliberately try to break snowshoes. So far, we've (mostly) failed . . .
Here's a look specific snowshoe models we've actually used. In some cases, the tests are still incomplete and  we'll be adding info and opinions as the winter progresses. We also  hope to be testing additional shoes this winter. So stay tuned! If you agree or disagree with any of our assessments, please feel free to post a comment, we'd love to hear about your experiences.
Tubbs Culoir 30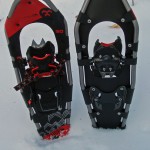 Tim's everyday go-to snowshoe for years has been the Tubbs Couloir 30. He used his first pair so often the plastic decking began cracking where it wrapped around the frame. Tubbs replaced them without questions and he's had no issues since. The Couloir is wider (9 inches) than some other snowshoes which provides more flotation, though some people might find it too wide.
The binding on this shoe is as good as we've ever tried–very easy to get into and out of even with mittens on—just be careful to keep the flip-up catch that secures the heel strap clear of ice. The binding pivots easily so the tail of the shoe drags as it should and any snow on it slides off as you lift. The binding also flexes slightly side-to-side which may help the shoe stay flatter on the snow for better traction when sidehilling. An easy-to-use flip-up wire heel riser makes long climbs less tiring on your calves. Nice touch. The aggressive steel claws stay sharp and traction is excellent in all conditions.
For several years now, one of our testers used the Tubbs Odyssey 25 (9×25 inches) Women's which has since been replaced by the upgraded Women's Couloir model. She simply loves the shoes, has no trouble at all handling the bindings with mittens on.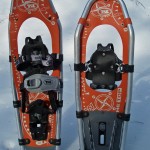 These aluminum-frame snowshoes are made in Vermont. They are slightly heavier than some other snowshoes, but bombproof–you couldn't break them if you tried, and we've tried. The 8-inch width makes for more natural walking but a little less flotation.
The bindings are solid, very positive, comfortable but take some tinkering to fit. Once set up they are easy to use even with mittens. The heel lift is awkward to engage and disengage without removing mittens, but there when you need it. The steel traction cleats are long, sharp and aggressive. These are a favorite among the easternSlopes.com staff for crusted snow.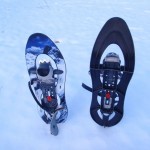 These lightweight composite snowshoes look like they'll break instantly. Three seasons later and many miles with heavy packs in tough conditions, they're still going strong.  The plate-style bindings are easy to use once set to your boot, comfortable, supportive and have a flip-up heel lift. The ribbed composite deck grips well on softer snow while six stainless-steel spikes and a traction claw grip on hard snow. A little "keel" hanging off the back end helps the shoes to track straight. Our female testers love these lightweight shoes.
LL Bean/Tubbs Pathfinder
We haven't given these a full test, but they cost much less than the top-of the line Tubbs and even less that the (nearly?) identical Ventures. With a lighter, less expensive shoe you give up some features such as the heel lift. The binding allows a little more random foot movement and the heel strap is harder to tighten, but it works with mittens on. If you only occasionally head up steeper mountains with a pack on, it appears these will do just fine and you'll appreciate the lighter weight on the easier trails.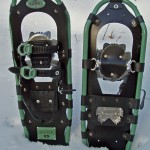 Yukon Charlie's shoes have been redesigned since we tested these but the basics remain the same. For inexpensive snowshoes, the quality is surprisingly good. The bindings are solid and easy to use with two ratcheting buckles over the boot and a simple heel strap adjustable for length. The traction claws are aluminum and dull easily on rock but work fine on crusted snow. On warmer days, snow tends to ball up in any aluminum crampon. To solve this problem (which is common to all aluminum crampons) spray them with silicone before the start of each trip. The Yukon Charlies are a no frills snowshoe that works; definitely worth a look if you are walking primarily on easy-to-maderate terrain and don't want to pop for bells and whistles you don't need.
LL Bean Winter Walker 30 ($119) 5.25 lbs/pair, 9 x 30 inches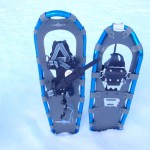 Impressive in early testing, these look to be a genuine a bargain for a recreational snowshoe for easy to moderate terrain. Bindings are fairly simple to use with some practice. We lent them to novice snowshoer Matt Marean and he had some difficulty figuring out the bindings initially, but no trouble once he'd used them a bit. We'll have more on these shoes later when they've seen more miles on varying snow conditions.
Kahtoola Flight Deck Mountain Snowshoes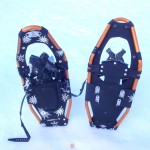 Unique, dual-purpose snowshoes. A separate cleat system straps to your boot, serves as an aggressive traction creeper when you don't need the flotation of the snowshoe. Cleats snap onto the aluminum-frame snowshoe deck (three sizes available). Neat, simple, works extremely well when the deck is on a firm surface, harder in deep snow. A pull tab releases binding easily. The decks are low profile, easy to carry on  a pack.
One huge flaw with these shoes is the tight toe cords which don't allow the deck to pivot freely. You pick up weight of the entire snowshoe (and any snow on it) with each step, which is tiring. And, they flip snow onto your legs and back with each step . . .  Annoying.
The real flaw of these snowshoes for wilderness use, however, is that the webbing harness on the cleat freezes up and they are nearly impossible to put on your boots and take off in the cold. Not a good choice for winter camping.
LL Bean Trailblazer 30 ($220 includes special winter boots with step-in binding), 3.2 lbs/pair, 8 x 30 inches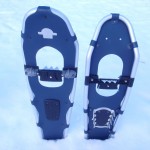 Another intriguing step-in snowshoe binding concept, this one free-pivoting so decks shed snow. Spring-loaded steel pins snap into metal detents built into very comfortable winter boots that you could wear anytime you are out in snow. The connection point looks flimsy, but neither David nor I have been able to break or twist out of them—not even wearing a 50-pound pack! The step-in feature works easiest on a firm surface—more difficult in deep snow. Simply push with the tip of a ski pole to release. Much more testing needed this winter!
MSR Lightning Ascent Snow Shoes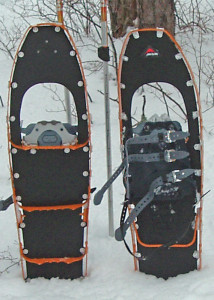 We tested these serious snowshoes on on a variety of snow conditions from wind-drifted powder to frozen crust to rotting corn snow and they passed all tests with flying colors. Strong, stable lightweight aluminum bar-stock  frame with cleats around the entire perimeter for excellent grip and flotation in all snow conditions, even with a heavy pack.
Heel riser flips up easily for climbing. Like all snowshoe bindings, this one has a (short) learning curve. I'm a bit concerned about potential wear on the edges of the frame when encountering exposed rock or ledge (it happens a lot in the northeast) but there is otherwise absolutely nothing bad to be said about these superb shoes.
MSR Denali Evo Ascent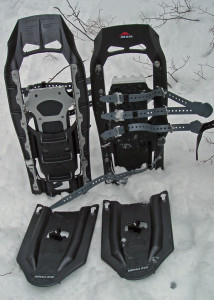 We tested these on a variety of snow conditions from wind-drifted powder to frozen crust to rotting corn snow. They are excellent lightweight "emergency" shoes, and ideal for mountaineering or use by a smaller person without a pack. They have an excellent and secure binding that's easy to use with mittens. They are, however,  simply too small and too flexible for regular use on steep or sidehill terrain with a winter backpack. An optional "flotation tail" is beautifully engineered to fit securely to the tail of the shoe. Unfortunately, it provided no useful added flotation that we could determine in any of the snow conditions we encountered. In fact, the lengthened tail combined with the short tip of these shoes causes the shoe to tilt down and dig in deeper at the tip, making walking awkward, especially in soft-but-heavy snow. On breakable wind crust they will trip you up. Based on our experience in the snow conditions we've encountered so far, we recommend the shoes but NOT the flotation tails.