Anyone who has ever been to a cross country ski race, and seen the beanpole thin racers, knows that XC is NOT about the food.  So, how would The Balsams, a resort that is famous for their culinary expertise, manage to combine the two?  When word came to us that they were reviving an old tradition of the "Feastival", we simply had to check it out!
It turns out that we shouldn't have worried.  These people are true artists when it comes to innovative ways to get us off our diets…and they outdid themselves this time.  The Great North Woods 30K Classic is exactly what it sounds like, a 30k XC race.  But, the twist came in having 5k and 10k "tour" loops for the spectators…otherwise known as "diners."  In true Balsams fashion, they had 4 food stations out on the course.  Now, it's common in races to have tables with energy drinks, granola bars, that type of thing…but homemade energy bars?  Or polenta with ratatouille ("a vegetarian option for the racers"…yeah, right)?  How about white chocolate bread pudding with caramel apple sauce?  The good news was that the 10k course was distinctly NOT flat, so in theory we worked the goodies right back off…in theory.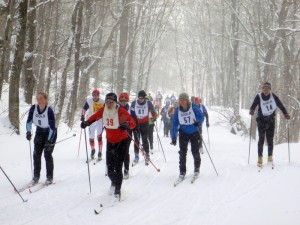 The race itself is an impressive affair, with well over 100 racers appearing to test themselves against one of the more difficult courses on the XC circuit.  Add to it the fact that it was snowing right up to the time of the race, and off and on during the race, and the difficulty ramps right up!  Multiple times over the opening kilometers of the course, we passed racers who had stopped to change their waxes.  In fact, the racers who were overall doing the best were those with waxless skis.  That goes against most conventional wisdom, although the fact is that modern waxless skis, if prepped correctly, are surprisingly fast.  The good news for us, given that we were of course on waxless skis, was that we could be certain to get to the food stations before they ran out of anything!  However, that's a silly idea from the start…The Balsams does not run out of food, ever.  And a good thing it was for the racers, as they burned more energy than they had expected.  One top finisher, when I spoke to him after the event, likened it to a 50k race he'd done recently in terms of effort.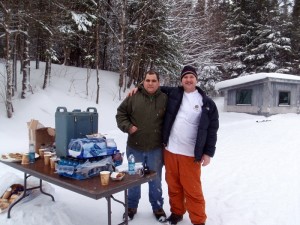 Unfortunately, we missed seeing the winners cross the line.  Even though we only did about 15k to their 30k, it took a LOT of extra time to fully enjoy the efforts of head chef Josh Berry and his crew, who not only cooked the food, but were actually out on the course serving it!  We weren't the only ones to enjoy it; a flock of robber Canada jays was stealing things out from under Josh's nose, to the delight of the passing skiers.  But, we made it back in time to watch many of the racers come in, drenched with sweat and exhausted from the difficult course.  Many of these racers are weekend warriors, and probably race for the same reason cyclists and runners do; they enjoy the effort, the competition, the camaraderie…and, just this once, the food!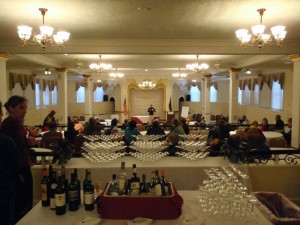 The level of camaraderie was even more evident later in the day, when they had their awards ceremony inside.  Laughter and cheers were the most obvious sounds coming out of the "Switzerland of America" ballroom, although there might have been other reasons for that.  First and foremost, The Balsams was serving wine for their event; that certainly could have helped!  Or, perhaps, they were anticipating the meal to come, since many of them were staying to find out what they'd been missing out on the trail.
The Balsams dinner buffet is justly famous; incredible quantities of incredible food, in a stunning setting.  There's certainly something for everyone, and it's common to see plates piled high by people who can't help trying just one more thing (and who can blame them?).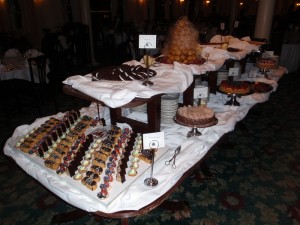 But, it was a different scene on this evening!  Picture roughly 100 XC racers who have just put in hours of brutal racing, late in their season where they don't have to watch every single ounce…and then put them into a room with unlimited food.  I've been to The Balsams before, and I've never seen the staff running so fast to try to keep up.  There was a constant stream of food coming from the kitchen to replace what the swarms of racers were eating.  As always, the mood was happy; it's hard to not enjoy an atmosphere like that.  It's not surprising at all to see how many racers showed up for the event; with the potential for that kind of enjoyment afterwards, who wouldn't want to use a race as an excuse to stay a night?
All in all, there's no question that the Great North Woods 30k Classic & Tour was a solid success for both racers and spectators.  And, knowing The Balsams, I'm expecting nothing but improvements for next year's event.  We'll be there, possibly even to race…but even if you don't want to do that, we'd highly recommend that you go, do the 5k or 10k loops, and use it as an excuse to stay, maybe even to take a day to enjoy their wonderful downhill area.  There's never a bad reason to go to one of the grand hotels…but when you can combine XC skiing with world class food, what more could you ask for?