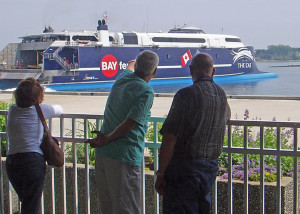 Ferry boats and bicycles combine to make a GREAT Active Outdoors getaway as we've discovered on Martha's Vineyard, Nantucket, and Cape Cod. Our first such adventure happened back in 2007:
The people in their cars looked like they felt sorry for us as we waited with our tandem-bike-and-BOB trailer in the pouring rain to board the high-speed CAT ferry in Yarmouth, Nova Scotia. We were headed back to Portland, Maine following a much-too-short visit. It hadn't rained the whole time we were in Nova Scotia. It hadn't even rained most of the time. It had just poured whenever we were out riding our bike. So what? We went riding anyway and felt sorry for the people who let the rain spoil their fun. It had  been raining constantly before our trip – enough to shatter monthly rainfall records and flood the hardest-hit spots. Rain like this could keep you indoors – or not..
The weather reports looked truly horrible as we left Portland. We could have cancelled our getaway, but why? We cleared Canadian customs quickly in the gloom of a misty, foggy evening, and pedaled the mostly-level two miles to Harbour's Edge,  a perfectly marvelous Bed & Breakfast in a restored mansion overlooking the water. Our plan was to leave the trailer with our luggage at the B&B for two nights and explore the Yarmouth area by bike.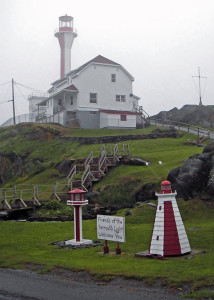 The next morning, as we ate a huge, absolutely delicious breakfast in the parlor overlooking the water, a squall blew in. Watching the rain cascading against the windows and tree-branches dancing wildly, we lingered over tea and coffee. By the time we'd donned our raingear, the winds had calmed and the rain had slackened a bit.
We started with a loop through the village of Yarmouth – looking for places to explore later. Then we headed out of town for a ten-mile ride out to the historic Yarmouth Lighthouse at Cape Forchu.
This southern tip of Nova Scotia is perfect bicycle country. Most roads have relatively little traffic and small hills. The coastline is uneven so each turn of the road offers new, often sweeping views of the harbour, the sea, and the coastal marshes. We saw deserted beaches, lobster boats tied up at wharves. The roadsides were lined with lupines and beach roses in full bloom. Even in the rain the views were spectacular, and the pace of a bike gave us time to enjoy them.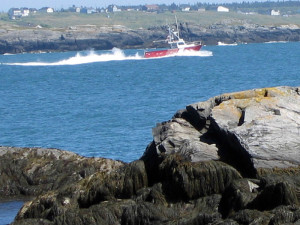 By the time we reached the lighthouse, it was raining hard again. So we ducked inside for a museum tour and a tasty lunch (try the lobster sandwich and Patricia's pumpkin chocolate-chip muffins for dessert) in the tearoom. When we came out again, it was raining even harder, so we pedaled a looping route back into town, explored the local visitors center and a wonderful used book shop before heading back to the B&B. There, we showered, warmed up and dried out before walking back to town on a pleasantly dry evening (how unusual—if we'd taken the bike it would have rained) for a great dinner (Digby scallops!) at the lively Rudders Seafood Restaurant and Brewpub .
The next morning we rode our bike in another downpour back to the ferry. In total, we'd biked about 25 soggy miles—just enough to justify some of the great food we ate. If we'd taken our car across instead of the bike, we'd have spent a lot more money, seen more miles of road—but not as well—and we'd have probably gained weight. So what if it rained?
Here in the northeast, we're being forced to learn the lessons that our Active Outdoors cousins learned long ago in the Pacific Northwest: Enjoy sunshine whenever you get it, but don't expect it. Rain is the new norm. Life isn't a (dry) spectator sport. Get out, get wet, and enjoy!
Rain Riding
Look on the bright side! You don't have to worry about sunburn, sunstroke or dry skin while riding in the rain!
A high-quality waterproof, breathable rainsuit is pretty much essential if you're out for a day on a bicycle. If the jacket has a hood to wear under your helmet and the pants legs zip closed to keep them out of your bike chain, so much the better.
For safety's sake, you definitely want to be seen through the rain and gloom. Our tandem is outfitted with super-bright LED head and tail lamps by Princeton Tec . These lights shine long and bright on regular batteries.
Even for short trips you want to carry your wallet, a camera, possibly a cell phone, and a few other essentials including of course, the all important maps all dry and safe. After lots of looking, I found a "Tour Guide" handlebar bag from Topeak that snaps off the bike for use as a shoulder bag, and has a fully fitted rain cover. Topeak also makes cool biking tools, pumps and other necessities.
Arriving at your lodging with wet gear wouldn't be any fun at all. We saw other bikers using all kinds of improvised stuff to keep their gear dry, including trash bags inside ordinary stuff sacks and bike bags and panniers. We put all of our gear in a dry bags in our BOB trailer, which we also use for going to the grocery store back home. The trailer pulls along with little additional effort. Worked perfectly. If we'd had more time, we could easily have explored Inn-to-Inn traveling 30 miles or more a day.
Nearby Nova Scotia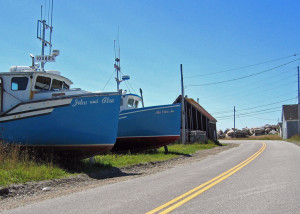 Sadly, the  CAT ferry service from Maine to Nova Scotia was suspended in 2009, so you  have to drive all the way out to St. John, New Brunswick to  cross to Digby,Nova Scotia.
Still, it's worth it. A bike is the perfect way to explore southwest coast of Nova Scotia. Rain or shine, I could easily imagine spending a week or two here enjoying great biking, good food, uncrowded beaches and wonderful people.
Let's hope the ferry service comes back soon!