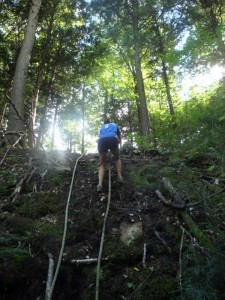 The feedback from the Wildman Biathlon story has made it clear that there's a lot of interest in the category of stupid stuff to do to yourself.  Sunday River's Tough Mountain Challenge is now in the history books (stay tuned for the full story).  But, for people who still  want to try something ridiculous, are there any options this fall?
The answer is…yes!  There are two events that we know of that fit the category of "what WERE we thinking???" races that we're going to attempt.  First comes Stratton Mountain's "North Face Run To The Summit" on October 10.  Part of their Columbus Day weekend celebration, it's pretty straightforward.  Put on your shoes, run up to the top of southern Vermont's highest peak, win the race.  Um…okay, walk most of it, and survive.  Sounds like fun, in a sick way!
Probably even sicker is the Shawnee Peak Challenge on October 23.  Running up Shawnee would be bad enough; it's plenty steep.  But, instead, they're making an obstacle course there that the organizers claim will be the "best one-day challenge on the East Coast."  Uh, oh…so, which is tougher, the Shawnee event or Sunday River's Tough Mountain Challenge?  Only time, and our abused bodies, will tell.  We'll be registering for it shortly; stay tuned for our results!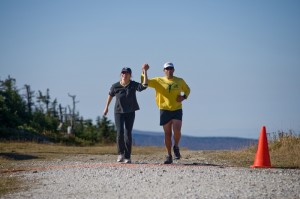 But, that's not all.  While OUR bodies can't handle any more, there are upcoming events in 2011 for other brave souls.  Here's what we've been warned about at press time; come back again, as we'll add events as the PR people notify us!
Probably the biggest news for idiot race junkies is the Winterwild series, January-March 2011.  Four races, three mountains (Whaleback, Sunapee, and Ragged) , lots of chances for self abuse.  Go up the mountain, come back down…this series tests your ability to climb AND ski.  Check it out at Winterwild's website.  For some, the best part is that the races sometimes happen before the lifts open…can you say "first tracks"?  Unusual, though, to have your first tracks going UP the mountain!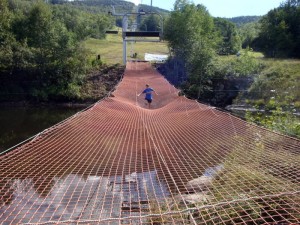 At the opposite end of the day is Sugarloaf's "Moonlight Climb". This is a randonee event (backcountry) where you either race on skis or snowshoes; the short course is a 1 mile climb, the long course is 5 miles and climbs 2500 vertical feet (don't worry, there's some downhill as part of it!).  At night.  Date for 2011 to be confirmed once they figure out when the moon is full.  That can be a big advantage to some of the racers; this is crazy enough that some of them may grow fangs and a lot of hair for the full moon, helping to keep them warm.
Clearly, there's a lot of insane people out there who are perfectly happy to pay to inflict pain on themselves…and we thought it was just us!  Hope to see you at the races; if you recognize us, say hello!