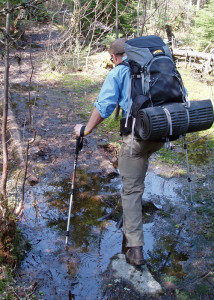 Quick, name the things that are absolutely essential  for your comfort, safety and fun on hiking trails . . .
Comfortable boots or trail shoes, good raingear (see our recent story on avoiding hypothermia), an emergency kit, maps and compass, hygiene kit, a water bottle, and some food. Add a backpack to carry them in, and that pretty much rounds out most people's list of hiking essentials.
As far as we here at EasternSlopes.com are concerned, though, there's one more essential that every hiker needs, and that's a good pair of trekking poles
. Like a pair of good hiking boots, they make your hiking more comfortable so you can go farther. And, like your emergency kit, they help keep you safe, especially on the rocky and often steep trails. Let's face it, walking on two legs leaves human beings prone (pardon the pun) to tripping or slipping and falling flat on their faces. Add a backpack which can change your balance, and uneven ground which makes tripping more likely, and then add mud, rain, or ice-slicked rocks, wet leaves or all three, and slips and falls are almost inevitable—unless you have poles. With poles you have extra points of contact which give you extra stability whenever you need it.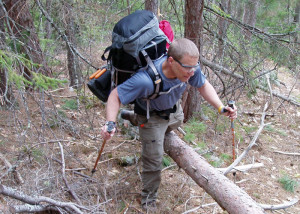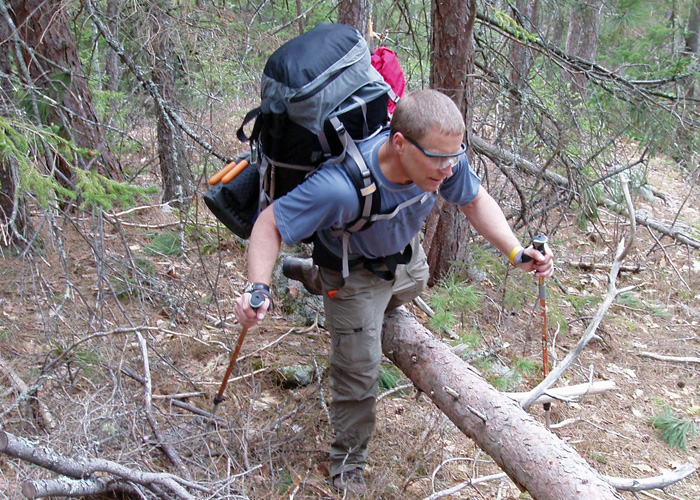 The problem only gets worse as you get older and balance and coordination inevitably erode. We think trekking poles make sense for most hikers in most situations, but our Active Seniors can tell you that trekking poles can make a huge difference. Read the story Seek A Leek for an example of trekking poles in action with older hikers.
Any poles are better than no poles—which is why you often find a cache of natural "hiking sticks" at the base of popular hiking trails. People pick them up on the way out for a hike, leave them when they return. A good stick that fits comfortably in your hand and is stout enough to bear your weight provides that all-important third point of contact when the going gets rough.
The next step up is a purpose-built hiking stick of wood or metal. These will usually have a comfortable place to hold them, and, often, a hardened tip of some sort to reduce wear and provide more secure purchase, especially on rock. Some custom-crafted wooden hiking sticks like the ones from Wupen and  Virginia Hiking Stick Co. are works of art, tailored to the individual using them, which get only more beautiful with age and use.
Metal or carbon single hiking sticks are usually made in several sections so you can collapse them for easier transport. They ain't pretty, but they do work well.
Going from one stick to a pair of poles is a big leap in safety. Two poles let you keep that critical third point contact at all times. Many an old pair of ski poles has been pressed into service for hiking. That's an easy, cheap solution. But modern, technical trekking poles have it all over old ski poles if you do a lot of hiking.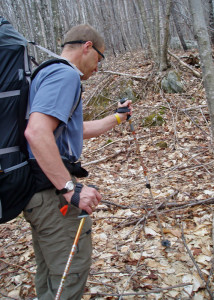 For one thing, the handles and straps of trekking poles are specifically designed for hiking, to be held in front of you and upright. The best are made of compressed cork, so they don't get your hands as sweaty in warm weather.
Some trekking poles have built in shock absorbers to cushion your arms and shoulders. On a long hike, that can make a huge difference.  Generally, use them when going downhill to absorb the shock, turn them off when going up for more efficiency.
Most trekking poles have hard carbide tips which provide excellent purchase (though they do leave marks on rocks). We'd highly recommend looking for that feature on any pole you buy.
And, best of all, most trekking poles these days are adjustable in length. Poles that are too short force you into an uncomfortable, unnatural walking postion. Poles that are too long and force your hands above shoulder level can actually interfere with your balance. Adjustable poles with easy-to-use locking mechanisms can be shortened for going uphill, lengthened for going down. The three and four-piece models, particularly, will collapse down to ride easily in or on your pack when you don't need them.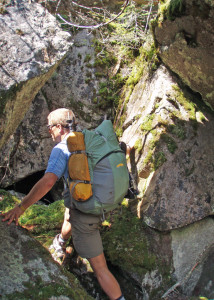 It's hard to describe how much difference trekking poles can make. Use them going downhill and they'll save your knees. When the going gets rough or slippery, the extra points of contact save you from many a slip and fall. They can serve as an emergency tent poles and fishing rods. You could, we suppose, even fight off a bear with them if it came to that.
If you've never tried hiking with a good pair of poles, do yourself a favor and try it. We can almost guarantee that, with any hiking stick, you'll walk farther more confidently that you did without, but with good trekking poles, you'll find yourself hiking happier still. For us, trips like "The Long March" would be virtually impossible without them; they're that important!
Picking Trekking Poles
There are so many well-designed trekking poles on the market these day that you can surely find the features you want at a price you are willing to pay. Here are some things to consider:
Carbon poles are lighter than aluminum, but are more expensive and may be a little less reliable. Though the ones we've used have never broken, carbon can theoretically snap; you need to pay attention to them to avoid nicking them and compromising the structure.
With adjustable poles two-piece poles have less to go wrong; three and four piece poles will collapse to a more compact package. We generally lean toward 2-piece poles in the winter; they are simpler and stronger. If you are going out in winter, make sure you can get snowbaskets for your poles.
Three and 4-piece poles  are a top choice in the summer when you might want to carry your poles on your pack at times, leaving hands free for scrambling up steep trails like the Ice Gulch Trail in Randolph, New Hampshire.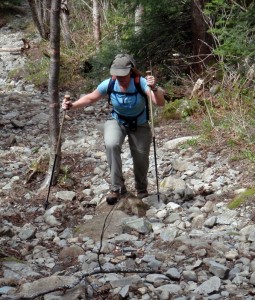 Locking mechanisms are either internal (twist) or external (lever/cam). A little condensation and freezing can render internal twist lock mechanisms unreliable, so for winter trekking I always choose external locks. In summer, twist locks are lighter, but still slightly less reliable. Internal locks are considered to be somewhat stronger, but our recent testing is finding big improvements in the external lock poles; stay tuned for more on that. The gearhead nutcases at EasternSlopes.com are testing every pair of external lock poles we can find for a roundup to be published later this summer.
Some internal twist-lock poles come with shock absorbers, a plus in summer if your joints aren't as good as they used to be. (Shock absorbers aren't needed on snow).
Tim's Personal Favorites
My personal favorite poles vary by season. In the winter, for snowshoe hiking, and backcountry and Telemark skiing, I always reach for two-piece Traverse poles from Black Diamond. I'd  had the same pair for many years with zero problems, the "FlickLock" external locks have never, ever failed. When they recently disappeared at a ski area, I immediately purchased a new pair . . . I can't live without them
In summer, when I want ultra light poles with shock absorbers, I use the Peak UL  Shocklight Carbon which were made by Komperdell for REI. The latest version of these poles from Komperdell is the C3 Airshock. REI also has the similar Relief Shocklight metal poles. I've had zero problems with the internal twist locks on these poles in warm weather, though they don't like the moisture of any sort in subfreezing weather.
Last year, I got a pair of Corklite Aergon Ultralite from Leki. They aren't cheap, but they have the most comfortable, versatile grips I've ever tried, and an easy-to-use external locking system. Snow baskets are an $8 add on. If I could only keep one pair of trekking poles, these would be a serious contender, though I'd want them longer if I was going to use them for backcountry skiing.
A good pair of trekking poles will last a long time and become a trusted trail friend. Once you've really tried them, you'll probably wonder how (or why) you ever hiked without.