If ever a grown man wanted to imagine himself as Batman, this was the place. For a few hours last Sunday morning, I was back to age 12 again (heck, make that 8), reliving the days when I fantasized about defying gravity, swinging from the trees, and zipping across space. Like the super heroes of my childhood, I was crossing tightropes, swinging on ropes, and zooming through the air supported only by a climbing harness and my resolve not to let my two young sons, Ethan (14)  and Becket (12)—or my wife, Laura—get the better of me.
You see, this wasn't some macho-man exercise in middle-age self abuse (unlike what some of our writers do in various adventure races and challenges). This was an Active Families adventure at its very best.
The time machine that made all of this possible is the Aerial Treetop Adventures (ATA) at Gunstock Mountain Resort in Gilford, N.H. just a jog uphill from the southern shore of Lake Winnipesaukee. It lets you be a kid yourself again in the trees with your kids, your grandkids, or simply a friend or two as you challenge yourself, practice some balance, get the blood pumping, the adrenaline flowing and have a guaranteed blast. Couch potatoes take note: While you do have to be relatively fit to climb ladders and move from ropes, cables, and swaying logs to stationary platforms, you do not have to be an athlete and you can go at your own pace.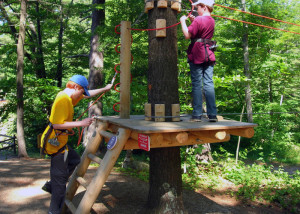 As our family foursome was getting fitted into climbing harnesses in the lower level of Gunstock's historic main lodge, I wondered whether Becket, our seventh-grader, would be able to handle the adult obstacle course. I needn't have worried. Once in the trees, it was easy to see who would be leading the way.
Safety Is First (And Easy)
Once we were outfitted and carefully shown how our safety harnesses should fit, we walked over to the demonstration area with Gunstock Director of Marketing and Sales Bill Quigley. As we passed a newly-built platform for the soon-to-be-installed peak-to-peak zip line, Bill explained that once completed, the new all-season tandem zip line would be the longest in the Continental U.S.
Ethan immediately declared, "We're definitely coming back!" I seconded the motion; it carried unanimously.
We ducked into the trees, where we met Del Record, who gave us a thorough but easy-to-understand safety lesson. We practiced using our twin locking carabiners secured to the front of our harnesses to click in and out of safety cables at each transition from ladder to platform to obstacle, and learned how to attach our trolleys—connected to a shorter length of rope—to the practice zip line.
"How many zip lines are there?" Becket asked Del.
"Twelve throughout the course," he answered. Becket and Ethan simply looked at each other and grinned.
Del asked us to repeat the rules after the demo. It's simple, really, and the brand-new harnesses used in the ATA will hold up to a 250-pound person. The $45 per person (12 and older) cost includes the rental of the harness, the obligatory safety demonstration and as much time to get as far through the course as you want (for most people, it takes between two and four hours). If you want to see the details before you go, read a list of frequently asked questions.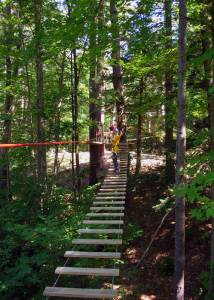 Younger kids and those who can't quite reach to 5 feet, 11 inches, can do two tours through the Explorer Course for $25. The Explorer Course is for kids 6-11 who can reach at least 4 feet, 7 inches with their fingertips and is closer to the ground than the "grownup" course.
Bill guided us to the beginning of the "Green" segment of the course, explaining that all of it had been built entirely with lumber harvested on the spot. None of the platforms or cables were attached to the trees with any spikes or bolts. Instead, platforms are suspended by timbers that squeeze the trunks and steel cables are prevented from cutting into live trees using hardwood chocks fashioned just for this purpose.
Green, Blue, Silver, Red, and Black
The Gunstock Aerial Treetop Adventure offers a progressive challenge, and you can bail out if it gets too hard. Green, which starts with a ladder climbing to about 8 feet from the deck, contains 11 elements including a suspended bridge, rope swings, a barrel you crawl through and a 60-foot zip line. Then you transition to Blue, which happens almost imperceptibly as the ground slopes away, leaving you an average of 10 feet higher for the next nine obstacles including more bridges, ropes, and dangling logs and  a 70-foot zip line. Each obstacle becomes progressively more challenging.
The more strenuous Silver segment delivers 13 challenges: ladders, a seesaw-like obstacle, swaying logs, a 65-foot zip line, a 125-foot zip line that gave me pause for a few moments, and a rope swing (think Tarzan!) onto a platform. By now, we've gained another 10 feet in height, but are always securely fastened to a heavy steel safety cable by our twin carabiners, keeping the extra drop from being scary.
The end of the Silver segment brings you back to Earth for a water break and a breather before moving on to the Red course. We climbed a significant ladder this time, to reach the beginning of the next 14 obstacles. About halfway through, I paused and began taking pictures. As I stuffed my camera back into my fanny pack, I caught Becket resting his hands and arms by leaning back at a 45-degree angle in his safety harness from a platform some 35 feet above the hard ground. He was completely at ease, grinning at me (of course). I wish my kids could smile like that forever. I checked on Ethan, who was inching across a log bridge on the other side of me and he saw me watching him.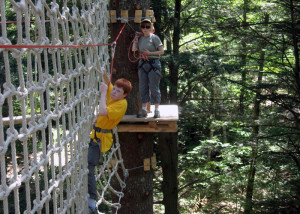 "Isn't this the coolest?!" he asked.
"It is!" I agreed.
"This is so much fun!" he answered.
How often do you get to share moments like this with your kids?
Tiptoe Through The Treetops
But the Aerial Treetop Adventure at Gunstock isn't just for kids. At one point, between careful steps  trying to snatch a swaying rope loop with my foot some 35 feet above the forest floor, I realized I had completely forgotten about my family. They were likewise suspended from ropes, challenging themselves and tackling tricky obstacles, but I was so absorbed in catching the rope with one foot while balancing in a swinging loop with the other that they were far from my mind. Then I heard my youngest son exclaim, "Whoo-hoo!" somewhere out ahead of me, and I paused to try and catch a glimpse of him among the branches and leaves near Gunstock Mountain's base area.
I couldn't really see him, but I felt perfectly at ease. I knew he was safe because I heard a spotter from the ground holler up at him, "Nice job, Becket!" He had proved himself capable and consistent in using the safety harness system that keeps you safe high in the air. And, being a kid, he had moved so quickly ahead of the rest of us that it was clear he was doing just fine.
I let myself swing a little perched in the loop with one foot and looked back to check on Laura, a couple of obstacles behind me. These loops would probably not be as difficult for her as the swinging six-foot-long logs that had temporarily stymied her forward progress .
Laura and Ethan were resting for a moment with arms looped into a vertical cargo net. They looked like giant flies stuck in a spider's web. Ethan's ear-to-ear grin  told me all was well, and I turned my attention back to the eight more swaying loops of rope between me and the next stout platform ahead. A handful of other obstacles stood between me and the promised thrill of a zip line that stretched almost the length of a football field 40 or so feet above the ground.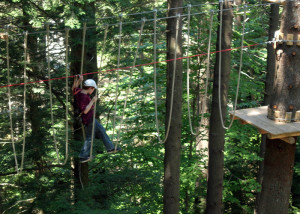 The Thrill Of The Zip
When I finally caught up to Becket on the launch platform  for the final obstacle on Red—the longest zip line of the day—I heard a voice off in the distance shout, "clear!" I looked toward the voice, and saw no one, just a long expanse of cable that stretched 275 feet across the ground to another tree. I estimated we were 40 or 45 feet above the forest floor.
"How do you feel?" I asked Becket.
"Good," he said. We had been climbing, crawling, zipping, balancing and inching across moving logs, cables, and rocking wood-plank bridges for close to three hours. My hands were beginning to bark and my calves had that warm, well-stretched feeling. Becket's smile was bright, but his eyes began to give something away.
"Are you tired?" I asked.
"A little, and I'm hungry," he said while clipping his trolley to the zip line. I watched his movements to make sure he clipped his twin carabiners from the safety line that surrounds the tree to the zip line itself. Then he rested them in notches in the trolley the way we were instructed and grabbed the three lines a foot below the contraption and launched into space.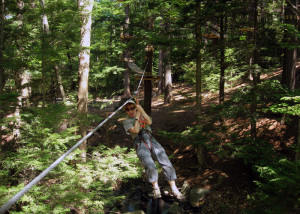 He let out one long "yeehaw!" followed by laughter. After he reached the platform on the other side and clipped back into another safety line he yelled back to me, "Clear!"
I repeated Becket's movements and jumped forward. The trip was fast and thrilling, yet long enough for me to take a deep breath and marvel at the ingenuity of the designer in slanting the landing platform down so people of all sizes could reach the end without as much as bumping a knee, shin, or toe at the end. And the angles of the lines are such that you decelerate toward the end for a smooth landing.
We were standing on the platform about three stories high on the other side where a ladder climbs another 15 feet or so to begin the black course, but I was hungry and physically done for the day, and after some coaching, so was Becket (some kids never know when to quit!). Ethan and Laura followed us out, and we celebrated our accomplishment with a ride up the Panorama high-speed quad to a well-deserved lunch.
Over lunch with Lake Winnipesaukee as our backdrop we made plans for a return trip to take a crack at the black course and to see how much of a thrill a ride all the way down on a high-speed zip line would be. This is an Active adventure our Family definitely wants to repeat!
If you go:
Sturdy sneakers or hiking boots are a must. No open-toed footgear allowed.
Wear your house-painting or camping clothes. Pine sap and dirt comes with high-ropes courses.
Snug-fitting work gloves will help, but make sure they afford dexterity.
Don't forget the camera; the smiles and high-fives will be worth capturing.
To get started on your own Aerial TreeTop Adventure, visit the Gunstock Adventure Park website. And have fun!