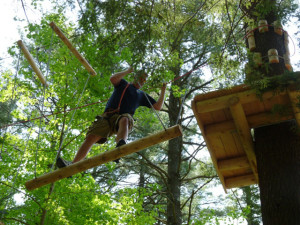 It used to be that ski areas were virtual ghost towns in the summer: weed-covered slopes, empty condos, locked base lodges and forlorn lifts waiting sadly for snow.
No more! Now, many Northeast Ski Areas in summer are offering activities and events for the Active Outdoors crowd. In fact, many ski areas are almost as much fun in the summer as they are in the winter. Sorry, that's an exaggeration . . . we all know that nothing is as much fun as playing on snow, but there's still a lot of good outdoor fun to be had at ski resorts until the world turns white again.
Some resorts become summer camps for kids and, sometimes, whole  families. Smugglers Notch in Jeffersonville, Vermont was one of the pioneers and they are still going strong with a new canopy tour and loads of guided hikes, canoe and kayak paddles, a climbing wall, etc. King Pine Ski Area at Purity Springs Resort has a host of summer family programs, plus the long established Camp Tohkomeupog summer camp program for boys. Woodbury Ski Area in Connecticut has summer tubing and big "Zorb" balls to roll down the hill in.
Some ski resorts like Attitash in Bartlett, N.H., Bromley Mountain in Peru Vermont, Cranmore Mountain Resort in North Conway, N.H., Jiminy Peak in Hancock, MA, and Pico Mountain in become exciting amusement parks in summer with Alpine Slides, Mountain Coasters, trampolines, climbing walls and other goodies to play on. Gunstock Mountain has new Segway Tours and ziplines, Loon Mountain has Segway tours, ziplines, bungee trampolines, a climbing wall and many other activities. Whiteface has the ORDA Olympic Bobsled facility with summer rides near Lake Placid, New York. Many of these amusements aren't any kind of physical challenge or really even exercise (let's face it, the whole goal of the Segway is to NOT exercise), but they sure are fun.
Even ski hills that don't offer any formal activities are wonderful places to hike in summer. The slopes and trails provide open views as you climb and invite cool summer breezes. You can make a hike at a ski area (comparatively) easy by walking up the service road that reaches the summit lift terminals, or more difficult by scrambling up the black diamond trails. You won't believe how steep some of the stuff you ski down in the winter really is until you climb it in the summer . . . just ask publisher David Shedd what it was like to try to run up the green trails at Wildcat during the Wildman Biathlon.  Many areas offer summer chairlift or gondola rides so you can enjoy the views then walk down the mountain without having to climb up first, which is a great option for people just getting into mountain hiking (take trekking poles, though…they're a huge help when you're navigating down steep terrain).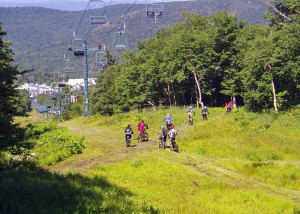 Northeast Ski Areas In Summer: Mountain Biking Opportunities Galore
Ski hills and mountain biking are a natural fit and some hills make a huge deal of mountain biking. Some even offer lift-serviced downhill mountain biking, which is a real adrenaline rush, a lot like skiing and snowboarding except it hurts a lot more if you fall.
Attitash Mountain has lift-serviced downhill mountain biking and easier trail mountain biking, with rental bikes and protective equipment available.
The Balsams Resort has over 90 kilometers of marked mountain bike trails on their fabulous cross-country trails.
Berkshire East (413-339-6617) in Charlemont, Mass. taps into a community-wide system of mountain biking trails.
Bretton Woods in Bretton Woods, N.H has both lift-serviced mountain biking on their cross-country trail network and downhill biking on their slopes.
Burke Mountain in East Burke, Vermont has joined forces with Kingdom Trails to offer both lift-serviced downhill mountain biking and cross-country.  Any mountain biker who hasn't made a pilgrimage to the Kingdom Trails absolutely MUST; we're talking some of the best mountain biking on the planet.  No, that's not hyperbole.
Cannon Mountain in Franconia, N.H now rents bikes for riding on the recreation path through beautiful Franconia Notch.
Great Glen Trails rents bikes and offers gentle "carriage road" type mountain biking that is a perfect introduction for the family.
Gunstock has miles of mountain biking opportunities on their cross-country ski trails.
Jiminy Peak has  really gnarly lift-serviced downhill mountain biking that attracts riders from all over.
Killington Resort offers downhill Mountain Biking on the Kona "Groove Approved" Mountain Bike Park plus 45 miles of trails and a 1,700-foot vertical drop spread across five mountain areas, all served by the K-1 Gondola, offering everything from classic cross-country single track to challenging big bike downhill and freeriding trails.
Loon Mountain offers summer mountain bike rentals and trails, plus shuttles which allow you to ride the Franconia Notch Recreation Path at your own pace, downhill all the way.
Mont-Sainte-Anne has been home to the mountain bike world championships, so it's no surprise that they've got a LOT of trails. 28k of downhill trails, over 130k of XC trails, a pump track, freestyle areas, you name it; they take MTB seriously.
Mount Snow in Dover, Vermont has  a vibrant  lift-serviced downhill biking and a number of big competitions/events.
Ski Bromont has a wide range of trails from world-class downhill to gentle XC trails, and everything in between (plus, it's in the food-and-everything-else-friendly Eastern Townships).  For those who don't want to abuse themselves that way, or want to cool down afterwards, they have a full water park as well.
Sugarbush has lift-serviced mountain biking, rentals, skills clinics, and an 18-mile long gentle downhill trail to explore.
Sunday River in Newry, Maine has  a  "Bike Park", lift-serviced downhill biking and miles of new cross-country biking trails ranging from beginner trails like Easy Tiger, to more challenging single tracks like the new Rock Star, plus jumps, log rides, bridges, and berms sprinkled throughout 20 miles of lift-serviced terrain.
Trapp Family Lodge in Stowe, Vermont, has created miles and miles of wonderful mountain bike trails and is offering mountain bike rentals and mountain biking lessons for riders of all ability levels. Great program for learning, including specific programs aimed at teaching women (more to come on this, as we get a chance to give it a try!).
Whiteface Mountain in Wilmington, New York  rents bikes and has a lift-serviced Bike Park with 27 diverse trails that range from hardcore expert only downhillers, to cruisers, plus 30 km of winding cross-country bike paths for every ability and riding style.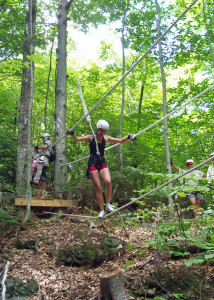 Northeast Ski Areas In Summer: Aerial Adventures, Canopy Tours, and Ziplines
Canopy Tours, Aerial Adventures and ziplines are suddenly all the rage at ski resorts here in the northeast.  Ziplines are mostly a passive activity (you get a ride to the top of a slopes, sit in a chair or harness and slide down a cable). Fun, but not really active (though the adrenaline can get your heart pumping . . .) A canopy tour or aerial adventure requires you to climb, walk, balance, swing and slide through the trees.
The first canopy adventure tours around here were in Quebec and they are a thrilling and enjoyable experience. Tenney Mountain in Plymouth, N.H, had, I believe, the first in New England, but it may be closed now. Here's what's available this summer.
Berkshire East (413-339-6617; ) in Charlemont, Mass. has two of the longest ziplines in the east (one almost half a mile long over a valley . . .feeling like Indiana Jones?)
Bousquet Mountain in Pittsfield, Mass, is opening a brand new Aerial Adventure Park this summer .
Bretton Woods has a big Aerial Adventure Tour which runs year 'round.
Catamount has the Catamount Aerial Adventure Park, a primarily Self-Guided challenge park with 11 courses and 148 platforms in the trees. Two  2,000-foot  zip lines run parallel to each other and take riders from the main park area back to the base.
Cranmore Mountain Resort has a new Aerial Adventure park this summer to add to all their other fun offerings. Their indoor climbing wall is THE place to be on a rainy day in the Mount Washington Valley.
Gunstock Mountain Resort in Gilford, N.H. recently raised the bar with what they are calling "New England's Largest Aerial Obstacle Course", which opened Memorial Day weekend. They'll be adding a big zipline facility by July 4th weekend. This whole setup is patterned after the big aerial adventures in Canada, where you are taught what you need to do to keep yourself safe, then are turned loose to do it. Most others take you through in a group with a guide shadowing your every move. As far as we're concerned this is the way all outdoor recreation should be handled. There's always risk, but you should be able to negotiate it on your own without having to have your hand held. Of course starving lawyers might see it differently . . .
Loon Mountain has a zipline across the Pemigewasset River . . .but, last we knew, no piranhas had been caught there, so you're probably safe.
Smugglers Notch has a big new canopy tour which includes 8 zip lines, 2 suspension bridges and 2 rappels to add to all their other summer adventure opportunities (kayaking, climbing, hiking, etc.).
Sugarbush has an 800-foot zipline at the Lincoln Peak base area.
Sunday River has an elaborate zipline adventure that's long enough and diverse enough to really get the adrenaline pumping, as one of our acrophobic writers found out, to her pleasure!
Wildcat has a double zipline so you can race . . .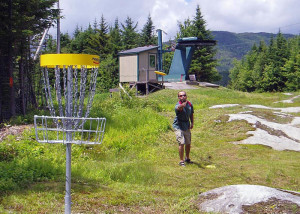 Northeast Ski Areas In Summer: Disc Golf
Yup, it's golf with Frisbees™ (and other flying plastic discs), and it's as much fun as it sounds. Challenge without stress, no lessons needed. Lots of walking, running and laughing . . .
Bousquet Mountain in Pittsfield, Mass, is opening a brand new 9-hole disc golf course .
Cranmore Mountain Resort has an 18-hole disc golf course.
Okemo Mountain Resort in Ludlow, Vermont has a The Maples, a 9-hole disc golf course which taps into (sorry, couldn't resist the pun) the region's maple-sugaring history.
Pico Mountain's  Adventure Center has an all-new Disc Golf Course which starts atop Little Pico Peak and winds it way down through the woods and ski runs of Pico Resort with beautiful views along the way including a waterfall at the 18th basket.
Sugarbush has TWO 18-hole disc golf courses, one which plays down from the Super Bravo quad, the other around the base area.
Whiteface Mountain in Wilmington, New York boasts a nine-hole course that utilizes the lower portion of Whiteface.
Wildcat has a lift-serviced 9-hole course that is decribed as "more active than you might think!"  Hmm.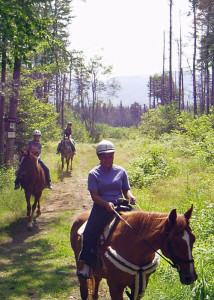 Northeast Ski Areas In Summer: Horseback Riding
For riders not used to doing it regularly, horseback trail riding is fun, challenging and an incredible workout for the whole family (and particularly for your adductor muscles). Here are some resorts with equestrian opportunities:
Mountain Top Inn (For a glimpse of an Active Seniors adventure at Mountain Top, go here).
Northeast Ski Areas In Summer: MORE Opportunities
We haven't even begun to list all of the competitions and events happening at ski areas this summer and fall (check out last year's "Crazy Style Racing" stories for some ideas). Stay tuned . . In the meantime, if you are looking for something fun to do this summer, just don't forget to check out the ski areas you enjoy in winter…you won't be disappointed!