Kancamagus. Is that really a word? If you're seeing or hearing it for the first time, you're probably asking yourself that question. I know I did when my friend Ron suggested we go exploring "the Kancamagus."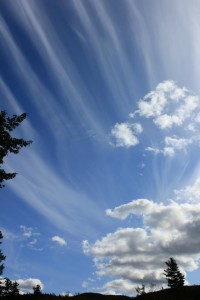 It turns out Kancamagus (correctly pronounced "Kank-ah-MAW-gus"; and frequently mispronounced "Kank-ah Mang-gus"), is more than a word. It's the name of a Native American warrior chief and, by the way, 26.5 miles of outdoor playground. This is a perfect spot for a cheap, quick, fun weekend outdoor getaway, if you are adventurous enough to get out of your car and go exploring.
Kancamagus Camping and Hiking
The Kancamagus Highway, commonly called "The Kanc," runs alongside the Swift and Ammonoosuc rivers, through the White Mountain National Forest in north-central New Hampshire. Around this time of year, the highway is set ablaze when beech trees with silvery bark turn to gold, birch trees turn yellow, and maples flame brilliant reds and oranges.
Not only is the highway beautiful, it's also your gateway to lots of active fun. It's a favorite of bikers–and when we say "bikers" we mean either sleek, spandex-wearing athletes on roadbikes or the mud-and-blood spattered mountain bike types, NOT the leather clad motorcycle types (though The Kanc is popular with them, too). We even saw a of couple runners braving the hilly route.
The Kanc is  ornamented with spectacular scenic views, places to camp, and trailheads that lead you away from the road into the wilds of the high White Mountains.
Unable to resist fall's first crisp weekend, my friends Mike and Ron and I set off from Boston to get to know this area. Among its other attributes, the Kancamagus lends itself to last-minute camping trips, perfect for last-minute college kids. None of the Forest Service campgrounds along the Kanc require reservations, though you can make reservations at some. We were bound for a spot Ron had visited once as a kid and remembered fondly. The Covered Bridge Campsite is in Albany, towards the Conway end of the Kancamagus as you come from Lincoln. We could also have camped at Big Rock, Blackberry Crossing, Hancock, Jigger Johnson  or Passaconaway campgrounds along the way (Blackberry and Hancock are plowed and open all winter!). Backpacking off the highway was also an option. Be sure to read these regulations if you want to backcountry camp off the Kancamagus.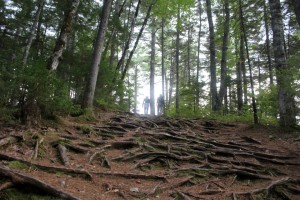 None of three of us actually owns a car (we're poor college kids living in Boston, after all), so we got there "creatively," something I've been learning to do whenever I want to escape the city. This time, we caught an early bus, the Boston Express, up to Ron's hometown of Nashua, New Hampshire where his parents were going to let us borrow a car for the weekend. Public transportation in the northeast is pretty good, so we could have gotten there carless by taking the bus from Boston to Conway, then hiking along the Kanc. After we got off the bus and before we drove north, Ron's parents fussed over us a little (they wanted phone numbers and detailed plans!), and helped us out a lot with necessary gear and plenty of his dad's famous pickled cabbage. Parents are good things to have!
When we finally arrived at the campground, we were greeted by a host who collected $20 for a site and sold us firewood. Thanks to the Asian Longhorned Beetle, a nasty-looking little bug that infests and destroys forests, anyone camping along the Kancamagus has to purchase local wood if they want to build a fire. Since building a campfire is a staple of every camping experience (and, I've discovered, a serious preoccupation for the male camping population), we didn't hesitate to pay the extra $7 for firewood.
But before any campfires could happen, we had to choose a site, set up our tent and check out the area. The Covered Bridge campground is great for a low-key campout. The living was easy with a level tent area, a picnic table, and a fire grate. Clean bathrooms and a dumpster were nearby, and a well-pump for water was a short walk away. Oriented and settled in, we decided on a hiking route.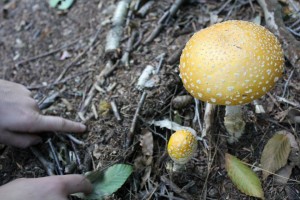 Like I said before, hiking trails are abundant in the area. We had three hiking trails to choose from within easy walking distance from our site and countless more by car. The Rocky Gorge trail started close to our tent area, so that's what we chose. This begins as the Nanamocomuck Ski Trail. Despite our not knowing how to say the name, we thought the trail itself looked promising. In fact, it looks like it will make a wonderful cross-country skiing route in a few months. (Note to self: add this to the a list of adventures for this winter . . .) It runs along the Swift River and eventually turns into a path through pristine woods.
Perhaps due to recent heavy rainfall, mushrooms were everywhere along the trail. None of us are mushroom experts, but we were able to identify what we think were bowl-shaped chanterelles as well as golden and red (and probably poisonous!) Amanitas. The clumps that looked like black-and-white leopard skins and white ones covered in shaggy manes are still mysteries.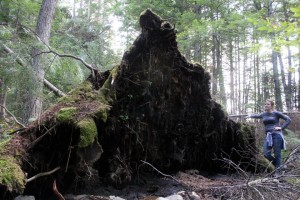 While Hurricane Irene's damage was evident, it didn't impede our hike at all. Flattened trees high up on the riverbank showed us where Hurricane Irene's torrential rain and winds had caused the river to rise to destructive levels. We even saw an enormous, old tree that had been ripped out of the ground. The root system was much MUCH taller than me (which, I suppose, isn't that difficult . . .)! When we reached the Rocky Gorge, which was supposed to be this hike's big "ta-da" moment, pieces of the sidewalk beside it were missing. The area is still safe to visit, so don't hesitate to go! However the damage was a reminder of how impressive and scary unleashed natural forces can be.
Speaking of impressive, natural forces, glaciers formed the Rocky Gorge's cascading falls millions of years ago.The pools upstream and downstream from it make good swimming spots in the summer; but swimmers have to be careful not to get too close to the falls or risk getting sucked into a dangerous eddy where, in 1942, Dorothy Sparks miraculously lived after being lost under the falls for three hours.
The 6.8 mile round-trip hike, which I would rate "fairly easy," also has a stop at Falls Pond. As inviting as the pond area was for a picnic, Autumn's ever-earlier sunsets dictated that we head back to camp.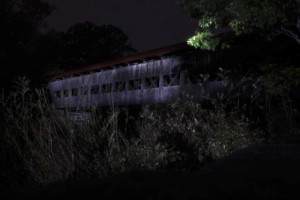 After a lot of male fussing starting the campfire that night and roasting delicious veggie hotdogs over it, we visited the park's namesake, the Albany Covered Bridge. The bridge was originally built in 1858 and much of the original time-worn timber still remains. For all of us not wanting to risk our lives crossing a 150-year-old wooden bridge, steel and other supports were added in the early 1980s. Kudos to whoever did the renovation because this New England treasure survived Irene without any visible damage. It is as impressive as it must have been back in 1858. Under the cloudy night skies, the old bridge looked purplish and eerie. Ron, an avid amateur photographer, got some great shots.
After the long day of hiking and  aerobic fire-starting, we all slept like logs. Some of our friends in Boston had stayed behind, worried about being too cold at night. Stinks for them, because fall is the perfect time to be sleeping outside if you know how to stay warm. Nestling up in a warm sleeping bag is undeniably cozy.
Before heading back to Boston on Sunday morning, we couldn't resist one last stop at The Lower Falls on the Swift River, one of the many scenic stops along the highway. Like every area on the Kancamagus, the rocks and water were gorgeous. But it was pretty packed with people. Hiking to a less accessible area the day before had rewarded us with serenity and solitude–well worth the extra effort. I've heard that The Kanc can get even busier in the height of foliage season, so arrive early in the day if you want to get a campsite on weekends.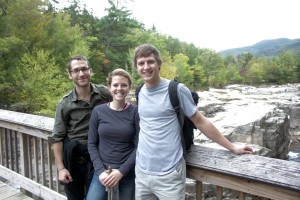 I wish we could have explored Kancamagus camping and hiking for another day or two. On this third weekend of September, fall's colors were just beginning to creep into the leaves. From what we saw, it seemed the sort of vibrant autumn show New England is known for was only a few cold nights away. The Kancamagus Highway will be prime for bare-ground hiking through the first or second week of November. After that, you'd better be prepared for snow.
Alas, homework and work obligations beckoned us back to "the real world." Since traveling to the Kancamagus and back was easier than starting a fire, more camping and hiking may be in store. That is, unless some other mountain adventure doesn't get me first.