Recently, I found myself approaching a weekend in May with a near-perfect weather forecast and an out-of-town husband. In need of a recharge, I didn't have enough time to scoot off to the redrock canyons of Southern Utah or enough money for a spa day in Stowe. So I decided on a solo backpacking adventure, hiking the Long Trail in the good old Green Mountains instead . . .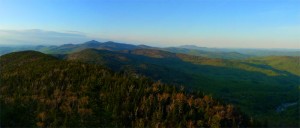 I schemed up a three-day trip across the Monroe Skyline, a 30-mile section of Vermont's Long Trail that runs from the Lincoln Gap to Jonesville. Named for Professor ­­Will Monroe who led the effort to build this section, it's a stunning hike with three of five of Vermont's highest peaks. It's also a great section to hike because it crosses two of Vermont's best ski areas, offers plentiful water sources and shelters, and provides easy navigation along the well-marked route. The Long Trail, which is the nation's first and oldest long-distance hiking trail, is notoriously gnarly. Early trail builders such as Monroe (in 1916!), didn't bother to ease the pain of steep ascents with switchbacks. Instead, the Trail tends to follow ridgelines and shoots straight up and down over peaks. Hiking any section of the Long Trail is a workout. I am always humbled by the Long Trail because it requires a slower pace and careful foot placement with each step. Knotted roots, wet rocks, blow-downs, and slippery streambeds can reduce a strong hiker to covering one mile an hour or less. And that's not even going uphill!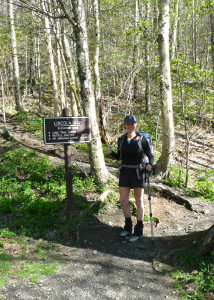 Since we had a relatively dry winter and spring, the hiking trails in the area were not as muddy as they normally would have been in May. I made every effort possible to be a responsible hiker by following the rules of etiquette for spring hiking. Since it was very early in the hiking season, I didn't need to bring a tent or worry that the shelters would be filled to capacity. A May hike also promised cool nights for comfortable sleeping and no annoying black flies or mosquitoes to deal with!
Hiking The Long Trail: Day One: Lincoln Gap to Theron Dean Shelter (10.4 miles)
I started with fresh legs after a hearty breakfast with my folks. My awesome Dad dropped me off at the Lincoln Gap and off I went, hiking northbound (that means I was a "NoBo," in trail terminology)! The trail ascended quickly to Mt. Abraham, Vermont's fifth highest peak at 4,006 ft. This is a beauty of a mountain and probably my most favorite hike in all of Vermont. I hike it over and over again and never tire of the stunning panorama at the summit. From there, I traversed the ridge over to Mt. Ellen, Vermont's third highest peak at 4,083 ft., and stopped for a leisurely lunch in the sun at the Sugarbush ski area's Summit Quad lift hut. Heading towards Mad River Glen, the terrain started to get a little more rugged with many new blow-downs in the trail and some ladders to descend. I took another break at Stark's Nest near the top of Mad River Glen's iconic single chairlift.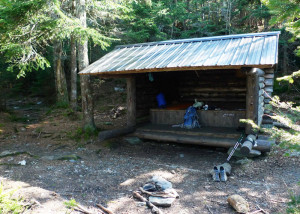 Mad River Glen keeps the Stark's Nest open all summer long, and it's a great place to hang out on the deck and take in beautiful views to the east. It would also be a very spacious and comfortable place to spend the night, although water sources can be unreliable in the higher alpine regions. Generally, though, water is plentiful on the trail; consult the Long Trail Guide for detailed information on reliable water sources. (All water along the Long Trail should be filtered or treated before drinking.) A steep descent brought me to the Theron Dean Shelter, a small lean-to with a large view. I spent the night there alone and woke up to an early sunrise and many birds celebrating the beginning of the day with their happy calls.
Hiking The Long Trail: Day Two: Theron Dean Shelter to Montclair Glen (12.4 miles)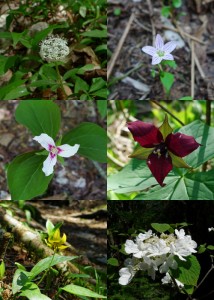 The day started out with a brutal 1.8 mile descent to the Appalachian Gap road. Ouch! That was tough on the legs, especially without any sort of warm-up. Continuing due north, I ascended the short climb to Molly Stark Mountain and then descended through birch groves to the Cowles Cove shelter where I stopped for lunch. Numerous streams ran through this section, and wildflowers were abundant–and lovely. An uncrowded, open summit was my reward for a short, steep slog over exposed rocks to Burnt Rock Mountain. Burnt Rock is another fine day-hike, accessible via the Hedgehog Brook Trail in Fayston. From Burnt Rock to Montclair Glen, I encountered the toughest section of hiking in the three-day trek. I took it very slow and discovered that, even though Mt. Ethan Allen and Mt. Ira Allenaren't super tall, they are super trying due to false summits and densely wooded slopes. I've never seen so many moose droppings and moose tracks in my life!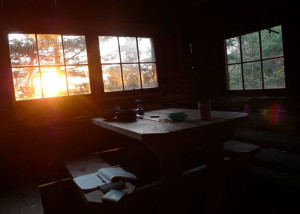 I finally arrived at the Montclair Glen shelter fatigued and ready to dip my feet in the cool, clear stream nearby. This shelter, tucked under Camel's Hump, is more like a small cabin and in the summer months a caretaker stays nearby. Like some of the other larger enclosed shelters on the Long Trail, there is a $5 fee to help support the Green Mountain Club's stewardship efforts. Again, I had the place to myself and enjoyed a peaceful evening listening to the repeated drumming of a ruffed grouse seeking a mate.
Hiking The Long Trail: Day Three: Montclair Glen to Duxbury Road (7.8 miles)
The final day is all about Camel's Hump, the crowning glory of the Monroe Skyline. At 4,083 ft., it is tied with Mt. Ellen for Vermont's third highest peak and is the highest undeveloped summit in the state. It's also the only undeveloped summit with alpine vegetation. No cell towers, weather stations, or ski lifts intrude and the panoramic  view from the bald peak is spectacular. I couldn't wait to get there early before all the dayhikers arrived on a beautiful Sunday afternoon!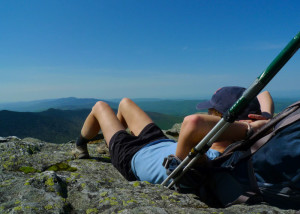 From Montclair Glen, it was a solid 1,300 ft. climb in less than 1.5 miles. As a reward, I practically had the summit to myself and enjoyed a good half hour up there taking in the views of my beloved home state. While relaxing and soaking in the sun and spectacular scenery, I breathed a long sigh of relief. I had made it through a rather uninspired winter, made it through mud season, and made it through three tough days of walking. I looked over the brilliant green landscape and felt a sense of joy. Not only do I get to live here, but my legs and lungs are strong enough to take me to these beautiful places. But, alas, there was still more hiking to do: over six miles downhill to Duxbury.  I'll take uphill hiking any day over downhill. Descents turn my legs into hamburger meat and really test my perpetually troublesome IT bands. This descent was no exception: it was slow going as I picked my way down the Bamforth Ridge in the heat. Finally, the trail widened and smoothed out in shaded hardwood forests. Other than sitting atop Camel's Hump in the brilliant May sunshine, the highlight of the trip was coming down that trail and meeting my Dad who had hiked in to meet me. He gave me a big sweaty hug, treated me to ice cold lemonade, and we hiked out together. Then, we topped off the trip with a creemee at Montpelier's Dairy Creme. Next installment: Mt. Mansfield and Smugglers' Notch here I come!
Info: There are no permits required to hike or camp on the Long Trail, though some campsites do charge a fee in the prime summer months. Guidebooks, maps, and information available at the Green Mountain Club. The Monroe Skyline is quite possibly the most difficult section of the entire Long Trail. If you are considering this trip, you should be comfortable navigating challenging terrain, scrambling over steep rock slabs, and going up and down ladders while carrying a loaded backpack. Be especially careful if there are thunderstorms predicted, as much of the section traverses exposed ridgelines.
Gear Notes: Monroe Skyline Backpacking
Pack: Gregory Z55 which is technically a man's pack but fits me well.
Trekking Poles: Black Diamond Approach essential for balance on rough trails and protecting your knees on long, steep descents.
Sleeping bag: Marmot Sawtooth 15
Pad: Therm-a-Rest ProLite
Boots: Vasque Trail Runners I prefer light, nimble trail runners that have good grip for scrambling over rocks.
Raingear: None! Not a remote chance of rain in the forecast, but usually I carry the Patagonia Torrentshell Jacket which stuffs into its own pocket.
Cookware: MSR
Headlamp: Petzl e+LITE
Water Treatment: AquaMira