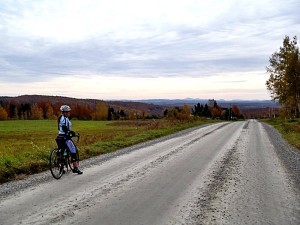 Ah, the Honeymoon! Time to work out the kinks!  No, not "those" kinks…EasternSlopes.com isn't looking to change to a ".xxx" domain name when they become available! We're talking real kinks: muscle knots, cricks in the neck, various aches and pains; all things that happen when you're under stress and aren't getting enough exercise. In other words, what happens in the couple of weeks leading up to your wedding. The running around, making sure that everything is where it's supposed to be when it's supposed to be there, worrying that there'll be enough food/wine/plates/forks, checking the weather forecast every two hours for the last three days before the event…if you've been through it, you know the drill, and if you're going to go through it, maybe we can help!
The last time we'd been under that kind of stress was when Susan was finishing her master's degree program. And a Honeymoon In The Eastern Townships: eating and drinking and mountain biking our way through the Eastern Townships proved to be a perfect solution. The people were wonderful, the food fantastic, and the opportunities to get fun exercise plentiful. In fact, they were SO plentiful that we weren't able to try everything that we wanted to do (like the aerial adventures, which are much more exciting than most typical zipline tours in the USA).
Given that, and given that we didn't have a lot of time for our honeymoon immediately following the wedding, we decided to have a "minimoon" up north. With only a few hours to drive to get there, we weren't wasting two days traveling to/from the area, and we could carry all of our stuff with us.  Airplane trips mean paring down to the essentials, particularly these days with excess baggage fees everywhere you look, and we like having our toys. Bicycles, cooksets and backpacks for impromptu picnics on mountains, trekking poles…all things we can't take on a plane.
Unlike the last trip, though, we wanted to pamper ourselves a bit. Yes, we were tired then, but this was definitely a higher level of stress. And with a crazy summer behind us, coupled with a sprained ankle for Susan, we hadn't been able to mountain bike at all, so planning long days in the saddle would pretty much guarantee crashes. Losing a honeymoon day to an emergency room wasn't on our agenda (and, we hope, not on yours, either!). Could we take the trip down a notch, get plenty of rest and relaxation, and still get the exercise we needed to fully loosen up and rejuvenate? And, with our work schedules and the fact that we could only get away for a few days, would it be enough?
Loosening up often means massages and the like, so step one was to look into day spas. One name kept appearing, no matter what we searched on…Spa Eastman, in, yes, Eastman (they clearly want to make life easy for stressed-out people with limited memory spans!). They not only have every service we could think of, they had a number we'd never heard of.  Better still, they aren't just a day spa; they're actually a full resort hotel with a restaurant that focuses on "healthful gourmet food." Hmmm…decadence that isn't bad for us? Sign us up!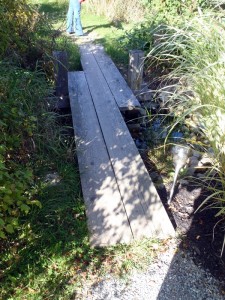 Day one, on the road with our coffee, finding a diner with NON-healthy food, we could already feel the relaxation starting to set in; vacation, honeymoon! Knowing that we were headed to a beautiful, welcoming area enhanced that, and the fact that breathing exercises, a quiet environment, massages, potentially great food, and more awaited us…well, it's hard to beat that to set a mood. Canadian customs and immigration looked at our passports, decided we weren't terrorists, and we were almost there. Driving up to Spa Eastman, it's obvious that this is a "nice" place. Everything is meticulously tended, yet there's nothing overdone about it; nature is left to be nature. We arrived before lunch, and had a picnic with us, so slipped off on the trails surrounding the spa to find a place to sit and relax. It wasn't long before we found that the lovely pond on the grounds had open fields beyond, and we collapsed just beyond the far shore, and enjoyed absolute peace & quiet.
Lunch over, time to check in. The spa has a "please be quiet" policy, and the lobby is unlike that of any hotel we've ever been to; no shouting people, no bright lights, no assaults to the senses whatsoever. It's that way throughout every part of the resort; even when we walked the trails out on the grounds, people were speaking in low voices. It wasn't somber…there were still smiles and laughter, but it was, well, respectful of the fact that we were all there to help restore some inner peace and equilibrium. Our room was the same…everything immaculate, everything harmonious, nothing to disturb us; our deck looked out over the pool & hot tub, and, even with a number of people enjoying themselves, sound didn't make it up our way.
Check-in complete, it was time to partake of the spa's specialties. Even though we typically want to be "doing" things, we wanted to make our time at Eastman as different as it could be. So, we chose three activities (beyond naps and eating, of course!) that we wouldn't get anywhere else. The first was a course in breathing…no, that's NOT a joke! "Mieux respirer, mieux vivre!" (We live the way we breathe)  examines your breathing rhythms, and how to consciously reduce stress in all circumstances with a few techniques…and it works. We found that the very act of paying that much attention to the process took us out of the stress of the world, even while we were learning it. (Postscript: We've found ourselves continuing to use these techniques since in a variety of situations; it worked while we were there, and it still does!).
Relaxed from our breathing practice, we then settled in for a couples massage. A typical massage has you in a quiet room with a therapist, but in this format, we were both in the same room with two therapists. And, again, it was a fascinating experience for a honeymooning couple; massage is something that you typically think of as being totally individual, totally for yourself, and not a shared experience. But for this once, we were each aware that the other was there, and were able to enjoy being totally selfish together. Quirky but fun…and we were oh, so relaxed!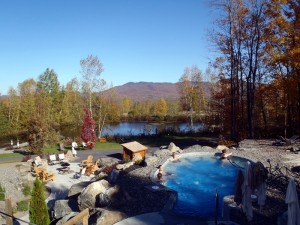 Two unusual activities down, one for the following day, and time for yes, a nap. There may be nothing that's more restoring when we've been too busy, and to take one when we were already limp as noodles from the massage; well, it's lovely that Spa Eastman is quiet, but we're pretty sure it simply wouldn't have mattered. A matter of hours there, and we were feeling weeks of stress melting away.
Dinner, of course, kept us from simply sleeping straight through the night. We were a little hesitant about what we would find, as "healthful gourmet cuisine" might not reach the levels of decadence that…well, it WAS our honeymoon, so we wanted to utterly indulge. Seated in the stunning dining room, we quickly learned we didn't have to worry; their idea of healthful includes local rabbit & duck, venison, lovely preparations of local vegetables, seafood salads, etc.  AND, of course, a wonderful salad bar loaded not only with local veggies, but also lots of interesting and crunchy toppings (ch-ch-ch-chia seeds…honest!). Top it off with a well-chosen wine list, and we could easily have been in Montreal; no matter how healthy they're being, they can't avoid the "foodie" character that we so love about Quebec. As dinner ended, Mother Nature decided to put on a sunset show for us from our deck, the perfect ending to a perfect day.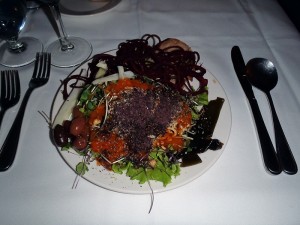 Morning brought a lovely day, a breakfast befitting the culinary talents we'd enjoyed the night before, and then…an anti-stress walk. Yes, we regularly walk and hike to reduce our stress, but the idea of a walk for ONLY that reason seemed intriguing.  And it was; aside from focusing us on what was around us, they had us walk as pairs, one as a guide, the other with eyes closed. Among other things, walking with your eyes closed, trusting entirely to your partner to guide you safely along, teaches you that all that really matters is right here, right now…and that you CAN give up some of that control that you've worked so hard for. For us, as honeymooners, it was also wonderfully symbolic; a few days before, we'd made that trust committment before friends and family, and now were demonstrating it to each other. Beyond that, it was utterly fascinating how LOUD the world is when you take away sight. The scrape of someone's foot on a pebble sounded like it was inches away, yet they might be ten feet or more from you.
With that walk over, we decided to stroll around the grounds; Spa Eastman has lovely trails through the woods, with raised wooden walkways to get you through wet areas without damage to you or nature. Several times, we met up with other groups, but the truce against noise in the hotel seemed to last throughout the grounds; conversations were always muted, everyone smiled and nodded when they met up but nobody seemed to want to intrude into anyone else's privacy. In a world where we're constantly bombarded with noise, flashing images, and stimulation of all kinds, the complete dedication to quiet relaxation that Spa Eastman embodies is rare, if not unheard of.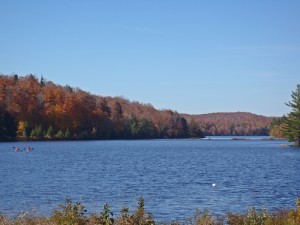 Unfortunately, our budgets have limits…and while the spa isn't an outrageous extravagance, we'd just paid for a wedding. Thus, we'd limited ourselves to one night there, and decided to balance it with the excellent bargain that is the Auberge du Mont Orford, just down the road from Eastman and in the shadow of, you guessed it, Mont Orford. With suites that include a living room, bedroom, and a full kitchen, it's luxury on a less grand scale than the Spa. Beyond the accomodations themselves, the Auberge has  a surprising array of services; there's a fitness room, hot tub, large living room with fireplace, BYOB restaurant…even massage therapy on premises! It was a perfect way to come down from being utterly pampered; call it half-pampered.  And a great way to remind ourselves that while one goal was relaxing, another was to…well, reduce the effects of a week's worth of wedding food.
Since we'd left Spa Eastman well in advance of check-in at the Auberge, step one was, to head up to Parc National du Mont Orford for a picnic lunch and some hiking.  They've got some beautiful waterfront to sit and enjoy local cheese, meat, and bread, and an extensive trail network for burning those calories afterward. It's easy to think of Mont Orford only for downhill skiing, but that's far from accurate; in the winter, there's an impressive range of XC trails (50KM of them; that's a reason to go back in the winter right there!), and in the summer there's hiking, trail biking, and canoeing/kayaking. Great way to spend an afternoon, and to get our legs loosened up for the next day's cycling plans!
Lunch and hiking over, it was definitely time for a nap; clearly, we still weren't back to normal energy levels yet. Trying to recharge your batteries in just a few days means really paying attention to what your body is telling you to do; you have to balance "active" with "recovery." We had bigger exercise plans for the next day on the cyclocross bikes (many back roads in the Townships are dirt, so 'cross bikes are an ideal way for you to travel), so didn't feel bad about kicking back and just doing nothing until dinnertime. We'd seen a restaurant on the way back from the park named Bistro 4 Saisons; it's run by an expatriate Belgian(UPDATE: We returned here in September 2014, and found out that in fact the owner, Thierry, is an expatriate Frenchman. Still, the "frites" were worthy of a Belgian, and the rest of the food was excellent, again.  Bonus…on Tuesday evenings, all wine is sold at their cost; you can potentially save the price of your meal!). Since cyclocross is a uniquely Belgian sport, we simply had to try it. NOT a mistake; the food was excellent, the atmosphere both elegant and homey at the same time. And the calories…well, we'd simply increase our miles tomorrow.
And, in the morning, for the first time in months, we actually woke looking forward to a long ride! The two previous days of great food and relaxing atmosphere was enough to start the healing process, and make us want to use that energy. After breakfast, we hopped on the bikes with our map, some snacks (of course!), and some extra water, and headed out. Since we'd had such fun going to winetastings on our last trip to the Eastern Townships, we set a goal to find Vignoble Clos du Roc Noir down near Lac Memphremagog, roughly 20 miles away, or close to 50 round trip with "wanderings."  Ambitious, given our general condition, but with the whole day ahead of us and lunch in the middle, it meant we could set a relatively easy pace and enjoy the lovely scenery.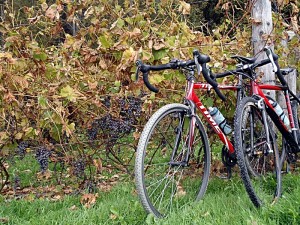 Of course, a mile in that area isn't the same as a mile most places; as we've noted before there is NO flat land in this part of the world. By the time we reached the winery, we were ready for a break, a taste of the wines, and even more fun, a taste of the grapes that were almost ready for harvest! If you've never tasted wine grapes, it's almost shocking how sweet they are; they have to be to provide enough sugar to convert to alcohol. It's worth a trip to wine country in the harvest season just for that experience alone.
On the bikes again, we saw a sign for "poisson fumé". Smoked fish is about as high on our list as it gets for appetizers, and true to Eastern Townships form it was being produced locally for sale in local stores. We knew that the following night, dinner would be in the woods and a perfect time to add local smoked trout and salmon pate to the picnic! It's one of the many joys of traveling in Quebec; cottage industries abound, and many of them are FOOD related. It just doesn't get any better than that.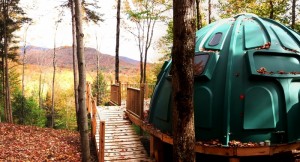 After the relaxed "civilization" of the Spa and the Auberge, and knowing that our final night on the minimoon was going to be luxury and culinary excess, we headed for Au Diable Vert, a place that had intrigued us for a while. We've stayed at plenty of oddball places over the years, from tents and bivvy shelters to yurts and backwoods cabins…but never in a "Treegloo." Part treehouse, part igloo-shaped fiberglass shell, this is about as odd as it gets. And, tucked into the backwoods in a gorgeous, isolated corner of the Eastern Townships just north of Jay Peak, it's as close to the middle of nowhere as you can get without driving hours from civilization. The panoramic views are stunning at any time of year, but during fall foliage, they're particularly beautiful. The proprietors take you and your belongings (they provide cooking gear and mattresses, you provide everything else) to your chosen lodging, drop you off, and let you wander from there; when you're ready to go, they come back and pick everything up.  The convenience of car camping with nearly the isolation of backcountry; it's perfect for situations like ours, where trying to put ALL of our camping gear into the car along with everything else would be…well, it was a tight fit as it was!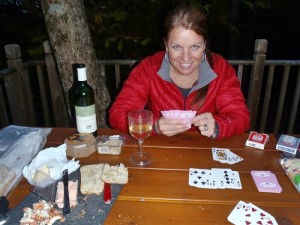 And there it was…the "Treegloo." It started life as a modular disaster relief shelter…two rounded ends, add as many middle sections as you want, sort of like a 3D dining room table. In this incarnation, it's just a dome, like a hard-shelled yurt.  With beds and a woodstove, it's roomy and comfy, and the deck looks out at the back side of Mont Sutton. We were lucky enough to be there on one of those perfect autumn evenings; started out warm, we picnicked on the deck and played cards as the sun set, enjoying an all-Quebec meal. Smoked fish that we'd picked up on our bike ride, local cheeses and bread, and a bottle of wine from L'Orpailleur…seriously, what more could a honeymooning couple want??? As the evening cooled, we moved inside and lit a fire in the woodstove. Fall and spring are wonderful that way; days that are warm enough to hike or bike without heavy clothes, but evenings that are cool enough for crackling fires and snuggling up. Add to that the utter backcountry silence around Au Diable Vert, and you've got a recipe for a long, restful night's sleep.
No alarm clock…ah, what bliss. A light overnight rain was ending, simply forcing a lazy start to the day. But, at some point, the caffeine kicked in, and there were trails to be explored, views to be seen. Even standing on the deck of the Treegloo was sheer joy; the view across the valley to Mont Sutton was glowing with color. No matter where we looked, we were surrounded by beauty; it really was hard to believe that we were less than an hour from Magog.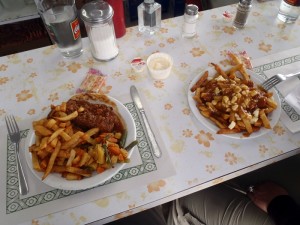 A few hours of hiking around, and we felt prepared for two things; lunch, and the dinner we knew was coming. Magog, in fact, was on our way to our final night's lodging, and we'd asked around when we were in Orford for some restaurant recommendations…and gotten a very peculiar one. "Have you tried poutine?" No, we hadn't…but crisp french fries topped with fresh cheese curds, then smothered with gravy…could it be bad? We were told to try Cantine du Lac, a not-very prepossessing trailer across the street from the La Vegetarien supermarket. A honeymoon's supposed to be an adventure, right? Why not? We hedged our bets by ordering the meatloaf, as well; it's a diner, so that's a safe choice.  What a mistake…the meatloaf was okay, but the poutine was divine; we should have both ordered it. Absolutely, unequivocally worth the heart attack. If you go to Magog, you owe it to yourself to give this a try!
Given the size of the lunch, we were glad we had about 7 hours until dinner. On our last trip to Quebec, we'd stayed at Le Bocage, and had one of our best meals ever. Plus, host Francois Dubois is as entertaining as his food is spectacular. We simply had to go again…and weren't disappointed. Le Bocage is a "bring your own" restaurant, so we'd brought a couple of special bottles of wine from our cellar, and let Francois know in advance what they were. He tweaked the meal around them, and it was as wonderful as we'd remembered.  Our room was the attic suite, which features an antique wedding dress as one of the decorations; how appropriate!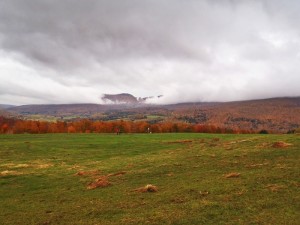 Alas, our time was up, and work was calling. After another of Francois' amazing breakfasts, we aimed our car south and headed home. As ever, the Eastern Townships had provided gorgeous views, great activities, wonderful food…and in this particular case, a remarkable dose of sanity. We had left home happy but physically and emotionally exhausted, out of shape, bloated with too much food, too much worry; in a short few days, we'd shed cares, anxieties, and a few pounds (even while gorging ourselves on the fabulous food!). You may not have a wedding in your future, but if you're stretched too thin by work or any of life's other twists and can't escape for a long vacation, we can highly recommend this approach. That first day of pure, luxurious relaxation, followed by several days of mixed exercise, views, naps, great food, and "together" time, provides more rejuvenation than we'd dreamed possible. Who knows…maybe you'll see us up there when you go!