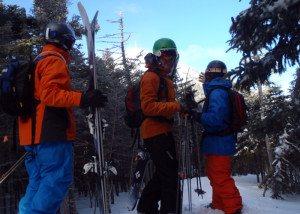 Backcountry skiing is one of the fastest-growing winter sports. Imagine being able to skin up and ski down for free on any snow-covered hillside! Or explore far beyond the boundaries of your favorite ski area. The whole winter world becomes your playground. There's nothing like floating down through the trees on untouched powder without having to fight for fresh lines with a hundred other powder-hounds.
Skiers can choose either Alpine Touring (AT) or Telemark gear. For most experienced Alpine skiers, AT is the way to go–AT boots feel like "regular" ski boots and your heel locks down for skiing so you turn using the same techniques you already learned at the ski area, no need to learn something entirely new.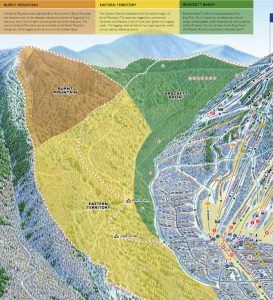 As with any other sport, however, there's a right way and a wrong way to learn AT backcountry skiing skills. Besides knowing how to turn well enough to avoid colliding with trees, you also need to know how to use the equipment and where to go. What you definitely don't want to be is one of growing number of people (no surprise it's mostly boys in their teens and early 20's) who go charging off the trails, past the ski area boundaries, into the non-lift service "sidecountry" in search of secret powder stashes, and end up lost and in need of rescue. That's just not cool, dude.
Also, AT skiing is an investment. AT means specialized boots, bindings and skins, and you need to have some idea about what you want and need before you go shopping. A few demo sessions can save you a lot of cold, hard cash.
If you are new to the concept of backcountry AT, and want a safe way to learn the basics, Sugarloaf Resort in Maine is offering Sunday morning instructional clinics and guided AT tours with rental gear available. These Sugarloaf backcountry AT ski tours and clinics have  perfect terrain in Brackett Basin, Burnt Mountain and the Eastern Territory to explore (plus some other lesser known powder stashes hidden on this big, big mountain), and they've got experienced instructors and guides from the Perfect Turn Ski School to lead the way.
Sugarloaf Backcountry AT Ski Tours and Clinics: The Guinea Pig
I had the good fortune on Sunday, February 1, 2015 to be the first "guinea pig" for this new program at Sugarloaf. Several other people had signed up but had decided to back out at the last minute. The weather might have had something to do with the no-shows: it was a perfect blue-sky morning, but it was also 11 below zero and the winds were howling when we set out to catch the first lifts turning. So I had three very enthusiastic guide/instructors (Matt, a registered Maine guide and the elder statesman; Sam and Brad the young up-and-comers) all to myself.
Even though I brought my own AT gear (K2 all-mountain skis
, K2 skins
, Garmont AT ski boots
, and Fritschi Diamir AT bindings
), and also brought some experience at using them, I asked the instructors to run me through the basics as if I were a total newbie. They did a thorough job of explaining how the Black Diamond AT skis, boots, bindings and skins
they use in their rental program work together to give you more access to terrain away from the lifts. Their equipment is much more "cutting edge" than mine and I was, frankly, a little jealous. The clinic only lasts the morning, but you have the rest of the day to explore before you have to return the equipment.
It was still very early when we headed out to the lifts. In fact, we had to stand around and wait a few minutes for the Skyline lift to start turning. I was wishing that I was dressed for the cold business of skiing downhill, not for the hard exercise skinning up. We ducked into the Ski Patrol shack at the top of Spillway to warm up, check on conditions, and let the patrollers know where we were going.
With the wind blowing so hard and the temperature so cold, we decided not to head up onto the exposed summit of Burnt Mountain, which had been our original plan. Instead we stayed in the trees of Brackett Basin for a bit, then dropped into the more open Eastern Territory (at least that's what I think we did). This is true "side country skiing;" much of it is accessible from the lifts (take "The Golden Road past Ripsaw). But we used our skins to good advantage, easily sliding  to the top of Bracket Basin, a climb that would be much more challenging without skins. At the top, as we were pulling the skins off our skis and stashing them in our backpacks, I pulled out my camera and snapped a few photos. That was a mistake–even with liner gloves, my fingertips quickly went numb in the cold and took some time to recover any semblance of warmth–even in mittens with hand warmers. Did I mention that it was cold?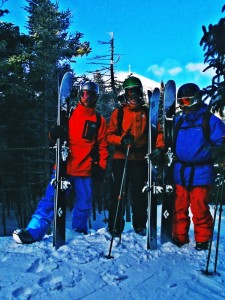 The steeper top section of Brackett Basin was a bit more of a challenge than we'd hoped. The biting wind had scoured away most of the powder and we were making turns mostly on a heavy crust. That's where AT gear shines; you can set an edge into hardpack and crust just as you would on an icy lift-serviced slope.
Once we got a little lower (I'm guessing into the Eastern Territory), the terrain flattened out a bit and we were playing in knee-deep powder. It was just a taste of the pure joy of backcountry skiing. By the time we'd finished our first run, my nose and cheeks were showing signs of impending frostbite and we decided to call it a morning. The warmth of the lodge felt mighty good.
Sugarloaf Backcountry AT Ski Tours and Clinics: The Takeaway
If you've never tried AT skiing, their "instruction clinic" is a perfect introduction. They'll get you on the gear and into the side country safely, and teach you what you need to know to do it on your own. If you're already an experienced AT skier, try their "Guided Backcountry experience." They'll take you deeper into the backcountry of Burnt Mountain show you how to do it safely, and set you up to explore more on your own.
Personally, I can't wait to get back when the weather is just a bit more temperate.