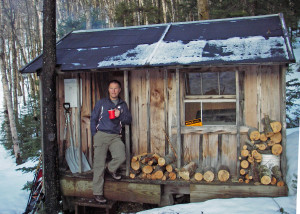 This particular adventure really began in late February, in a warm, luxurious room in the Mount Washington Hotel (which owner Omni Resorts has asked be called "The Omni Mount Washington Resort"). My sweetheart Marilyn and I had been Alpine skiing at Bretton Woods, and were planning a top-down ski trek on Mountain Road–riding up a chairlift and skiing down several miles of woodland x-c trails.
Planning that excursion I saw something I'd never noticed on the Bretton Woods Nordic Trail Map: a little house symbol at the very upper end of a long, steep black diamond ski trail. The description said: "Mountain Cabin. A rustic overnight cabin with a woodstove. Reserved by calling 603-278-3322."
I called my trail buddy David, worked out a schedule and made a reservation. We'd do a "guy getaway," a cabin adventure in snowmelt season, and check the place out.
On April 1, as the snow in the valley was rapidly disappearing, we met at the trailhead, donned light overnight packs and headed up the hill. We allowed ourselves ample time for the 2.5 mile hike and were fully prepared to turn around and head back out if necessary.
The Nordic Center at Bretton Woods had closed two days before, but a dusting of snow had re-coated the shaded trail. We carried snowshoes but didn't wear them to start, instead hiking the packed trails with boots and gaiters. About two miles into the hike, we started breaking through and stopped to put on the snowshoes.
This hike is steep enough to get your attention—especially carrying a backpack when you haven't done all that much hiking recently. . . .
From the amount of moose sign, we expected to encounter a moose at any moment, but didn't. We crossed fresh turkey tracks—leaving us pondering the mystery of why a turkey would be walking on deep snow near the top of a mountain when there was bare ground in the valley.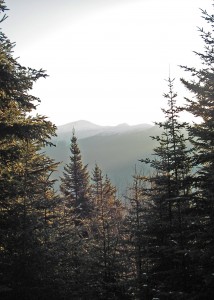 We arrived in early afternoon. The cabin was, as described, tiny, but neat and tidy, with a table, a bench seat from a minivan and two fold up cots. With the bench seat tucked under the table, there's just enough floor space for two guys to stretch out. We had good pads and sleeping bags and left the cots folded in a corner.
It didn't take long to split some wood (provided in the winter when the cross-country trails are open, the rest of the year you'll have to gather your own dead and downed wood) and get the fire started. The warmth was welcome, but the woodstove is so big in proportion to the size of the cabin that you have to run the fire low and keep the window open.
That afternoon we played cribbage (I lost, as usual), sipped wine, talked, relaxed and enjoyed the play of sunlight and clouds on the summit of Mount Washington, through a slot in the trees specifically cut for that gorgeous view. Dinner was a simple matter of heating venison stew (carried in frozen) and pre-cooked rice—food on an overnight trek is always easy.
It rained most of the night, but dawn brought clear blue skies, and warming temps in the strong sunshine. It was no chore at all to eat breakfast, pack up,  and tidy the cabin. We needed snowshoes all the way down. Not long thereafter, we were back at work with a fresh perspective on the world. Perfect overnight getaway.
Life isn't a spectator sport. Get out and enjoy!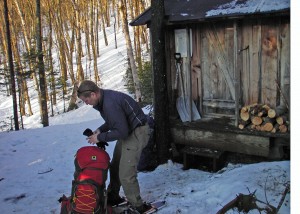 A Cabin Adventure In Snowmelt Season: hard-roof camping
Camping in this late-winter season always carries with it a bit of the unknown. One moment you can have a bright sunny day, the next minute, it's snowing. It's not uncommon in the mountains to go to sleep under a starry sky and awake to find your tent covered in snow.
You can always head south, of course, and avoid the probability of snow. But what fun is that?
I admit to a fondness for solid roofs at this time of year, whether it's on lean-to shelters, or backcountry huts or cabins. That's why I was so excited about the Mountain Cabin at Bretton Woods.
The lean-tos and shelters along the Appalachian Trail  and Vermont's Long Trail are usually completely deserted at this time of year, especially mid-week, so it's  a wonderful time to go and explore.
Likewise there are huts  and cabins scattered all over, like the ones maintained by the Appalachian Mountain Club, the Randolph Mountain Club. Some of these are not open that early in spring so be sure to check. The White Mountain National Forest also has three cabins for rent that are especially wonderful in spring. There's also four amazing hike-to huts in the Maine Huts and Trails system. They are self service at this time of year and much cheaper than they will be in summer. And Merck Forest in Vermont has several woodstove-heated cabins available for rent year 'round.
A Cabin Adventure In Snowmelt Season: Winter Still Rules
It may be Spring along the coastline and throughout southern New England, but in he mountains of Maine, New Hampshire, Vermont and upstate New York, it's still winter. At the highest elevations, it can snow at any time of year, and April and May are particularly susceptible.
That means, of course, when you are hiking, you need to be prepared with the gear and know how you need if the weather suddenly goes north on you.