"Once you pass Bangor and start north, it's a whole different Maine," said Mark Shea, Director of Marketing and the Ski School at Bigrock Ski Area in Mars Hill, Maine. "How true", I thought, after spending a day or two learning about the wonders of "The County." When skiing at Mars Hill was first mentioned, I had to look up where in the world it was. I admit, I wondered if there was really family skiing in Aroostook County. I knew it was famous for its snowmobiling and World Cup Biathlons, but didn't realize what awaited. But, after three days up there, I'm now asking myself how I'll have room to write about all the opportunities for active sports in "The Crown of Maine," a nickname awarded Aroostook both for its geographic location and for the abundance of outdoor recreation.
The largest county east of the Mississippi, Aroostook is 6453 square miles; larger than the states of Rhode Island and Connecticut combined, yet with a population of under 70,000. Initially, I thought it a bit presumptuous that Aroostook was referred to as "The" county. After spending time there, though, I realized the region has earned this respect.
A four and a half hour drive from our home in Yarmouth, ME, the trip to Aroostook County is hardly a one-tank adventure. Plan at least three days to make the drive worthwhile. Don't worry, there's plenty of active outdoor recreation, from world-class Nordic skiing trails to family-friendly ski areas, all centered around The County's hub in Presque Isle.
We started our trip with the obligatory lunch stop at Dysart's Truck Stop, renowned for its home-cooked food and large portions. As much of a roadside attraction as a restaurant, Dysart's offers food that's tasty, unpretentious, and affordable. Despite the pleas from the kids, we passed on "The 18 Wheeler": 18 scoops of ice cream, bananas and strawberries, all dripping with chocolate and caramel sauce. The reward for one person finishing this monster: another free sundae!
Family travel requires large doses of patience and plenty of flexibility.  The one thing you can count on is the unexpected. When we left home, our oldest was complaining of a sore throat. By the time we got to Presque Isle, it was clear she had the flu. She spent the entire trip in bed, missing every moment of joy that The County brought the rest of the family.  No fair!
Skiing In Aroostook County: Bigrock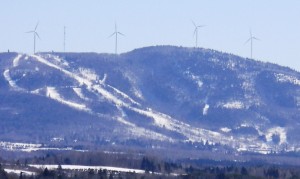 You start seeing glimpses of Bigrock from at least 10 miles away, but it's not the hill as much as what's atop. More than 20 enormous wind turbines dot the ridge top, generating enough renewable energy to power 20,000 homes per year, according to owners, First Wind Mars Hill.
While we're early risers, moving three people with all the boots, poles, skis and gear from point A to point B is always a process. Our plans to arrive at Bigrock Ski Area for the first chair were dashed. Yet, we soon learned there was no need to worry about getting first tracks!  At 10am we counted only 20 or so cars in the parking lot. Amazed, we looked around for the second lot where all the people must be parked, but it wasn't there! We appreciated the short walk from the parking lot to the base lodge, and marveled at how time stood still at this compact ski area.
The base lodge was abuzz with skiers who all seemed to know one another. I couldn't help but feel that we'd walked into a private ski club, with a vintage lodge and very friendly people. Little did I realize what was in store.  We skied the entire morning on seemingly untouched groomed runs. Once in a while we saw another skier, but for the most part, the mountain was our own private playground, or at least it felt that way.  For this urban family, accustomed to standing in lift lines and looking over our shoulders for passing skiers and boarders, Bigrock was paradise! We skied onto the double chairlift for run upon run, each time marveling about our own "private" mountain. Liftlines  (never exceeding 12 people) did form later in the afternoon. Apparently, this is a region of later risers…at least they hit the trails later.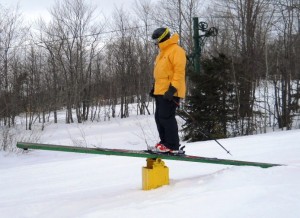 Classic New England skiing is the best description for most of the trails that wind and undulate down the mountain. Early in the day, we discovered Elbow and Snake , aptly named for the twists and turns, banked sides and fun sprints through the woods. These  soon became our youngest daughter's favorites as we skied in and out of these trails, many of which connect to wider slopes with names like Comet and Uncle Bud's. The Chairlift Run offered steeps and moguls. We enjoyed skiing the Ho Chi Minh Trail (named among the top ten ski trails in Maine by skiwriter Heather Burke), an expert trail that ebbed and flowed down the right side of the mountain. My daughter delighted in hitting the terrain park and repeated her first-ever change on the rails over and over again.
She made it look so easy, I had to take my turn at one of the wider rails. Bad idea. My knees just aren't as young as I'd like to believe they are, and I took my first fall of the year. Lucky for me, I had the camera, so that stunt wasn't preserved for posterity.
While often mistaken as two words, Bigrock is just one word, explained Mark Shea. We learned from Shea that while Maine Winter Sports Center helps support the mountain, they rely as much as possible on ticket sales and community support for funding (MWSC also owns Black Mountain of Maine in Rumford, which has both Nordic and downhill skiing). Hugely supportive of community skiing, Bigrock's free ski nights from 4-9 pm on Wednesdays offer everyone from the youngest to the oldest skiers the opportunity to enjoy a complimentary night of skiing once a week. Add in $15 rentals and $5 lessons, and it's no surprise that so many children launch their skiing career at Bigrock.
In a "normal" year, Aroostook County averages 160 inches of snowfall. 2010/11 was an anomaly with a virtual snow drought in December and January. Then the region received 40" of snow in ten days in late January and early February. This has been one of their biggest snowmaking years at Bigrock. In fact, when other New England Nordic Centers were bare at Thanksgiving, Bigrock made snow and groomed trails for XC skiers training for the upcoming World Cup Biathlon competition held nearby at the Nordic Heritage Center in Presque Isle.  That snow served as the ski area's base all season. Shea expects to repeat this effort year after year to support the Nordic skiing in the region.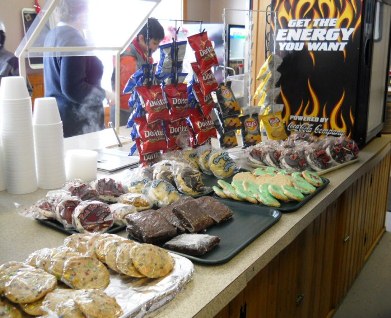 We enjoyed the home cooked lunch and marveled that $11.00 fed our family of three including bowls of steaming chili, French fries, a hot dog and drinks. A homemade whoopie pie brought a smile to my daughter's face and helped to confirm that perhaps it should be Maine's official dessert.
We concluded the day by participating in the Sundae Relays (no, that's not a typo!) hosted each Sunday at Bigrock.  The promise of a free sundae motivated our youngest and my husband to participate in the Human Slalom Race down the Bunny Slope, along with 25 or so other skiers. As we left, my daughter said "Mama, who needs a big mountain when they have a Bigrock?"  Little did she realize what she was in for next.
Skiing In Aroostook County: Nordic Heritage Ski Center
Day two of our trip opened with a bluebird sky and the nearly zero temps Aroostook is known for.  We started our day at Mojo Sports on Main Street in Presque Isle. With a decided focus on Nordic skiing, Mojo Sports offers the most extensive selection of Nordic ski equipment of any retail location I've seen in Maine. "One thing you won't find here is snowmobiling gear," explained Mark Fullen, Mojo's manager,who remains steadfast in his mission to encourage active outdoor recreation despite the demand for snowmobile accessories. A small selection of alpine ski gear, plus a wide array of snowshoes, layered systems for warmth, and outdoor footwear round out the winter offerings in addition to the wide Nordic selections. In the summertime, the focus turns to biking, along with kayaks, clothing, and footwear.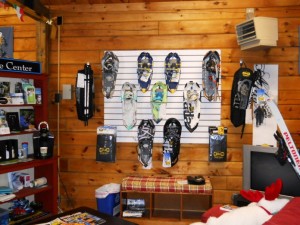 With more than 400 pairs of rental skis, the community and schools are well served by Mojo Sports. We were outfitted with rental skis, poles and boots, and off we went with Fullen's directions to the Nordic Heritage Center, home to the 2011 World Cup Biathlon event. Even from the parking lot, it is clear this facility is world class. The impeccably groomed trails, the stadium with grandstands and the welcoming lodge with leather couches, fieldstone fireplace, restrooms and a sauna, are clearly above and beyond anything I've ever seen downstate. What's even more astounding is the trails are free and open to the public 6am – 10pm. During the season, they are lighted from 4pm to 9pm. Operated and supported by Maine Winter Sports, this world class facility is available for anyone free of charge. And what a gem it is!
The lodge also serves as a museum for Nordic skiing's Swedish heritage. Nordic skiing was first introduced to Aroostook County in the 1870s when families were recruited from Stockholm, Sweden to settle in the area. They brought the Nordic tradition with them and used their skis for transportation as much as recreation. That Swedish heritage of Nordic skiing is captured in intriguing displays of antique skis and photos throughout the lodge.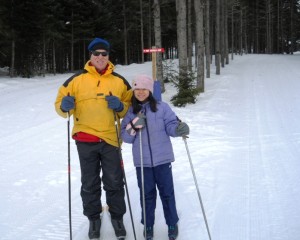 We tried out our skis, as my husband explained how the Biathlon competition works, combining cross-country ski racing with precision target shooting.
While I've cross- country skied in the past, it's been a few years. I felt every one of my 50-something years as I struggled to maintain control on the skinny skis. We found some classic tracked trails, with soft snow where I regained an iota of confidence, but once on untracked, hardpack trails, I struggled. My youngest daughter, an intrepid Nordic skier, offered tips, lessons, and uncontrollable laughter when I fell. "I'm sorry Mama," she said, "but you just looked like a bowling ball back there on the ground!," she managed to say in-between laughing fits. A biathlete I will never be, I concluded, threatening to bid XC skiing farewell for another ten years. (Though I'm not sure my family will let me escape . . .)
As we were leaving, five buses arrived with Nordic ski teams from Portland, Auburn, Oxford Hills, and Leavitt. We had the opportunity to watch talented high school skiers practice for the Class A Maine State Championships scheduled to commence the next day. " If only I'd started Nordic skiing back then," I thought.
Skiing In Aroostook County: Quoggy Jo
We left the Nordic Heritage Center and drove to neighboring Quoggy Jo Ski Area. Literally next door,  the upper trails connect these ski centers.  Also supported by Maine Winter Sports, Quoggy Jo is family heaven, offering the shortest walk from parking lot to lodge of any of Maine's ski areas, and Maine's lowest cost skiing. I was compelled to take a picture of the $8 lift ticket sign.  The warmth from the fireplace in the one-room lodge was rivaled only by the wonderfully friendly staff at Quoggy Jo. This ski area takes community to the next level; everyone who skis there knows one another, and if they don't they will by the end of the day. The T-Bar attendant calls children by name, and Donna Dean, Quoggy Jo's co-manager, knows each of their life stories.
Dean explained that a family can ski for as little as $200 all winter if they buy their seasons pass before Christmas. After that, the price goes up to $230. The price is the same for a family of three or a family of 17. Rentals are $12 and come complete with helmets. While there is no recognized ski school at Quoggy Jo, there are plenty of high school and college-aged helpers who will willingly take new skiers out on the mountain to show them the ropes. A number of tiny skiers negotiated the T-Bar with family and "helpers."
Accessed by one T-Bar, Quoggy Jo offers six trails and 215 vertical feet of pure bliss. Although we were there in the afternoon, there wasn't one run where I didn't discover fresh corduroy laid by the area's single Pisten Bully groomer. There's no snowmaking here; skiers are entirely dependent on Mother Nature, which meant Quoggy Jo's season started late this year.
This was my daughter's first experience with a T-Bar and it was as much an attraction to the mountain as the skiing. Never one to be intimidated, she skied right up to the lift line and awaited the T-Bar, reciting the instructions not to sit down.  She made at least ten runs without a mishap, and insisted on riding alone to prove she could do it. When she left, she declared her favorite part of the day was skiing Quoggy Jo.  "Sunday River needs to add a T-Bar!," she declared.
Skiing In Aroostook County: Ski & Stay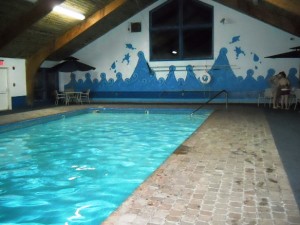 We discovered the Presque Isle Inn and Convention Center, Aroostook's most family-friendly accommodations.  More hotel than inn, this facility is friendly, comfortable and complete. A 10,000 square foot fitness facility is complemented by a large indoor pool. The hotel offers not one but two restaurants – Gram Russo's, a fine Italian restaurant, and Frankie's Lounge, offering lighter fare. In addition, Connections, a nightclub with live music – offers entertainment for night owls.
Kevin Simmons, owner and General Manager, purchased the hotel ten years ago, bringing it out of receivership and renovating it one section at a time (his first change was to remove all the shag carpeting). We were given the choice between a newly renovated room with two full beds and an "unrenovated suite" with a King bed. Not knowing quite what to expect from a room described as "unrenovated", we were pleasantly surprised to find a spacious room, with perfectly acceptable décor and a whirlpool tub. We later learned that the term "unrenovated" means that the room's second renovation is scheduled next. We chose the "unrenovated" and were thrilled with the spaciousness, double vanity sinks, flat panel TV and easy wi-fi connection.  We settled right in, along with the snowmobilers who dominated the guest list here.
Breakfast is served daily in Gram Russo's Restaurant. Choose the "Express Breakfast" from a menu of six or seven items including breakfast sandwiches, enormous muffins, toasted bagel or homemade toast with juice and coffee, and your breakfast is free. Go for a larger breakfast entrée like Eggs Benedict or omelets, and $3 per entrée is taken off the bill for inn guests.
The pool offered the perfect apres ski activity for young children with endless energy, along with the fitness center, offering just about every kind of exercise machine imaginable, as well as a range of classes.
Take advantage of ski-and-stay packages and enjoy a day at Bigrock and an evening at Presque Isle Inn and Conference Center. This family and pet-friendly hotel makes the perfect base for enjoying active recreation in Aroostook, and if you're staying in Caribou, the Caribou Inn and Conference Center, a sister property, is a great choice too.
When You Go
Presque Isle Inn & Conference Center, 142 guest rooms, executive suites and two-room extended stay suites with kitchenettes, pool, fitness facility, restaurants, night club and more.  116 Main Street, Presque Isle, ME, 04769, 800-533-3971, www.presqueisleinn.com .
Bigrock Ski Area, Maine's 7th largest ski area.  980 vertical drop, 27 trails, night skiing, racing and family events, welcoming base lodge.  37 Graves Road, Mars Hill, ME  04758, 207-425-6711, www.bigrockmaine.com .
Mojo Sports, Presque Isle's only active sports retailer offering a full range of Nordic equipment, apparel and accessories plus snowshoes, outdoor apparel and footwear, bikes and much more. 719 Main Street, Presque Isle, ME  04769, 207-760-9500, www.mojooutdoorsports.com (Note: website under construction at time of story, soon to be up and running).
Nordic Heritage Center, home to the World Cup Biathlon, 2011 this stately facility offers free trail access on 20 km of impeccably maintained trails for XC skiers, hikers and snowshoers, a 6500 square foot lodge with sauna, 26 separate wax rooms, gathering space, 30 point biathlon range and 1 km skate ski loop. In the summer, mountain bikes are welcomed on 20 miles of marked mountain bike trails. A welcome center, open Tuesday – Sunday, offers some rentals. 450 Fort Road, Presque Isle, ME 04769, 207-762-6972, www.nordicheritagecenter.org.
Quoggy Jo, 215 vertical drop, six trails, community and family oriented ski area.  All natural snow, friendly base lodge, rentals available. Fort Fairfield Road, Presque Isle, ME 04769, 207-764-3248, http://www.skimaine.com/areas/quoggyjo.
For more information and complete vacation planning advice including lodging, dining, recreation and shopping ideas, contact Aroostook County Tourism at Northern Maine Development Commission, 207-498-8736, www.visitaroostook.com.
Video: watch?v=HxxOqiOFVlQ