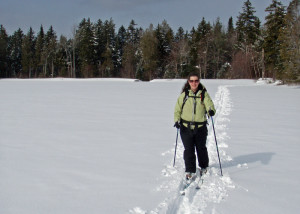 The little town of Errol in the Great North Woods Region of New Hampshire, is kinda quiet, out of the way (on the Maine border, 20 miles or so north of Berlin), and surrounded by hills, lakes and rivers. In other words, it's the perfect town if you are looking to find or hold onto winter, or if you enjoy hiking, mountain biking and, especially, paddlesports in summer.
I was in the Errol neighborhood on a winter camping by dogsled adventure on beautiful Lake Umbagog, and built in an extra day to explore a little more of the area. An extra week would have been better. I still wouldn't have seen it all.
I'd first gotten the idea from the folks at the Northern Forest Canoe Trail. The NFCT is a magnificent 740-mile water passage from Old Forge, New York to Fort Kent, Maine. It's a paddler's dream in the summer, but often forgotten in the winter. The NFCT is building partnerships along the trail to help get more people out and exploring year 'round. Worthy goal, and they are doing a great job.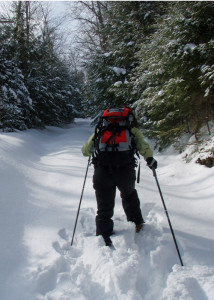 In Errol, they have partnered with Lucie Villeneuve of Outdoor ESCAPES New Hampshire,  who will arrange guided paddling or hiking adventures in the warmer months and cross-country skiing or snowshoeing in the winter. There are several lodging options for these packages in Errol. The one I selected was 150 Main Street Lodging On The Androscoggin, where owner/hosts Debbie  and Bill Freedman operate a very cozy, comfortable and welcoming guest house right on the banks of the river on the edge of Errol. The Androscoggin here is, of course, part of the Northern Forest Canoe Trail, and it's literally, steps from the backdoor. Bill is an avid fly fisherman, and would be a terrific resource if you want to fish the area in summer. I ate dinner with the Freedmans that night at the Trading Post Restaurant, a few miles north of Errol in Magalloway, Maine. Bill and I talked fishing all night. Debbie looked like she was used to it. My other meals I took at the Northern Exposure Restaurant, practically next door, hearty home-cooked food to fuel an outdoor adventure.
Speaking of outdoor adventures . . .since I'd just come from three days and two nights of dogsledding, skiing, and winter camping on flat, packed trails around Lake Umbagog, and since there was more than a foot of fresh powder on top of a deep base of snow, I asked Lucie if she'd mind searching for some untracked snow on a slope. She was happy to oblige and made it clear that she will customize adventures to her clients' desires and abilities.
Since it was just the two of us, and since we are both experienced and avid backcountry skiers, we decided to ski up ("up" being the operative word–remember this for later) the summer access road to Munn Pond, just south of Errol. Even with skis on we were sinking knee deep into the soft snow in the woods. At one point, where the snow-covered road was narrow and especially steep, we detoured onto the packed snow of a nearby snowmobile trail to scale the slope more easily. Sometimes, the longer route is the faster (and easier!) one.
Munn Pond was beautiful, nestled among quiet hills. Though we knew from having skied up a bit of it that there was a snowmobile trail not far away, we couldn't hear it, and we skied across the lake hearing only the soft sigh of the wind and the hiss of our skis on the snow. Just beautiful. We saw tracks of moose, coyote, ruffed grouse and snowshoe hare, but no tracks of other people. Lucie is a born teacher, good at pointing out and explaining the wonders of nature you see on a trek like this. After a couple of hours of pushing our ski tips into lovely, silent places, we reluctantly headed back down the hill toward the car.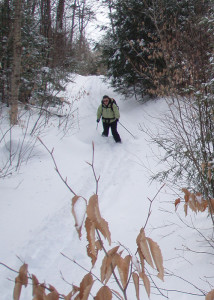 Remember all that "UP" I mentioned before? Well, baby, this was payoff time!!!
The steep slope we had avoided coming up was now a quarter-mile narrow ribbon of pristine, deep, untracked snow winding through the trees. I went first, swooping down through knee-deep snow, whooping all the way for the pure joy of it, breaking tracks for Lucie to follow. My tracks allowed her to gain speed and she flew past me as I stood to the side of the trail. We were both giggling when we stopped.
In fact, we  had so much fun, we decided to follow our original tracks out to the snowmobile trail, back up the hill and do it all over again. This time, the extra speed and momentum carried us back into the tracks of our original climb and we coasted all the way down to the car. What a great finish!
The Guided Backcountry Skiing Advantage
By choosing a guided trip, I found not only good companionship, but also a place I probably never would have explored on my own. Not all of us are lucky enough to know someone experienced who can inspire us to try something new and get us started safely. Many of us need outside help with getting motivated, planning and safely executing an outdoor adventure.
Joining an outing club or a group like your local chapter of the AMC, Green Mountain Club or Adirondack Mountain Club is always a good way to meet people who can show you how to get started. You can also get help getting started from outdoor equipment companies like L.L. Bean with their "Walk-On Adventures" programs at many of their stores, REI with its Outdoor School, and EMS with its climbing, kayak and ski schools. All are good options.
But hiring a guide like Lucie makes it very personal. You get to dictate the schedule and the activities you desire. The guide provides the expertise to help you enjoy the adventure without worry. A good guide is well worth the price if you are exploring something new or an area that's new to you.
We had perfect weather and snow conditions for the ski trip we had planned but she made it clear that she was well prepared with other options if Mother Nature didn't cooperate. That willingness to go with what the client and the weather dictate makes her a great resource for individuals, but especially for families looking for adventure. Lucie, I discovered, is the mother of two beautiful kids, and a former cross-country ski instructor at both The Balsams Wilderness (which will be closed for the winter of 2011/12 and reopening in summer 2012) in nearby Dixville Notch, N.H and at Gunstock Nordic Center in Gilford, N.H. She also has other guides who work with her throughout the year. As a young mother herself, she's particularly attuned to the needs of families with young kids. She operates trips throughout New Hampshire, almost year 'round. In the summer, she specializes in canoeing, hiking, and biking.