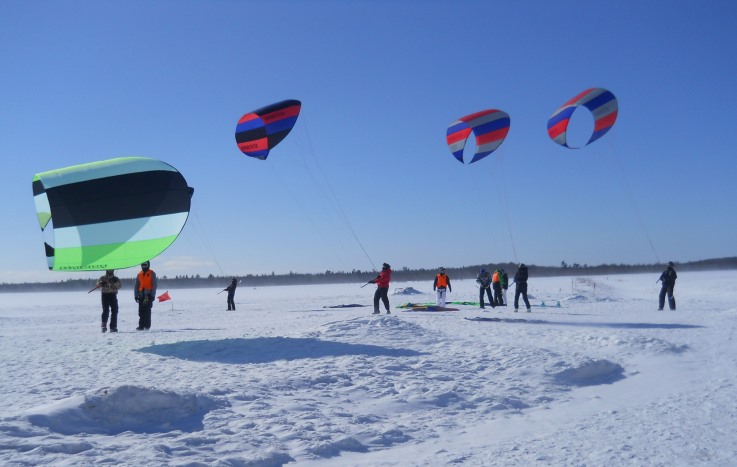 The Presidents' Week winter school vacation always creates major stress for the getaway planner in our family (that would be me). Maybe it's the same for you? My family (husband, Lincoln, and two girls; Calli, 14, and Kim Han, 12) wants to be active outdoors. Any winter vacation needs to include lots of great downhill skiing, and preferably something else fun and interesting, all in a beautiful and relaxing setting. And we need a comfortable place to stay that offers good restaurants and good wi-fi. For our own sanity (and the sake of the family budget), it has to be within reasonable driving distance, and it has to be a destination everyone in the family will enjoy. The trouble is, this is exactly what everyone else is looking for, too! So slopes can get crowded and it can be hard to find the right place to stay at a price you can afford.
I was discussing my vacation conundrum with EasternSlopes.com editor Tim Jones, and he suggested the Chaudière-Appalaches region of Quebec. I listened . . . but I have to admit, I didn't have a clue where it was or even how to pronounce it! But I did some research, planned a trip, and discovered my own new favorite place on earth for adventure vacations!
Better yet, the Chaudière-Appalaches region (hereafter C-A) ended up being truly the perfect place to take an adventure-minded husband and two teenage girls. Do you know how we discovered it was the perfect family vacation destination for teenagers? If you have teens, you will relate to this . . . The kids talked to us. They smiled. They clapped with glee. They put down their electronic devices, and actually thanked us for taking them.  As a Mom of teenagers, I'd take the talking alone, the rest was icing on the cake!
Exploring The Chaudière-Appalaches Region of Quebec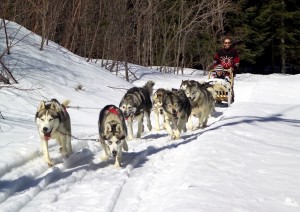 I need to be clear up front. This is a very French-speaking region of a French-speaking province, but don't let that stop you! We don't speak more than a few words of French and, as I said, I couldn't even pronounce where we were going. (Say "Show-de-yay Ahh-pa-lash" three times and you'll have it!)  Smile, say "bonjour" when you meet someone, and you'll find that it's easy to get around.Chaudière-Appalaches is the tourist region of Quebec between Maine and the St. Lawrence River south of Quebec City. It's named for the Chaudière River and the northern peaks of the Appalachian Mountains.  It was  a five-hour drive from our home in Yarmouth, Maine. With its 200 km of riverside roads, this richly rural region includes many lovely villages, considered to be among the most beautiful in Québec. You will be amazed at the variety of outdoor adventure available so close to New England in this largely undiscovered-by-Americans region of Quebec.
Even the weather cooperated perfectly! My husband Lincoln says he lives a charmed life, and our C-A vacation proved him right. It snowed on the days we skied, the wind blew (hard) for paraskiing, and we had a perfect bluebird day for dogsledding. I can't promise the same for you, but I will confidently predict that the weather will vary and you'll always find something fun to do.
Winter in Quebec: Skiing in Chaudière-Appalaches: 
C-A is home to a number of ski areas. We visited two and were amazed at the variety of terrain plus all the adventure packed into each resort. Want both Nordic and alpine trails? It's here. Want to try Catskiing or even Heliskiing? It's here!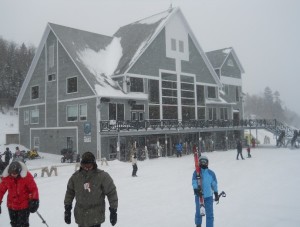 Massif du Sud was our first stop. What an insight into the adventure potential of the region it provided! Developed over the last 20 years by a group of enterprising locals who built the roads and brought power to the area, this resort has grown and thrived. The owners have added Catski Safaris and Heliski Safaris, taking intermediate-to-advanced skiers to the resort's 150 acres of untouched backcountry.
Open to the public on weekends only (except during Christmas week and the first three weeks in March when it's open 7 days a week), Massif du Sud is available midweek for exclusive use by corporate groups or individual friends. If you're looking for a mountain to yourself complete with Catskiing and Heliskiing Massif du Sud can be yours too for a day for $6000 Cdn. The ultimate holiday gift!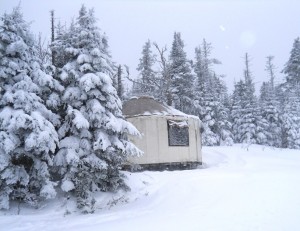 When we skied Massif du Sud, the snow was falling in large, fluffy flakes as we hit the trails via the main quad chair. At the top of the mountain, we were delighted to find a yurt which, we later learned, is available for winter overnight stays. A rustic warming hut with wood stove and benches also offers the chance to take off the chill at the top of the mountain. But don't count on any food up top. The base lodge serves as the hub of activity here, and includes a fully stocked ski shop with the largest collection of "fat" or powder skis in Eastern Canada along with a fabulous cafeteria. Hint: If you're looking for a new pair of powder skis, you might want to get them here. The prices were well below those I've seen in the U.S.
As we've found on all the Canadian mountains we've enjoyed skiing, there's never a shortage of double black diamond trails. Lincoln and the girls made a beeline for the double black glades while my worn-out knees and I stuck to the wide groomers. All of the trails are numbered, making it easy to find your way around the mountain. It was quickly apparent to me that this was going to be a great time. And you know, if Mama is happy, everyone's happy. Quite frankly, I think that saying should be re-written to say if teenagers are happy, everyone's happy! Either way, we knew quickly that this is a mountain for families with a sense of adventure.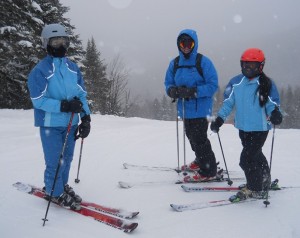 One of the unique features of Massif du Sud is the XC and snowshoe trails that start at the top of the mountain and wind around to the bottom. It's not unusual to find skiers with both wide and skinny skis riding the lift to access trails from the top. I had the chance to talk with one couple who was trying the XC trails for the first time. They shared their apprehension that the terrain could be a challenge, but they were up for the fun. Another couple who'd spent the night before in the yurt told me it was a blast! Simple cots, benches and a wood stove, yet warm and cozy with just enough comfort to feel at home.
One beauty of the mountain is that most trails converge at the quad chair, so it's easy for groups to stay together.  We skied hard until Calli took a total yard sale fall in the glades,  hitting her back on a tree. She was shaken and sore but otherwise fine. That was it for her for the day . . . suddenly all teenagers weren't happy.  Uh oh!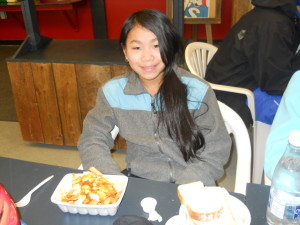 The rest of us skied a few more runs, relishing the powder and great conditions, then finished off the day in the cafeteria with poutine, a Canadian specialty consisting of French fries, cheese curd and gravy – a teenager's idea of heaven. It went a long way toward curing Calli's aching back and bruised teenage ego. I later learned that all food served on the mountain is made onsite, with much of the meat from a local organic farm. The coffee is roasted right in town. As is usually the case in Quebec, the food was delicious and if you love the idea of farm-to-table, here's one ski resort that delivers!
Winter in Quebec: Mont Orignal (Moose Mountain)
My advice for your visit to C-A is to either hit this mountain for the first day or save it for the last day then head home from here. It's only about 30 miles from the Maine border as the crow flies, making it the ideal first or last stop. We saved it for the last day of our trip. However, a word to the wise: It's easy to miss. Look for the LaGrange Toyota Dealership on the corner of the access road, because there are NO(!) signs pointing to the ski area.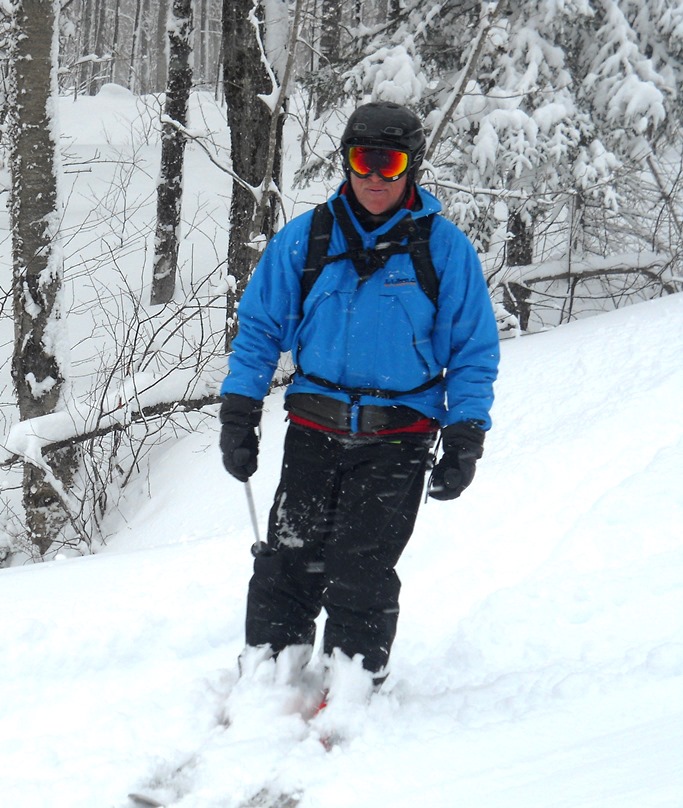 About 300 meters (just under 1000 feet) of vertical, this gentle giant was a favorite of our younger daughter, Kim Han. We had the good fortune of skiing here the morning after 16-inches of fluffy powder fell the night before. "We haven't seen conditions like this in five years," said Lincoln with glee as he took off in knee deep with Kim Han right on his tail. We skied trail after trail of untracked powder in the first hour, hooting and hollering in celebration of the fabulous snow! The trails were all do-able, even for my knees. However, I have to admit that the double blacks were closed for the day, so I caught a bit of a break. I even skied trails with ungroomed powder and made it down amongst snowboarders decades younger than me. If you can ski a blue trail in the U.S. you can ski anywhere on Mont Orignal.
"This is one of my all-time favorite mountains," said Kim Han.  ""I love the powder, I love the snow and I love that everyone meets at the bottom!" Indeed all trails lead to the six-person detachable quad, making it easy to keep track of those in your party. Gladed trails wind alongside groomers, which allows slower Mom to more or less keep pace with the more expert skiers.
Mont Orignal is open Wednesdays through Sundays. On any given weekday 2,000 to 3,000 school children enjoy "activity days" here. While most kids hit the trails on skis and snowboards, a number head to the terrain park, serviced by its own poma lift, or the tubing hill with three lanes on the day we were there.  "I can't believe they get to spend a whole day missing school and skiing," said Calli…"Lucky!"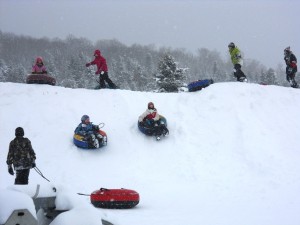 We didn't want to leave. We knew we wouldn't find powder conditions like this for a long time. "Please can we stay for a few more runs?? Pleeeeeeease?" begged Kim Han. Knowing this was the end of our Chaudière-Appalaches adventure, I gave in.
We finished our day at Mont Orignal with the mandatory poutine, which the kids lamented they won't find in the states. Be sure to try poutine at some point along the way when you come. It's not exactly health food, but it sure is tasty!
With the help of the Chaudière-Appalaches Office of Tourism, we found a perfect treasure of a resort and made it our home base throughout our stay. Part adventure center, part boutique hotel and part spa, Appalaches Lodge Spa Villégiature is the ideal destination for those who love winter adventure, fine dining, relaxing spa services and spacious accommodations. Great lodging makes for great great vacations and Appalaches Lodge, has all the comforts of home topped off with great hospitality, adventure right out the door, followed with pure relaxation afterward.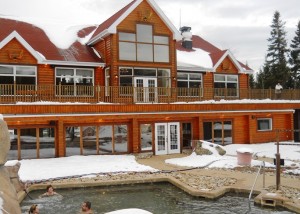 Located in the town of Saint-Paul-de-Montminy, Appalaches Lodge Spa Villégiature is remote by design. Once there, you can't help but feel you're in a winter oasis. Everything you need from spa services to fine food, Indian tipis, snowmobiling, XC skiing, snowshoeing, dogsledding, skating, tubing and so much more is right here and easy to enjoy. There's a fully stocked rental shop with everything from snowshoes to XC skis and boots to skates and a complimentary broom for broomball. If you'd rather travel light, they even have coats, boots and snow pants for rent! Appalaches Lodge Spa Villégiature is a true destination resort; and if your choice of adventure isn't there, it's nearby.
Ten years ago the Appalaches Lodge Spa Villégiature was the base lodge for Grand Coulee Ski Area, which served the area as a learning center. About a decade ago, a group of investors purchased the ski area, sank hundreds of thousands of dollars into it, and converted it to a four-season resort geared toward the European traveler. Today, it is a thriving resort, still hosting European groups and travelers from Quebec, Ontario and a few savvy Americans.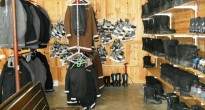 Guests are welcomed at the main lodge where steam wafts from the Scandinavian baths and the smell of fine dining combines with wood fires. We tried our best to use what little French we knew; the front desk personnel were very gracious, speaking English to explain all that the resort offered. We found this to be true throughout our stay, and were happy to know that our "ne parle pas Français" was not a hindrance to communication. We could always find someone who could speak English. Best of all, if you try any guided adventures, you'll end up with a semi-private tour with an English-speaking guide assigned just to your family or group!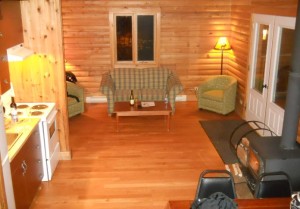 Accommodations here  are in seven spacious chalets, each with six guest rooms and a common living room, kitchenette, wood burning fireplace and deck. Each room offers two double beds and a private bath, making it ideal for families or groups to travel together. The chalets are each themed with a different animal – moose, eagle, wolf, deer, etc. Wrought iron towel bars, chandeliers, and other décor bear the themed animal in each chalet—nice touch. The fully stocked kitchenettes mean you can cook your own food if the meal plan isn't in your budget.
Plan to stay at least three days! Even with a week, you won't explore all the adventure activities available here.  We left with a number of activities not crossed off the list.
Winter in Quebec: Discovering Paraskiing
Some people might say I'm crazy for trying adventures like rock climbing, ziplining and, now, paraskiing, but getting out of your comfort zone is good, right? Paraskiing is not for the faint of heart; it's probably the most extreme adventure this otherwise temperate Mom has ever tried. You may have heard of it or heard it referred to as kite skiing. By either name, it's an activity guaranteed to get your heart pounding! OK, full disclosure: I was terrified! I'm just happy to live to tell about it and awfully proud, too.
A word of advice: it's easy to talk yourself out of this activity, especially when the wind is blowing, but don't let the howl of the wind scare you out of it. In the end, the higher the wind, the more you'll enjoy it and the larger your badge of courage in the end. When we awoke to 45 mph (72 kph–it sounds more terrifying) winds and -20°F (-30°C) temps on the day of our paraskiing adventure, we were pretty sure it would be cancelled. Silently, I was relieved. Wrong. Unknown to us, the more wind, the better, so off Lincoln and I went, leaving the girls to enjoy a day on their own at the resort.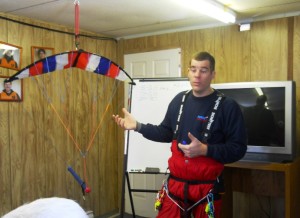 We arrived at Paraski Aventure to find two trailers and a field with many people flying across on skis with kites attached. I summoned up all my courage and dove into the introduction, then the demo. The wind gusts were howling around us. Had our instructor not been holding on tight to my harness during my first attempt to inflate the kite, I'd have been half way across the field with my legs having trouble catching up to it! Looking around, I wondered how all the other people in the field had mastered this so quickly, especially the other women.
Once he felt we were comfortable with handling the kite, Kenny Blackburn, our instructor allowed us to put on skis and try paraskiing. This is when it got really interesting! Lincoln (an avid sailor) went first and took to it easily, sailing away across the cornfield. It seems like it's easier for men than women. I struggled to get the kite inflated and once I did…NOTHING! I didn't move. "What a build-up to a flop," I thought. Yet, little did I realize that the kite was simply in a closed position to secure it from going too fast. "Let me open it for you," said Kenny and in a second or two a gust of wind filled my kite and I shot across the field with the kite whipping all around me in the gusts. I felt like a rag doll in a hurricane as I struggled to regain control over my skis going 30mph (or at least it felt that fast!) across a corn field with knee-high stalks.  "Turn your skis upwind," I kept telling myself and eventually as the gust died, I regained a semblance of control and then STOPPED with no notice once again.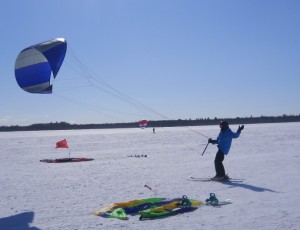 This gust-ski-stop sequence went on for much of the time I was out in the field, and I found myself far away from the trailers and our car. Every muscle in my back, legs and neck said "get me outa here!" With all my courage, I turned the kite and my skis and glided away across the field, gaining a little more control, confidence and courage with each turn I made. Kenny came to my rescue a few times to help re-inflate the kite. In fact, all the instructors were helpful and extremely patient, which was needed when it came to a student like me! The instructors will be your salvation; you can count on them.
I looked far across the field and I spied an instructor in her car coming to the rescue of Lincoln (hah!) who'd graduated to a larger kite which he opened fully to get the full effect of the wind. His kite was on the ground and he was three times farther away from the trailers than me, struggling to get back. Eventually he did and I did too, and both of us sailed across the field.
"I came off the ground a few times!" Lincoln said, beaming, as we reunited at the trailers. I wasn't quite as enthusiastic about my experience; I can't say I enjoyed this as much as Lincoln did, but I can say I was incredibly proud to have accomplished it. I can promise you another badge of EasternSlopes.com courage in your trophy case if you try paraskiing. In fact, it's proven to be the best adventure story of the trip!  Paraskiing is one of the coolest sports in the world to try and watch. So don't let this one pass you by. Yes, it's scary, but it's also do-able for anyone who's an intermediate or above skier. Let us know how you like it.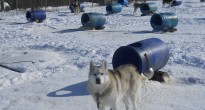 Winter in Quebec: A day that went to the dogs
After our day of paraskiing, we thought that sitting in a dogsled and yelling "mush" might be just what the doctor ordered. So on a bluebird day, after a hearty breakfast, we headed to the kennels at Appalaches Lodge Spa Villégiature. As we got closer, the howling of the lodge's 70 sled dogs grew louder and louder, and both girls were beaming at the thought of spending time with these beautiful animals. This was going to be a day for the kids, I thought. In fact, dogsledding is an ideal family adventure offering time in the woods with impressive animals. I've never seen my teenagers happier than they were driving the sleds.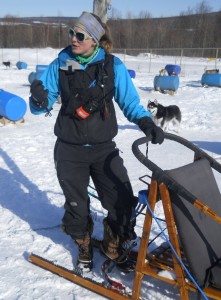 We met Cynthia Lecours, the 22-year-old World Sled Dog Championships competitor, who manages the 70 dogs and the kennel at Appalaches Lodge Spa Villégiature. We were impressed to learn she's been working there since she was 14!  She explained how to operate the sleds, offered some insight into the culture of the dogs and how they would naturally try to dominate the pack by marking their territory.
"You must tell them No pee-pee," Cynthia explained, as that would slow down the sled and could cause a raucous fight among the dogs.
She will teach you how to brake, how to lean into the turns and how to control the dogs. After about 20-minutes of instruction, our family hit the trails with Calli and Cynthia in the lead, my sled driven by Julian, another guide, and Lincoln and Kim Han in the rear. With dogs barking we entered a beautifully wooded trail, and stopped soon after so Calli and I could take a turn at learning to drive the sled. Soon we were off again with wafts of "No pee-pee" coming from Lincoln about every five seconds. This gave Julian a chuckle as he confided in me that the dogs may be having a hard time understanding Lincoln's American accent! A word of advice: learn the names of the dogs in French, then with your best French accent, tell them "no pee pee" and you'll do fine!
We went up and down hills, over bridges and along the beautiful trails maintained exclusively for dogsledding. It was easier than I thought it might be to drive the sled, although I had some help from Julian. Before we knew it we were back at the Lodge, wishing we'd opted for the three hour tour to the top of the mountain.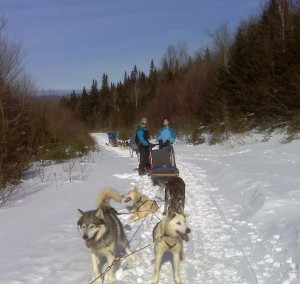 "This is the best thing I've done since Disney," beamed Calli, who is still talking about how much she loved dogsledding! Being able to drive the team and have them listen to her gave Calli an unprecedented sense of accomplishment. "It was harder than I thought it would be," confided Lincoln.  We didn't let on until much later that perhaps the dogs didn't understand his accent! We all agreed that another dogsled ride is definitely on our winter bucket list.
From knot-in-the-stomach thrills to soft adventure perfect for teenagers and those with aging knees, Chaudière-Appalaches is a great vacation destination. The fact that it's largely undiscovered by Americans makes it even better.
When you go

Chaudière-Appalaches: One of the closest tourist regions to the U.S. border, the adventure here can be easily accessed from anywhere in New England via car. The region is named after the Chaudière River that meanders throughout the Beauce region before flowing into the St. Lawrence in Lévis. To the south of the region, bordering the state of Maine, are the rolling mountain tops of the Appalachians in the Thetford, Etchemins, Bellechasse, Lotbinière and Côte-du-Sud regions.   

Appalaches Lodge Spa Villégiature, 1, street de la Coulée, Saint-Paul-de-Montminy (Quebec),Canada, G0R 3Y0. Phone :418-469-0100 or 1-866 661-0106. Approximately 5 hours from Yarmouth, Maine and under 7 hour drive from Boston.  Rates: Winter (Dec 1 – March 31):  Room rates begin at $120Cdn per room (plus taxes).  Dogsledding, Spa, Snowmobile, activity & meal packages are very popular and a variety are available.
Massif du Sud, 1989, route du Massif du Sud, Saint-Philémon (Quebec), Canada, G0R 4A0. Phone: 418 469-3676 or 1 877 869-3676, www.massifdusud.net. Lifts: 1 quadruple Chair, 1 Poma lift of 850 meters. Ski area: 226 acres in total mountainside, 127 acres of trails, 99 acres in the woods (glades), Elevation: 915 meters (3011 feet) the highest ski resort in Quebec. Adult Lift tickets: $55 (with tax).
Mont Orignal, 158, rang Mont Orignal, Lac-Etchemin (Quebec), Canada, G0R 1S0, Phone : 418 625-1551 or 1 877 335-1551, www.montorignal.com. Lifts:  1 six-person detachable quad, 1 poma.  Vertical Drop:  300 meters. Number of tracks – alpine skiing : 23 – 4 easy trails, 4 difficult trails, 13 very difficult trails and 2 extremely difficult trails. Tubing : 3 trails. XC skiing: 5 trails, 15 km on 5 trails. Adult lift tickets: $35 Cdn (+ tax).
Paraski Adventure, road Lambert, Saint-Nicolas (Quebec), Canada , 418 653-0123, info@paraskiaventure.com. Price:  1 day field access: $14.95 Cdn,+ harness and kite rental: $24.95Cdn.
Dogsledding at Appalaches Lodge Spa Villégiature. Rates: (not including taxes, 2 person minimum)
1 hour ride:2 people with guide: $61Cdn per person
3 hour ride: 2 people with guide: $105Cdn per person
3 hour ride with dinner: $118 per person – mountaintop dinner included