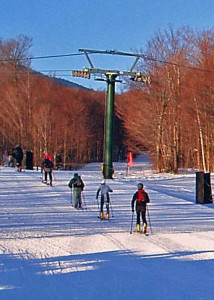 It probably didn't take long after the first pair of skis was invented for the first skier to discover that it was less work to come down hills than to go up. (The first ski race obviously didn't happen until after the second pair of skis hit the snow.) There things stood for the next 6,000 years or so until the 20th Century, when all sorts of devices for carrying skiers to the tops of hills (rope tows, platter pulls, handle tows, t-bars, chairlifts, the skimobile, a tramway, bubble chairs and gondolas) were installed on various slanted fields and mountain peaks across New England. (To see just how many and how varied these options were, go to the New England Lost Ski Area Project webpage.)
More and more skiers and snowboarders are returning to the very ancient roots of the sport using "skins
" made of synthetic materials on the bases of their skis to climb up hills before they ski down. Telemarks skiers can do it easily with the same skis, Telemark boots
 and free-heel ski bindings
they use for skiing from lifts. Alpine Touring (AT—also called "randonée") skis with special Alpine Touring ski boots
and Alpine Touring ski bindings
that let you lift your heel for climbing or lock it down for making turns coming down. Even snowboarders are getting in on the fun with split snowboardswhich separate into two halves (effectively becoming skis—imagine that!) to climb the hills, then clamp back together to become a snowboard for the ride down. Like AT bindings, split snowboard bindings
 let you climb hills easily with a free heel, then lock down for descending. Just add adjustable ski poles
So why is "earning your turns" suddenly the hottest trend in skiing these days? Why would you want to sweat and tire yourself out by skiing up a slope when you could effortlessly ride a lift? Because you can, of course.
Restoring Balance To The World By Skiing Uphill
Here's the issue as most Uphill aficionados see it: ski lifts create an imbalance. If you ride a lift up a hill, you get the thrill (the adrenaline rush) of sliding down without the work of going up. But you also miss the beneficial exercise (and the endorphin high) that comes from a sustained climb. Go uphill under your own power, and you get to experience the adrenaline rush on top of the endorphin high. Balance is maintained—and you and the world are healthier for it. Oh, and by the way, it's also a whole lot of fun.
Of course there's also the fact that ski slopes are sometimes crowded, and that powder stashes can be hard to find even in the woods at lift-serviced ski hills. AT and Telemark skis and split snowboards open up new worlds for skiers and riders. Any slanted landscape can become your personal, private powder playground IF there's enough snow.
And there lies the rub. Sometimes, the only places with deep snow are ski slopes where snowmakers work their magic. At other times, a thaw-and-refreeze or rain-and-refreeze can mean the only skiable snow is where the groomers have sliced, diced, and smoothed the crust into uniform corduroy.
Then there's the safety factor. If you are just learning to handle skinning uphill and descending among the trees, it's safer to learn where ski patrol can toboggan you off the hill if something goes wrong.
The upshot of all this is that a lot of uphill skiers spend at least part of their winter skiing at lift-serviced ski areas that have snowmaking, grooming, and Ski Patrol.
Uphill Travel Etiquette at Ski Areas
Before we talk about the Uphill Travel Policy at specific ski areas, we should probably pause a moment and consider the etiquette of uphill skiing at ski areas in general.
In the backcountry, you can do what you want, but on the slopes of a ski area, uphillers are coloring outside the normal lines and need to be very aware of the rules at that particular ski area. Common sense and common courtesy will go a long way toward insuring that uphillers will be welcome in the future. Uphillers also need to take extra care for their own safety and the safety of others on the slopes. Remember, ski areas have the right to kick anyone off their slopes for any reason at any time. If you're a good citizen of the slopes, that's less likely to happen to you and those who follow your uphill tracks.
1) Get permission to travel uphill. Some areas won't allow uphill travel at all, some have set policies (see below), and others will let you play but don't have a formal policy. When in doubt, stop at the customer service desk or ski patrol and ask before you start up.
2) Stay to the sides of the trails as much as possible when climbing. The less obtrusive you are, the more likely that you and other uphillers will be welcomed back.
3) If the ski area designates specific uphill routes, always stay on them.
4) Don't climb on closed terrain (note: it's your responsibility to check which trails are open — that may not be clear when climbing up, since the "closed" ropes are put at the top of trails, not at the bottom.)
5) Always be aware of traffic coming down the hill at you. This is especially true if you are crossing a trail. Do not stop in an area where you are obstructing a trail or are not visible from above. Also, most uphilling is done on beginner or easy intermediate trails—which means the people coming down the hill at you may not always be in perfect control.
6) Generally avoid climbing on steeper trails. Even with skins on, climbing a steep trail might mean you have to switchback (cut back and forth across the fall line) making yourself more vulnerable to anyone descending from above. If you have options, choose longer, less-steep trails. (Hint, they are usually more pleasant to climb anyway).
7) Avoid grooming and snowmaking operations. (The cables for winch cats are particularly dangerous as they can be buried under the snow and suddenly snap up.)
8) Follow any directives from ski patrol or mountain staff.
9) Only use equipment with ski brakes or leashes.
10) Be a good customer. Ski areas are businesses and all that man-made snow you are enjoying cost a lot of money and manpower to make. If the area lets you ski uphill for free, stop in the base lodge after your runs and spend a few bucks to replace the carbs you burned (beer, burger and fries in the bar is the traditional option, but hot cocoa and cookies will work, too.) When your ski bases need a full grind, take them to the shop in the base lodge. At Jay Peak, head for The Pumphouse to relax after skiing!
Uphill Policy At Eastern Ski Areas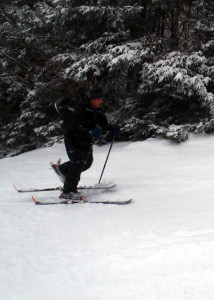 Not all ski areas welcome uphill traffic on their slopes. Some forbid it completely; some regulate it tightly; some don't have any rules at all; and some just pretend uphillers don't exist. We asked ski areas across the northeast how they regulate uphill traffic. Some responded, many didn't. Here's the Uphill Travel Policy at ski areas and resorts in the northeast; whenever possible, we've linked directly to the Uphill Travel Policy on the website:
Uphill Travel Policy at Ski Areas in Connecticut
Mohawk Mountain: Uphillers are welcome and do not need to purchase a lift ticket. Certain trails are restricted.
Powder Ridge: Uphill allowed with park pass.
Ski Sundown: Allows Uphilling "mid-week, non-holiday, first thing in the morning (9:00 is open) WITH A MANAGER'S APPROVAL for that day.  There could be things going on during a particular weekday that we would have to say no on that given day. The person also must buy a ticket for the day as they can't be on the mountain without a ticket."
Uphill Travel Policy at Ski Areas in Maine
Bigrock Mountain: Uphill skiing is not allowed.
Black Mountain Of Maine: welcomes uphill skiing, split-boarding & snowshoeing at our resort. No sledding is allowed on the alpine hill. For everyone's safety, we ask that you adhere to the policy as described below:
• Uphill travel during and outside our normal operating hours is done soley at the individual's own risk. Any workers encountered outside normal operating hours are not ski patrol. No rescue services are available outside normal operating hours.
•  Individuals must have a season pass or a day ticket. If you are not riding the lift, you can purchase an uphill day ticket at our ticket window. Participants must sign an acknowledgement of risk agreement before accessing the mountain. This form can be signed at our ticket window for seasonal use.
•  Check the daily trail report 
HERE
 for preferred route.
• Any trail with grooming or snowmaking is closed due to safety conditions.
• You must ensure that you remain visible at all times to downhill skier traffic.
• Management or Ski Patrol reserve the right to cancel or limit these uphill activities for any reason at their discretion.
Hermon Mountain: Uphill skiing is not allowed.
Mount Abram: Allows uphilling with a liability waver and uphill pass. Note, the lifts only turn Thursday – Sunday and vacation weeks. Uphilling is allowed when the lifts aren't turning.
Saddleback: Changes are in the wind for Saddleback. Stay tuned. If they don't open this winter, this may be the ultimate Uphiller's paradise. Or not. It will depend on what the owners decide about public access.
Shawnee Peak: Uphill travel is only allowed during the pre-dawn hours from 5:00 AM and 8:15 AM. on two designated routes for both uphill and downhill travel (Main – Horn – Jack Spratt or Mohawk – Tycoon – Upper Roosevelt – Upper Appalachian).
Sugarloaf: Uphillers are required to have either a season pass or a $10 uphill day ticket. Uphillers must always be visible to downhill traffic, must stay on the designated uphill route, and cannot ski down the mountain before 8:30 (when Ski Patrol completes their morning trail check) or after 4:00pm (when Ski Patrol performs their afternoon sweep). They also offer guided tours and instruction on Burnt Mountain.
Sunday River: Lift ticket, season pass or $10 Uphill Travel pass required. Uphill traffic allowed only on designated routes on open trails during normal operating hours.
Uphill Travel Policy at Ski Areas in Massachusetts
Berkshire East: Uphill policy in development; check in with Ski Patrol for Uphill card, designated routes and hours.
Catamount Ski Area: All Uphill travel prohibited.
Jiminy Peak:  "All uphill skiers must cease uphill travel before the posted operating time for that day.  Jiminy Peak reserves the right to close uphill trails or terminate uphill travel without notice."
Ski Butternut: Uphill skiing is not allowed.
Wachusett Mountain: Early-morning ascent routes are left side (facing uphill) of Ralph's Run and Conifer Connection. Uphill traffic MUST stop once the lifts open for the public (Could be as much as 15 minutes before stated opening times).
Uphill Travel Policy at Ski Areas in New Hampshire
Abenaki Ski Area: Allows uphill traffic on trails other than main trail during operating hours.
Attitash Mountain Resort: Uphill skiing is not allowed.
Black Mountain: Allows uphilling from sunrise to 4pm. A $10 uphill day pass or $99 Uphill season pass is required.
Bretton Woods: $21 Uphill ticket required; Uphill travel on Range View Trail during operating hours only.
Cannon Mountain: Uphill allowed with a $9 "Skinning Ticket" on designated routes during operating hours only.
Cranmore Mountain: "Cranmore encourages uphill travel, and wants to make sure guests traveling uphill are doing so in a safe manner.  During operating hours, uphill travel is permitted on all open terrain; two hours prior to opening, travel (ascending and descending) is permitted on Beginner's Luck, Gibson and Easy Street (click here to view trail map).
Uphill travel prior to opening is done solely at the individuals own risk. There are no rescue services available at this time.  
Cranmore now offers two uphill pass options.  A skinning day passes can be purchased for $20 at the ticket office during business hours and an Uphill Season Pass is available for $179. $20 from each season pass sold will go directly to the Granite Backcountry Alliance.
Crotched Mountain: Uphill traffic allowed from dawn to dusk. Uphillers must purchase valid season pass or day lift ticket.
Dartmouth Skiway: Uphill allowed with $5 Day Use Ticket, only during regular operating hours. Check at ticket window for designated routes for that day.
Granite Gorge: Uphill allowed only during operating hours. Uphillers must have a lift ticket or season pass.
Gunstock Mountain: With the purchase and display of a Nordic Trail Pass guests are allowed to skin/ climb Nordic Trails (Rowe's Revenge, Try Me, the Ridge, & Roller Coaster) to access and descend Alpine Terrain during normal operating hours.
King Pine: Uphill travel allowed and a season pass, alpine or nordic ticket required to access trails during operational hours. Additional uphill policy requirements posted on website.
Loon Mountain: Lift ticket or $20 Uphill Pass required. Uphill travel on designated routes only, starting 2 hours before opening.
Mount Sunapee: Uphill Travel not allowed until January 5. Lift ticket, season pass or $49 Uphill Season Pass required. Uphill Travel is permitted ONLY between 7:00am and 9:00am and between 4:30pm and 9:00pm during non-holiday periods.
Pats Peak: Unlimited access on designated routes except when groomers or snowmakers are working.
Ragged Mountain: Season pass or $10 Uphill ticket required. Uphillers must sign in at Customer Service. Uphill travel allowed only during normal operating hours on designated routes for that day.
Waterville Valley: Uphill policy written in lawyerese. Translation: all uphill travel prohibited except on the Mount Tecumseh hiking trail; downhill access to ski trails only with lift ticket or season pass.
Whaleback: This non-profit community corporation asks that Uphillers be cognizant, careful and considerate of other skiers and riders and workers on the slopes.
Wildcat Mountain: Uphill access to Wildcat Mountain by hiking, skinning, snowshoeing or any other manual ascent is given only after a trail pass ($10) or lift ticket has been purchased for the day or with a valid season pass. Users of facilities do so under NH statutes S225-A:24 and RSA 637:8. The tickets carry WMSA liability waiver. When ascending Wildcat Mountain, the designated uphill route (map here) is Stray Cat to Middle Polecat to Catnap to Upper Polecat and will be identified and posted in the main base lodge at the ticket counter. Use of the mountain during the winter operating season is prohibited outside of regular operating hours.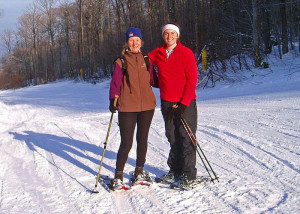 Uphill Travel Policy at Ski Areas in New York
Belleayre Mountain: All Uphill travel prohibited.
Catamount Ski Area: All Uphill travel prohibited.
Gore Mountain: All Uphill travel prohibited.
Maple Ridge: Uphillers must have lift ticket or season pass and stay to sides of trails
Plattekill Mountain: Uphill allowed with lift ticket. Check for designated uphill route for the day.
Titus Mountain: Uphillers are required to have either a season pass or an uphill day ticket. Uphillers must always be visible to downhill traffic, must stay on the side of the trail, and cannot ski down the mountain before 9:00 a.m. or after 4:00pm.
Windham Mountain Resort (scroll down to see Uphill Policy under Additional Ticket Options): Uphill tickets $10 for the day, $25 for a season pass. Uphill travel using skis or snowshoes is permitted during daylight hours only, with any current lift or Up-Hill travel ticket or season pass.
Whiteface: $25 Uphill Season Pass required (free for Season Pass holders). No uphill travel allowed when lifts are operating. Uphill travel restricted to specific routes.
Uphill Travel Policy at Ski Areas in Pennsylvania
Camelback Resort is accessible for skinning during winter operating hours with a valid season pass or a valid all area use ticket. Get permission to travel uphill by stopping in at Ski Patrol. Skinning is not permitted outside winter operating hours. Refer to skicamelback.com for daily operating hours.
Uphill Travel Policy at Ski Areas in Vermont
Bromley Mountain: "WARNING! In accordance with Vermont law, a person who takes part in any sport accepts as a matter of law all obvious and necessary dangers inherent in that sport. Your uphill travel (and resulting downhill travel) is at your own risk! Bromley encourages the use and enjoyment of the outdoors. During operating hours, Bromley does not restrict uphill access to any outdoor enthusiast whether hiking, snowshoeing or ski touring. Uphill ski access may occur area-wide however, due to safety concerns, uphill access by foot, snowshoe or skis is restricted to trail edges. Stay clear of all snowmaking and snow grooming operations. Winch cable grooming may be in operation. Closed trails are off-limits. All access outside of the ski area's normal operating hours is closed. This is in recognition of the real danger of skiing in poor lighting conditions and on trails with ongoing grooming and snowmaking. Trails are open to hiking access during non-winter seasons."
Bolton Valley: Uphillers must have an Alpine or Nordic day or season pass during operating hours; no pass required when area is closed. Uphill skinning (no snowshoes) allowed on designated routes only.
Burke Mountain: Free Uphill pass required. Travel recommended during operational hours on designated uphill routes.
Jay Peak: Participants must have a free Uphill Travel Season Pass and identifying arm band. Uphill Travel allowed only on designated routes and only during operating hours.
Killington and Pico: Season pass or $20 Uphill Season Pass required. Check killington.com/conditions for the current status of uphill travel routes.
Mad River Glen: Uphill travel not permitted during normal operating hours.
Magic Mountain: Uphilling is free and encouraged. Magic now offers "Hike One, Ride One" offering. Skin to the top of the summit Red Lift, and receive a token for a free lift ride that same day. (Hooray!)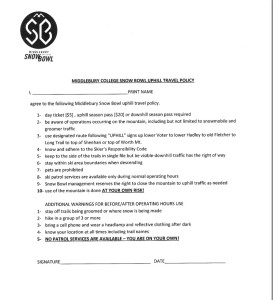 Middlebury Snow Bowl: Uphill allowed on designated route with $5 Uphill day pass or $20 Uphill season pass.
Mount Snow: Uphill Travel Pass ($10/day, $49/season, free for Season Pass holders) is required, travel on open trails only.
Northeast Slopes: Uphillers welcome, check in at front desk.
Okemo Mountain Resort: "During operating hours, we ask that all uphill traffic be limited to beginner and intermediate terrain, be done on the edge of the trail, and remain in a single file line. "
Smugglers' Notch: Allows uphill traffic during specific non-operational times on each of its three mountains.
Stratton Mountain: Uphill allowed on designated routes. Uphilling during non-operating hours is not recommended.
Sugarbush: Hiking or skinning is permitted once the mountains are open for the season, before and after operating hours at both mountains on designated routes. All uphill travelers must obtain a free Uphill Travel Permit online, or in person at Guest Services at Lincoln Peak. Visit the Winter Uphill Travel Policy at www.sugarbush.com for full details on the policy and route info.
Suicide Six: Does not allow Uphill travel at this time
Uphill Travel Policy at Ski Areas in Quebec
Bromont: Uphilling is not permitted.
LeMassif: Uphill traffic forbidden during operating hours on lift-serviced terrain. But a separate mountain, Mont Ligori, is entirely dedicated to Cat skiing and Uphilling. For the full story, go here.
Mont Orford: Now offers a daily uphill pass for $7 and a season pass for $50. Some of the uphill routes are in the National Park and require an additional park entry fee.
Mont Ste. Anne: NEW this winter: 2 dedicated trails to get to the summit, 1 on South Side and 1 on North Side. More details to come.
Mont Sutton: Sutton is offering an alpine trail circuit (available during operating hours only) with three exits to skiing terrain: one for beginners, one for intermediates, and one for experts, with three possible exits on skiable terrain.  The daily ticket will be $10 +tax (CAD) and the skiers will be able to repeat the circuit as many times as they want during the day. The $50 +tax (CAD) "rando-ski" Season Pass, gives access to the full circuit all season.
Owl's Head: Once one of the leaders in the uphill revolution with a designated Uphill route for both recreation and racing (and some spectacular backcountry skiing that could ONLY be accessed by people who can ski Uphill, Owls Head no longer allows skinning and has closed it back bowls. Sad.
Tremblant: Has Uphill day passes ($9.99) and season passes ($39.99) for uphill travel on designated routes. They also sponsor an Alpine Touring Festival and offer all-inclusive packages including high-end rentals and guided tours.