Editor's Note: EasternSlopes.com's Associate Editor Jonathan Gourlay and his wife Laura and kids Ethan (17) and Becket (15) decided to splurge last winter and leave behind  their little home mountain and make the pilgrimage to one of the great shrines of Eastern skiing: Le Massif de Charlevoix in Quebec. You can read Part 1 of the story here.
Over the (St. Lawrence) River and Through the Woods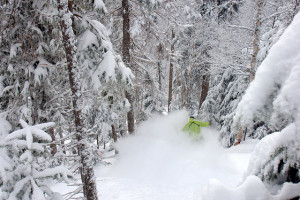 Quebec's Le Massif de Charlevoix was an obvious choice for a family ski vacation because it offers true big-mountain skiing on a variety of trails for all abilities, with  fast modern lifts, affordable luxury accommodations (no, that's not an oxymoron) and fine food both on and off site. But, for me, it was the guided tree skiing at Le Massif that sealed the deal.
I love skiing among trees. One of the attractions at any mountain, for me, are the lift-accessed glades. The trees hold on to snow well, often hiding powder for days when the rest of the mountain is tracked out. And when it's cold and windy, trees offer shelter from the bitter gusts that scour the open slopes. And there's something about making focused, syncopated turns through a silent forest that just sets a skier's heart soaring. Le Massif offers a treasure trove of lift-serviced glades (a dozen are identified on the trail map), that I couldn't wait to explore.
But the real attraction was the 99-acre off-piste playground management opened up in 2008 on Mont-Liguori. Not only is all that acreage open to those willing to climb for their powder turns, Le Massif offers guided tours to those who'd rather ride to the drop-in point in comfort. Patrons pay $69 over and above the day ticket for a cat ski shuttle, breakfast, and a guide who knows where the best snow is. If you're going to hoof it yourself, all you need is a day ticket, a couple of friends to do it safely, and some common sense. "Le secteur hors-piste" is a nice addition to the mountain, especially since alpine-touring is rapidly gaining in popularity. It expands total skiable terrain at Le Massif to 406 acres. And an average annual snowfall of 21 feet keep the tree nuts like me happy.
In the weeks leading up to our trip across the border, I'd obsessively watched the Le Massif website for snow reports, hoping for deep snow in their woods. As we in New England got hammered relentlessly during one of the snowiest late winters in recent history, Le Massif wasn't sharing in the bounty. But I needn't have worried; they had been hit early and hard, and the intense cold of the winter of 2014-2015 ensured anything that fell since November was still sticking around for a while. And —BONUS—they got half a foot of fresh just as we set out to drive there. Their woods were certain to be in great skiing shape.
Exploring the Mont Liguori Backcountry: Guided Tree Skiing At Le Massif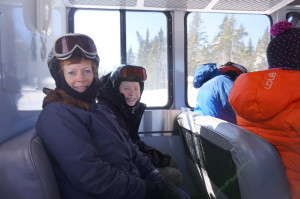 As a confirmed tree-skiing addict, I signed up for a morning of guided turns in the trees on Mont Leguori. I confess, that I was going to cheat and ride the snowcat. But I learned the afternoon before the adventure that I was the only paying customer crazy enough to venture out on a windy day when temps were forecast to be in the single digits. It just didn't make sense to run a cat for one skier and one guide, so I had a tough choice: Settle for more lift-serviced fun or try skinning. I voted for the latter and was introduced to Jack Lemieux, who has 25 years of experience guiding in the backcountry. He set me up on a pair of skis with AT bindings and we agreed to meet the next day.
In the morning, knowing I had a tough day ahead, I took full advantage of the tremendous variety of breakfast choices at Les Labours, Germain Hotel Charlevoix's restaurant, to fuel up for my adventure. Then, Laura, the boys and I met the ski train downstairs with our gear on another crystal clear and cold morning. Once again, the transfer from hotel to train to gondola went smoothly and we were whisked to the breezy but sunny summit.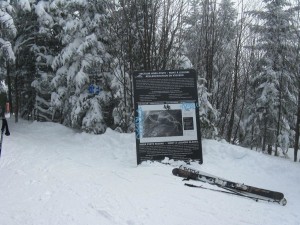 From there, Laura and the boys headed out for their day on the slopes while I met Jack at the ski school building. He explained that we would ski down a blue called La Desjardins to the Camp-Boule Express high-speed quad to get higher up on the ridge to begin our morning trek. The warm-up run also meant Jack could evaluate my ability and give me the chance to feel out a pair of fat powder skis I hadn't been on before.
After reaching the top of the lift, we loosened the cuff buckles on our regular Alpine ski boots, and I followed Jack's instructions on placing the skins on the skis. Skins are hooked to the tips of the ski, then carefully stretched down along the bases where a tacky glue keeps them from sliding on the bases without transferring to the bottoms. A clip then stretches tightly over the tails of the skis. I had read about using skins and noted the importance of keeping them clean and centered on the ski bottoms.
Then we clicked into our skis with the bindings set to walk mode, started off and were quickly skinning up a previously boot-packed route that was more staircase than slope. The exposed surface, at least on the "skins" I was using, was a synthetic "fur" of microfibers. The forward ends of the tiny fibers are embedded in the skin material while the opposite ends are loose and face back. Think shag carpeting with the shag smoothed down flat and facing in one direction. As you slide forward, the fibers lay flat against each other. When the slightest backward slide occurs, the fiber ends dig in and keep the ski stable on the snow. The key is to make sure you don't lift the skis off the surface, or snow will pack in between the fibers and mess up the works. Keep the skis flat, and the snow stays where it should: on the trail. I had to remember to keep pressure balanced between my toes and heels on the ski that wasn't being moved forward so the skins could do their thing efficiently; it's easy to just put pressure on your toes, and you won't engage as much of the skin. It took a little getting used to.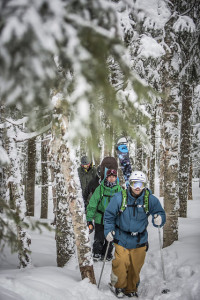 About 20 minutes of intensely-aerobic climbing along the edge of the boot-stomped trail brought us to the top of the ridge and our first choice of routes down through the trees. Two are steep, really steep—one with a pitch of 52 degrees. Remember this was my first time on unfamiliar AT gear, and I was already short of breath from the aerobic challenge of gaining altitude, so I readily deferred to Jack's recommendation that we should slide farther along the ridge to get to the third route, which offered somewhat more modest pitches. Plus it offered plenty of options to regain altitude after an initial plunge among the maples, beech, and spruce that covered Mont-Liguori. And another big plus, we were completely protected from the wind.
At the top of this third route, we removed our skins carefully, folded them up and tucked them into interior jacket pockets so body heat would keep the glue soft and sticky. Then we buckled our boot cuffs and set our bindings to ski mode to lock down our heels. Jack led the way, turning effortlessly through the modestly spaced trees. Then, I pointed them down, keeping him in sight off to my right. We alternated between finding untouched snow and crossing patches of "chowder" cut-up by other skiers, all of it fluffy and light thanks to the cold temps. But make no mistake, even in single digits, this workout had me opening the vents on my jacket to let the heat escape!
Here's the thing about trees: There's something other-worldly about descending on snow through the woods. Do it right, and it produces a sublime joy I've rarely found in other endeavors. You feel like you are alone in the world and completely immersed in nature. It's a sort of physical poetry, a completely different experience from sliding on trails that have been cleared of obstacles. When I find my rhythm between the trees, I reach a place of total engagement, peace, and complete attentiveness to the moment. It's ski Nirvana.
We probably descended 500-600 feet of vertical, and stopped to hydrate, rest briefly, and have Jack give me a few pointers: Reach farther down the fall line with your pole so you're more compact and better positioned for each tight turn, look a few turns ahead, and don't ski past your guide unless you want to have to climb back up!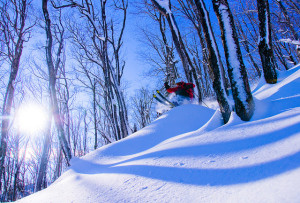 We reached a long runout, loosened our boots and reapplied the skins for a cool-down level march before making another ascent. I'm not sure if this second climb was actually steeper than the first, but it sure felt like it! I had to concentrate on sliding the skis forward and keeping weight on my heels. About two thirds of the way up about 300 more feet of vertical, I knew this would be my last ascent for the day. And it worked out just fine. The climb got us another 600-700 vertical feet of additional tree skiing and enough grins to last the season before we popped out of the trees. From there, we followed a narrow trail — more of a drainage — that skirted a gulch so we could glide back to the gondola base station. What a great experience on a cold day!
If you aren't familiar with skiing backcountry, guided tree skiing at Le Massif is the perfect introduction. Having a guide who knows the territory is worth its weight in gold — no worries about getting lost, or suddenly finding yourself at the top of something unskiable and wasting time and energy getting around it. And there's another safety factor. Skiing in the backcountry is best in a group of three or four. If one gets hurt, one skier can remain behind with the injured person while while the others get help. But not everyone has two or three friends who want to try the backcountry. In our case, we were only two but Jack had a radio that connected us back to the ski school, and he checked in occasionally to let them know we were safe. It was a great day…but there was more to come!
Read About Le Massif's Sledding Adventure
Read About Germain Hotel Charlevoix's Amazing Food and Other Amenities
Read About Le Massif de Charlevoix's Ski and Snowboard Experience for all Levels