From time to time, it's nice to see how the other half lives.
After years of couch-surfing and putting up with cramped accommodations, brown-bagged peanut-butter-sandwich-and-carrot-stick lunches, and kitchenette-cooked pasta dinners, our quartet decided to seek out a more exotic ski vacation. It was time to head to nearby Quebec and visit Le Massif, a place I'd always wanted to go because of its reputation as a hard-core mountain with challenging steeps.
Much has changed since the days skiers at Le Massif started at the edge of the St. Lawrence and had to ride a school bus to reach the top. Expanding its well-deserved reputation as a true skier's mountain, Le Massif has become an all-abilities snow resort in every sense of the term. Since being purchased in 2002 by Daniel Gauthier, a co-founder of Cirque du Soleil, Le Massif has added beginner opportunities at the summit with a learning area served by a magic carpet and platter pull, two more high-speed quads, an eight-person gondola with a connection at the base to a light-rail line along the river (more on that later), 99 acres of all-natural off-piste skiing, lodge restaurants serving meals that go well beyond typical ski-area fare, and a 7.5 kilometer sledding adventure that drops almost all 2,600 vertical feet. Yes, a sled trail, and all of it faces the dramatic vista revealed from a ridge towering above the widening seaway below.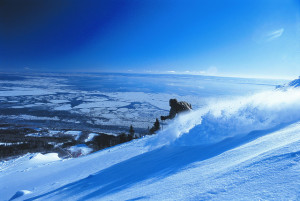 If you want to test your mettle at an area in an "exotic" foreign location with the convenience of being reachable by car, Le Massif is it. It has true double-black pitches (one falls at 64%). Le Massif also rightfully claims consistent snow — and a lot of it — along with guided off-piste skiing and a modern hotel called Germain Hotel Charlevoix just up the river in Baie-Saint-Paul.
Of course, as a husband and father, skiing is now less about testing my mettle and more about the whole family having access to the thrill of the steeps (or, in my wife's case, not-so-steeps) while being coddled at a world-class resort in the heart of one of Canada's most picturesque regions. It didn't hurt that the art- and culture-rich town of Baie-Saint-Paul was also quickly becoming known as Canada's centre de gastronome. Hey, priorities change.
Our two boys, Ethan (17) and Becket (15) had school vacation the last week of February, so we made reservations for Thursday, Friday and Saturday nights at Germain Hotel Charlevoix,  a luxury hotel with all the amenities (who says you have to stay at no-tell motels all the time?), And, best of all, we wouldn't have to drive to the mountain.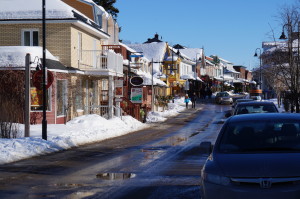 For a little more than a half hour on the drive northeast of Quebec City, Route 138 hugs the seaway before it begins a steady and dramatic climb into the Charlevoix. We quickly left civilization behind and didn't see it again for most of the drive until we crested the ridge and began our descent into Baie-Saint-Paul.
Germain Hotel Charlevoix was built in 2007 as La Ferme, a 145-room hotel complex in five free-standing buildings on the site of a former massive dairy farm. The thoroughly modern design is a collection of stacked glass and steel containers. Call it Bauhaus meets futuristic Danish with a decidedly Quebecois flair. Many of the old timbers from the dairy barn that once stood on the site have been incorporated in the construction, and accommodations range from spacious loft rooms (1-2 guests) and junior suites (2-4) that start at $379 per night to double-occupancy guest rooms (2-4) from $249, all appointed with attention to the finest details like thick pillow-top beds, slickly designed baths, and comfortable seating.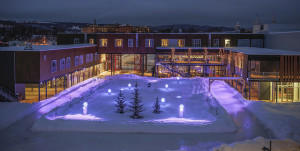 But here's the really neat thing. You can book a single bed in a four-person dormitory room for $85. The dorms are as carefully appointed as the suites, and each bed comes with a spacious locker in the room's entryway to keep all your stuff secure. Two of the beds in each dorm room are Murphys, and lightweight sectional furniture is easily moved around to configure in different ways. And the bath floors? Heated. This is luxurious ski-dorm living, and keep in mind these are Canadian dollars we're talking about. On top of this, downstairs there are ski lockers — each with a set of boot and glove drying outlets connected to a central system. And the locker room is just inside the train station. Yes, the train station.
By Train To Le Massif
Le Massif operates a light rail system between Baie-Saint-Paul and Le Massif during snow season (extending from Quebec City to Malbaie, just up the river another hour and a half from the Germain, in summer and fall). It makes getting to the mountain and back incredibly simple. Dress for the day, either boot up at the hotel or at the mountain (or on the train), hop onboard with your gear and enjoy a spectacularly other-worldly half-hour ride ($20/adult round trip) along the edge of the St. Lawrence to the base of Le Massif. The river was frozen solid the first day, boulder-sized chunks of jagged sea-and-river ice bursting up out of a thin haze as the rising sun bounced off glassy surfaces between. The landscape beyond the large glass windows was like nothing I had seen before. On the north side of the train for most of the way the ridge rose dramatically, its steepness hiding the mountain beyond, barely visible if you pressed your nose against the window.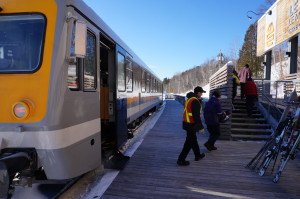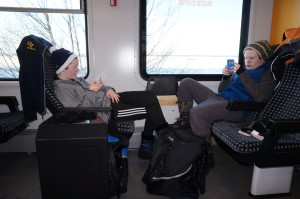 In 35 magical minutes we arrived. When we disembarked we were handed our skis by the friendly conductor and walked up a small ramp to a transit gondola for a short jaunt over the river road and to the base of Le Massif where we boarded the new high-speed eight-passenger gondola for the fast ride to the summit.
On the train, I had thought the view of the river was spectacular at just 10 feet above sea level, but at 2,600 feet it's astounding. At the base, the river looks big, wide, and this time of year like the surface of some frozen planet from the mind of Isaac Asimov. But at the top, something drove me to jump out of the gondola and get my skis on as quickly as possible, not to take off down the hill, but to glide over to the crest of the summit to take in what I knew would be a mesmerizing view. It seems unfair to call the St. Lawrence a river here, it's more like the narrow end of an inland sea. Look at a map; once you head east of Quebec, the river widens quickly, becomes salty and turns into the Gulf of St. Lawrence. How many rivers can boast whale sightings?
Le Masssif: Slopes and Sliding for Everyone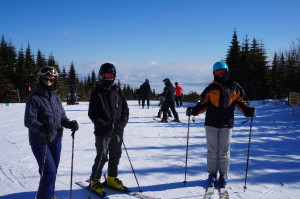 My wife Laura slid over to join me in taking in the remarkable view. She betrayed a bit of trepidation as she asked, "Now, where can I ski?" Big mountains can be intimidating, and I probably didn't help matters in the weeks leading up to our trip by sharing Le Massif's online trail map with its generous helping of black diamonds sprinkled liberally over its western half and what seemed only a handful of greens. I'd been characterizing it as a place I'd always wanted to go, and that means only one thing to my wife: scary steeps and woods.
But I assured her Le Massif had everything and to prove it we skied over to a gentleman standing near the big summit trail map. He gave himself away as a person in the know by the large question mark on the back of his ski jacket,the uniform of a mountain host . "Bonjour, javais un question," I said with a terrible accent in my long-unused French. The man smiled, and in perfect English asked, "What can I answer for you?"
I explained that my wife is a solid intermediate who likes a consistent surface and a wide-enough slope to feel comfortable, and he pointed out La Petite-Riviere, a blue which dropped right in front of us to the gondola base, paralleling the lift line. It was perfect, pitched for her ability and providing enough space and pitch for my sons and me to carve wide fast-speed sweepers across its generous breadth. The only thing none of us realized, though, was that it kept that pitch for the entire run to the gondola's "mid" station, probably 1,800 vertical feet without a break. That's a lot of hill when you've been skiing a home-town area with just 1,030 vertical total all season. It was great fun, but unless we paced ourselves, we'd be beat by lunch.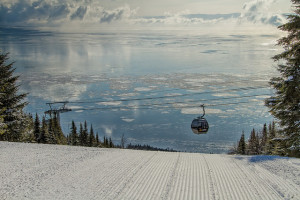 Le Massif does a brilliant job of mixing its one third of intermediate terrain in and among many of its blacks, which make up more than half the total terrain. A family of different levels of ability can easily ski the gondola all day without becoming bored. It's a big mountain in vertical, testing stamina and skill when you want it to. There's also the Camp-Boulle Express quad to the resort's east that services black diamonds and blue intermediate runs as well as a couple of nice expert glades. Novice skiers can also take advantage of this area, which stretches down just short of half the mountain's vert. And one of the brilliant things that Le Massif does — and in my opinion not enough resorts do — is offer beginning skiers a way down from the summit to the base on a couple of major routes, including La Couleé, which winds for more than three miles top to bottom for a relaxing slide.
But if the steeps are your passion, there's plenty at Le Massif to keep you coming back for more. The western end of this south-facing resort is all expert all the time. There are a few intermediate trails tossed in, but at the extreme edge of the resort, the Maillard Express quad (open only on Saturdays) keeps things a bit segregated in an area where black paint is plentiful and reserved for trails that deserve it. In 2001, management built a pyramid of rock and dirt on top of the Cap Maillard, the resort's westernmost peak, increasing the vertical by 115 feet to create La Charlevoix, the canvas for an FIS-approved downhill course designed by Bernhard Russi. Trails like La 42, La Charlevoix (64% pitch at one point), and Le Muir will at the very least keep the best skiers on their toes.
Ethan, Becket and I could play on the steeps to our heart's content, occasionally joining Laura for something gentler. She was happy, we were happy, what more could you ask for from a family ski vacation? A lot, it turns out…(to be continued).
For more on what Le Massif has to offer:
Read About Le Massif's Off-Piste Playground
Read About Le Massif's Sledding Adventure
Read About Germain Hotel Charlevoix's Amazing Food and Other Amenities