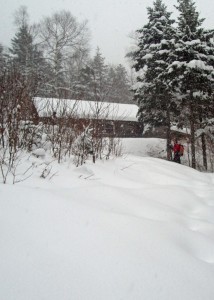 In "Into The Wild," author Jon Krakauer uses the story of Chris McCandless, who starved to death in the Alaska wilderness to explore, among other themes, why some people (usually young males) are drawn to take extreme risks. It's a book worth reading.
One point Krakauer makes clear: risk-takers often don't seem to be aware that they are taking risks. They approach risky situations completely unprepared. This, sadly, is frequently proven in real life.
Case in point: Tuesday evening, December 30, 2008, two 18-year-old hikers were rescued by New Hampshire Fish and Game Department Conservation Officers from the slopes of Black Mountain in New Hampshire. Here's the press release verbatim. (As humorist Dave Barry would say, "I am not making this up!")
"Dean Cooper and Pasquale Digiovangiacomo Jr., both age 18, of Cranston, Rhode Island, had set out at approximately 12:30 pm on Tuesday, intending to hike up and spend the night at the U.S. Forest Service's Black Mountain cabin in the White Mountain National Forest in the area of Jackson, N.H. The inexperienced hikers were wearing regular work boots, not insulated hiking boots. They abandoned some of their gear, including lightweight sleeping bags and kindling, about 300 meters up the trail. The young men arrived at the cabin at about 3 p.m. and were surprised to find that the cabin was not equipped with blankets or other amenities. (The White Mountain National Forest website clearly states that the rental cabin is "rustic" and users are expected to carry in all their own gear, bedding and water.) They tried to get a fire started in the cabin woodstove, but were unable to get it going. Cold, wet, and facing the prospect of a night with little protection from the cold, they called for help about 6 p.m.
Two Fish and Game Conservation officers, Brian Abrams and Bradley Morse, hiked in to assist them, bringing along insulated hiking boots designed for winter wear, which were loaned by the Eastern Mountain Sports equipment rental program. Morse, a paramedic, determined that the young men's feet were not frostbitten. They were provided with dry socks and the boots, and accompanied down the mountain by the COs, reaching the trailhead at about 11 p.m."
Rumor has it that the two wheeled their gear to the cabin in airline luggage and were carrying their sleeping bags and some kindling (complete with nails) in a laundry basket . . . no wonder they abandoned it.
New Hampshire Fish and Game has the authority to make unprepared hikers pay for the cost of their rescue. They've simply been waiting for the right opportunity, which these two adventurers may have provided. It was a cheap rescue, and it's certainly hard to imagine anyone more unprepared for a winter overnight.
Still, you have to admire the drive that sent these two out into what for them must have seemed to them a howling winter wilderness. For all the mistakes they made, at least they tried something.Of course it would have been better if they'd been prepared. But they survived and, I'm sure, learned a harsh lesson. Had they stayed in that unheated cabin all night, they almost certainly would have suffered frostbite—or worse.
I, for one, hope that they lost their innocence but not their desire. I'm hoping they sign up with a good wilderness education program such as the ones offered by the AMC, the Green Mountain Club, or others and spend the rest of their lives safely exploring.
A Different Approach To Planning A Black Mountain Cabin Overnight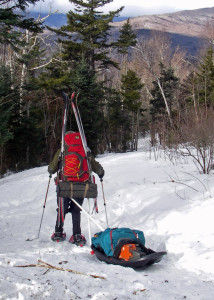 This misadventure captured my attention because four of us from EasternSlopes.com had rented the very same Black Mountain Cabin ($20/night) for two nights, January 3 and 4, 2009. That was just four days after the rescue.
We'd already spent weeks gathering information, planning and debating every detail of our trip, the menu, and every item of clothing and gear, including big, well-fitted backpacks, a pulk (a sled with a rigid pulling harness that attaches to the waistbelt of a backpack for carrying even more gear), sleeping systems, stoves, pots, pans, lights, everything. Planning is part of the fun.
The AMC White Mountain Guide lists the hiking time for the trail ("moderate grade,") as an hour and 15 minutes. That's on bare ground. With full winter gear, heavy packs, on snowshoes, pulling a pulk, we figured two hours or more, so we planned an early start to give us plenty of daylight to cut wood and get settled in. Allowing yourself a little more time than you need is ALWAYS a good idea, but especially so in the short days of early winter. You can read a full account of our Black Mountain Cabin Adventure which, for all our careful planning, still threw us some cirves.
Last winter, David and I had a "Real World" experience when we got a late start on a longer hike and ended up scrambling to get our tent set up and wood supply secured before dark. It was fun, but more of an adventure than we'd originally anticipated. Mistakes do that to you.
In winter, especially, we wanted to be a little over prepared, have just a little too much of everything:  time, clothing, gear, food, fun. Oh wait, there's no such thing as too much fun, is there?
The Rental Option
As the rescued hikers probably discovered when they wore the boots down from the cabin, renting quality equipment from a trusted source is a great way to insure you have what you need to be safe. I'm most familiar with EMS, but IME and other independent shops are good options and the AMC has gear available at The Highland Center for its guests who want to expand their adventures.
If you don't have the gear you need, and especially if you don't KNOW what gear you need, check with a good outdoor shop before you get yourself into trouble.