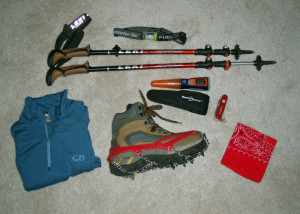 The start of winter is a dangerous time of year for Active Outdoors enthusiasts and the people who love them. No, we're not talking about weather that can change in a heartbeat, or icy trails, short days, or the other usual culprits that put people at risk at this time of year.
The real problem is that shopping season is in full swing, and anyone who is contemplating buying a gift for an active outdoors enthusiast is putting themselves in real danger of getting it wrong. You can either buy something that isn't outdoor related and watch them try to think of something polite to say ("What a lovely new tie!").  Or, you can buy something outdoorsy—with the attendant potential for getting it wrong. The safe option is a gift card to an outdoor shop—but sometimes it's fun to really surprise them with something they will use often and think of you every time they do.
There's a flip side, too.  Active Outdoors enthusiasts who buy "agenda gifts" to try to encourage non-believers to get more active are walking on dangerously thin ice (trust us, we speak from experience on this). If you are going to buy an outdoorsy gift for someone, make sure it's something they, not you, would like.
Here at EasternSlopes.com,  we get to test a whole bunch of new gear (heaven for a gear junkie). And, we have lots of long-proven gear as well. So here are our carefully considered suggestions to avoid gift-giving disasters. Chances are, most Active Outdoors enthusiasts would use and enjoy these and picking them isn't as difficult as choosing something highly specialized like a tent or backpack or skis.  And, for the AO enthusiast that wants to subtly  encourage someone to get out there, some of the items are "everyday life friendly"; who wouldn't appreciate a way to keep bugs away, or a light they could carry in the car and use in their hands or on their head?
Remember, a good Active Outdoors gift will remind the recipient that life isn't a spectator sport. And, it might encourage them to get out and enjoy!
One-Size-Fits-All Gifts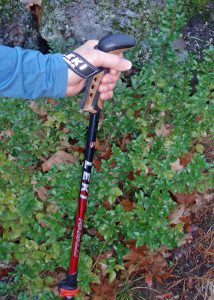 Trekking Poles ($50 to $120): If the active outdoors enthusiast you are gifting is still using old ski poles for hiking, or isn't using poles at all, consider giving a pair of modern, adjustable trekking poles. It's hard to describe how much difference they can make. When the going gets rough or slippery, they are a remarkable aid to balance,  saving you from many a fall. On long downhills they help ease your knees. They can serve as an emergency tent poles and fishing rods. And when you don't need them, they collapse down and ride on your pack (or in your car). There are many poles on the market and all of them are better than old ski poles. Our personal favorite is the Leki Corklite Makalu Ultralite ($120). They aren't cheap, but they have comfortable, versatile grips, an easy-to-use external locking system and snow baskets are a cheap ($8) add-on.  A great budget choice is the Gabel Mont Blanc Lite($75), which has external locks and includes snow baskets.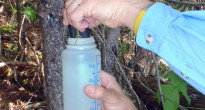 SteriPEN ($50-100): Safe drinking water is essential for all outdoor activities. All untreated water sources are suspect and can carry a host of diseases. You have two choices when playing outdoors: either carry the water you need or treat the water you find. Of all the water solutions we've tried, the SteriPEN is the lightest, most compact, and easiest to use. It takes just moments to purify a liter of water with the ultraviolet light. Instant safe drinking water from almost any source, anywhere!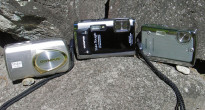 Olympus Stylus Waterproof Camera (100-$250) The newer ones cost more, the older ones still work. Taking pictures make any outdoor adventure more memorable and these are wonderful cameras for taking along anywhere they can get wet, and the newest models are shockproof as well..
LED Headlamp: ($15 to $50): The most useful, versatile light we've found  for the outdoors in general and especially for the long nights of cold-season camping is an LED headlamp which uses 3 AAA batteries. It's the perfect balance of brightness and light weight in a compact, economical to run package. Both Tim and David use models from Princeton Tec. Tim uses the new Fuel ($27; )  while David uses the Aurora (no longer made; stay tuned as he tests possible replacements!). There are many other comparable units on the market.
Swiss Army Knife ($20-$50): We've had a Swiss Army knife of some sort made by either Wenger or Victorinox in our pockets almost every day of our adult lives and wouldn't consider going for a hike without one. Choose a basic model like the Wenger Commander ($25) or Victorinox Tourist ($23) or something a little fancier like the Victorinox Camper ($30) or Wenger Traveler ($45). Either way, it'll get carried and used.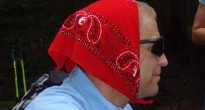 Insect Shield Bandana ($8-$12): I doubt I'll ever leave the house again between April and October without one of these. When the bugs aren't out, it rides in your pocket like any other bandana and serves all the same purposes. When the bugs show up, use it as a headscarf or neckerchief, and the bugs stay away from your face. Protection lasts for 70 washings—give another one for next year!  Of course there's a whole lineup of Insect Shield clothing, too, which we've tested extensively and reviewed; everyone loves socks for Christmas, and what better than a pair that will keep ticks away!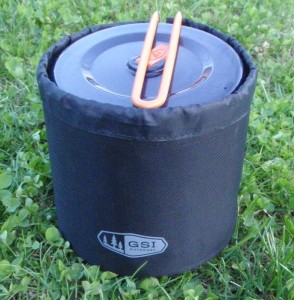 GSI Pinacle Dualist ($60) We find it hard to imagine anyone who plays outdoors who wouldn't enjoy this compact cooking/eating kit for two. It's just plain cute, and very very functional whether you want hot soup on a picnic or are cooking in a backcountry camp.  Pair it with a tiny canister stove and one of those Swiss Army knives that will fit inside it, and you have a totally self-contained system for eating anything everywhere.  We keep it in the car for impromptu picnics; give it to your favorite non-AO enthusiast, and maybe they'll start wanting to picnic farther afield (or, perhaps you can borrow it once in a while…)!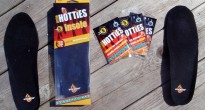 Little Hotties Cushion Insoles ($15 + heat packs): These can be hard to find (they aren't even on their website), but are worth it for any kind of foot travel in cold weather. These are NOT the disposable heater insoles, but a thick, supportive foam insole with a plug where you can insert an adhesive toe warmer and walk, skate, or ski in comfort.
Windbloc Fleece Hat ($20): Fleece hats are good: lightweight, warm, comfortable. But Windbloc Fleece is even better, especially if you are out for a long time. Many companies make windstopper versions. Look at the L.L. Bean Wind Challenger Fleece Hat ($19.50)  as a great example.  Even warmer, the Arctic Shield Fleece Beanie($14) uses a radiant barrier to hold heat in (weakness:  it doesn't breathe as well as plain fleece, so isn't as good for highly aerobic activities).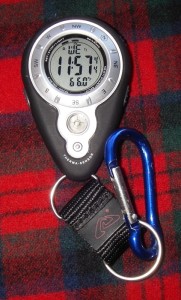 Highgear Traildrop
($50):  Sort of an electronic Swiss Army knife, the Traildrop is a watch, thermometer, electronic compass, stopwatch, and level in one neat little package, allowing you to replace multiple items.  We've used it for checking temperatures to determine sleeping bag ratings, to time how long isobutane canisters run in real-world conditions, how long it takes to boil water, you  name it.  Being throwbacks to the dinosaurs, we're still not fans of electronic compasses, but having a backup is always a good thing.  The level…well, we haven't figured out a trail use for it, but it's handy for setting up the gas grill for tailgating.  It's always clipped on one pack or another, ready when we need it.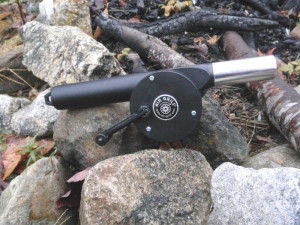 Air Grill Blower ($10):  One of our favorite "luxuries" when we're backpacking, the imaginatively named "Blower" does exactly that…blows air.  Anyone who has put their head sideways on the ground to blow at the base of a fire knows how miserable that is, and how quickly you start to feel dizzy, even when the fire isn't blowing smoke in your face.  This nifty tool weighs almost nothing (4.1 ounces), and allows you to blow a steady, controllable stream of air exactly where you want it. In dry conditions, it's great; in wet, invaluable.  Useful for backyard grilling, too!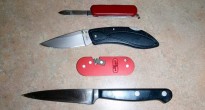 Sterling Knife Sharpener($15):  We're freaks for sharp knives, and have pretty much every tool to get them sharp and keep them that way.  But with all those toys, we doubt there's been a single backpacking trip in the last decade where we didn't carry a Sterling with us.  Small, light, ridiculously easy to use, it'll sharpen your knives in the field or the kitchen.  There's nobody who can't use one or more of these; 30 seconds, and you can go from dull to sharp on virtually any knife.  One in the kitchen, one in the backpack, one in the car or tool kit…you get the idea.  At this price, you can own several, and you can't go wrong.  A simple, brilliant design with a lifetime warranty.
Small, Medium, Large . . .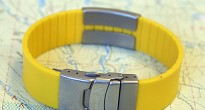 Road ID ($20-30; ): It can (and does) happen: You are out for a bike ride or other outdoor adventure and end up in the emergency room—and no one knows who you are, who to contact, or what special medical needs you might have . . . Road ID solves that nicely and is comfortable enough to wear 24/7.  The Elite (shown) is the highest end model; there are other models for wrist, shoes, you name it.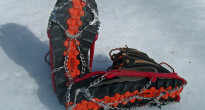 Kahtoola MICROspikes ($60) By far the best traction aids ever devised for hiking on icy trails (or sidewalks). One step down from crampons, miles ahead of other slip-on traction aids when the going gets nasty. If you hike in the winter, you need these.
Lightweight Longies ($25-$80) Whether you choose polyester or wool, lightweight longies tops and bottoms are essential equipment and no one can have too many sets. Tim is now totally hooked on the superfine merino wool versions from Icebreaker but we've happily used cheaper polyester from EMS, Marmot, Patagonia, Hot Chillys and others for years.
Any of these under the tree will warm the heart (and other parts!) of your favorite Active Outdoors enthusiast or not-so-enthusiast.  Don't forget birthdays, either…